Nostalgic-other cities & towns
NOSTALGIC MEMORIES OF -
MOMBASA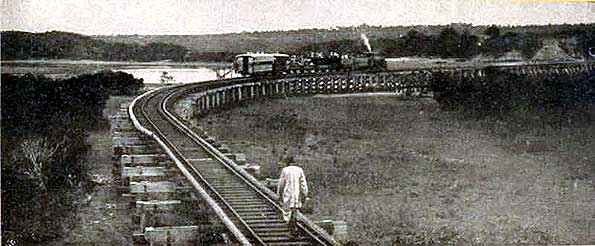 Railway Line near Mombasa around 1899
My visit to Mombasa in March 2012 revealed this shop near the market, which was established in 1895, just when the Railway Line was to start from Mombasa. I was told that this shop's owner catered for those semi skilled and skilled workers. The third generation own the shop -still in the same old surroundings and furniture. By the way that is me (harjinder)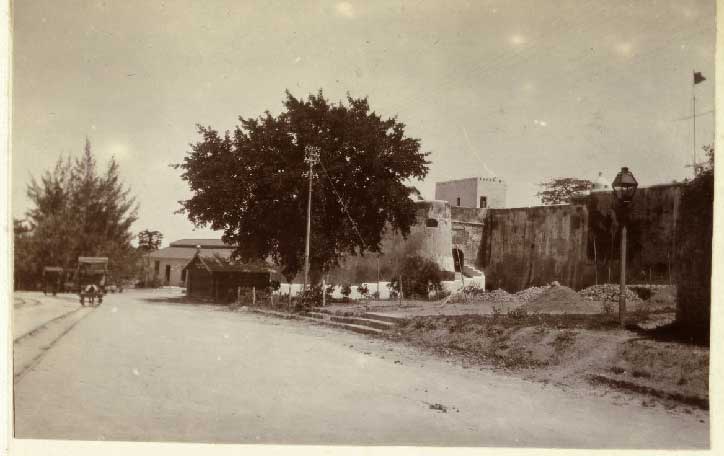 Near Fort Jesus around 1900AD
The historic Fort Jesus (sent by Robin Grayson)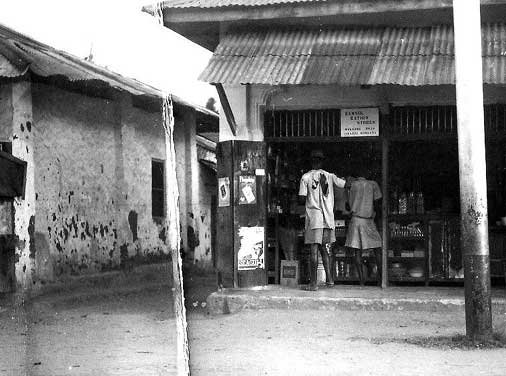 A typical ration store belonging to Kanjibhai-Ramnik Ration Store 1956 (sent by Rajni Shah)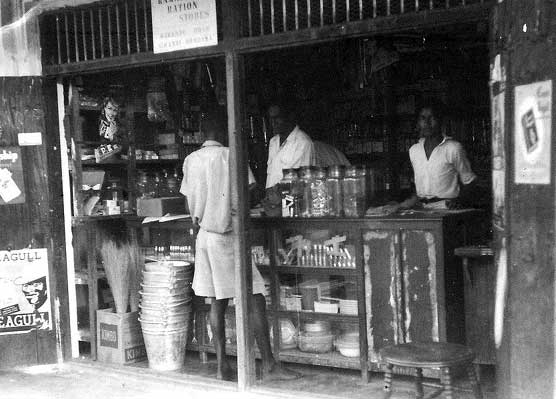 Another view of the shop 1956 (sent by Rajni Shah)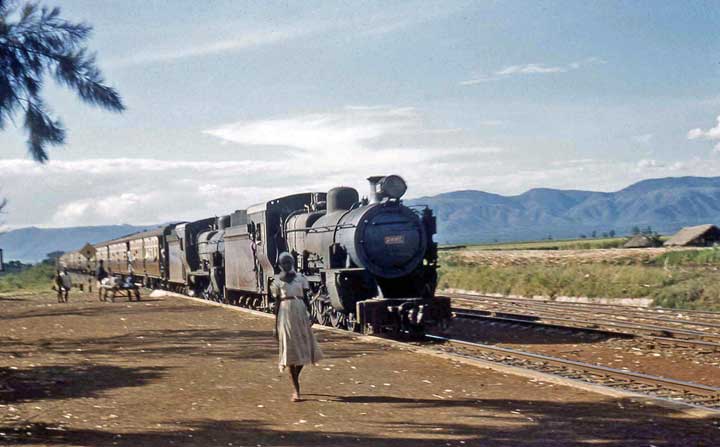 Train at Chemelil Station 50's (sent by Ron Bullock)
Mombasa in the mid 50's (sent by Tahir Mirza)...click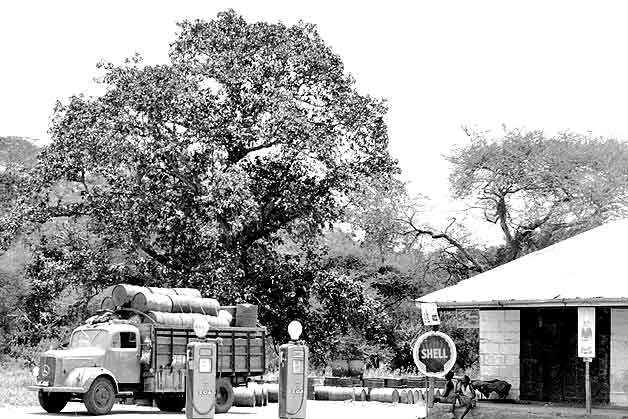 A Mercedes truck laden with drums stops at Kibwezi Petrol Pumps 1960 (sent by Rajni Shah)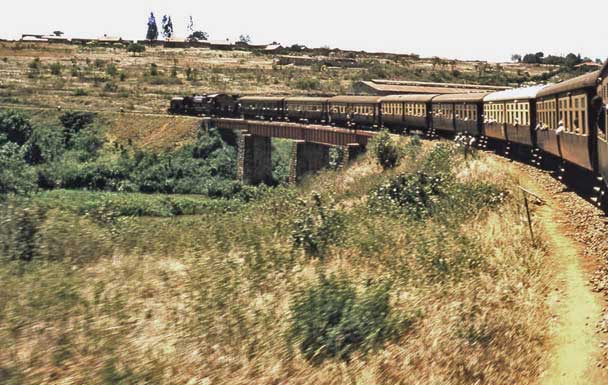 Train from Msa to Nbi near coast (sent by Ron Bullock)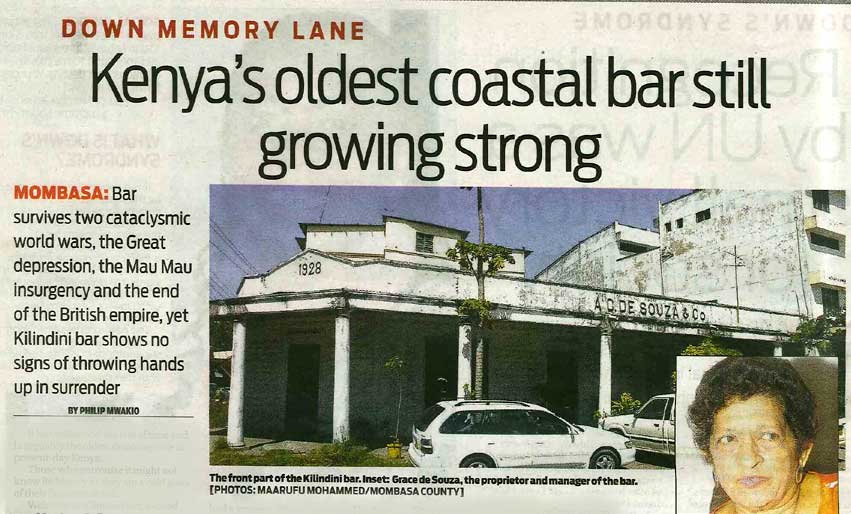 The Kilindini Bar established in 1908 still running today by my sister Grace De Souza. (Sent by Maura De Souza Abranches, daughter of Ambrose L.de Souza, Grand daughter of the late A.C. De Souza.)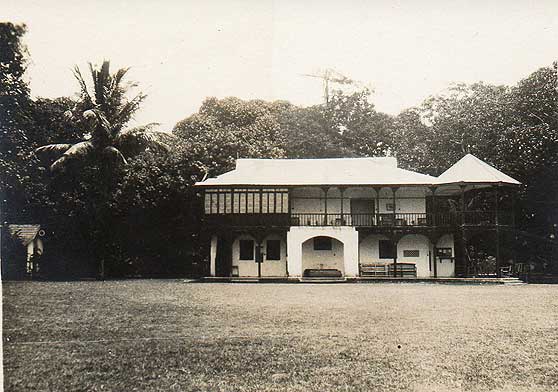 Mombasa Sports Club (sent by Robin Grayson)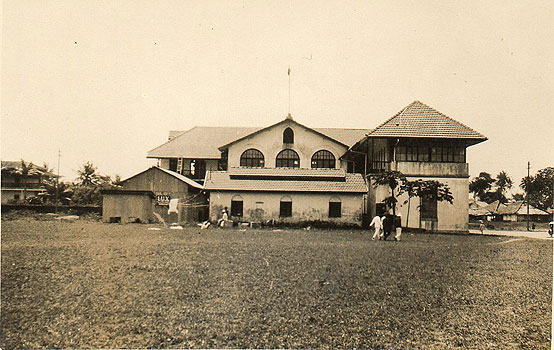 This building is reminiscent of homes which were provided for very senior government officials in Mombasa, near the Lighthouse area and near the golf course. The flag mast indicates it could have been the home or offices of the Provincial Commissioner. (Photo sent by Robin Grayson - info by Ameer Janmohamed)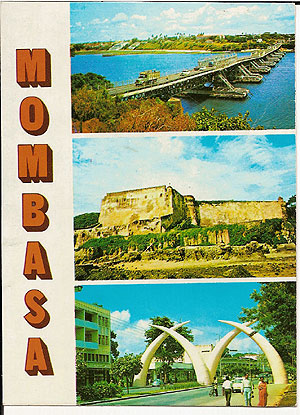 remembering mombasa
I left Mombasa , island of raha (happiness),
To emigrate to England , land of opportunity.
Forsook the tropical sun
For cold frigid weather.
Left behind the warm ocean breeze
For the wind-chill of winter.
Abandoned white pristine beaches
For brown muddy shores.
Turned away from a turquoise ocean
For polluted lakes.
Gave up mangoes, papaya, mabuyu, achari and sunflower
For processed apples, pears, peaches and cherries.
Gave up white snapper and king fish
For boxed cod and sole.
Gave up mishkaki, nyama choma maambri and bharazi
For cereal, bagels, cheese, and salads
Gave up drinking coconut water straight from the coconut
And settled for bottled water..
Left behind the street coffee seller (Kahava)
For the office coffee pot..
Left behind the exotic fragrance of phapa and langi langi
For the pungent smell of sulfuric emissions.
Deprived of hearing the call to prayer
For the sound of police and fire sirens.
Deprived of seeing women clad in mysterious black buibui
For women dressed in jeans and miniskirts.
Deserted a slow relaxed pace of life
For the fast lane.
Gave up afternoon naps
For gym workouts.
Gave up riding a bicycle through the narrow streets
For driving a car on the highways.
Discontinued a course on the coral marine life
For a course in stress management.
Discarded mud and thatched dwellings
For concrete and steel.
Left behind a community-based life
For a human zoo.
It makes me wonder
If I have also left my soul behind in Mombasa ?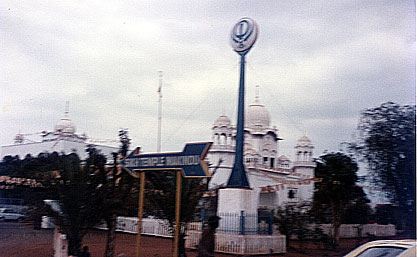 The Sikh Khanda (emblem) seen from miles of the Sikh Temple Makindu , Mombasa Road 1985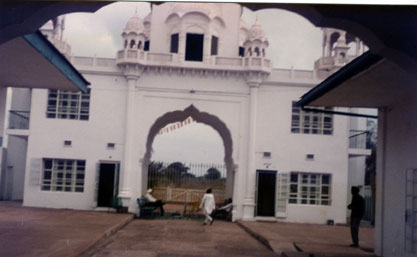 Sikh Temple Makindu on Mombasa Road a free Inn for tourists1985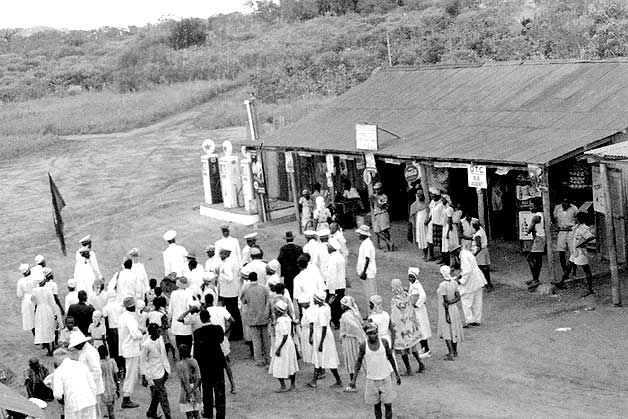 Salvation Army Service on Sunday at Makindu Village1957 (sent by Rajni Shah)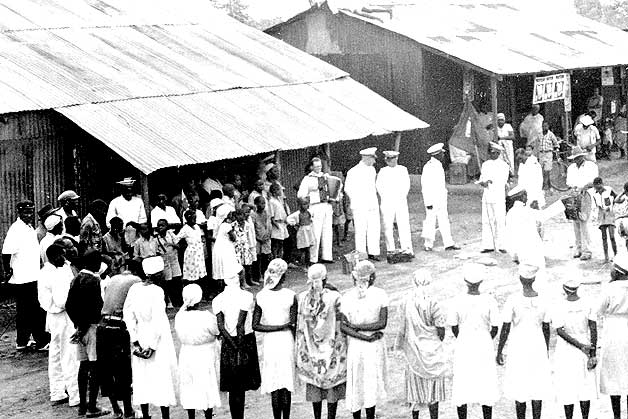 Salvation Army Service on Sunday at Makindu 1957 (sent by Rajni Shah)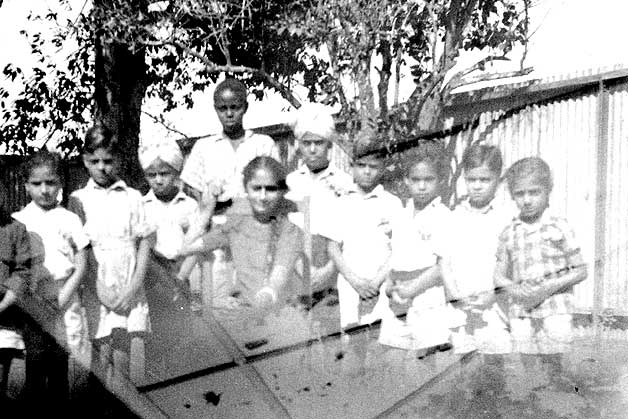 School children with teacher Makindu School 1957 (sent by Rajni Shah)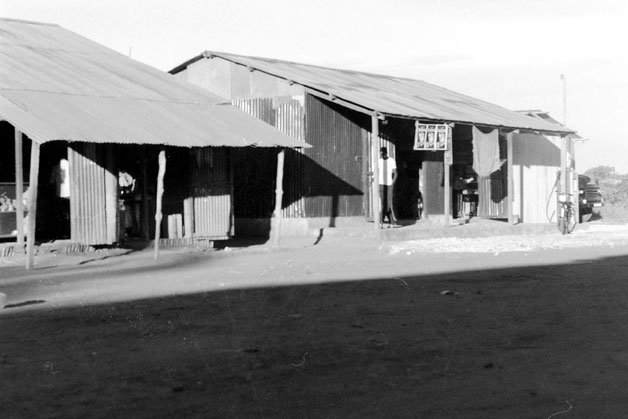 Makindu Village shops 1957 (sent by Rajni Shah)

Dalichand - he was one of the early pioneers who had joined Uganda Railways and continued working for the railway at Makindu until his retirement. Photo taken 1957/58. at the Makindu village. (sent by Rajni shah)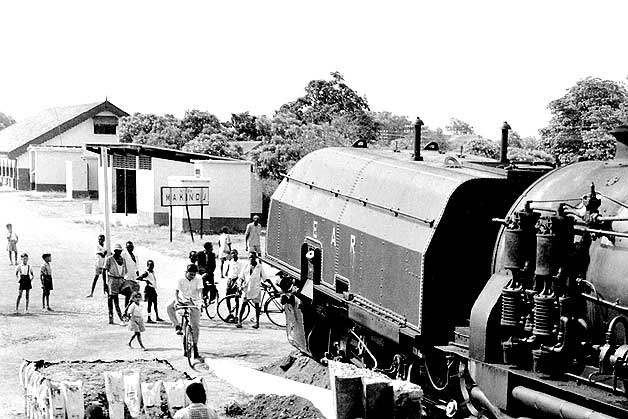 A rail accident at Makindu Station on 29th March 1958 (sent by Rajni Shah)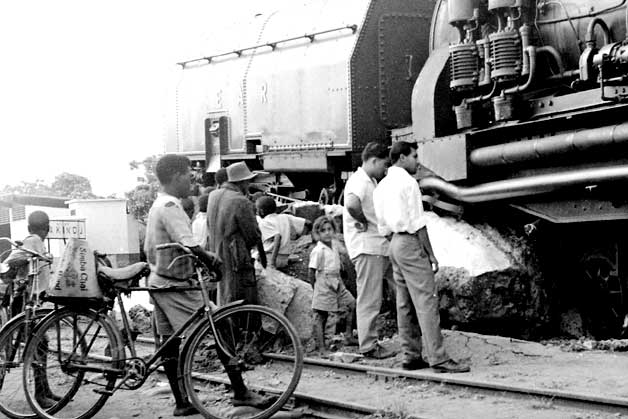 Watching the accident train at Makindu (sent by Rajni Shah)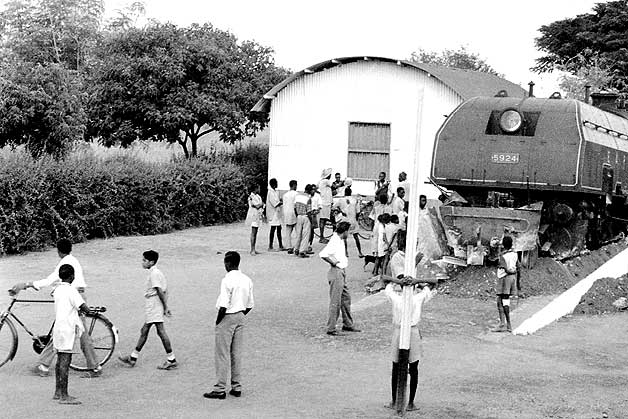 Crowd at the accident site Makindu Station 1958 (sent by Rajni Shah)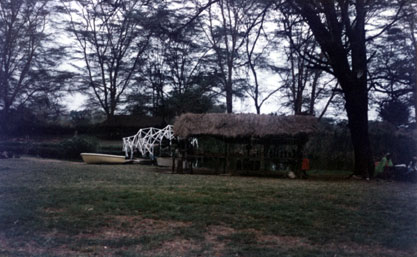 Hunter's Lodge near Makindu where you can enjoy your beer 1985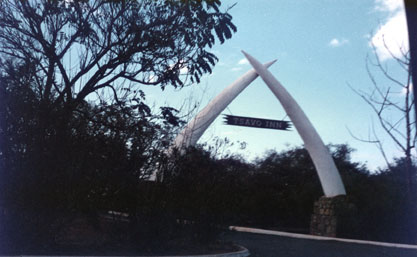 The famous tusks of Tsavo Inn on the way from Nairobi to Mombasa 1985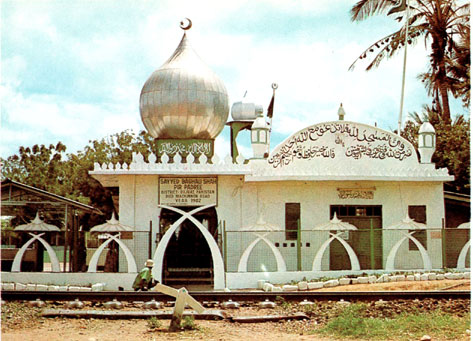 The famous mosque at Mackinnon Road near Mombasa (courtesy Through Open Doors)
See More photos of this mosque taken by Pushpendra Shah August 2012 ..Click here
The train Journey from Nairobi to Mombasa is also an Nostalgic chapter in the lives of the people who lived there. Holidays of the Nairobi citizens were mostly spent in Mombasa with dips in the Bamburi beach Indian Oceon and then Mogo & corn cobs on the light house where everybody met everybody in the pleasant evenings. Nostalgic indeed!!! This is first hand account of a journey from Nbi to Msa as narrated by Ameer Janmohammed in his book 'A Regal Romance'.
the train journey between nairobi and mombasa
In my view, the train journey between Mombasa and Nairobi epitomised the way in which the three main racial groups lived in Kenya.
Kenya Uganda Railways used to run a daily passenger train service between Mombasa and Nairobi. The Mombasa train would leave each evening at six pm to arrive at Nairobi at 8.00 a.m. the following morning. The Nairobi train would leave at seven to arrive at Mombasa at 8.00 am the next morning. Nairobi being at an altitude of 5500 feet above sea level, the journey down to the coast took an hour less. Each train would consist of the locomotive and tender and several goods vans.The carriages were arranged in a specific manner. Behind the locomotive would be a number of Third Class carriages, followed by a couple of Second Class carriages, and then some First Class carriages, with the Restaurant Car in the middle. Then some more Second Class carriages, some goods vans and the Guards van bringing up the rear. The reason for this was that in the days of the coal-burning locomotives, there used to be a lot of soot in the front half of the train. This way, the Europeans were spared the soot and also did not have to walk too far to reach the Restaurant car. Somewhere along the line, the coal burning-locomotives were replaced by Garratt diesel locomotives, and soot was no longer a problem. The locomotives were usually named after local mountains, eg, Mount Kinangop and Mount Elgin, and so on.
Europeans travelled first class. Cabins were better appointed and cost more. The Europeans ordered from bar service before going in for dinner, and had a choice of two sittings. A smartly turned out waiter in a starched white tunic with brass buttons would announce the sittings by walking through the carriages playing a tune on a shiny xylophone. The restaurant Steward was usually a Goan and the waiters Africans, well trained. The food was good, with a four course meal consisting of soup, a fish course, meat and veg and dessert, with coffee and liqueurs to follow. First class cabins would be turned down whilst the passengers were at dinner, with crisp white bedding which would have been pre-ordered. Most Europeans also went in for breakfast in the morning.
Indians mostly travelled second class. The carriages were less sumptuously appointed, or were old first class carriages. Indians did not as a rule go to the Restaurant car. They brought their own cooked food in "tiffins" which they ate in their cabins. The menu for our family usually consisted of fried fish and "rotli" or "rotlo". For Roshan, Sultan and I, that meal was the highlight of the journey. Indians also travelled with their own bed-rolls. Indians in those days did not stay in hotels, so they always stayed with families and friends, and they always carried their own bedding. In any case, there were no hotels which catered for them, even if any Indian wanted to stay in one. I don't think staying in hotels fitted in with the Indian culture. Well-to-do Indians always had relatives - cousins, or in-laws, or friends or business connections, who would be happy to put up out of town visitors. Poorer people would find guest-houses, known as Dharamshalas or Musafar-Khanas which were usually run by community groups.
We used to make this trip each year during school holidays and would stay in Nairobi at our Ebrahim Mama's house. One of my loveliest memories is of Roshan, Sultan and I, and our lovely cousins, all having so much fun when all the beddings were rolled out on the sitting room carpet each evening. Our cousins would refuse to go to their own beds because they wanted to be with us on the mattresses on the sitting room carpet - Nurbanu Mami and my mother would eventually succeed in shooing them away.
There was also another significant difference between the carriages in the three classes. The toilets. They were situated at each end of the carriages. First Class would have the upright Western-style toilets at both ends. Second Class had one Western and one squatting style at either end or Third Class had squatting-type toilets at both ends. You would be lucky to find any toilet paper in the Second, and certainly not in the Third. Cabins with en suite toilets and a wash-basin were introduced later.
Most Africans and some Indians travelled third class. Third class carriages were not sectioned off into cabins. They had hard wooden benches, and passengers sat through the night until they reached the destination. They paid very little for the privilege.
The trains would make a number of stops along the way when third class passengers could stretch their legs and buy mugs of tea and snacks from local vendors who came up to the carriages. From Mombasa, the first stop would be Voi, a hundred miles due West. Then Mtito-Endei which was the half way mark, and for us, Kibwezi, about two thirds of the way to Nairobi. We used to keep awake for Kibwezi because one of my cousins, Hussein Motabapa's eldest daughter Dolu, lived there - she was married to Akbar Gangji who had a business there – and they would always meet the train with lovely Indian tea and some delicious snacks at four in the morning! They would have received a telegram that family members were travelling on that day.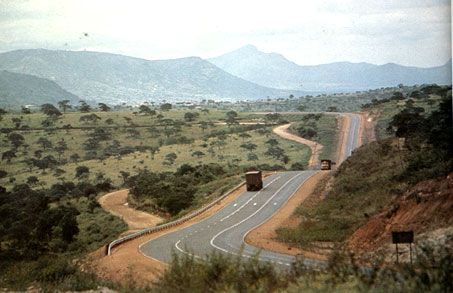 A picturesque view of Nairobi /Mombasa Road (courtesy 'The Kenya Magic')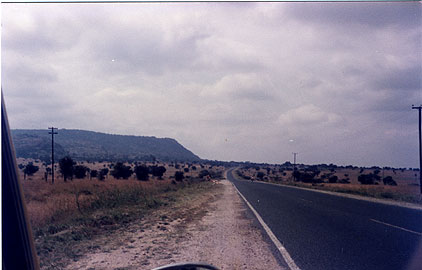 Mt. Lukenya on the way from Nairobi to Mombasa near the turnoff to Machakos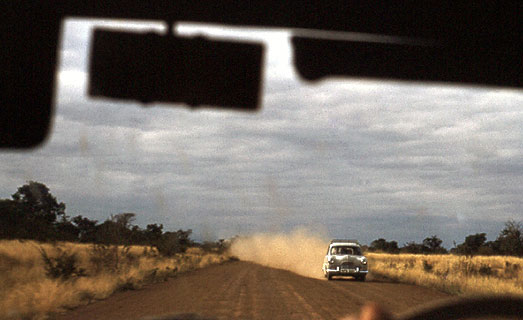 A Ford Zephyr raises dust on the old Mombasa Road around the 50's (sent by Ron Bullock)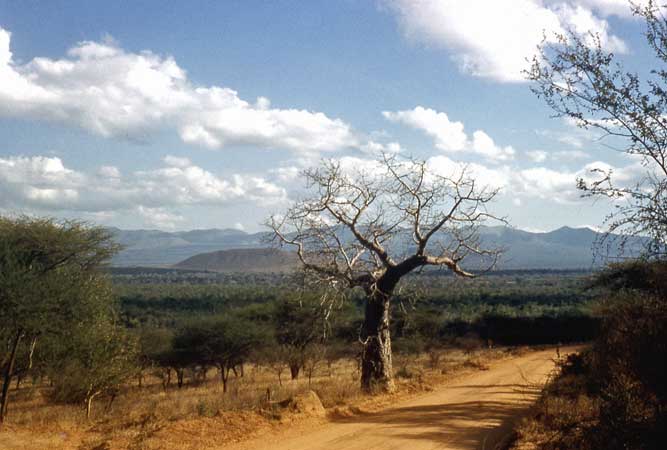 A picturesque Mombasa Road in 1954 (sent by Ron Bullock)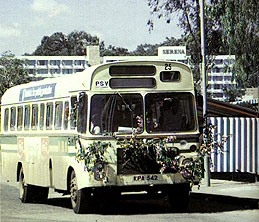 Transport Bus on Mombasa Road (courtesy 'The Kenya Magic')
I visited this service petrol station on the Mombasa Road in 1985. A thriving restaurant, petrol pump and rest house at the time, BUT look at it now (2012) down. (harjinder)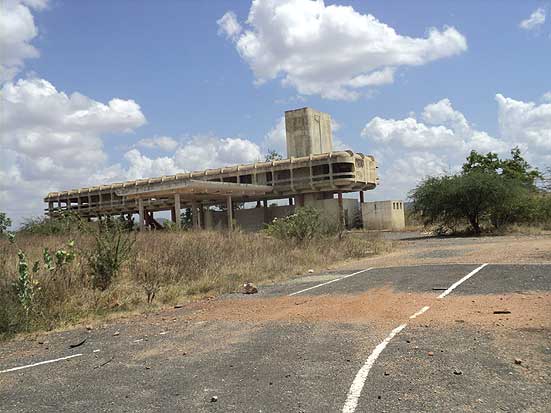 March 2012, the same place - a derelict and rotting structure.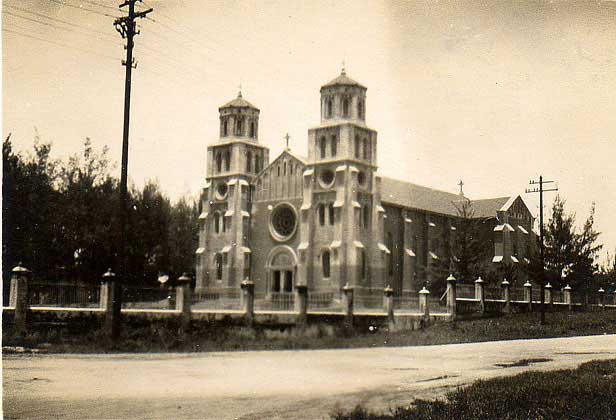 The Catholic Church in Mombasa The Church is situated on the corner of Fort Jesus Road and Mbaraki Road, leading toward the Likoni Ferry. (Photo sent by Robin Grayson)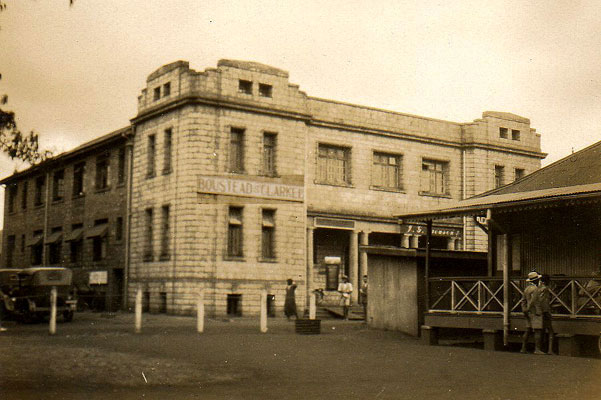 Premises of Bousted & Clarke (importers of almost everything). Bousted & Clarke (early 20th C) were situated on Fort Jesus Road Mombasa and were really a big firm (can be seen from their building). The firms managing director was Mr. Coventry who was the ONLY person at the time during 50's who drove a Rolls Royce. (infp provided by Ameer Janmohamed and photo by Robin Grayson)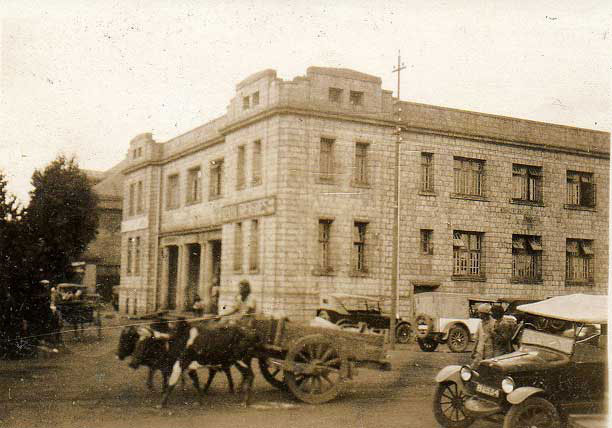 My father was employed by Bousted & Clarke from the UK in 1926 age 28 to work in Mombasa for them. He worked for them in Mombasa and Nairobi till 1938 when he formed Grayson & Company in Nairobi with branches later in Mombasa Dar-es-salaam & Kampala. (Info and photo by Robin Grayson)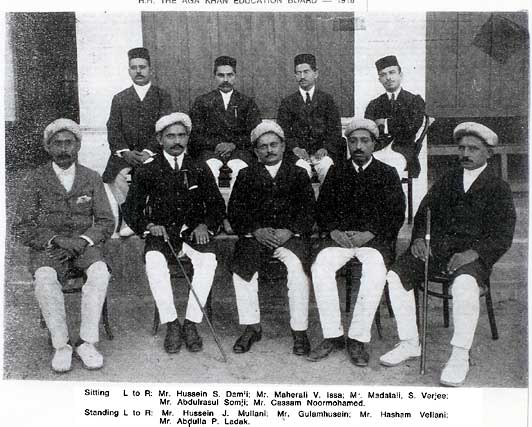 The Aga Khan Education Board 1918 (photo courtesy Ameer Janmohammed)
The story of Mahmood Shivji of Mombasa could well start with the above photograph. Taken in 1918 it shows members and staff of the first Aga Khan Education Board in Mombasa, Kenya. (The photo was published in the book A REGAL ROMANCE in 2008 with a history of the beginning of the Aga Khan Schools system in Kenya).
However, relevant to our story are the two individuals seated in the front row, Seated on the extreme right of the picture is Cassam Nurmohamed whose son Janmohamed (Janu) got married to Fatma, daughter of Hussein Suleman Damji, seated on the extreme left. Janu Massa and Fatma Massi were blessed with three sons and five daughters. (I address them as Massa and Massi because my mother Rabhia and Fatma were sisters).
They were also blessed with numerous grand-children. Three of them were specially mentioned in A REGAL ROMANCE because the three cousins went on to become Professors of repute in western Universities, albeit in different countries and disciplines.
One is Professor Quassim Cassam, son of Amirali J. Cassam and his wife Sultan (my sister). He is currently Professor and Head of the Department of Philosophy at Warwick University in the U.K
Dr. Shiraz Dossa, son of Abdul Nurmohamed Dossa and his wife Sultan, Janu Massa's daughter, is a Senior Professor and Political Theorist in the Department of Political Science at St. Francis Xavier University in Nova Scotia, Canada.
This however is the story of Professor Mahmood Shivji, son of Sadrudin Hirji Shivji and his wife Gulshan, Janu Massa's daughter. He was born in Mombasa in 1955 and like so many of us, received his early education at the Aga Khan High School in Mombasa. He was at the Aga Khan High until 1974 before enrolling at the Simon Frazer University in Vancouver B.C. He then continued his studies at the University of Washington in Seattle in the U.S..
This story of exceptional achievement could be of particular relevance to people with Mombasa connections. Quassim Cassam, Shiraz Dossa and Mahmood Shivji were all born in Mombasa. The families of Cassam Nurmohamed, Hussein Suleman Damji, Hirji Shivji Nurmohamed and Nurmohamed Dossa all have roots in Mombasa.
Mahmood Shivji is the Director of the Guy Harvey Research Institute, Oceanographic Centre at the Nova South-Eastern University, Florida, U.S.A. His research has 'consistently received world-wide coverage in major media outlets, including Time, Newsweek, the New York Times, the Washington Post, the Economist, the BBC and National Public Radio. His research is currently being exhibited in the Smithsonian National Museum of Natural History in Washington DC'.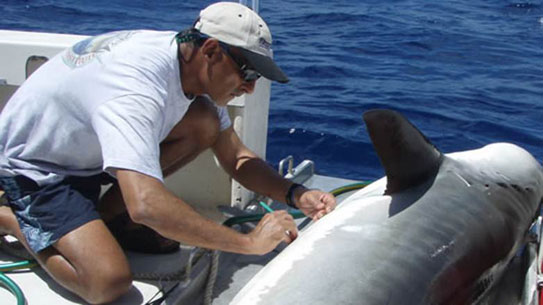 Picture shows Professor Shivji working on a Tiger Shark. DNA tests devised by Dr. Mahmood Shivji are now regularly used by international Law Enforcement agencies in their battle to curb illicit fishing of endangered species. (sent by Ameer Janmohamed)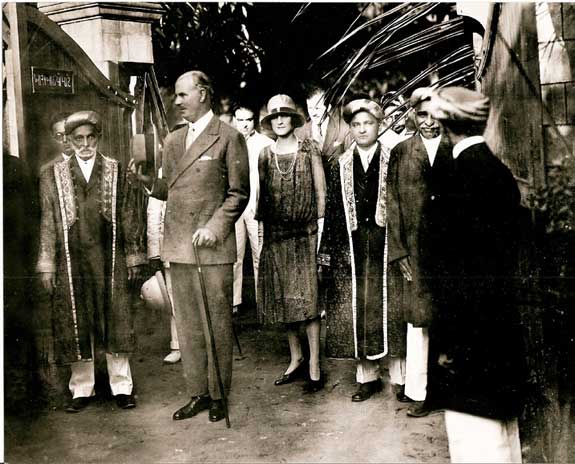 THE NEW AGA KHAN SCHOOL, (behind the Naaz Cinema Mombasa) WAS BUILT AND OPENED IN 1930. This was made possible by magnificent donations from Rajabali Kassam Suleman Verjee and his brothers. THE SCHOOL WAS OPENED ON 26TH SEPTEMBER 1930 BY THE GOVERNOR OF KENYA, HIS EXCELLENCY SIR EDWARD GRIGG. Sir Edward Grigg and entourage being welcomed by President Janmohamed Hasham and other leaders of the community. (photo courtesy Ameer Janmohamed)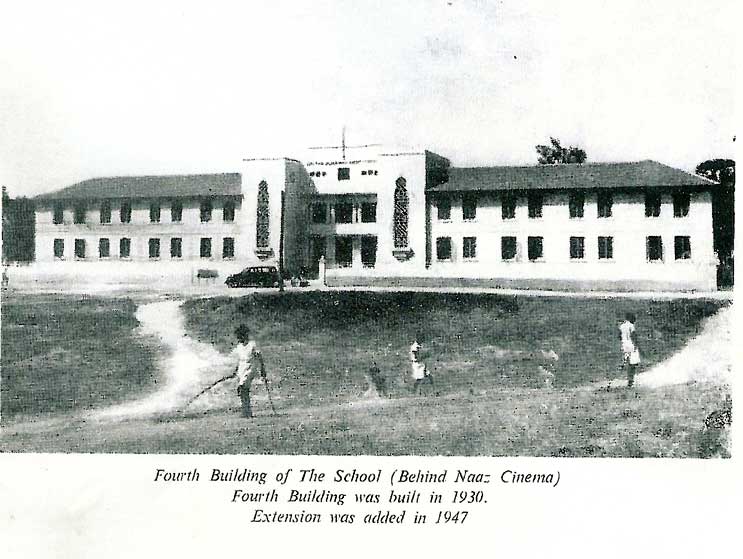 The Aga Khan High School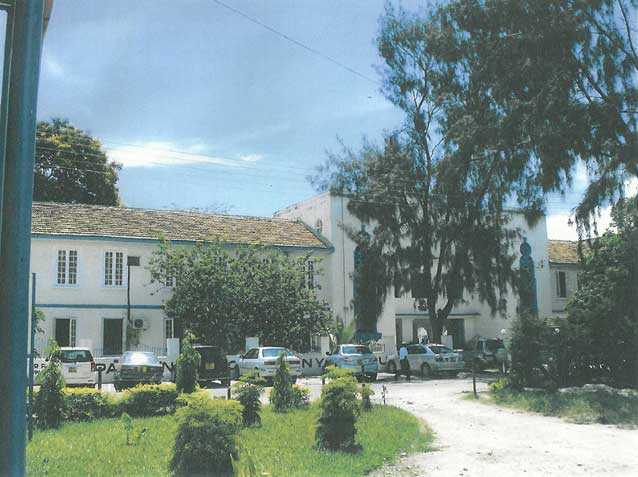 You might feel quite nostalgic when you see these pictures.. I left the Aga Khan High school in 1945 after doing my Senior Cambridge exam. It was then a single storey building except for the Assembly Hall which was on top of the admin offices in the centre of the building. I believe class-rooms on first floor were added in 1947- Ameer Janmohamed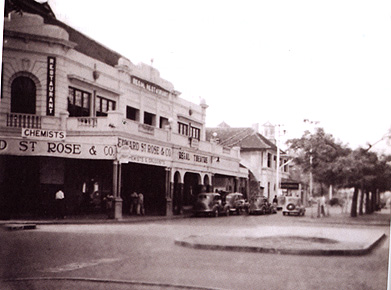 Regal Cinema completed in 1931- photo taken by Ameer janmohamed (owners of cinema)in 1968 from across Salim Road in front of Badrudin Sports House. This cinema was burnt and distroyed in 1985.( courtesy 'A Regal Romance' by Ameer Janmohamed)
REMEMBERING REGAL CINEMA..Click here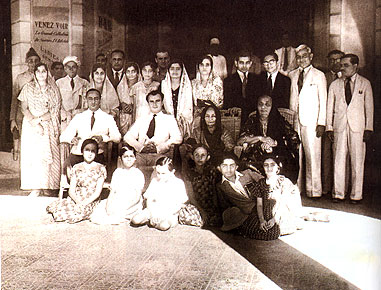 H.H. Prince Aly Khan visited the Regal Cinema in 1958 and also laid the foundation stone of the City House (below). Here he is seen with the Kassam Janmohamed & his family. (( courtesy 'A Regal Romance' by Ameer Janmohamed)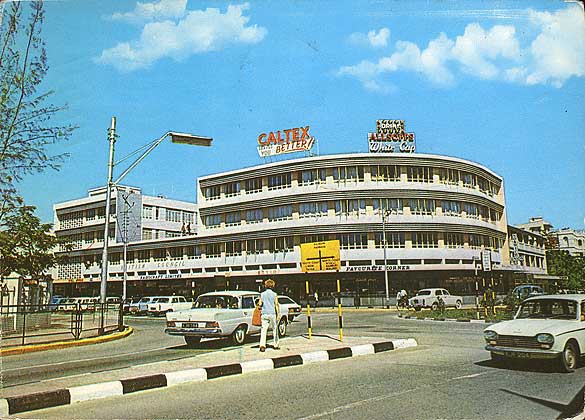 City House Mombasa, completed in 1958 replacing old building occupied by Motor Mart & Exchange. It was the first building incorporating an arcade and a fountain in the central courtyard: hence the restaurant being named FONTANELLA. ( courtesy 'A Regal Romance' by Ameer Janmohamed)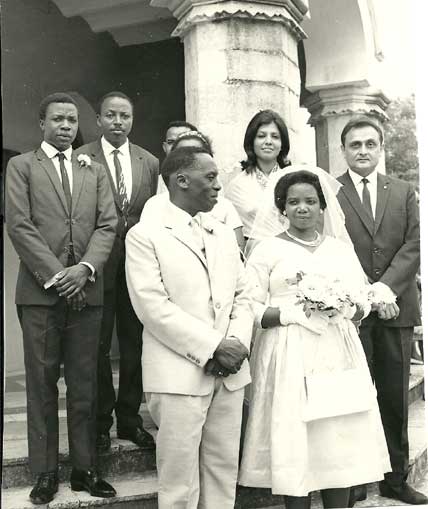 As a matter of historical interest. This 1968 photo was taken on the front steps of the Anglican Cathedral in Mombasa. Occasion was the wedding of Mr James and Margaret Mbotela. James was the first African Rotarian in the Coast Province Kenya. He was a renowned raconteur and claimed to be a descendant from the slaves who were rescued from Arab slave ships and settled in Frere Town settlement which is situated on Mainland North as you get off Nyali Bridge. Zeenat and I were privileged to be members of the Bridegroom's party. (Info and photo Ameer Janmohamed)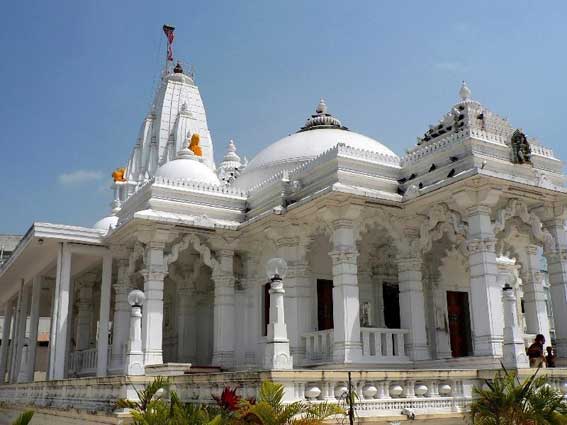 The Hindu Temple- Mombasa
Hindu Temple 1955 (sent by Rajni Shah)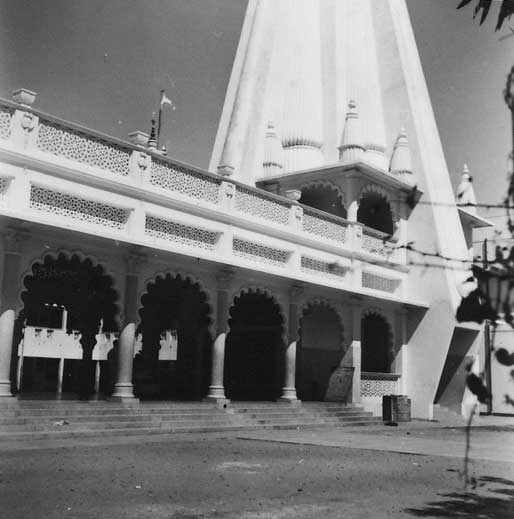 Another view of Hindu Temple 1955 (sent by Rajni Shah)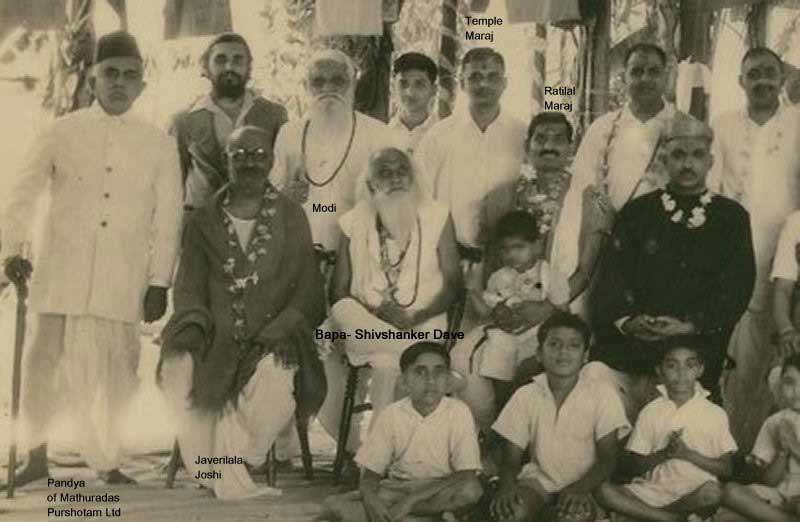 This picture is the people who ran the Hindu Temple or Shiva Temple in Mombasa. The old bearded man in the centre is my grandfather who was the one who conducted many pujas. He was famously known as "Dadhiwala Bapa" -sent by shashi dave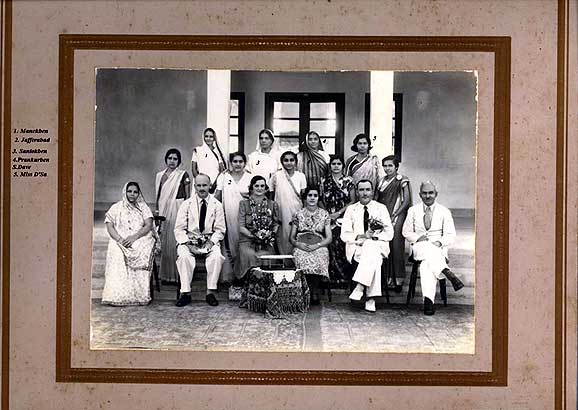 I believe this was the Girls High School near Makadara and My Grand Mother Prankurben Shivshanker Dave was also a teacher. If anyone can recognize any other people I'd appreciate if they send me the info so that I can add that on my picture. Shashi Dave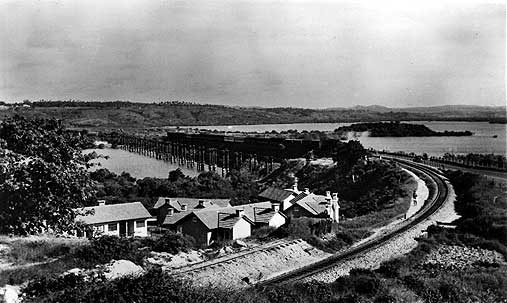 Mombasa as seen from Mariakani 1953 (sent by Rajni Shah)
,
A monument in Mombasa 1955 (sent by Rajni Shah)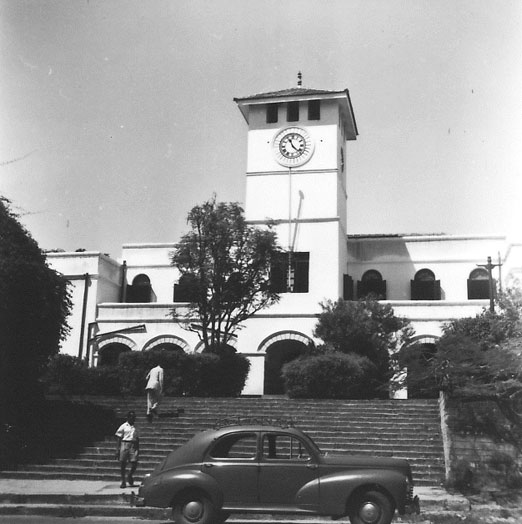 Law Courts Mombasa 1955 (sent by Rajni Shah)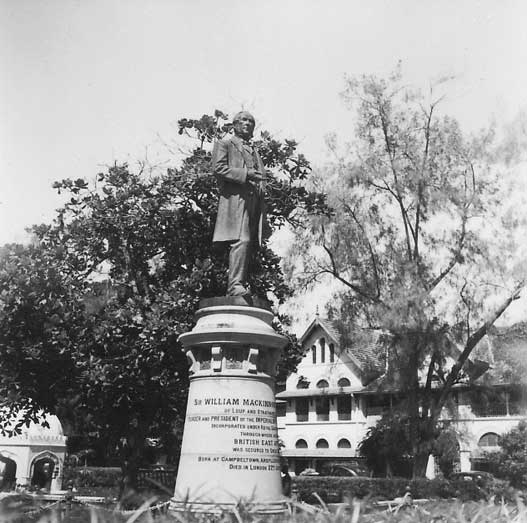 Statue of Sir William Mackinnon after whom the station Mackinnon Road was named (sent by Rajni Shah) 1955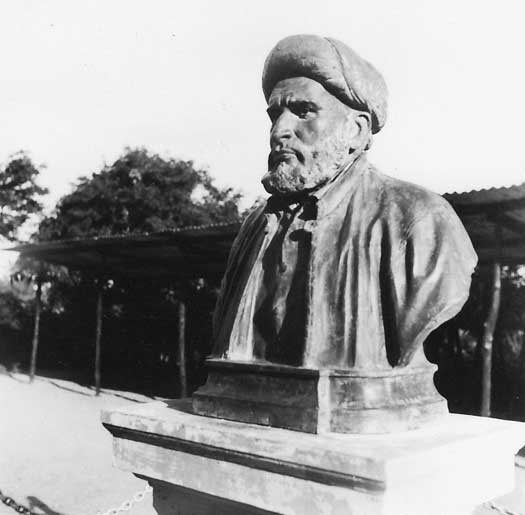 Bust of Allidina Visram one of the first pioneers of Africa 1955 (sent by Rajni Shah)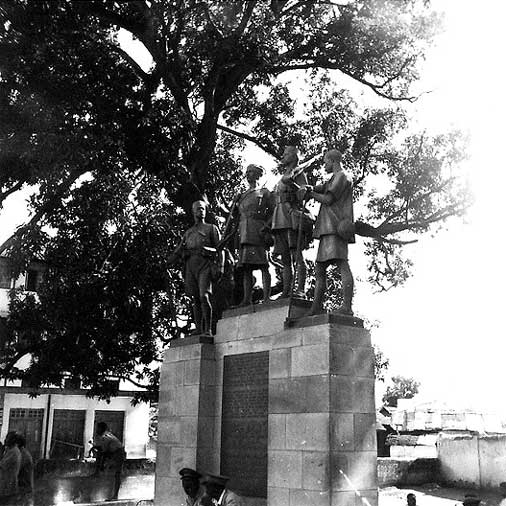 Mombasa War Memorial 1955 (sent by Rajni Shah)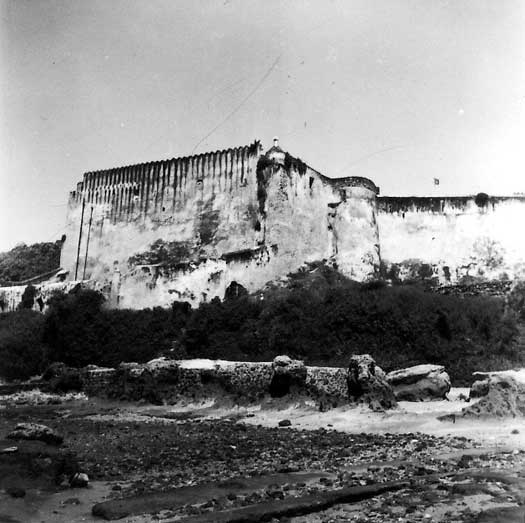 Fort Jesus 1955 (sent by Rajni Shah)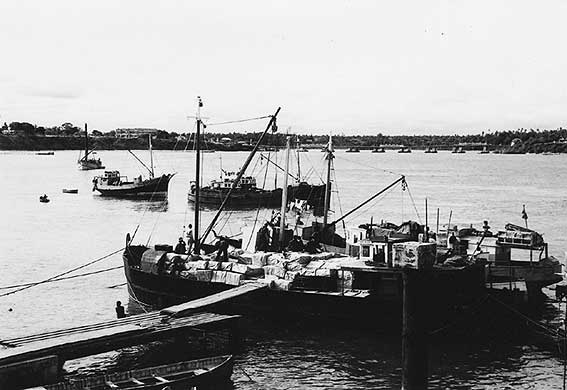 Old Mombasa Port 1953 (sent by Rajni Shah)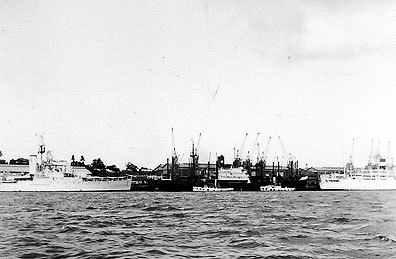 Kilindini Harbour 1955 (sent by Rajni Shah)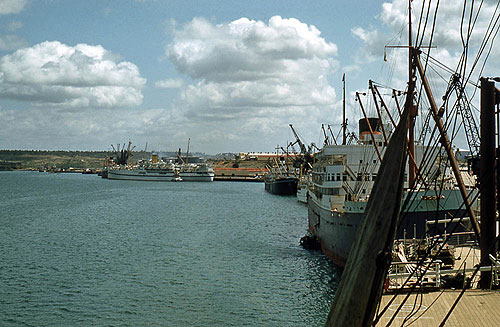 Kilindini wharfs around 50's (sent by Ron Bullock)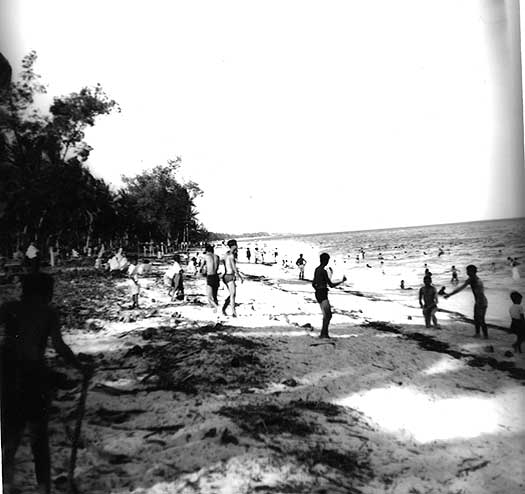 Bathers on Bamburi Beach 1960's
Kisauni Ferry ( photo courtesy Rama Dunn)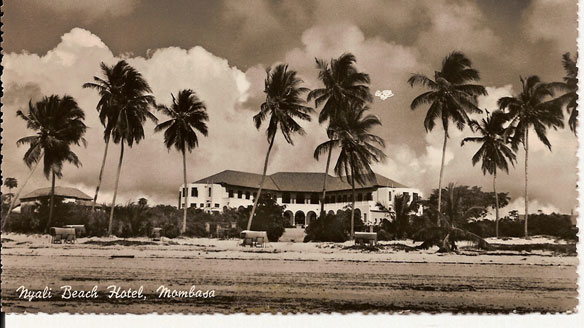 Nyali Beach Hotel ( photo courtesy Rama Dunn)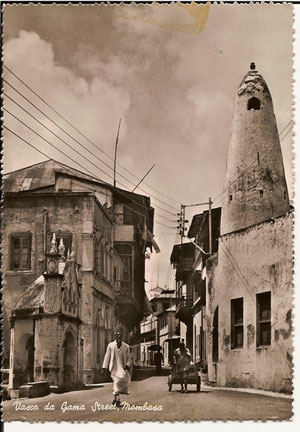 Vasco-da-Gama Street ( photo courtesy Rama Dunn)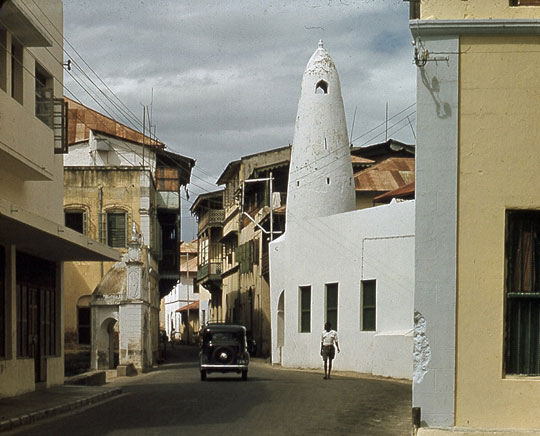 Vasco-da-gama Street around 50's (sent by Ron Bullock)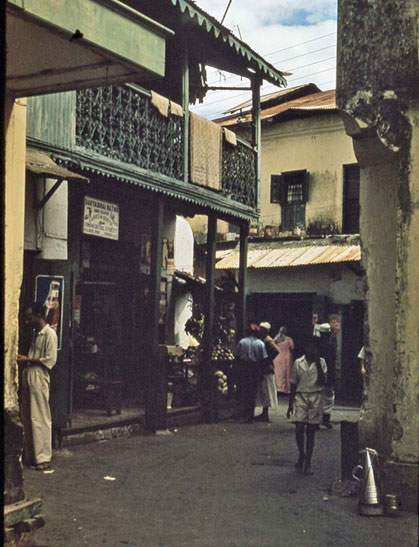 Msa old town around the 50's (sent by Ron Bullock)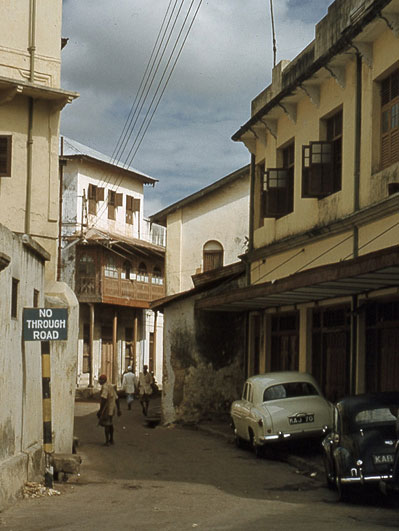 Old Mombasa off Govt. Square around 50's (sent by Ron Bullock)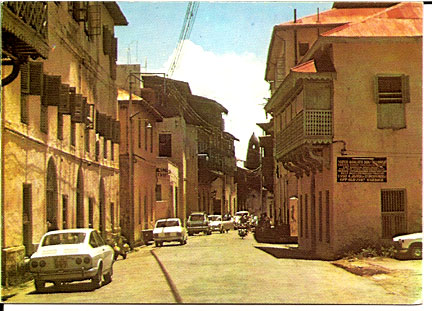 Another view Vasco-da-Gama Street ( photo courtesy Rama Dunn)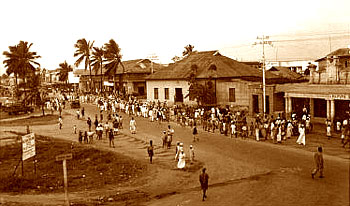 Salim Road around 1912 ( photo courtesy Rama Dunn)
Old Port Msa ( photo courtesy Rama Dunn)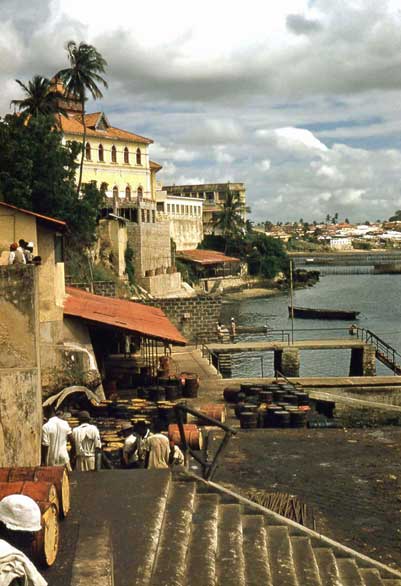 Msa old harbour around 50's (sent by Ron Bullock)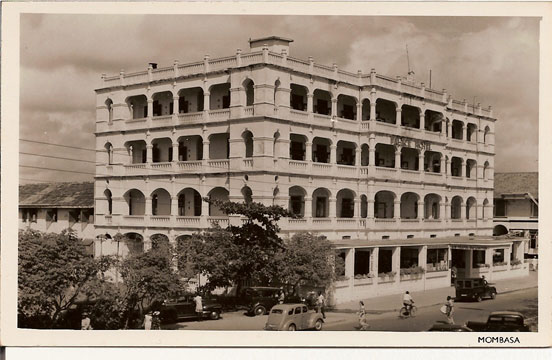 Palace Hotel, later Castle Hotel.( photo courtesy Rama Dunn)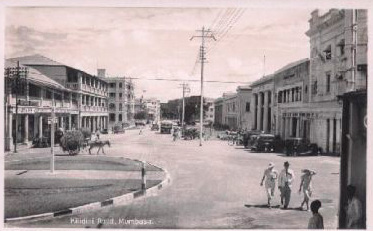 Kilindini Road Msa ( photo courtesy Rama Dunn)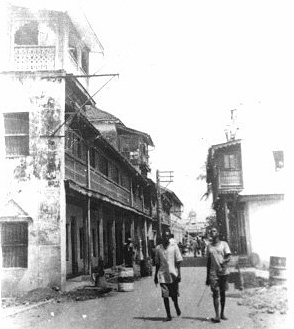 Kibokoni ( photo courtesy Rama Dunn)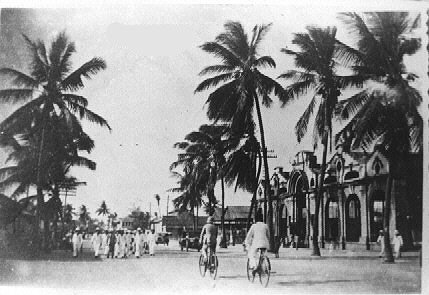 Mombasa market ( photo courtesy Rama Dunn)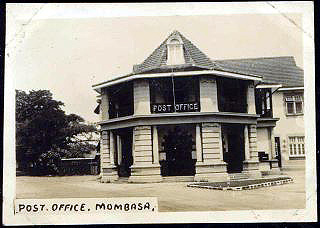 Post Office (sent by Dhansukh Vaghela)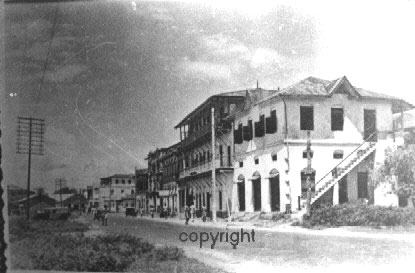 Makadara ( photo courtesy Rama Dunn)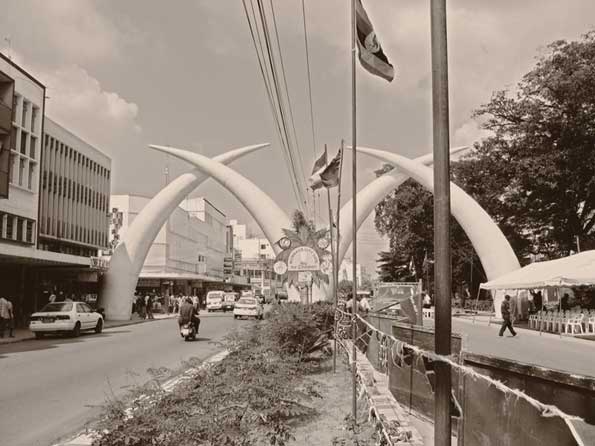 Kilindini Road Mombasa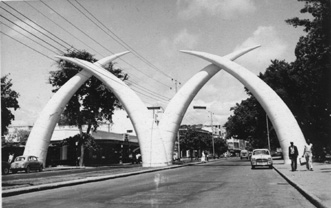 The tusks at Kilindini Road Mombasa C1960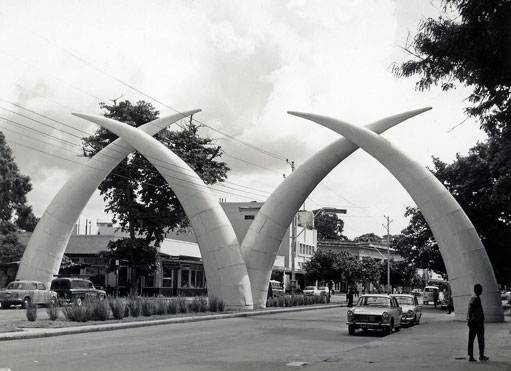 Kilindini Road around the sixties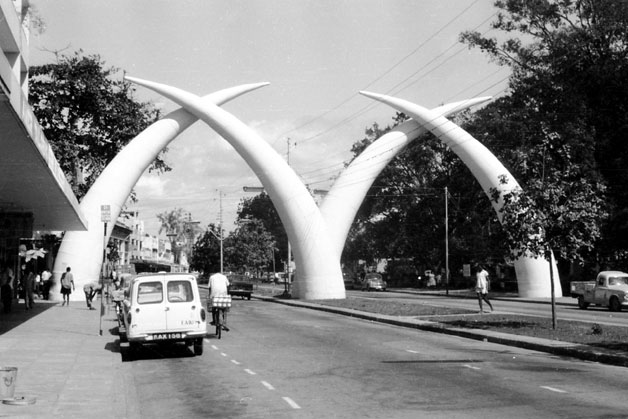 Kilindini around 50's (sent by Rajni Shah)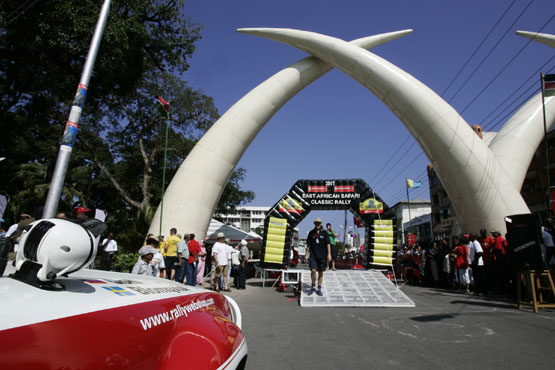 East African safari 2007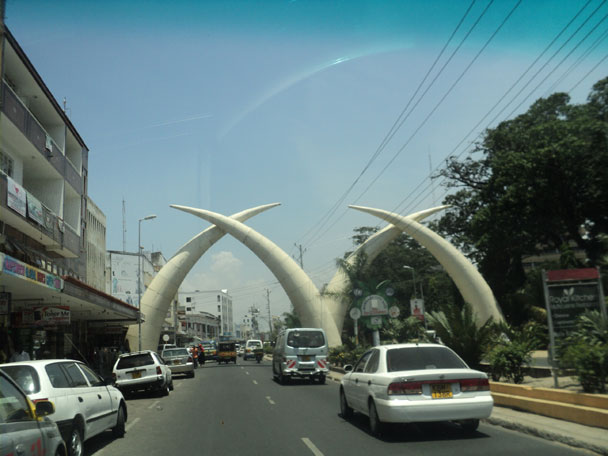 Kilindini Road 2012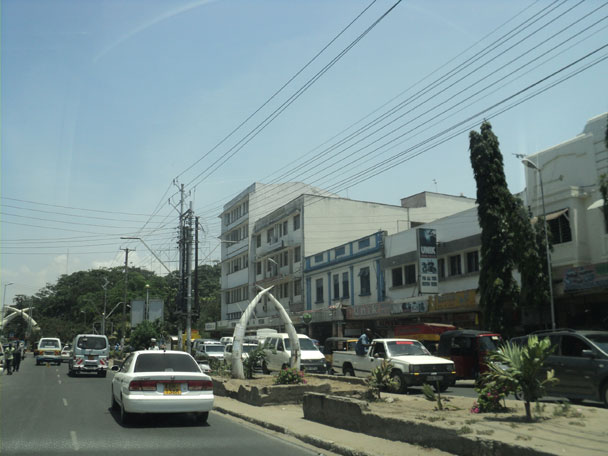 Small tusks on Kilindini Road 2012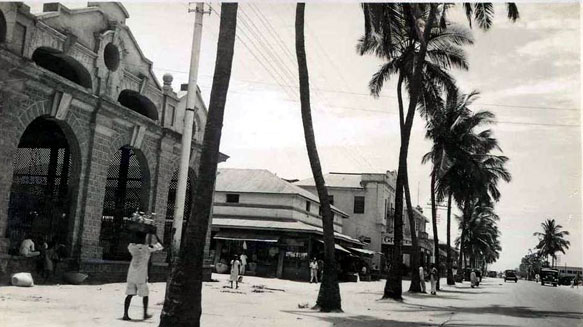 Salim Road with the Market on extreme left around 1960 (sent by Tahir Mirza)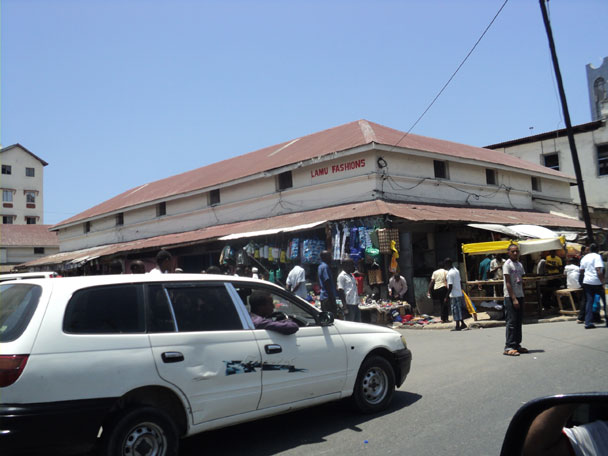 Same building next to the Market 2012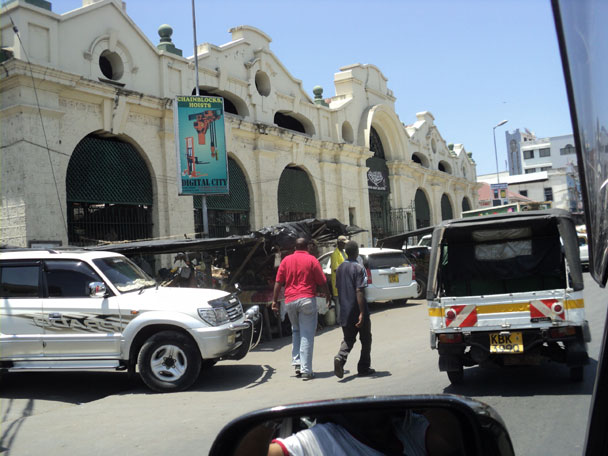 Mombasa Municipal market 2012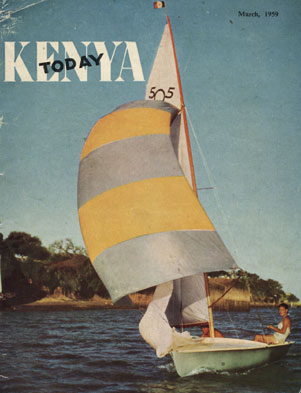 An international 505 class yacht at the Kilindini Harbour Mombasa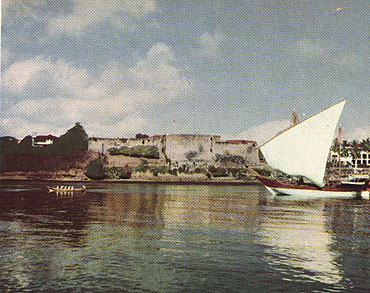 A picturesque view of Fort Jesus and a old type dhow from the old Mombasa Harbour -1959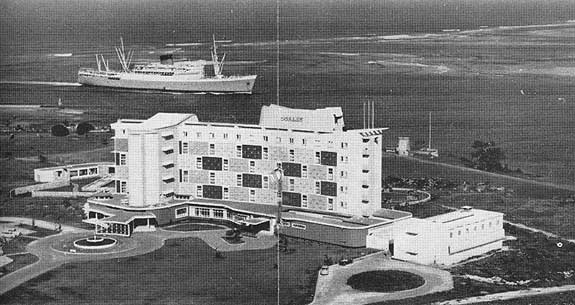 The Oceanic Hotel Mombasa with a Union castle Liner passing on way to Kilindini Harbour 1959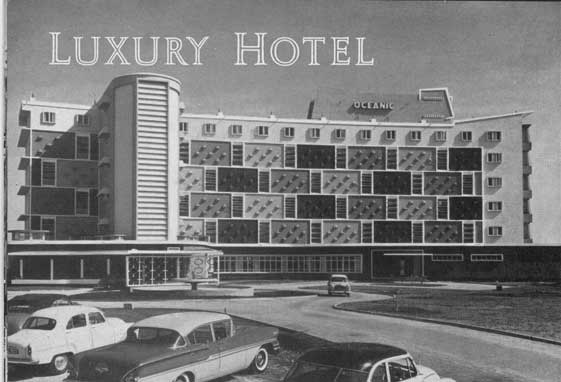 The Oceanic -A landmark at the gateway to Kenya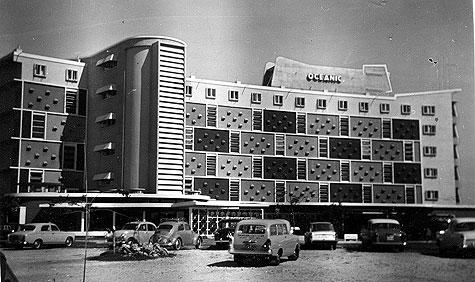 The Oceanic around 1963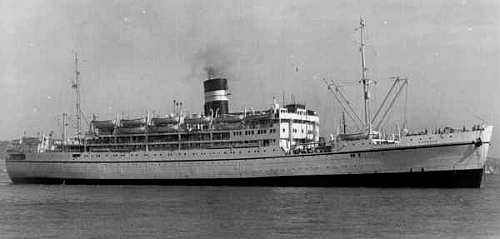 S.S. Karanja one of the few ships which were sailing from Mombasa / Bombay / Mombasa. Most of you or your parents might have sailed in this ship or SS Amra, SS Kampala,SS State of Bombay & SS Muzzaffari etc. were the passenger ships making regular journeys to & fro. (sent by Tahir)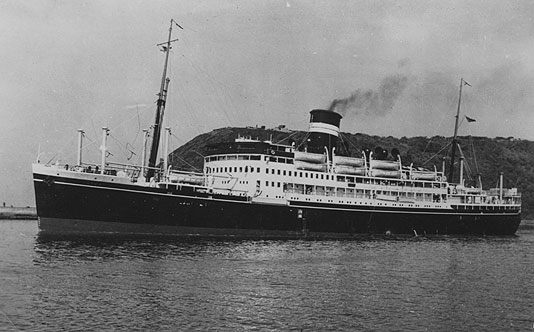 SS Aronda was another passenger ship sailing from Mombasa to Bombay 50's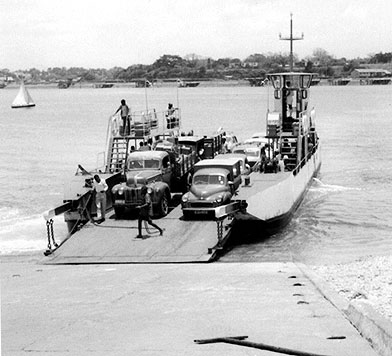 Likoni Ferry 1953 (sent by Rajni Shah)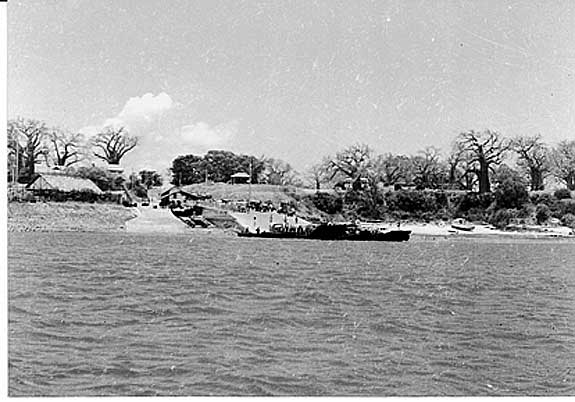 Likoni Ferry 1953 (sent by Rajni Shah)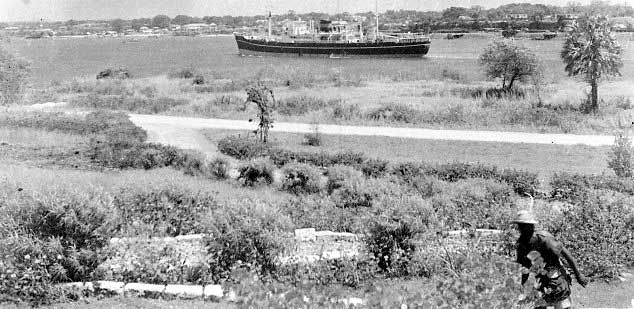 A Ship seen from Likoni Ferry Side 1950(sent by Rajni Shah)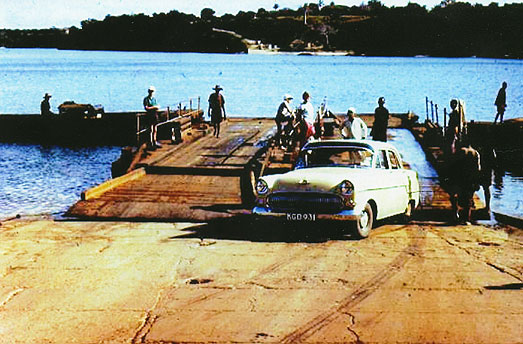 Likoni Ferry (sent by Robin Grayson)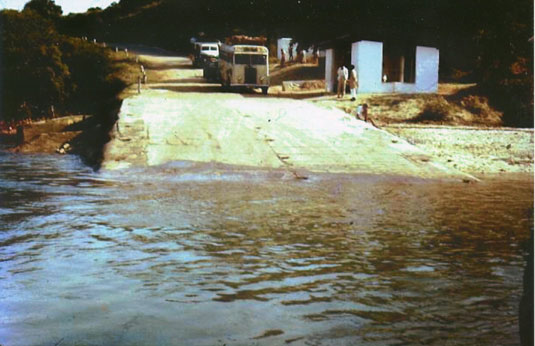 Likoni Ferry (sent by Robin Grayson)
Diesel Ferry connecting Mombasa Island with Likoni -(1957)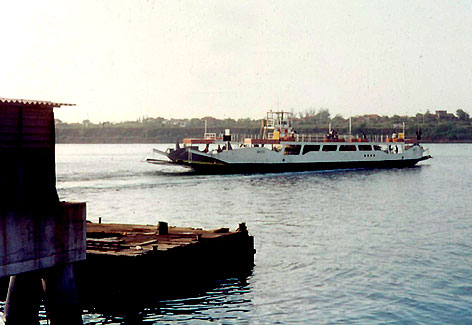 Likoni Ferry (photo courtesy Kevin Patience)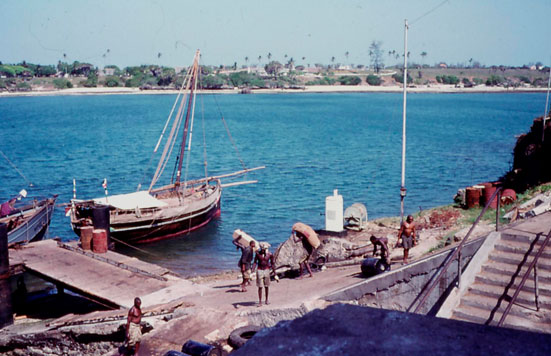 Old Port Mombasa (photo courtesy Kevin Patience)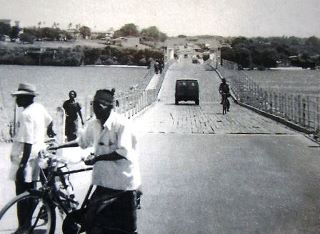 Nyali Bridge around 1950 (sent by Dhansukh Vaghela)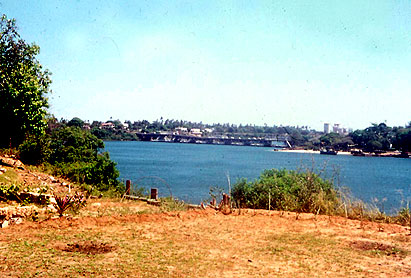 Nyali Bridge (photo courtesy Kevin Patience)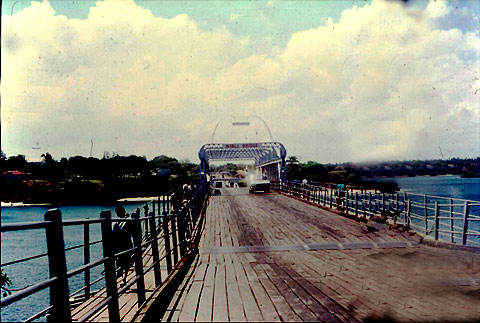 Nyali Bridge (photo courtesy Kevin Patience)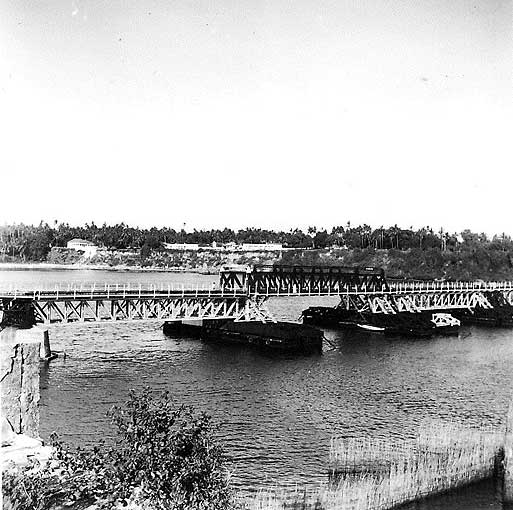 Nyali Bridge 1955 (sent by Rajni Shah)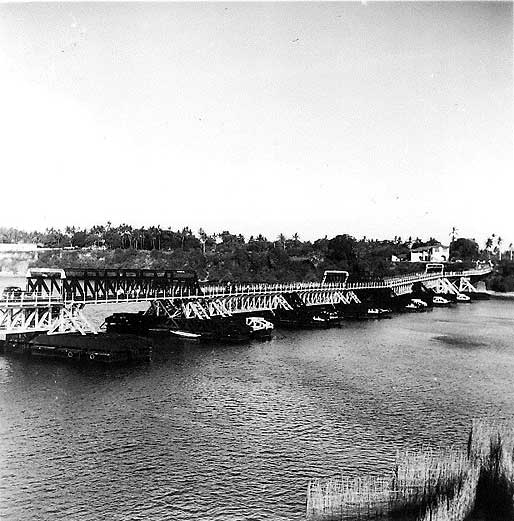 Another view of Nyali Bridge leading to Nyali & Bamburi beaches 1955 (sent by Rajni Shah)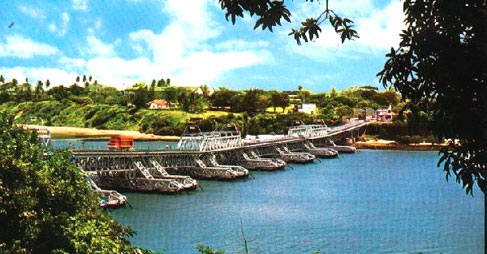 Another view of Nyali Bridge (sent by Dr. Bhari)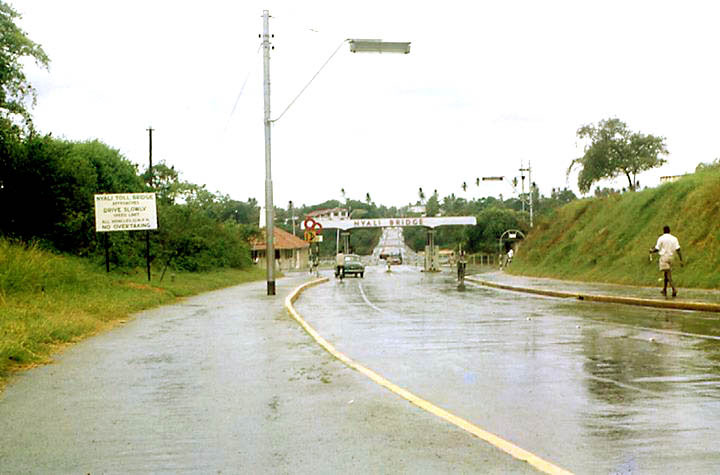 Nyali Bridge around sixties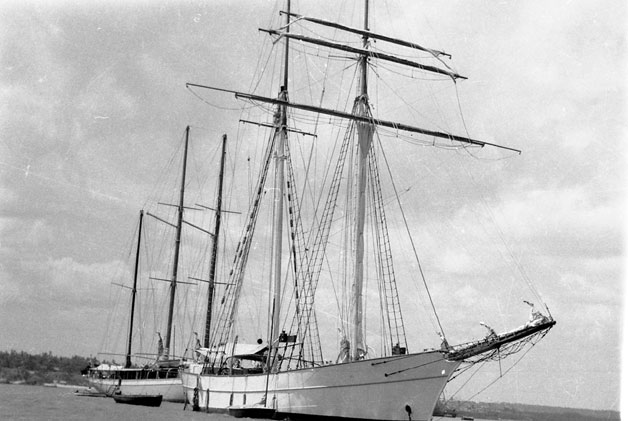 Sailing Dhows in Mombasa bay (sent by Rajni Shah)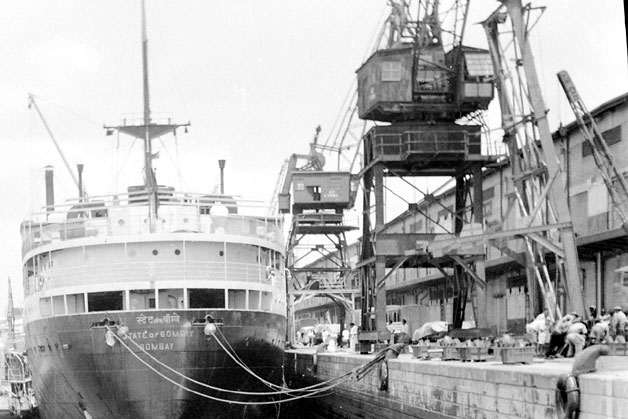 S.S.State of Bombay docked on Kilindini Harbour. This ship was one of the best ships for Indian passengers travelling from Mombasa to Bombay (sent by Rajni Shah)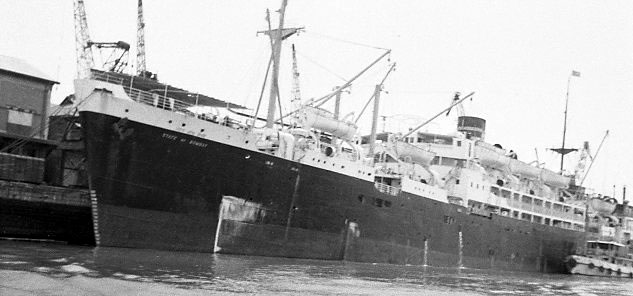 S.S.State of Bombay - the only means of transport during the fifties for the Asians of East Africa (sent by Rajni Shah)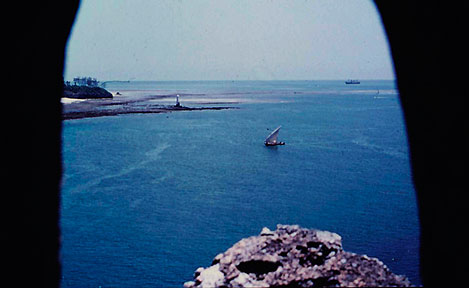 View from Fort Jesus (photo courtesy Kevin Patience)
Shipwrecks and Salvage on the
East African Coast
1499 - 2004

by Kevin Patience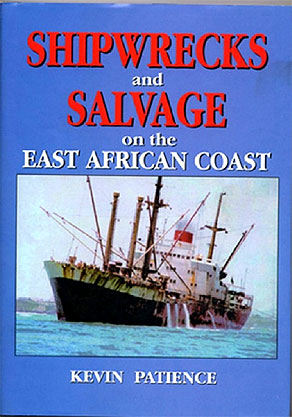 The coast of East Africa stretches some 4,000 miles from Cape Guardafui in Somalia to the Mozambique Channel. It is rugged and inhospitable, with few safe anchorages, miles of treacherous coral reefs and a strong northerly current. Over the years it has become a ship's graveyard, to the unlucky ones, and a dire warning to those that ran aground and were subsequently refloated. The earliest known recorded casualty is the Portuguese galleon San Raphael that grounded and was burnt at Mtongoni, near Tanga in 1499.
Since the earliest recorded history, seafarers have traded along this coast and until the late 19th century, Zanzibar was the centre of a large prosperous empire. With the signing of the Treaty of Berlin in July 1890, the vast area of East Africa ruled by the Sultan of Zanzibar, became British and German East Africa, now Kenya and Tanzania. The opening up of the two colonies, aided by the completion of the railway from Mombasa to Lake Victoria and the two lines from Tanga to Moshi, and Dar es Salaam to Lake Tanganyika, dramatically increased the volume of shipping along the coast, and in consequence the casualties. Ranging from the 15th century to the present day, this record conveys some idea of the ever present hazards faced by mariners sailing in this part of Africa. Many were due to human error and mechanical failure, with others from under estimating the forces of nature and casualties from the First World War.
The author spent over twenty-five years in the diving and salvage business in the Middle East and East Africa and was involved in some of the operations described in the book. He dived on and identified many of the other wrecks mentioned
Using records in Australia, Germany, Kenya, Tanzania, Zanzibar and the U.K. as well as the library's of Lloyds Register of Shipping, the Guildhall and the National Archives in London together with the Hydrographic Office records at Taunton, the author discovered the stories of over 200 merchant and naval ships that came to grief. The publication covers most of the known casualties that were wrecked or salvaged along the coast from the Kenya / Somali border to the Tanzania / Mozambique border, a distance of 1,400 miles. The inland lakes including Tanganyika and Victoria also had their fair share of casualties and these are included, as are all the tugs from 1896 to date since many played a part in the salvage operations.
. 276 pages, H/Back, with over 300 illustrations and three maps.
Available from the author at : 257 Sandbanks Road, Poole, BH14 8EY
at £13 inc P&P to UK. saburi@hotmail.com
'A brilliant piece of research and an excellent read' – Mariners Monthly
'A five star recommended book' – Ned Middleton – International Shipwreck specialist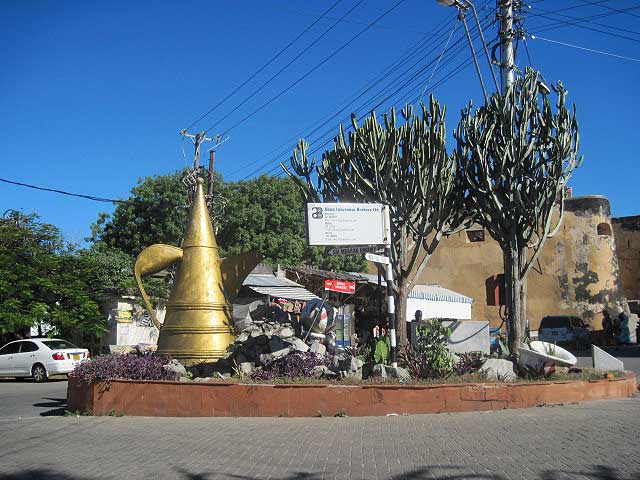 A giant Cava (coffee) Mug near Fort Jesus Mombasa (photo courtesy Kuldip Attalia)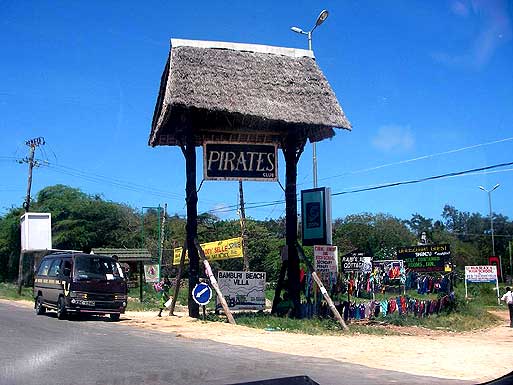 Pirates Club on Bamburi beach (photo courtesy Kuldip Attalia)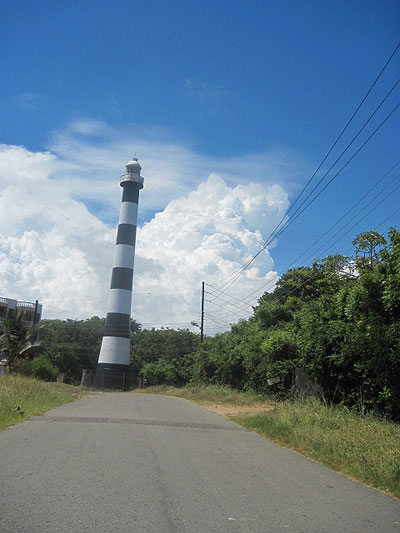 Light house (photo courtesy Kuldip Attalia)
TO SEE THE BEAUTY OF THE LIGHTHOUSE AT PRESENT - CLICK ON..
http://www.bbc.co.uk/news/world-africa-11847256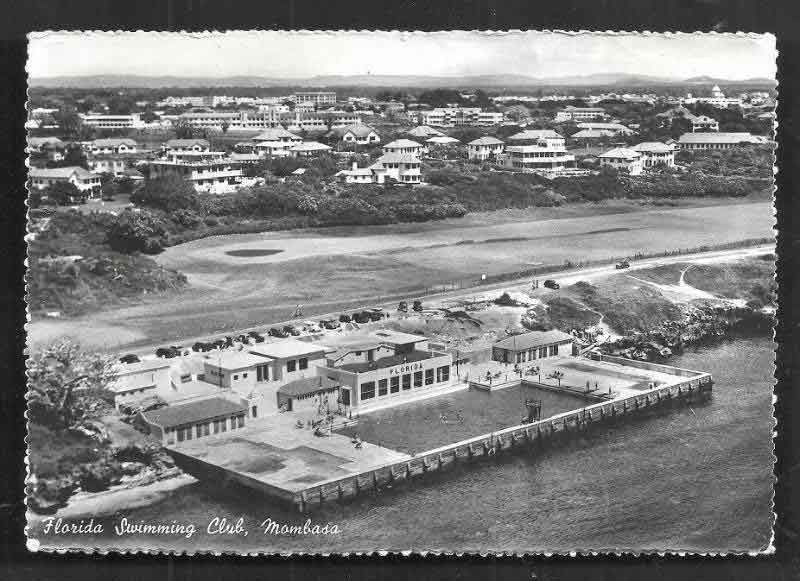 This aerial picture is very old. Shows all the recent high rise development in the Lighthouse area of Mombasa. The
dome of the Oriental Building can just be seen in the top right-hand corner.
-ameer janmohamed-
This Florida Club became a night club with strip shows during the seventies. I think it still is. (harjinder)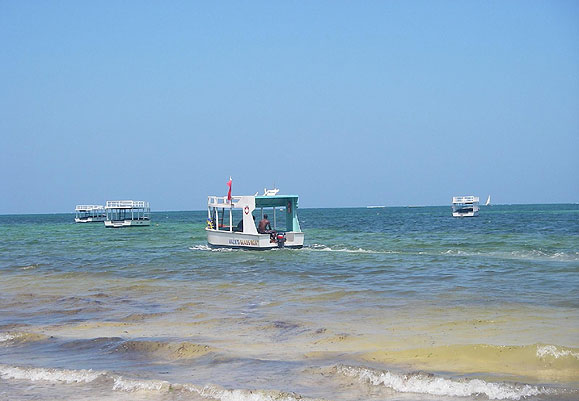 Glass Boat on Bamburi beach (photo courtesy Kuldip Attalia)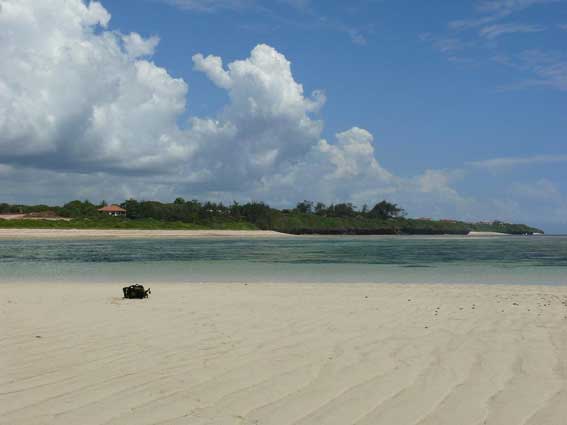 Kikambala Beach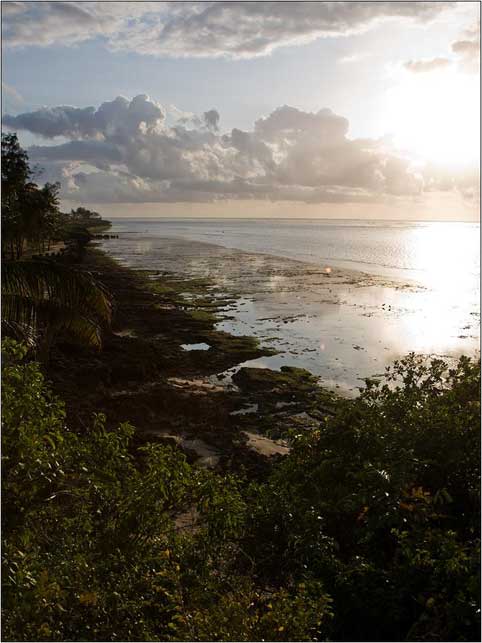 A Mombasa Beach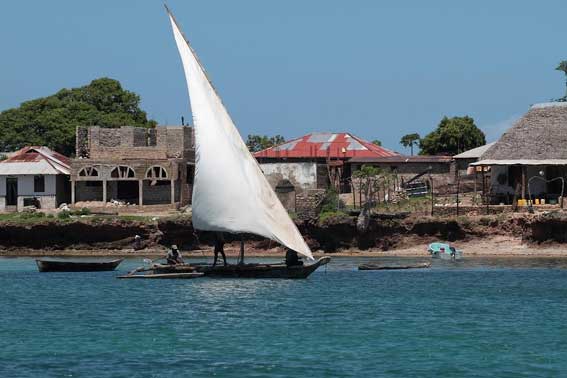 A dhow on Wasini Island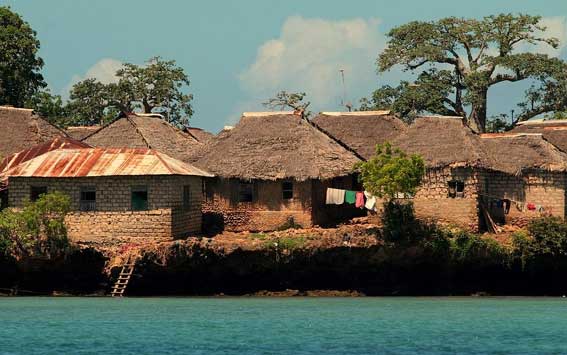 Settlement on Wasini Island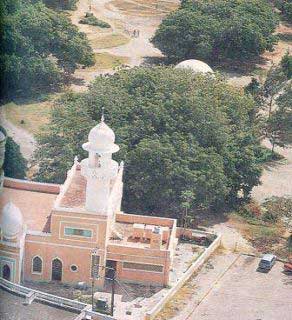 Baluchi Mosque (sent by Dhansukh Vaghela)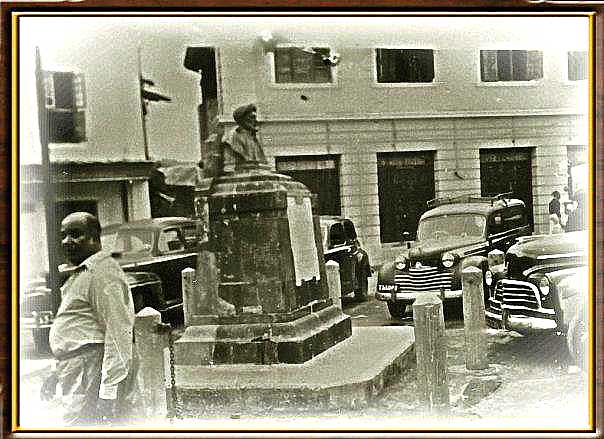 Bust of Allidina Visram (sent by Dhansukh Vaghela) This is important because this was the original site in Piggot Place, near Kuze Mosque. Had to be removed in post-independence xenophobia. It was rescued by Count Kassamali Paroo.(info by Ameer Janmohamed)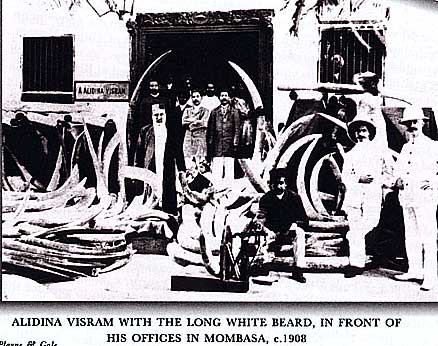 Allidina Visram - a pioneer, founder of modern East Africa, an excellent man and very good businessman who had so much business going on all over East Africa. He had a school built (see below) which still bears his name. A remarkable gentleman.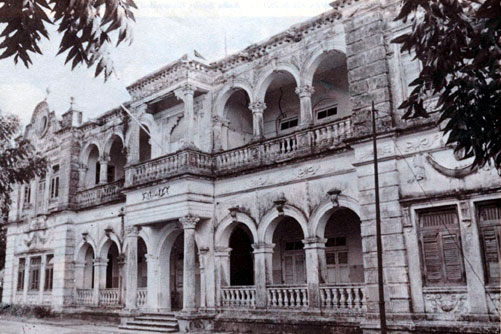 Allidina Visram School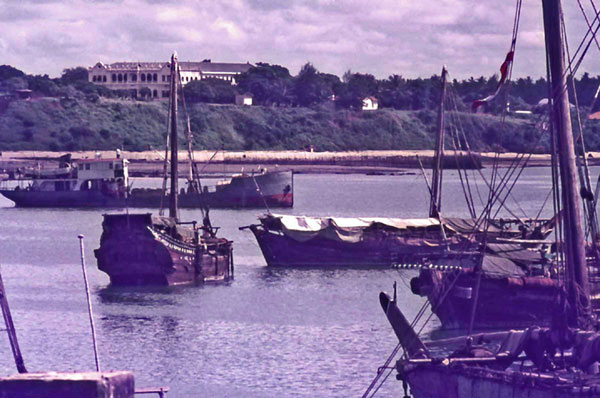 Allidina Visram School from the sea (sent by Ron Bullock)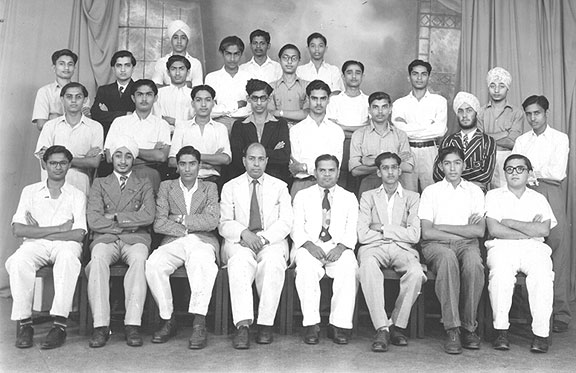 Form IV students with head teacher Mr. Kashmiri Lal, 4th from left(who later became principal of Eastleigh Secondary School, Nairobi), Allidina Visram High School, Mombasa 1952(photo courtesyGAJENDRA CHHATRISHA)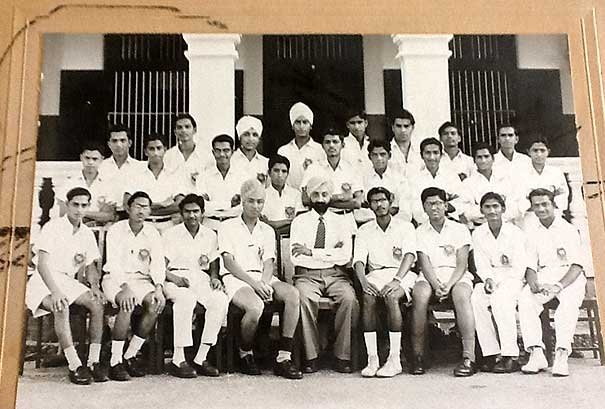 Class of 1957 ,Allidina Visram High School,Mombasa.Harminder Singh,Head Prefect,sitting to the right of class master,Mr.S.S.Sood. (sent by Harminder Ranger)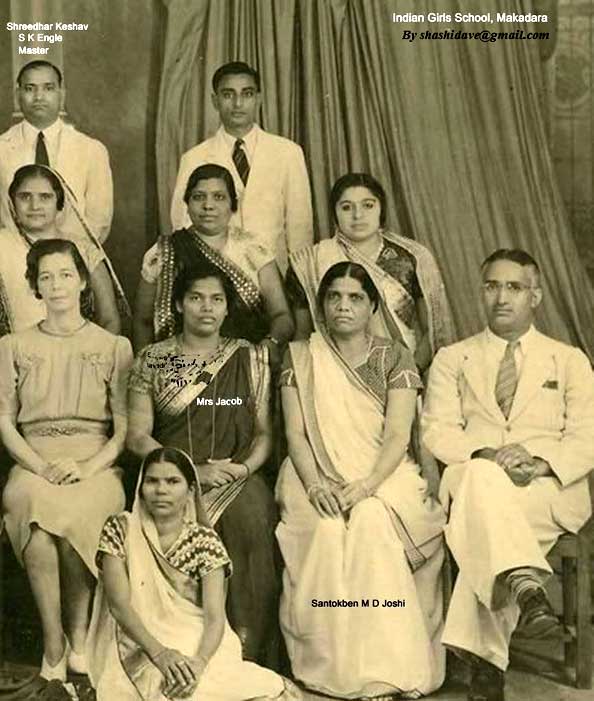 Staff of Indian Girls School Makadara around 1940's (sent by shashi dave)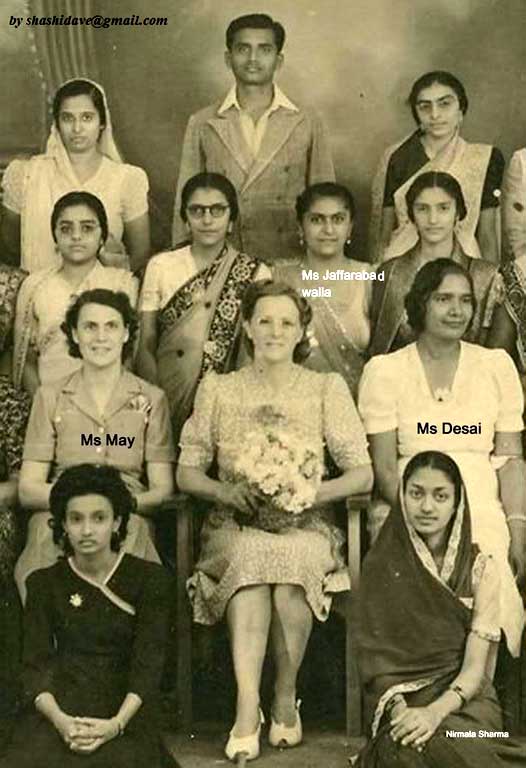 Staff around 1940's - Any recognitions? (sent by shashi dave)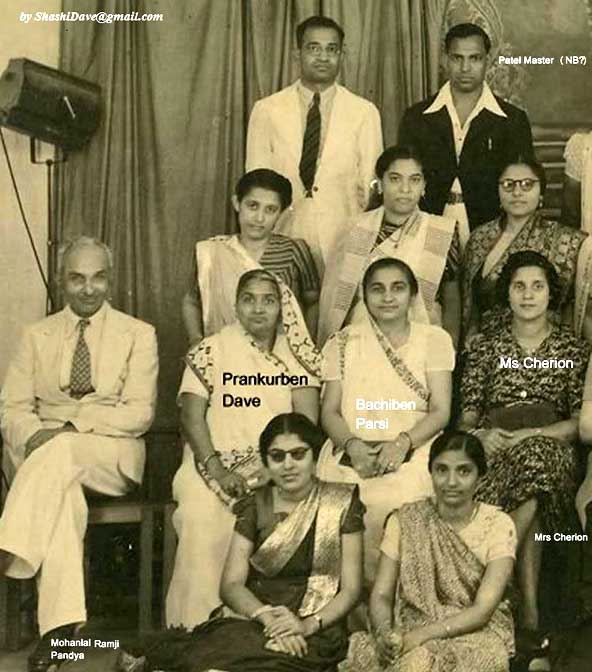 Staff photo around 1940's (any recognitions?) (sent by shashi dave)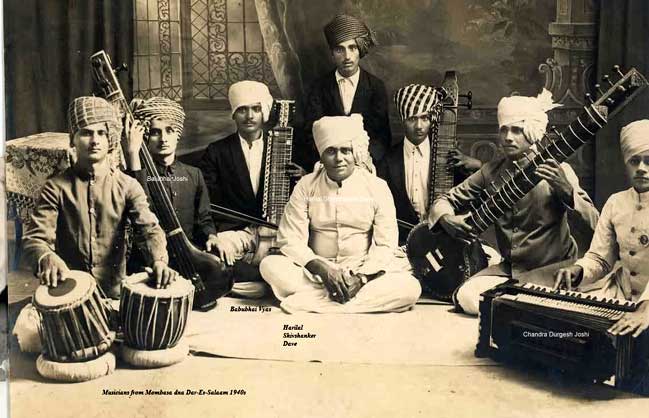 Musicians of yester years (sent by shashi dave)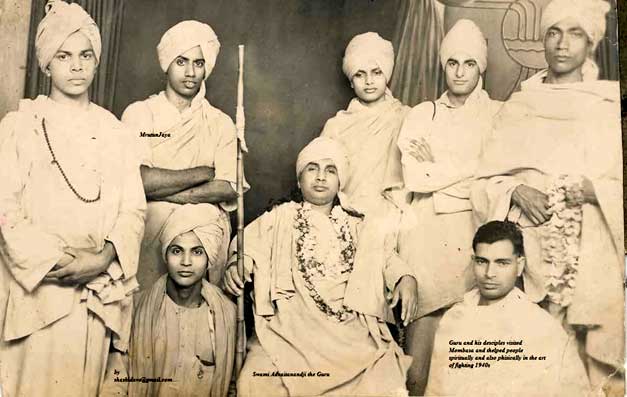 Swami Adityananda Ji visited Mombasa around 1940's (sent by Shashi Dave)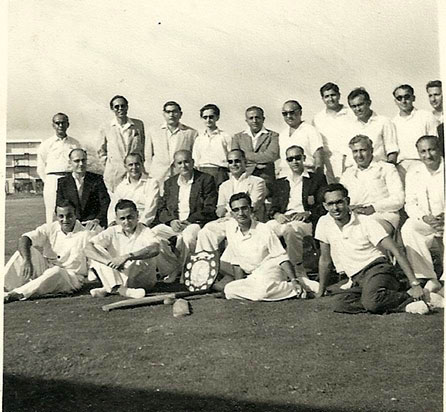 VENUE: Coast Stragglers Cricket Ground
OCCASION: Cricket match between Aga Khan Council Mombasa and Old Boys Association.
DATE: Mid-1950s ???? Corrections would be welcome, also the missing IDs
BACK ROW from left: Esmail Paroo, Umedali Gokal Ladha, Mithoo Premji Dhanji, Amir J. Cassam, Zavahir Zaver Alibhai, Shabudin Nurmohamed Dossa, Tajdin Mohamedali Dhala,
Sadru Gulamani (?), Shamash GMS Verjee, Mansur Rajan.
MIDDLE ROW seated: Mohamedali Rashid, Hassanali HS Verjee, Simbha (?), Kassamali Paroo, John Nurani (?), Jafferali KS Meghji, Mussa Dawwod Kanji.
SITTING ON GRASS: Rajabali Kassam Suleman Damji, Ameer Janmohamed, AK Gulamhusein (Akagu). Next young man has not been identified. (sent by Ameer Janmohamed)
---------------------------------------------------------------------------------------------------------------------------
AN ANNUAL EVENT IN EAST AFRICA WAS A CRICKET MATCH BETWEEN EUROPEANS AND ASIANS PLAYED IN NAIROBI AND SOMETIMES IN MOMBASA OR OTHER TOWNS. IT USED TO BE A VERY INTERESTING AND FULL OF RIVALARY. IT WAS ALWAYS LOOKED FORWARD TO BY THE CRICKET ENTHUSIASTS. HERE WE HAVE A PHOTO OF THE ASIAN TEAM OF 1934, SENT BY AMEER JANMOHAMED, WHO HAS ALSO WRITTEN THE FOLLOWING, RECALLING HIS MEMORIES IN MOMBASA (HARJINDER)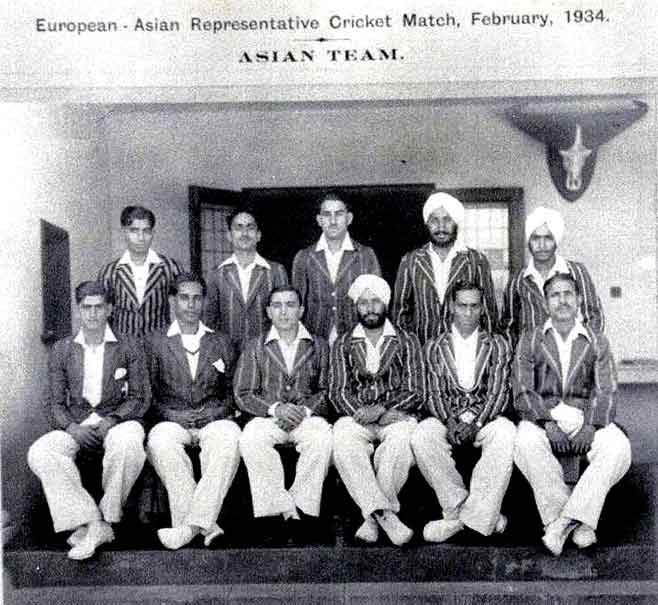 (Photo Credit: Mehdi Karachiwalla)
Standing from left: Virjee, Bashirdeen, Yakub khan, Jaswant Singh & Harbans Singh sehmi Seated from left: Karamchand, Hussein MS Karachiwalla, Yakub-ud-deen, Gurcharan Singh, GN Shah and A. Majeed. (Hussein MS Karachiwalla, seated 2nd from left, played in the Asians vs European fixtures from 1933 to 1940. He captained the Asian side in 1938. The two brothers Jaswant and Gurcharan Singh were owners of Photo Studio Nairobi and staunch members of Nairobi Sikh Union Club. Harbans Singh Sehmi was a past President of Sikh Union Club and father of Gursaran Singh Chhanni who captained the Asian Cricket team and The kenya squad later on [harjinder])
Ameer Janmohamed's memories recalled.........
The Asian communities in Kenya were not totally averse to belong to segregated clubs, schools, hospitals, cemeteries, based on their ethnicity, religion, community, class, caste etc.
The Indian Sports Club in Mombasa, which post-independence became the United Sports Club, was colloquially referred to as the Reshmi Club? Resham in Gujarati means Silk. Implication being that the upper crust Indians who got to join the club used to wear suits made of a material called China Silk. Not totally true but conveyed the sentiment. Also a bit of a misnomer there. Indian Sports Club had no sports facilities apart from a decrepit badminton court. I used to enjoy playing cards and snooker there and also browsing through English newspapers.
Please pardon the preamble. I write this as it brought back a flood of memories. I was also one of those described as "accommodated on the boundary line, under two large mango trees, near the squash court". I have watched much cricket from that spot in the 1940s and 1950s. I too observed this phenomenon where, during lunch and tea breaks, the whites would go into the Club house for refreshments whereas non-white spectators went home or wherever in search of sustenance.
Occasionally Asians umpired fixtures between all-white teams. I remember two of them. One was M. Khataw. He ran a record shop in Mombasa which specialised in 78 rpm gramophone records. One went to his shop if one wanted an old K.L. Saigal recording, for instance. The two main music shops in Mombasa at the time were Assanand & Sons and Shanker Dass & Sons.
The other was HMS Karachiwalla. He ran a grocery business on Salim Road, opposite the Vegetable market. His middle son Kamru was my classmate at the Aga Khan High School in Mombasa during the early 1942/1943. His youngest son Mehdi lives in London. I am indebted to him for providing the picture of the Asian Cricket Team 1934 (seen here) and other information.
As I remember it, during lunch and tea breaks the Asian umpires also walked to the Clubhouse, following some steps behind the white cricketers. They entered the Clubhouse and quickly re-emerged on the front veranda, carrying a glass of Lime Juice. Clearly they were not invited to partake of the spread in the Clubhouse.
They stood on the front porch in splendid isolation. They could not join the cricketers inside. Nor could they quite properly stroll over to be with the Indian spectators under the mango trees. I cannot imagine how they felt at such times. At the same time they had our grudging respect because they could stand on the Clubhouse veranda, nonchalantly sipping their Lime Juice. These were hallowed premises and no Asian could even contemplate standing where they stood. And what was even more awesome was that they had the authority to send a white cricketer back to the pavilion, simply by raising one finger!
-------------------------------------------------------------------------------------------------------------------------------------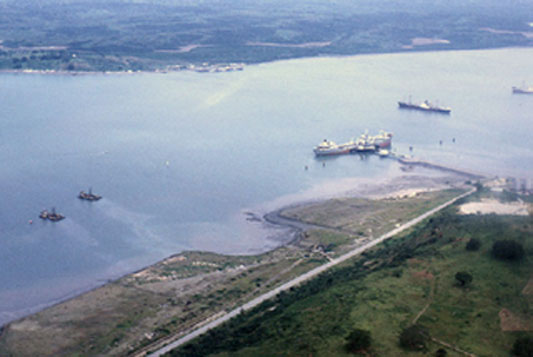 Port Reitz fron the air (sent by Ron Bullock)
The elevation of Fort Jesus now puts it at par with other world heritage sites including the Old City of Jerusalem, the pyramids at Giza in Egypt and the Vatican City. Fort Jesus was picked from among sites from 40 countries that were deliberated on during the 35th session of the Unesco's World Heritage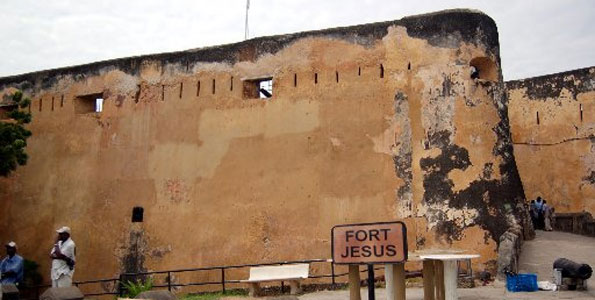 Fort Jesus in Mombasa. Unesco has declared it a world heritage site. Laban Walloga.
By GITHUA KIHARA
Wednesday, June 29 2011
Away from the pretty villas, the boutiques and other five-star establishments that earn the coast tourism a name - the grey, aged Fort Jesus stands out like a solid statement of architectural defiance.
Fort Jesus has just added a new feather to its hat: a Unesco recognition as a World Heritage Site that will see its profile rise higher than it did as a military garrison.
Although this 418 year-old former Portuguese fort, curved from a coral, has stood out as a tourist destination the number of visitors has stagnated over the years.
Mbarak Abduqadir , the curator of The Fort Jesus Museum expects the number of tourists to take a dramatic turn.
"When Lamu was nominated as a world heritage site, it received many visitors and boosted the coastal tourism industry, " Mbarak said.
But Lamu has failed to effectively exploit its nomination thanks to poor infrastructure. Over 80km of road between Witu and Lamu remains untarmacked, and the site has not received many guests as expected.
There are also no direct flight from Mombasa and one has to drive about 120km to Malindi to catch a flight to Lamu, which tourism players cite as a serious challenge.
Statistics from Fort Jesus show that the number of visitors including locals has remained at around 170,000 visitors per year in the last four years save for 2008, when it declined to 130,000 visitors due to post election violence.
The elevation to the Unesco list comes at a time when the fort has initiated an education programme that has seen the number of visitors increase significantly in the recent past.
"The number of visitors in the month of February and March this year grew by over 6,000 each month and the trend is expected to continue following the revival of the education programme and hiring of 2 more education officers which has attracted a good number of students to the site," Mbarak said.
The fort is part of the Mombasa city tour circuit that includes, Old Town, Old Port, Akamba Handicraft, Mamba Village and Ngomongo Village- a Coast communities cultural centre.
Industry players say that the Kenya Tourists Board (KTB) should now put more energy on cultural tourism as is the case in safaris and beach destinations.
(sent by Elyas Sardharwala)
================================================================
READ ABOUT KHOJAS/ITHNASHIRIES IN MOMBASA & LAMU
----------------------------------------------------------------------------------------------------------
THE CHANGING FACE OF MOMBASA
The Shree estate in Nyali. Houses in the neighbourhood are going for Sh25 million, up from an average of Sh10 million a few years ago.

By GITONGA MARETE and ANTHONY KITIMO
In the next few years, the skyline of the suburbs surrounding this city will change dramatically. Already, developers have trooped to the hitherto exclusive Nyali neighbourhood; where maisonettes have either been turned into restaurants or pulled down to give way to highrise apartments. In Changamwe, Bamburi, and Shanzu, Swahili structures have, after decades of forlorn existence, bowed to the pressure of a burgeoning, ravenous middle class
Domestic tourism, a burning desire to own property at the Coast, and improved security in the outskirts of Mombasa are fuelling property development in the town.
Developers are keen on exploiting the growing opportunities, constructing budget hotels and apartments in various parts of the city.
Areas such as Changamwe, Shanzu, and Bamburi have in the recent past experienced exponential growth in property development, thanks to improved security and demand for housing units at the beach front.
Shanzu and Bamburi have proved particularly attractive to real estate investors, who have in the past five years been driven by buyers who want a piece near the serene atmosphere of the neighbourhood. The cool breeze of the nearby Indian Ocean is, of course, an additional incentive.
Besides being hot cakes for a ready market dominated by a growing middle class, a number of these properties have also been turned into holiday homes by upcountry investors, says Suresh Hirani of Shree Homes Limited, a real estate company that has developed 200 houses on 30 acres off Nyali's Links Road at a cost of about Sh1 billion.
"Many of the new properties in this area are three- and four-bedroom houses," says Hirani.
"Those who have bought them as holiday homes rent them out to friends and relatives or even institutions when they are not using them."
Seven years ago, Nyali, though an exclusive neighourhood, was relatively affordable to the upper middle class, with residential apartments then going for between Sh8 million and Sh12 million.
Now some of these apartments have been turned into guest houses, with one unit going for between Sh15,ooo and Sh20,000 a day, depending on the tourism calendar.
Developers see easy money in this form of investment, and with Mombasa steadily growing as a tourism and conference destination, many other such developments are in the pipeline in Nyali at the north and Changamwe to the west of the island.
Hirani, for instance, says he will soon be breaking ground for the construction of 48 units of three- and four-bedroom apartments near Nakumatt Nyali.
Congestion within Mombasa island is driving businesses to the outskirts, and the Nyali neighbourhood is bearing the brunt of this exodus.
Houses sitting on large plots are being pulled down in favour of apartments and office blocks, especially along Links Road, a situation that has been likened to what happened to Westlands in Nairobi.
For a long time, Westlands was a sleepy suburb of Nairobi, with a tightly controlled development regime ensuring that the order and exclusivity of the neighbourhood was not interrupted by the tentacular growth of the city.
Then, after decades of maintaining its sheen, the city's business class saw an opportunity to cater to the consumer and entertainment needs of the nearby population and, within a very short time, the region burst at the seams.
Today Westlands is as chaotic as the Nairobi central business district, and there are fears that Nyali could be heading there. The area, apart from attracting the upwardly mobile business executive with a few thousands to burn in accommodation, is also fast becoming the entertainment hub of Mombasa.
Property owners are now turning their houses into garden restaurants to tap into this burgeoning entertainment market. Among them is Kevin Magotsi. Relying on a business model of a high-end restaurant, Magotsi leased a seven-bedroom house in Nyali and remodelled it into the classy restaurant.
"We spent about Sh10 million to transform the house into a restaurant," he says, "and we are planning to expand the facility so that we can start offering accommodation as well."
Although the Ministry of Tourism does not have a segment that details the amount that domestic tourism contributes to the national earnings, interviews with stakeholders revealed that local destinations contributed a big chunk of last year's sector earnings of Sh98 billion.
"Local conference tourism has helped domestic tourism to reach an average of 30 per cent of total earnings (Sh29.4 billion)," said Mombasa and Coast Tourist Association (MCTA) chairman Mohamed Hersi.
Across the Makupa Causeway into Changamwe, one of Mombasa town's best known neighbourhoods, investors are turning the dominant Swahili structures there into modern office and residential apartments.
For an area that, for decades, was the emblem of Mombasa's problems, including poverty, insecurity, and lack of infrastructure, these new developments have brought about a feeling of modernity and a semblance of order. And with the Moi International Airport nearby, the potential for modern hospitality structures is massive.
Changamwe is thus slowly taking advantage of its strategic location as a key gateway to Mombasa as it sits between the Moi International Airport, the Port of Mombasa, and the Mombasa central business district.
Business premises, including banks, shopping centres, and hotels, have popped up in the area, which for years boasted only a few dusty container depots.
Now, with these new developments, more and more container freight stations are moving to Changamwe from the island and other parts of the town. In just under a year, commercial banks have opened six fully fledged branches to serve the rapidly growing area.
The fortunes in domestic tourism have also propelled development of budget hotels west of Mombasa, with investors training their eye on Changamwe because of its proximity to the Nairobi-Mombasa highway. To cash in on this domestic demand, investors have built several luxury hotels and renovated old ones.
"Holidaying in Mombasa has now become affordable for Kenyans with a budget of even less than Sh20,000 on a three-day trip to Mombasa," says Jackson Manase, a tour operator.
Investors and residents who spoke to DN2 attributed the development of hotels in Changamwe to improved security in the area.
"Changamwe administrators have in the past two years worked closely with the community, and that partnership has resulted in improvement of security in the region," says John Mwakio, a resident who singled out for praise the area division officer, Ms Alice Wachira.
Simon Ndolo, the chief executive officer of Ndolo Investments Limited, says Changamwe is the next region to watch at the Coast. His company recently opened a three-star hotel with a 98-bed capacity built at a cost of Sh120 million. The hotel is only a 10-minute drive from the airport and comes complete with an entertainment joint.
"By putting the premises close to the airport, we are emulating a concept common in Europe where guests spend time in other places but move into a hotel near the exit point on the last day to avoid that last-minute rush," says Ndolo.
"The upgrading of Changamwe police station into a divisional headquarters has also restored confidence among investors around here."
Players in the tourism sector have, however, cautioned that haphazard development of apartments and budget hotels might cheapen the coastal tourism circuit.
Besides lack of qualified staff to take good care of guests, the establishments do not have proper facilities, says Mr Hersi of MCTA.
"These developments should be controlled because some of them go beyond three floors yet they don't have elevators, which goes against the laid down procedures for tourist facilities," he adds.
Besides hotels, several business premises are under construction in Changamwe, with a Sh1 billion shopping complex coming up soon. Ben Mutuku, a real estate marketing executive, says the venture would be a major boost to the image of the area as a commercial hub.
The five-storey building will host 60 offices and is targeting leading shipping line agents, clearing and forwarding agents, cargo consolidators, transporters, and other stakeholders such as banks wishing to move away from Mombasa island.
"It will be ideal for logistics firms dealing with cargo as it will take less than five minutes to reach the port from the offices," Mr Mutuku says.
However, the marketer notes that the development of new frontiers in Mombasa should go in tandem with the expansion of basic amenities, including water supply and access roads.
"There is a need to expand existing infrastructure to cope with this growth, otherwise the developments might become a curse to the local population by ushering in an era of confusion, chaos, and disorder," he says.
(the above article & photo sent by Elyas Sardharwala)
=========================================================================
A Nostalgic Look at Naaz Cinema
Naaz ki Kahaani Meri Zubani.
What a loss! What a sad sight seeing the excavator delivering its final blows onto Naaz just as a champion wrestler would do to his opponent in the ring when competing for a prestigious title! All that we now see remaining is a dusty mound of twisted steel and concrete that once belonged to Naaz cinema that was an icon of its time in the cinema world on the Island of Mombasa . Up till the time that the Naaz Cinema finally rose up at this site in the early fifties I think, M/S Samji Kala and their company Majestic Theatres ruled the roost. Other than the Regal Cinema which screen mostly English films, there was no competition and films lay canned in Samji Kala's warehouse at times for more than two years before being released. There were no DVDs or VHS or Internet then! Then the Moons loomed up on the horizon and the race was on! Enter Naaz with its popular movies like Awaara and others that gradually forced almost all roads to lead to Mithu's Naaz Cinema. In no time, Majestic declared an all out war - fortunately to the advantage of the film going public - by offering 'special shows' at special price..... one shilling all round, special ladies show, jagraan show, two movies for the price of one etc! Still Naaz stood tall and steady! In no time, Majestic Theatres changed gears and surprised the public by putting up the Queens Cinema almost overnight! And the rest is history!
The demolition of Naaz Cinema's in Mombasa brings a sad end to a structure that had a very special place in the hearts and minds of tens of thousands of people, mostly Muhindis because of the screening of many of the magnum opus movies in that theatre. Apart from you and I being somewhat regular patrons of this theatre back then, it was a place where many relationships started innocently and went on to be sealed with the marriage vows! There were many other budding relationships that had began in earnest but were nipped in the bud by 'heartless' elders before sprouting wings as the courting couple was caught red handed. It was a breeding place for many casual relationships and lasting friendships that went onto endure the test of time and there were also others that had just begun wetting their toes in the complex waters of intimate closeness but then hit the rocks due to some misunderstanding or a lover's petty row! This is not to say that Naaz was some kind of a secret den promoting unauthorized meetings and relationships. Its patrons was largely made up of decent individuals, families, friends and also the run of the mill type of patron who came, who paid, who saw and simply went home to wait for another movie! However, it cannot be denied though that it - like many other theatres of the time including the Drive-In cinema - was a kind of a 'secret meeting place', a refuge or a temporary safe haven from prying eyes and minds for those love birds who were mortally scared for their lives if they were seen in public! I knew a few of such Laila/Majnus that were seen there in the balcony of Naaz Cinema but they never ever took the risk of walking into the theatre together. Usually it would be the boy who would come in first when the lights were still on and then once the bell rang to signal the start of the show, the girl would walk in slowly and gingerly led by the shaft of light coming from the torch of the usher in front of her! The tickets were already booked in advance by the boyfriend a few days earlier thanks to Suleiman who was a 'self styled' senior booking officer who did such favours to some patrons - depending on the strength of friendship. He also played cupid in a few cases!
Syed Muhammed Shah popularly known as Mithu was the manager of Naaz and was always dressed smartly, mostly in safari suits or kaundas and on special occassions he cut out an imposing figure sporting a well pressed white shirt and a red tie.... all smothered with a nicely fitting butter tone suit and shiny shoes to complete the picture. He would be found strolling carefree in the terrazzo-covered foyer of the theatre taking stock of the situation and probably calculating mentally if the show was going to break even, or if he was going to laugh all the way to the bank or he was going to register a loss. A lot depended on the movie itself and the first releases were almost always money spinners at least for the first few screenings till the reviews from the patrons hit the street. I remember seeing "Madari" twice or thrice on a Sunday as it was being screened over the Eid festival and my pockets were a little deeper, warmer and heavier then! The story would have been very different if my late Father (may God bless him) had got wind of my escapades! Mithu would always be seen with a tin of '555' in one hand and a heavy bunch of keys in another. Sometimes when his hand was free of his keys he would be seen lovingly caressing his can of cigarettes. On rare occasions he could also be seen pacing the floor of the foyer with his hands clasped behind hi back. Mr. Shah was referred to as 'Bwana 555' in our little neighbourhood group in Kibokoni!
Right at the front entrance of the theatre there used to be the all favourite popcorn machine. To the right was the canteen that did roaring business during all intervals. The inside was air conditioned and initially it boasted of a sky blue heavy brocade curtain on the stage and I think there were stars cut from golden coloured metallic fabric that were sewn on that heavy curtain to complete the picture of a star studded sky. There were hidden or sunken lights installed at various places that appropriately illuminated the entire curtain in a beautiful way. There was also a row of coloured lights that were hidden from view but cast very soft shades of lights along the bottom edge of that heavy curtain.
Outsidethe theatre, one would find vendors of assorted goodies selling katchri, bateta, ganthiya, jugu, bisi, watana, dariya, hambul, chewing gum, toffee and other such items. Marhum Hussein Visram often parked his cart just before the steps of the theatre..... usually during the early evening shows and it was not unusual for my friend, brother and schoolmate Mohamedtaki Kermali Sherrif to open up his generous heart and buy us the ever popular mouth watering mix of kachri, bateta and ghanthiya from Hussein Bhai. After dusting the contents with his very own and very special blend of turmeric tinged coconut/mango/green chillie chutey that was never enough as far as we were concerned, Husseinbhai would deftly and carefully wrap the parcel in an old newspaper and then Taki would request him thus in Gujarati: 'Jarak mota kager ma dejo karanke amone aya'nj besi ne kawu che' (please wrap the stuff in a bigger sheet of paper as we would like to sit just near here and eat') and Hussein Bhai would oblige. Then we would retreat into the half lit well of the theatre's metal spiral staircase which came down on one of the side walls located in the dusty lane between the cinema and the fence of the police station where we would sit ourselves on the raised concrete landing at the bottom of the gaazi, (stairs), then open the package with fumbling hands and unhidden urgency and spread the paper all around so that none of the 'rus' (sauce) got away and dug into the mouthwatering mix. When the job was done, using our fingers like a wiper, we would both wipe the bottom of the newspaper licking off all the remaining rus (sauce) and the remaining little bits and pieces....... including the soggy printing ink left on the newsprint making sure that we got more than our money's worth! This ritual that was always sponsored by Mohamedtaki took place on days when we would be returning late from the evening activities at Panju School or at times whilst on our way home from our tuition classes conducted by Aziz Master, the Ismaili owner of a commercial secretarial college somewhere off Salim Road! Masterji always had the lower part of one of his hands wrapped in a white handkerchief which I guess he used..... may be to cover the white patches that he had on that hand and also on other exposed parts of his body. He was thin and lanky and almost never let go of a cane that he liked to hold in his hand - the one covered by the 'rumaal' (handkerchief)! On night, I also remember standing outside the Naaz Cinema in pouring rain, just by that spiral staircase, lying in wait with the hope of catching a glimpse of Sunil Dutt who was to make an onstage appearance as part of launching and promoting his song laden movie 'Ye Raaste Hai'n Pyaarke'.
Later on in life, there were a few Baluchi lads who were my neighbours in Makadara that worked as ushers in Naaz, Regal and Kenya cinema as well and therefore I was at times 'smuggled' in by these 'kind' friends..... so long as there was enough space inside the auditorium. When English movies were screened at such places, the feature film usually began after the second interval and so I would first finish my dinner and then go to either Regal or Queens and or Naaz to kill my time gulping kahawa that was vendored by the likes of Salim Karama who also resided in Makadara. Being my neighbour, he too would never charge me a dime no matter how many pegs of kahawa I gulped or even if I was there with a friend. Then the bell for interval would sound..... and the outside of the theatre would get crowded with patrons looking for something to munch or to enjoy a steaming cup of kahawa (sugarless swahili black coffee) or 'tangawizi' (cinnamon tea without milk but with sugar) specially if it was a cool, windy and rainy evening! Then another bell would signal the end of the interval and all of a sudden the whole place would be deserted and it would be suddenly quiet as if the earlier busy scene was some kind of a dream. I would wait patiently for my 'usher' friend to beckon me from the steps at the main entrance of the cinema. He would usually whistle and then shine his torch in my direction flashing it on and off to signal to me that it was all clear then! Grabbing a handful of 'hambul' (some kind of roasted pumpkin seeds) - again free from Salehe the hambul vendor, I would make my way towards the entrance of the theatre where my usher friend would part the light-stopping heavy curtain at the entrance door and lead me to my seat by swinging the ray of light on to the floor in a front and back motion and once the right row was reached, he would raise the torch and aim it at the seat that he would want me to sit!
There was an instance when I was still a kid..... may be 10 or thereabouts when there was a partial collapse of Naaz Cinema resulting in the death of at least one lady who happened to be the mother of a very very dear childhood friend of mine. Closing my eyes, I can vividly see the body of the lady lying in the mosque as preparations were being made for her burial whilst my friend was seated at his mother's feet shaken and dazed, tired and sad and not knowing what had happened and not quite ready to grasp the situation and fathom its implications. He was in fact a year or two younger than myself. This was one of those heart wrenching experiences that I was exposed to as a kid. Now I can also recall sitting at the foot of the bed in the home of my phui (father's sister) as she lay there cold and still. I was handed a white hand towel with which to swat a pesky fly that kept on sitting on her face all the time! I think I was probably 7 or 8 years old then!
The exclusive weekly ladies shows were a hit with all 'our' women on the Island who had nothing better to do and - in most cases, unknown to their husbands - had managed to save a few shillings through cutting corners when planning the daily meals. On that day particular day of ladies show, all roads led to Naaz cinema. These festively draped women, dressed in all their fineries would be seen hastening towards their destination in scorching Coastal sun. There was no tropical rain storm vicious enough that could force these women to stay in their barracks! It was one determined army whose sole target was to conquer the inside of the theatre. Some in their buibuis and others dragging a couple of little ones behind them whilst ordering another little one to clutch her dress so as to keep pace with her. Some would take buses whilst others would pad their hooves. Some others would even show up in cabs as there were no tuktuks or matatus in that era! The entire place would be swarming with women of all ages, all kinds, all colours.... cackling away as many little ones who were in tow contributed to this din in their own ways through their howling, wailing and often, their njava-script crying! It was like a mad house out of control! Many Swahili, Baluchi and Arab women anointed themselves with assorted attars... all having their own distinct fragrances. Others would be sporting strings of sweet smelling flowers like asmini and mtundaufu in their hair. There was however one specific breed in this crowd that also literally fumigated itself and its clothes with 'auood' and the fragrance in many cases was very 'intoxicating' even to a pea brained 'katoto' like me. One of my neighbours in her 60's at the time was very fond of a perfume called Bint-el-Sudan! That smell is still stuck in my brain. Re-living that xperience, I wouldn't be surprised if one of its principle ingredients was composed of ordinary kerosene mixed with tincture of iodine! The smell was simply disgusting! I will move on but not before mentioning yet another group of mostly middle aged and older women from one section of the women's fraternity at these exclusive shows. This is the group that perpetually smelled of curry and spices! They were like mobile tadka and dhokra! This was also one place where a girl dressed in the miniest of micro mini skirts would be seen rubbing shoulders with her grandmother in burka, or with someone in a hipster sari or another one in kurta shalwar not to mention the buibuis, the ninjas, the chadors and the ridas! Hijab or the plain head covering so common today had not yet been 'discovered' amongst the Muslim women in Mombasa although one could occasionally see one or two at the most.
Countless memories now lie in the debris of Naaz Cinema. The mound in the picture probably still smells of the blood, sweat and tears of all those who were responsible for initially erecting it physically and then from all those who then nurtured it to its glory! If one listened carefully to the sounds emitting from this mound of the fallen theatre, then amongst so many other sounds and smells, one would probably hear the deep sighs of those that were dumped 'at the alter' by someone who failed to show up despite a promise....'we shall meet inside the theatre after the lights are switched off!'! It probably still emits sobs of women who cried their eyeballs out whilst watching heart wrenching movies like 'Dosti', 'Do Badan', 'Anand', 'Bhabhi', 'Choti Bahen' and 'Dil Ek Mandir' amongst countless other films with sob stories! Fine tuning the ears further may also detect the cacophony of sounds that were generated at the busy canteen during the interval. May be a person with an Alsatian's nose could also enjoy the mouth watering aroma of freshly popped popcorn and also of french fries not to mention the sweet smell of the State Express 555 that the manager almost chain smoked! I think that the cocktail smell of all those perfumes, Bint-el-Sudan, colognes, attars, auoods, asmini and mtundaufu may still be permeating the ruins!
Naaz is a huge warehouse of many many memories..... many sweet ones punctuated by some sad and unhappy ones as well. By the time I finish this quick recollection arising as a result of the last nail being pushed into the coffin of this theatre, the waste from the site will have been carted off to land fill sites and some of it ..... to Kibarani. My hunch is that from now on, that plot could be occupied by the spirits of those who are no longer on this earth but had a very strong bond and affiliation to the theatre in its hay days. Who knows if I may one day undergo an experience of the third kind and 'see' Mr. Mohamed Shah hurriedly walking away with smoke from his '555' trailing behind him as he vanishing into the thin air! May be even Suleiman the senior booking officer and Mithu's confidante and right hand man could be seen lurking in the dark or may be someone will hear the thumping of his rubber 'stamp' that he so rapidly banged on the tickets that were flying out of his booking office.... and then suddenly him slamming shut the window of his booking office after slapping the dreaded "HOUSE FULL" sign on it as if to tell the disappointed patrons that they could now go home or rush to a nearby theatre like Majestic, Queens or Regal if they wished to as there were no more tickets. Suleiman was one guy who was partially responsible for disappointments and miseries of so many patrons though I refuse to talk about those half a dozen ticket touts who made all the hay possible by scalping the scores of tickets that they had on them! Strangely enough, as soon as Suleiman magically disappeared from the premises before briefly taking refuge behind the locked doors and the booking window of his tiny office, these black marketeers emerged out of nowhere like a menacing shoal of barracudas that suddenly appear from the depths of the ocean ready for easy prey! These guys were absolutely ruthless in their trade and rumours of inside collaboration at almost the highest level were not uncommon but I will let all those souls rest in peace!
Late Suleiman, like so many others from his community, lived in Kibokoni and I used to meet him almost every night when I was part of a 'baraaza' with my other Baluchi neighbours when he would cycle down the narrow stony path on his way home from his daily duties at the Naaz Cinema. Then upon reaching our baraza, Suleiman would dismount his 'horse' and sit amongst us and join the conversation and partake in the bitings and tea or kahawa that flowed freely! Suleiman was very articulate and he was very fluent in Kiswahili. The women folk would ask him for a quick review of the movie if they were planning to see it and he would gladly oblige them with his personal critique! On most days, getting advance tickets from him was a piece of cake! The Baluchi girls from the baraaza would use their charm and sweet nothings language and lavish praises upon him and then as he was still reeling from the effects of those praises, they would shove a wad of paper money into his hand and charmingly 'request' for X numbers of tickets ......on rare occasions, mine as well as I was a kid with no money..... 'maskini Ramzani wetu'. (Oh! Our poor little Ramzan! they would pout and chirp!) They 'sponsored' me mainly because the older women of the household who had no interest in seeing any movies ever, would insist on a male chaperon and if the brother or a cousin was not available, then I would be selected as their Dobberman. Though I was only knee high to a grasshopper, the mums considered me one smart cookie and trusted me as their watch dog for their frisky fun loving daughters and always pulled me aside to tell me: Baba Ramzani, usiwa-wache hawa ndugi zaako pekeyaao. Watunze sawa sawa na wa rudishe haraka.... cinema ikisha...... hatutaki mwende ku zurura hapa na paale..... ume sikiya mwanangu mzuri.... Mungu aku bariki! So saying, Bi Hadija would stroke my head with motherly love and kindness and then digging into her bosom, she would pull out this old brown weather beaten, body warmed wallet and hand me a penny..... saying: 'Haya mwanangu pokeya hilo peni na nenda kaji nunuliye chakaleti kwa Bereki'! (Here my son.... take this penny and go and get yourself a candy from the shop of Bereki'.)
Well..... Bhai I had best of both the worlds. A free ticket every time this group wanted to see a movie outside the special ladies show plus special hugs and kisses from their mums plus the precious penny and then the opportunity for me to be seen amongst a bevy of some of the prettiest nymphs of Kibokoni at the time though none was bold enough to be seen open faced when the lights in the theatre were on...... for as soon as the lights came on they instantly turned into mothers of all ninjas as they drew their buibuis tight and right across their angelic faces! It did not end there because at interval time, they would dig into their purse or where ever else they hid their 'pochi' (wallet) and pull out notes and loose change and send me on a number of errands to the theatre's canteen so as to get them chips and drinks including an ice cream for myself if I wanted one..... it being my choice! Sometimes Suleiman would send in an usher with handfuls of packs of freshly popped corn from the machine in the foyer..... all paid for! Once in a while he would even throw in king size cokes or pepsis! Upon bringing the flock back home at the end of the show..... depending on the time of evening or night..... more money would be raised and then the 'boy' of the house.... call him Hamisi, Bakari, Charo, Saidi..... would be dispatched to Mamadi Rekoda with a big 'bakuli' and be asked to fetch kababs and all the other goodies that 'Job' the owner of Rekoda sold.
Life for me then was one long picnic pleasantly interspersed with food and drinks, song and dance! However, the honeymoon did not last for ever and like all other fun things in life, this phase of my life also came slowly to an end as people moved, some others got married and settled down, some of the Mamas passed on and screws began to be tightened at home as apart from my poor health, my parents also wanted to keep me focused on my schooling and also protect me from undue and negative influences.
May Naaz rest in peace!
Ramzan
(Above article sent by Natwar Joshi) .. Pity I do not have photo of Naaz Cinema ---any chance?
===============================================================================
MOMBASA MEMORIES
By Khalid Malik
I am sure that we all tend to exaggerate the magnificence and charm of some of our past… an era, a place, a relationship. As I see it, we can keep those treasures to ourselves, or share them with our special friends, and let them try to understand the worth of these memories in their own perspective. Otherwise those gems are lost forever.
Kampala, in Uganda was undoubtedlyone such place, and my time there was one such era. Some day I plan to write about it, and indeed about the many other pretty towns of Uganda, the country which was once called "the pearl of Africa" by Winston Churchill , and which continues to be my most favourite country in the world.
However, another city, and its diverse citizenry of the years of yore, so diametrically opposite to Kampala, leave an equally desperate desire in one to conserve their memory, as they once were : MOMBASA!
I consider myself fortunate to have seen the ascent of this magnificent city through its glorious years during some 32 visits to the Kenya coast before the irreversible transformation of its culture, its very character, by the mid-1970s.
Seeing the splendour of this unique milieu slipping through our fingers for good, I decided to save it on record through e-mail exchanges with my brothers Saeed and Mahmood in August of 2007. I described my feelings of Mombasa in the following words, which I would like to share with those that I care for.
From the first e-mail
"From when Mombasa was undoubtedly at its zenith I visited it several times in the mid 1940's and '50s as a child with the grown-ups; then on my own through independence in 1963. And later still, with my wife Qamar and daughters Shehla and Hana, until 1974, when we left Africa for good. As an outsider I could notice the transformation through time, which local residents usually do not seem to have the ability to notice. Regrettably, when an outsider visits Mombasa for the first time today he can not possibly perceive the quaint grandeur of this amazing city in its heyday.
As some one who was neither a colonial administrator, nor a 'settler', nor an African native, I feel that I could be relatively objective in my observations on this transition.
You would only have known and now remember Mombasa at its near peak. You are lucky because you experienced some of the wonderful years the city had to offer. I consider myself fortunate to have known Mombasa during what surely were even better times! Inevitably, recounting my memories in the following words might raise some eyebrows, I fear, because nostalgia is a subjective sentiment, especially when you pine for that which was never yours. However, that's how I see it, and that's how I wish to remember it.
Coming to Mombasa from Nairobi or Kampala in those days was like coming to a different country altogether. Primarily because of its climatic difference to all other regions of East Africa, but equally because of its people. First, there were a large number of Arabs, and Swahilis. Then, the Asians, Africans and Europeans, seemingly of a different breed! The Asians of the Indian sub-continent were extremely friendly, honest, and hospitable, and had excellent inter-communal relations between the Hindus, Sunni and Shi'a Muslims, Sikhs, Goans and Parsees.
The Arabs, mainly from Oman and Yemen, lent a different slant to the whole equation. The mango vendor, usually friendly but belligerent in a moment when bargaining in business, yet rather likeable; the delicious hulva vendor, remembered standing in his dimly lantern-lit stall at night; the exhausted cart-transporter, sleeping on the pavement under his cart in the early afternoon heat during Ramadan; the loud fish seller in the bustling Central Market. All this was a segment of Arabia transplanted in a land which could hardly be considered as Africa, yet was a most unique part of it.
The European, always carrying his ways and living style to wherever he went, was, as well, a different breed. In his white shorts and long stockings, he carried the inevitable sun helmet or straw hat wherever he went. His relations with the other races of the land were markedly more personal and friendly than those of the haughty 'highland' European in up-country Kenya.
The sea… ah, the sea! Escaping into it from the land cooled you, but only marginally because the water would be warm most times! Then pay the price for it because the sea water would leave you sticky all over as you came out, and till you found a sweet-water shower. But you endured it... because you were in Mombasa! The strong smell of salt, the sight of the white sand, and its feel under your feet... we have just not been able to repeat this experience anywhere else in the world.
The delicious mangoes, the fresh fish, and, ofcourse, the unique hulva! Tastiest, by far, as they were, but perhaps because... it was Mombasa!
One could go on and on, but I think for the record this should suffice.
Happy memories, and best regards,
Khalid"
From a 2nd e-mail:
"I hope you followed the gist of my vision of Mombasa in its heyday, the period that I remember, from the late 1940's to Kenya's independence in 1963, and until the time we left Kenya in 1974. Admittedly it was purely from my own perspective, likely shared by a few, wretched, like-minded individuals who share my past.
While I am at it, a point perhaps of only academic interest, is that the Island of Mombasa legally remained a part of Zanzibar (which it had previously been, under the Sultan), until the independence of Kenya, when it became a part of the latter.
Anyway, something happened in early 1964 in Zanzibar the chain-reaction of which in Mombasa changed the very soul of this city forever: the Zanzibar massacre (calling it "revolution" would be glorifying an act of mass murder). This is when countless Arabs as well as many Asians were killed by mobs led by a Ugandan resident of coastal Kenya. And if any one says that's not true then they are lying. Because, apart from other known evidence, I was asked by my Company, Winthrop Products International, the multi-national American pharmaceutical corporation, to transfer all my stock of "Levophed", a drug used in the management of blood volume replacement, from Uganda to Zanzibar, while large imports of air-lifted stocks were on their way from abroad.
Be that as it may, this development naturally rattled the Arabs who had lived in Mombasa for centuries. Over the next months they said a hurried farewell to the only home they had known, this paradise island, most of them returning to their ancestral homes in Oman, Aden and Yemen (two separate countries at the time).
Some Asians also moved out at this time but a lot more left Mombasa in the late 60's and seventies when the Kenyan Government stopped renewing their work permits and trade licenses.
As a result of these changes there was a marked demographic transformation of this most vibrant, cosmopolitan city on the coast. The government openly arranged to facilitate the transfer of businesses formerly owned by Asians to Kikuyu merchants from upcountry Kenya. The Arab vendors of hulva, mangoes, and fish etc. were not to be seen in the numbers that they were earlier, and the many Asian men and women that one used to see strolling on the 'Lighthouse Road" in the evenings began to dwindle dramatically. Gradually the Asian traders who owned most of the vital high street businesses in the main roads of downtown Mombasa closed shop and moved out of the country. Even Kadiris, the Kokni panwalla, and the Swahili vendor of Qeema paratha on the sidewalk of Salim Road seemed to have lost their zest for the business they had done so enthusiastically with Asian customers in the past.
Thankfully, from my perspective, to be honest, some diehard Asians continued to live out their lives on the Island. Not withstanding the natural charm of the beautiful Bamburi and Nyali beaches, the magic of the coastal air, and the Swahili inhabitants , the place would have lost all its attraction for me were it not for the continued stay in Mombasa of a stalwart like bhaijan Ikram Hassan (the greatest professional hunter in East Africa according to the famous American hunter-adventurer Leo "the Lion" Roethe), and Ikram's family (wife Dr. Bilquis and sister Razia), and that of a handful of other Mombasa oldies (Mr. Bhardwaj and Mr. Awari, the Customs
official - dear friends of the Hassans).
In conclusion, I would say that Mombasa still has a lot of its old charm, however for an old world aficionado like me the change in the last two decades of the 20th century has taken away the uniqueness of a cosmopolitan city with a difference. Perhaps I am just a romantic fool. But a lucky one, because no one can take away those memories from me, except of course my own memory, to preserve which I have written these words.
Khalid Malik
Bahrain
June 30, 2012
Initially written on February 28, 2008
===============================================================================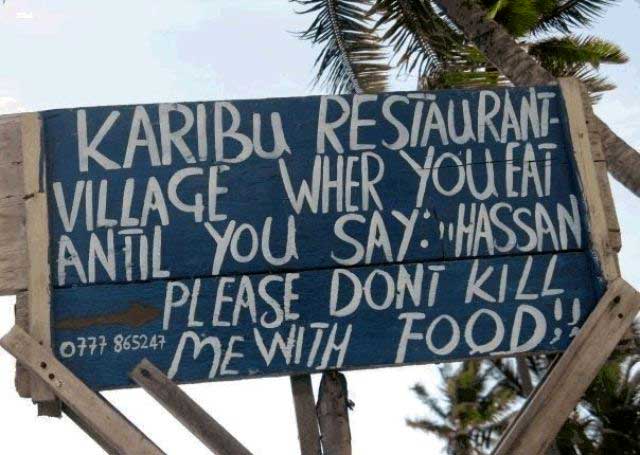 A very welcome restaurant sign in Mombasa
--------------------------------------------------------------------------------------
OSMAN BACHANI'S - NOSTALGIC MOMBASA
http://www.youtube.com/watch?v=o0wPjHCjo18
-------------------------------------------------------------------------------------
A Sheikh's Tale
By Rajarshi Aditya Chaudhuri, December 19, 2012 (sent by Ameer Jan Mohamed)
Khalifa al Hina'i has very fond memories of his childhood growing up in Mombasa. "The town was pristine. It wasn't very crowded and there was this cosmopolitan air about the place with Hindus, Arabs, Boras and Sulaimanis living together," he recounted. The 62 year old could be anyone recalling childhood memories till he starts talking about times when the Queen Mother, Princess Margaret, Aga Khan IV and the Sultan of Zanzibar visited their family home. "I still remember when my mother entertained Princess Margaret and all of us siblings welcomed her into the house by kissing her hand."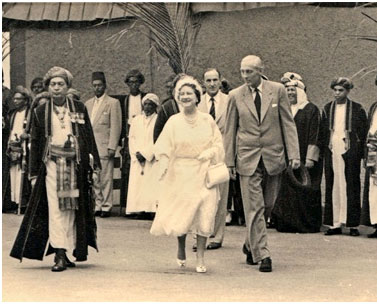 Sheikh Hinawy, The Queen Mother & Sir Evelyn Baring - Governor of Kenya


Khalifa is the twelfth son of Sheikh-Sir Mbarak bin Ali al Hinawy (KBE), the former liwali (governor) of Mombasa, part of the erstwhile Sultanate of Zanzibar. He was part of the Arab Omani ruling elite working with the British colonial ruler to govern the territories. Descended from Arabs who travelled from Oman to Mombasa in the 19th century, Sheikh Mbarak was born in 1896 and went on to serve as the liwali till 1959, a few years before independence movements and revolutions precipitated the end of the sultanate in East Africa. He is the subject of a new book titled Between Empires – The life and times of an Omani gentleman by Dr Zulfikar Hirji, an associate professor at the University of York, Toronto, Canada.
"Although I was only nine years old when my father was still the liwali of Mombasa, my family has retained most of those memories by way of photographs, notes and other memorabilia that has kept my memory of him and our time in Mombasa very fresh," said Khalifa. As a colonial administrator of British interests in coastal East Africa, Sheikh Mbarak walked a fine line between his loyalties for his colonial bosses and his commitment to the community in Mombasa he had worked all his life to build and protect.

"The thing that always amazed me was Sheikh Mbarak's lifelong support for both the Sultanate of

Zanzibar with all its Omani connections and the British. But there was a moment in his life when all that changed all of a sudden," said Zulfikar, who had first found out about the sheikh's extraordinary story back when he was researching migration of the communities of the western Indian Ocean.
"There was a moment when he stood and said that the British hadn't played fair with us. It's the only point in his story when you are witness to this sudden realisation. Something snaps in him and he changes and has to take a position. He realised that the community that he had worked so hard to establish in Mombasa was not going to survive the political storm that was coming in the late 1950s. His story was very human but indicative of the larger picture of what happened in this part of the world in that period of tremendous change."
But for a little boy of nine, the only indication that Khalifa got of their special status in Mombasa was the hustle and bustle surrounding the guests who visited from time to time. While the sheikh entertained his high profile guests, he always made sure to keep all his children very grounded and humble. "I remember all the ceremonies and the famous guests but what we cherish the most are the fond private memories of our dad," Khalifa recounted. "He was quite a strict man though. He made sure we all received very good education and learnt the lesson of humility. We had seven domestic staff members but we had to iron our own school uniforms and polish our own shoes."
As liwali of the important port of Mombasa, Sheikh Mbarak was used to keeping copious notes and records of all the people coming into town, one of the main reasons it was possible to write his story said Zulfikar. "While the revolution in Zanzibar and subsequent nationalist movements in those territories forced the Omanis who continued to live on there to cover up their Arab roots, the sheikh's story lived on in the photographs and notes his family had preserved even after they started moving back to Oman in 1972," he added.
It was with three trunks of information, some of it destroyed by salt water exposure and time, that the sheikh's illustrious life was pieced together bit by bit. "A lot of the material has been transferred to national archives in the UK and the rest is either in Nairobi, London and Zanzibar. Together with the records that the sheikh's family preserved, we finally got a good idea of his life and his contribution to the community in Mombasa in the early 20th century," Zulfikar said.
Khalifa maintains a collection of photographs and the foyer of his house is a museum with the sheikh's ceremonial robes and photographs. He has also managed to trace back the sheikh's cobalt blue 1956 Chevrolet Impala. "It used to be the only one in Mombasa and we used to go to school in it and people used to get so excited seeing it," Khalifa said. "Once we began leaving Mombasa, the car was sold to a Sikh trader in Kenya who sold it to a lady in South Africa and then it changed hands again and was shipped to Canada. That is where we traced the car down to and brought it back home."

Khalifa thinks it is important to remember those often forgotten parts of Omani history. "Everyone seemed to forget that we had been there for more than 1,500 years, even before Islam. We built cities and explorers like Ibn Batuta came down and found these cities. My father's story needed to be told accurately."

Following on the publication of "A SHEIKH's TALE" historians might be interested in this photograph of the Mombasa Municipal Board – 1948 (including Sheikh Hinawy)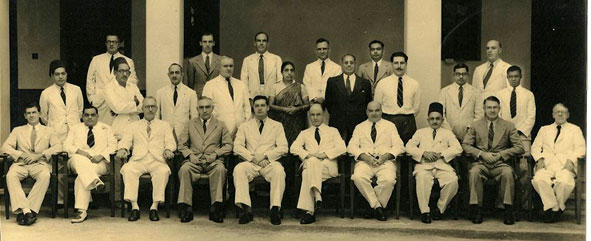 Seated from left: GA Skipper, Dr AU Sheth, L Collins, GI Sutton, PF Foster (Chairman), EG Tidy, Capt. Hamley, AH Nurmohamed, IH Frost, Dr J Dundas.
2nd row from left: Sheikh Hinawy, Shariff Abdullah, Kassam Janmohamed, Capt. Mundell, Mrs Sondhi, Dr MA Rana, G White, Hassanali Mussa Jetha, Isaiah Oduor.
3rd row from left: WR Shore, PH Brown AJ Walker H Rushworth, CH Patel & J MacImtyre.
==================================================================================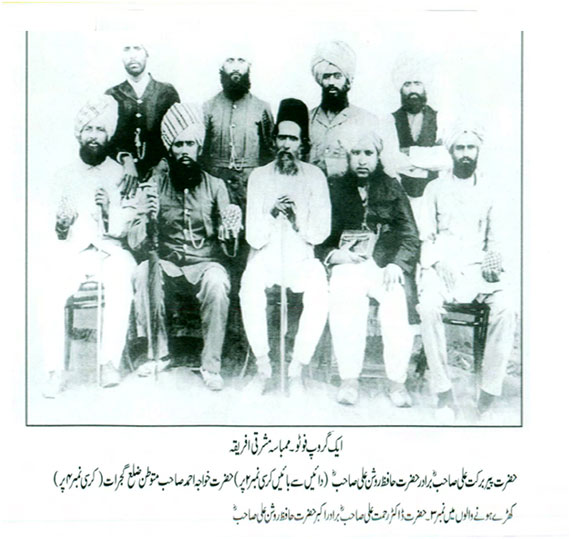 Pir Rehmat Ali sahib was from ranmal dist. Gujrat (now mandibahauddin, Pakistan), he went to east Africa around 1896, he served in Kilindin iharbour hospital as hospital assistant. From November 1902 to July 1903 he served with the Punjab Mounted Infantry. He was killed during Somaliland campaign on 10 January 1904 near jidbali and was buried there.
Above is a picture of some Ahmadi people in Mombasa, obviously it is before 1904, Rehmatali sahib is standing third from right side. Three men sitting are holding pineapples in their hands. (sent by Misbah Baloch)
====================================================================================
MOMBASA'S LAST CHANCE ON 4TH MARCH 2013
click to read about Kenya elections in Mombasa ============================================================
LIST OF RAILWAY STATIONS ALONG THE NAIROBI-MOMBASA ROUTE (sent by Tahir Mirza)
Nairobi
Makadara
Embakasi
Athi River
Lukenya
Stony Athi
Konza
Ulu
Kiu
Kalembwani
Kima
Sultan Hamud
Emali
Simba
Kiboko
Makindu
Mbuinzau
Kibwezi
Masongaleni
Darajani
Kathekani
Mtito Andei
Kenani
Tsavo
Manyani
Ndi
Irima
Voi
Ndara
Maungu
Bachuma
Mackinnon Road
Taru
Samburu
Maji ya Chumvi
Mariakani
Mazeras
Miritini
Kwa Jomyu Halt
Changamwe
Mombasa
In 1962 I would have paid Nairobi-Mombasa single fares as follows:
First Class Shs 79.20
Second Class Shs 52.90
Third Class Shs 15.80
=========================================================================================
This poetry sent by Azad Shah - Sentiments of many Mombasaites.
I left Mombasa , island of raha (happiness),
To emigrate to England , land of opportunity.
Forsook the tropical sun
For cold frigid weather.
Left behind the warm ocean breeze
For the wind-chill of winter.
Abandoned white pristine beaches
For brown muddy shores.
Turned away from a turquoise ocean
For polluted lakes.
Gave up mangoes, papaya, mabuyu, achari and sunflower
For processed apples, pears, peaches and cherries.
Gave up white snapper and king fish
For boxed cod and sole.
Gave up mishkaki, nyama choma maambri and bharazi
For cereal, bagels, cheese, and salads
Gave up drinking coconut water straight from the coconut
And settled for bottled water..
Left behind the street coffee seller (Kahava)
For the office coffee pot..
Left behind the exotic fragrance of phapa and langi langi
For the pungent smell of sulphuric emissions.
Deprived of hearing the call to prayer
For the sound of police and fire sirens.
Deprived of seeing women clad in mysterious black buibui
For women dressed in jeans and miniskirts.
Deserted a slow relaxed pace of life
For the fast lane.
Gave up afternoon naps
For gym workouts.
Gave up riding a bicycle through the narrow streets
For driving a car on the highways.
Discontinued a course on the coral marine life
For a course in stress management.
Discarded mud and thatched dwellings
For concrete and steel.
Left behind a community-based life
For a human zoo.
It makes me wonder
If I have also left my soul behind in Mombasa ? ;;;azad;;;;;
---------------------------------------------------------------------------------------------------------------------------
Mzima Springs are a series of four natural springs in Tsavo National Park, Kenya. They are located in the west of the Park, around 48 km from Mtito Andei. The source of the springs is a natural reservoir under the Chyulu Hills to the north. The Chyulu range is composed of volcanic lava rock and ash, which is too porous to allow rivers to flow. Instead, rain water percolates through the rock, and may spend 25 years underground before emerging 50 kilometres away at Mzima. The natural filtration process gives rise to Mzima's famously clear stream, which flows through a series of pools and rapids. Two kilometres downstream from the springs, the stream is blocked by a solidified lava flow and disappears below the surface again.
Mzima is one of Tsavo's most popular wildlife attractions owing to its resident populations of hippos and Nile crocodiles. Mzima's isolation makes both species are dependent on its waters: other sources are too distant for them to reach by overland travel. The hippos also sustain an entire food chain. They browse the surrounding savannah by night and return to Mzima's pools by day, where their dung fertilises the water. Fruiting trees such as date and raffia palms, winterberries and figs grow beside the water, using their submerged roots to absorb nutrients. Their fruits are a source of food for vervet monkeys and a variety of birds. Below the water's surface, the invertebrates which feed on the hippo dung are preyed on by fish and cormorants.
At one time Mombasa's main water supply was Mazima Spring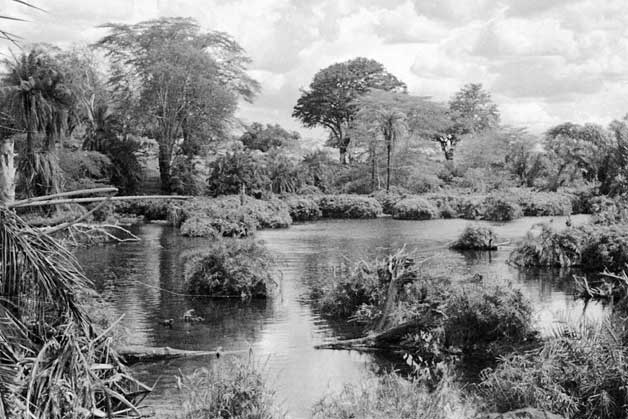 The clear waters of Mzima (sent by Rajni Shah)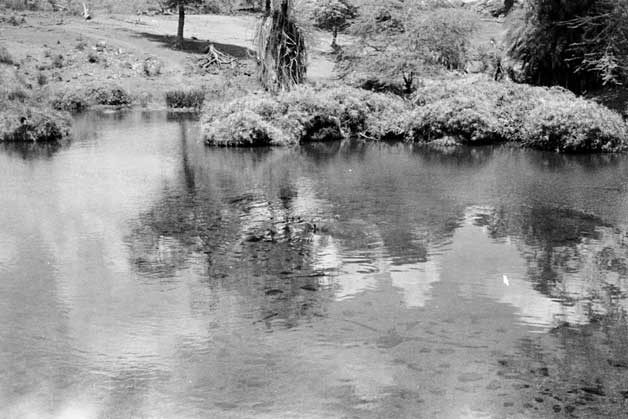 The clear waters of Mzima (sent by Rajni Shah)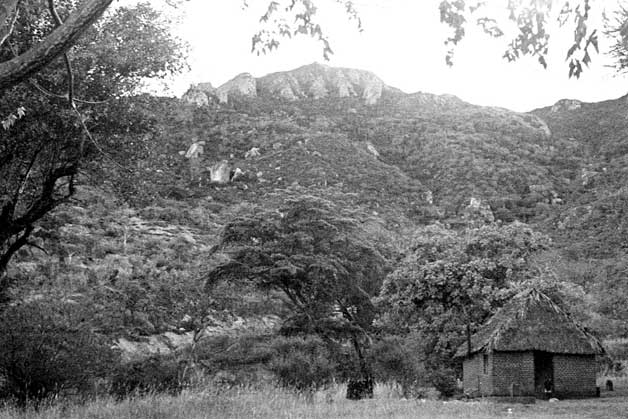 The surroundings of Mzima (sent by Rajni Shah)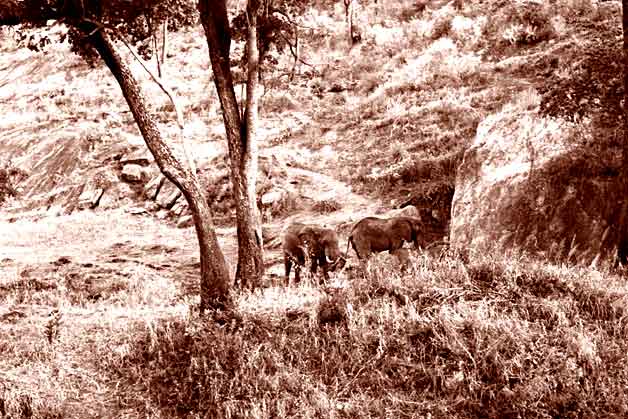 Elephants at Mzima (sent by Rajni Shah)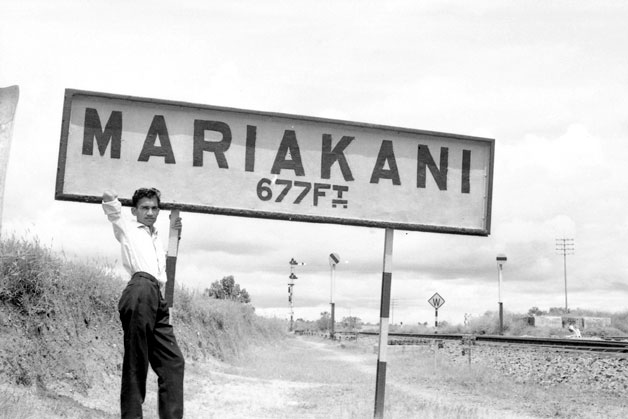 Mariakani is a town lying on the boundary of Kaloleni and Kinango districts (formerly Kilifi and Kwale respectively), Coast Province of Kenya, 36 kilometres northwest of the port city of Mombasa. Rajni Shah in Mariakani 1950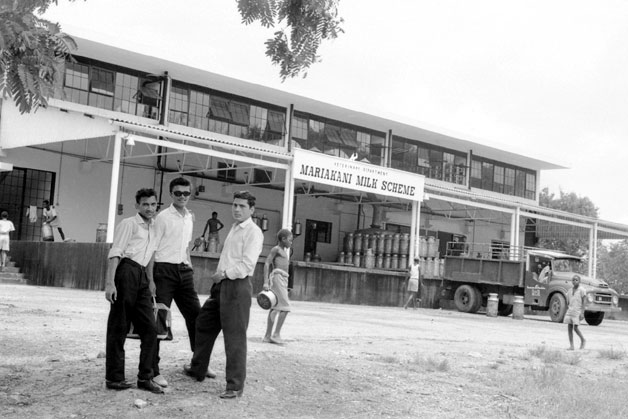 Rajni & friends near the Milk Depot Mariakani 1950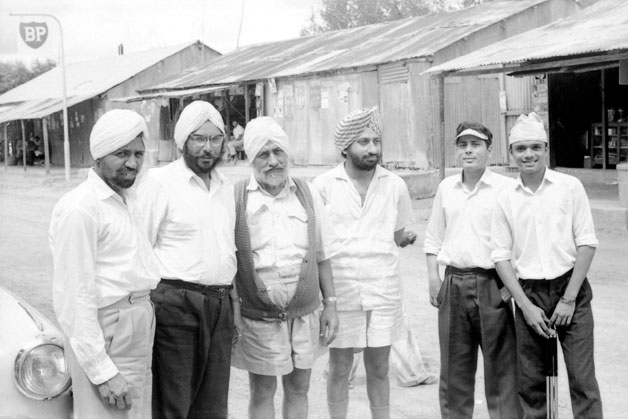 Some workers in Mariakani 1950 (sent by Rajni Shah)
=============================================================
The Green Green Grass of Home
Here is how an ex-Kenyan now living in Canada recounts the lost paradise that he left behind and his yearning to return to the land where his roots belong. At times we all East Africans feel the same.
Yet another year has gone by in a strange land. The grass that appeared so green then, now seems different. Suddenly the memory of the 'real home' comes flooding back The blue sea, the kasi-kasi breeze, the white sandy beaches. The dazzling shimmer of the ocean! The crimson sunsets, the long dawns & longer dusks. The whispering palms, the giant baobabs and swishing casurinas. The Old Town with its narrow lanes & unkempt roads, The roadside vendors, the assorted hawkers The Ramadhan food stalls, the Eid prayers, the Baraaza The Swahili restaurants offering traditional dishes. Bharazi and mahamri, muhogo&matoke Tumbhuwa&kalamati with vyaziwanaazi. Mishkaki and surwa with chapati tha. The fresh tropical fruits & the fresh sea food. Embe&ndizi, papaya &bungo Machungwa& 'nanasi, tufaa&zambrau. Nguru and papa, changu&thewa Lobster & shrimps, jodhari&thaafi. Thumbu and simu, gege and chakufa. The lilting taarab full of lessons in life, love and wisdom The calls to prayers, the traditional open air markets The buibui covered ladies, the khanga clad grannies The khanzu adorning wazee beneath the Swahili kofiya, A bakhora in hand and sandals on feet. The stillness of the night pierced by howls of stray dogs, The ominous grey skies and deafening claps of thunder. The sweet smell of the African soil prior to rain. The pounding rain beating down on mabati and matuki roofs. The gentle smoke escaping from wet thatch roofs. The intoxicating whiff of Swahili food from kumbini kitchens. Oh !That slow paced life, that simple life. A place where days & nights were equal. Where temperature was ambient & constant. Where there were - but just - two seasons. For it either rained or the sun shone under a blue sky! Where time almost seemed to stand still. Where hooves were used to cover distances & cars were a luxury! Where my neighbors & friends made up my family. All of the above and much more is now a bitter sweet dream. I live and feel lost living in the so called 'new' world And not a day passes without pining for Mombasa - my 'madha town'! Though returning home now seems but a distant mirage! I retire every night with a prayer that one day…. This lost sheep will return home never to desert again! Then a day will finally dawn when this prodigal son Will be laid to rest in the laps of his beloved mother.
And the final epitaph on the tombstone will say: "From dust to dust - from Him we come and unto Him we return" Here lies Ramzan who after years of yearning to return home, finally realized his wish to be interned into the soil he loved so much.' May he rest in peace and may Allah forgive all his transgressions! (Amen) (19th. September 1943 to........?????).
===========================
=======================================