Sardar Atma Singh Sembhi (Atam Hamrahi) is a renowned name in the Punjabi
literary circles of Punjab and beyond. He was born on 9th February,1936 to Smt.
Ram Kaur Barha at Rataul Bet (Zeera).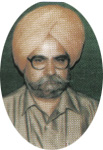 SARDAR ATMA SINGH did his higher secondary in 1952 from Dev Samaj Higher Sec. School Moga, F.Sc in 1954 and then J.B.T. After completing JBT, he joined Khalsa School Moga as a teacher. He did his graduation in 1962 and joined B.Ed. and did his masters in 1967 and P.hd in 1976 and finally become a lecturer. His father Mistry Ujagar Singh Sehmbi was a truck body maker at Moga. Atam Hamrahi created a place in the elite of Punjab on his own entellect. Hamrahi gave a unique identity of the pride to the Sembhi's - the Ramgarhias of Punjab. Moga being his paternal home and Rataul Bet being his birthplace, both falling in the old district of Ferozepur, Ferozepur became a subject of research for him for his doctorate. He did his PhD on Contribution of District Ferozepur to
Punjabi literature and language and showed his reverence for his birthplace. To add more to his credentials, he was engaged in doing his research on Ludhian in -'Ludhiana Bolda Hai' - It is a directory of Ludhiana including all towns and villages coming under this district. He has also been writing character sketches of more than 350 Punjabis, who excelled in various fields of creativity. His works include books like 'Bawani', 'Uttar Bawani', 'Bartanvi
Sajjan Suhelre', 'Panjabi Bangla Bawani' and '24 Karat'. He travelled half the world on sponsorship by people who wanted him to write for them.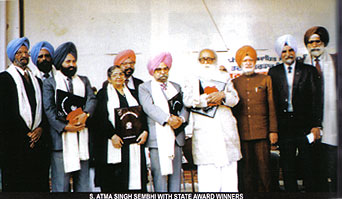 He was honored with many Ramgarhia sabhas and societies in India and abroad. He was decorated with "Shromani Punjabi Sahitkar Award". His contributions are duly recognized by Government of Punjab and he was given the "State Award". He got married to Smt. Tarlochan Kaur Birdi on 3rd December,1960. The couple is blessed with two daughters and a son. Although his health did not allow him to continue his work, but his enthusiasm nevr faltered to serve the Ramgarhia community through his work and dedication.
He is the first Punjabi writer to write the 'Punjab nama'
His uncurable illness took the toll and he died in 2005. I knew him personally and have never seen a more jovial, witty, intelligent and an excellent person. His flow of the pen was beyond comparison and his tendency to churn up new words was phenominal. A great loss to the intelligentsia of Punjab. May God rest his soul in peace. (kanwal)
Article and photos courtesy: www.ramgarhiakom.com