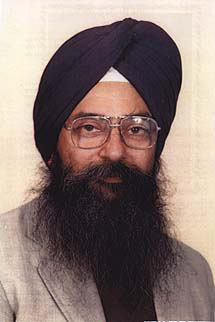 On 9th July 2004 a phenomenon of a man passed away, leaving very fond memories and a vast treasure of relics and artefacts collected laboriously during his life span of 71 years.
This man was Dr. Channan Singh Chan whose mere name puts a spell on the enthusiasts of the art and the literary world. His dedication and perseverance carved a niche in the collectors' world which made him an extremely renowned man in the Sikh and the world art circle. His artefacts and heirlooms had a tendency to fascinate and mesmerise the observer who would look in awe at how this collection transpired. Art connoisseurs like Dr. M.S.Randhawa when saw his repertoire in Coventry, was highly impressed and remarked that some of the rare items in Dr. Chan's collection do not exist anywhere in the world-'they are unique'. He single handed produced and published a number of booklets and souvenirs on Sikh Heritage. Some of his work, like the 'Bani Behangam', an original manuscript in Persian and discovered by him from Afghanistan, later copied in Gurmukhi and printed by him, has a rare place in Sikh history as this document is supposed to be written before the Janam Sakhis of Guru Nanak.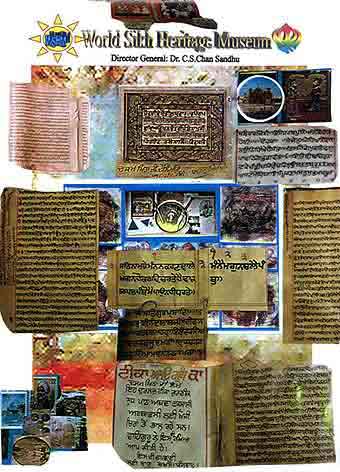 Some rare manuscripts
Dr. Gopal Puri writes about him "…...like the moon; Chan is dear, beloved, a personality. It is as much a pleasure to meet him as to see him reflected in his glory in a mirror shining on the Punjabi stage. He waxes and wanes exhibiting one or the other aspect of his personality day in and day out. When like the moon in the sky he shines, he fills with silvery glory everyone below and above……."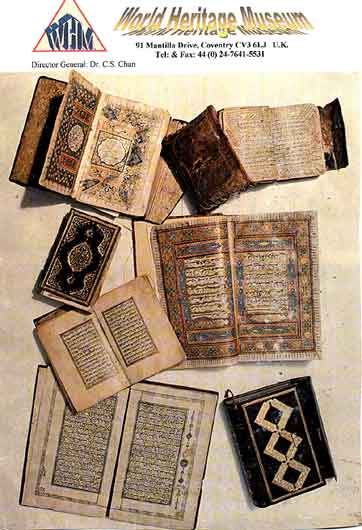 More manuscripts in Persian/Arabic
Dr. Chan was an eminent scholar pursuing various hobbies and interests both in U.K and other Asian Diaspora. A competent teacher, a prolific writer and a versatile poet, an exceptional artist, a connoisseur of arts and crafts, a keen collector of antiques, artefacts and relics, a melodious singer and musician who could play a variety of musical instruments, a erudite historian, a conciliator plus a devoted servant of the society - all rolled in one. His knowledge of languages extended to Sanskrit, Ancient Persian, Urdu, Hindi, Punjabi, Arabic and English.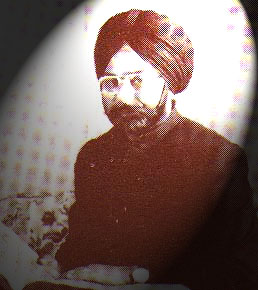 Scholar Chan
His house was a mini museum which boasted a very large number of manuscripts including old 'granths' and 'Adi Granth beeds', rare books, antique paintings of renowned artists and artists of bygone eras, old pictures, textiles including over a thousand 'phulkaris', rare antique coins and medals etc. just to name a few of his vast collection. These collections were not confined to Sikh Heritage or Art but also to Hindu and Islamic studies, some of the Hindu/Muslim relics which were not available anywhere in the world. A very old 'Geeta' written on 'Bhoj Pattar' and an antique 'Quran' was his proud possession. In exchange for a 13th century 'Quran', Dr. Chan obtained from an Islamic source a complete library of Hindu literature. In a period spanning nearly sixty years, Dr. Chan devoted his life towards achieving these goals.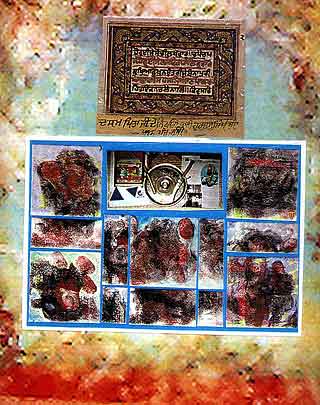 Some artefacts
Over nearly thirty years he has been displaying his material as far as USA, Canada, Australia, Europe, Singapore, Malaya and most parts of India. His exhibitions in some of these countries attracted immense interest and some students of art and literature became his ardent fans to whom he rendered his utmost help in achieving degrees in their respective colleges. A number of students obtained PhD in arts and crafts and literature with his selfless assistance.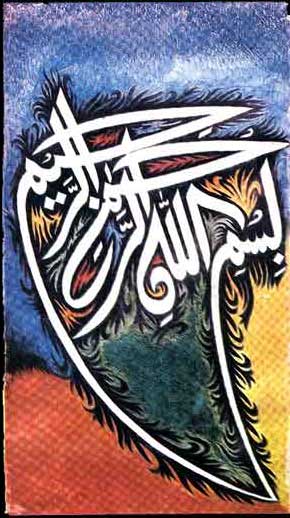 Calligraphy in Urdu
Born in a small village Bacchhauri in the Hoshiarpur district of Punjab, his early education was at the King George School in Kasauli, where his father was a contractor. There followed a teaching degree from Punjab University at Chandigarh in 1957 and an MA in 1958, after which he taught in Punjab government schools and at a teacher training college. Although teaching gave him a secure livelihood, he was more attracted by Britain as a centre of art and literature; hence in 1964 he migrated to the United Kingdom.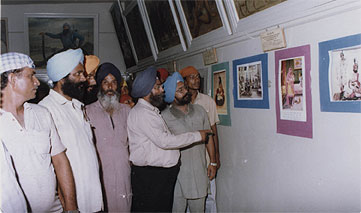 In one of his exhibitions
His love of art caught the eye of a director of Education in Coventry and he enrolled in a post graduation course in Coventry and in a short period he became a full fledged teacher. His teaching technique was so absorbing that students were mesmerised during his class. Later he developed an arts course for the community and constructed a syllabus for Punjabi 'A' Level studies which won approval from the Department of Education and Science. While pursuing his own interests in arts and crafts, he specialised in the fabric art of Punjab and gained a doctorate (PhD) from Guru Nanak University in 1981.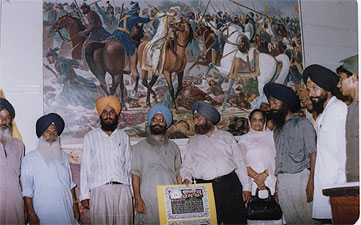 Exhibiting rare items on Sikhism
Interest in links between different religions and cultures led him in 1985 to organise an exhibition in Coventry Art Gallery under the title "Common Threads". He introduced it with a quotation, "Our lives are inextricably linked by the common thread of humanity. If we break it, we are all undone." A catalogue produced at the time ended with the words: "Sikhs, Hindus, Muslims and Christians from the Indian sub-continent, now settled in U.K. wish to share their experience with the host community. In our own way we have tried to bring an often silent minority of craft people to the mainstream of British aesthetics……. Our wish is to come together as a people through activities and imagery fundamental to the human race."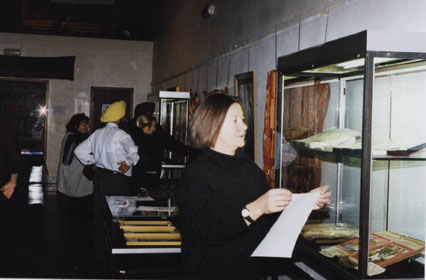 Another view of his one of many exhibitions
Comprehensive scholarship put him in a position whereas he could survey a wide variety of cultures, past and present. His interest in finding connections enabled him to study and observe the whole picture. In his work as an educator and communicator he demonstrated the relevance of recondite fields of study to the urgent concerns of today.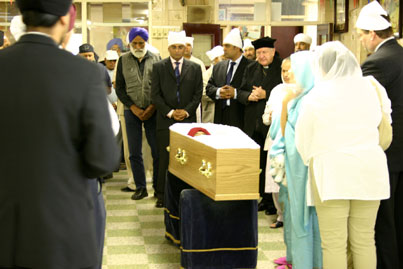 The last journey
He has been greatly missed by the intelligentsia and near friends who knew him to be a person rarely forgotten and seldom born.