A Brief Autobiography
I was born in Pothohar, Rawalpindi - now in Pakistan. My grandfather was the prime minister of Sir Baba Gurbaksh Singh Ji - a descendent in the lineage of Guru Nanak. It was a period of turmoil and my mother used to say that hoards of Muslims used to come to our village 'Kallar'(near Rawalpindi) shouting 'Ali, Ali' and we used to hide wherever we could. The Muslims used to take girls forcibly from the villages.
I initially studied in 'Kallar 'and then moved to Rawalpindi where I continued with my studies till the sixth standard, after which we came to Lahore. My two sisters and I joined a school there but unfortunately I fell sick and could not complete my studies although my mother wanted me to go to college and graduate but her and my dreams were further shattered as in a couple of years I was married off to Dr. Gopal Singh Puri who was a PhD in philosophy. He got a scholarship to do his second PhD in botany to go to London in 1945, just after the Second World War. I joined him in 1946.
In those days there was no air transport available for the public - the air service was only for the armed forces, so I came to England in a steam ship 'Princess of Scotland'. In this ship I reached Liverpool where my husband welcomed me. While passing through the streets of Liverpool I noticed complete serenity and people minding their own business. After the hustle bustle of India this came as a complete surprise to me and a thought came to my mind, "Is this England?" - what a contrast!
That very day we reached London in a mail train and went straight to a bed-sit which my husband had rented. It was not easy even in those times to rent a place by an Indian and that also a turbaned one, but still the grace of the Maharajas was etched in the minds of Londoners and we were treated with respect. There was no question of racism in them days. In fact we were given preferential treatment in some stores during the 'Rationing days' while buying groceries or vegetables, which was indeed an honour in those days.
Being a newly wed bride, I was a very shy girl and let alone speak in English even to speak in my own mother language, Punjabi, was a matter of concern. But my husband never ever made any comments on it and even when some distinguished guests would arrive and I was my own shy self, he would never put me down, make any derogatory remarks or furthermore ask me to attend any English classes. He was a very patient and an understanding man.
My son was born in England and the three of us went to India in 1950. After the partition of India and Pakistan in 1947, nearly all of our relatives had migrated to India and were living in different parts of Punjab - a time of great suffering.
My husband got a job in Dehradun as a Conservative Forest Officer and we breathed a sigh of relief. Then we went to Pune where my husband got a job as a director of Botanical Survey of India and it was here that my literary pursuits began to take shape. I started to write and wrote a few small articles, which when my husband read, asked me to send them to Prof. Mohan Singh in Jullundur to be printed in his magazine 'Panj Dariya'. I was very sceptic about all this that my immature writing would be accepted by such a learned person. But to my surprise a letter was received after some time praising my work and professor sahib asking for more similar writing which was going to be used in the 'Nari Sansar' column of the magazine. The encouragement given by a great scholar like Prof. Mohan Singh was the beginning of my literary journey.
To date I have written thirty seven books, performed the role of an agony aunt, a referring sexologist, novelist and written poetry and held poetical symposiums, my most memorable being with Shiv Kumar Batalvi. My articles have been printed in various English and Punjabi magazines and I have been broadcasting and debating various issues on TV and the radio mediums.
I owe all my achievements to the efforts of my esteemed husband and mentor who encouraged and helped me in my all ventures - to him I am sincerely indebted and pray for his blessed soul.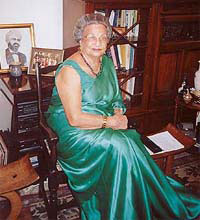 Mrs. Kailashpuri, now in her seventies is a very charming personality. A person with immense wisdom in human psychology and various other subjects belies her academic knowledge to standard sixth. Her achievements in the literary and the human world are an example in itself. A lovely person who is sought after by the media whenever the question of 'women 'is raised. (Kanwal)
I am proud to present a fraction of her model life.
She has been decorated with the following awards:
Bhai Mohan Singh Vaid, Literary Award 1982
Shiromaini Sahitkar Award - Bhasha Vibhag 1989.
Shiromani Award - Institute of Sikh Studies, Delhi 1990.
Personality of the Year Award, Khalsa College, London 1991
Woman of Achievement Award 1999.
Millennium Woman Award. Mayor of Ealing 1999.
Ambassador for Peace- Women's Federation for World Peace 2001
All national Papers have interviewed and published Columns in their papers.
Many times attended and presented papers in International Conferences in Korea, Japan, Americas, Cairo, United Kingdom and many Indian Universities.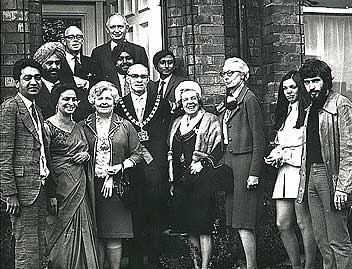 Kailash Puri with Shiv Kumar Batalvi with the Mayor of Liverpool when Shiv visited UK. Her husband Dr. Puri stands behind her.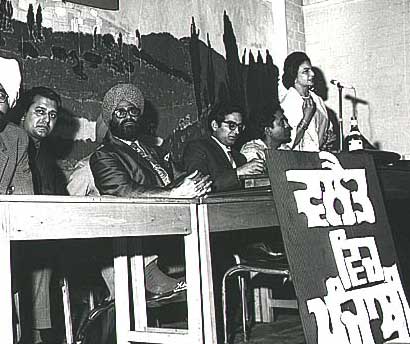 Kailash Puri on the mike itntroducing the versatile Shiv Kumar Batalvi in a Poetical Symposium held in his honour. Kailash Puri and her husband were responsible for Shiv's visit to UK. They have been know to entertain many other artistes from the sub continent.