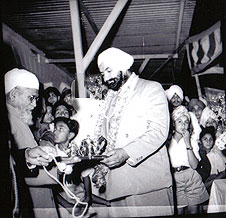 Alderman Mohan Singh being presented with a silver tea set by Suba Lal Singh of Namdhari Sangat Nairobi on his becoming the first Asian Deputy Mayor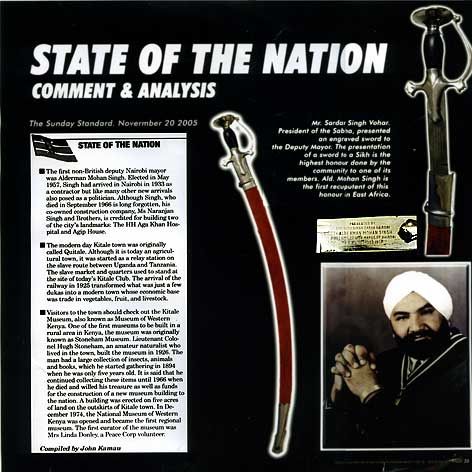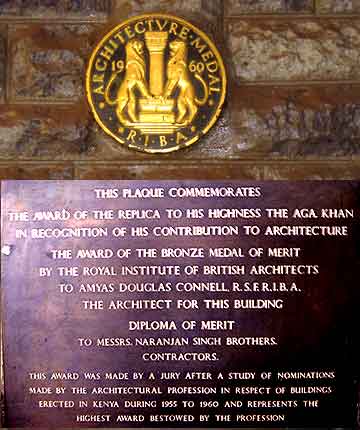 Whilst Ald. Mohan Singh achieved great heights in the Political and social world, his son Meharban took off as an adventurer - making his mark as an accomplished scout and a climber of mountains. A keen sportsman who plays golf regularly and was the golf captain of the Muthaiga Golf Club. Here we present an article by Narain Singh which appeared in the Illustrated Weekly of India.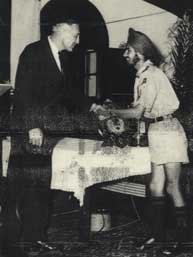 Meharban receiving a shield from the governor of Kenya, Sir Evelyn Baring for achieving prominence in the Scouts Open Cross Country in 1958.
ILLUSTRATED WEEKLY OF INDIA
SCHOOL BOYS ON A CLIMBING EXPEDITION
Whatever other qualities the Asians of Kenya and East Africa might have been credited with, the spirit to face danger for its own sake has never been one of them. It will thus come both as a matter of surprise and satisfaction for people in India to learn that within the community there are such groups as the twelve Indian schoolboys of Nairobi who recently, in the lace of parental objection and official disapproval, made the hazardous climb of Mount Kenya to a point above 16,000 feet, :* highest reached by any Asian so far.
The leader of the party was Satyapal Singh with Meharhan Singh. he and Yez dir rustomji had previously climbed Mount Kilimanjaro. The nature of this mountain, however, is such that reaching its summit is more of a test of endurance than of the alpine-typo mountaineering. Yezdir was the only one who had also made an assault on Mount Kenya- which presents the most formidable natural obstacles. None of the others had mountaineering experience of any sort
When preliminary arrangements were completed, the party approached the Mountain Club of Kenya with a request for the necessary maps. Unwilling to take any responsibility for what it considered a foolhardy project, the Club turned down the request and gave a very firm warning of the dangers ahead.
But the boys went ahead regardless. Their equipment was literally cut to the bone. Three members carried a total of 60lb. each, and the others 60 Ib. each. They had two tents. And they managed to obtain a couple of maps which, however, could serve only a rudimentary purpose.
From the nearest railway station of Naro Moru, the party walked uphill for two days through the rain-drenched forest, till they reached the first huts which lie well within the forest line. Here they spent the night.
Next morning, they set off for the second hut. They could not reach it till It was dark, and so decided to pass the night in one of the many caves on the way. After a day's rest, they started for the base hut.
The boys soon' realised that it was necessary to send one or two of the more experienced members in the party ahead to reconnoitre the ground, Satyapal Singh and Meharban Singh accordingly, went along and, returning later, were able to lead the party to Klarwill's hut.
- At this stage, one of the boys' fell ill. It was decided to leave two members behind to look after him while the others continued the climb. The next night was also passed in a cave. There was no shelter for the night that followed, however. They had to camp it out in the open, an ordeal from which some of the party showed serious after-effects Having by now been joined by the three who had been left behind, they made their way back to Klarwill's hut.
After a day's rest, it was agreed thai the party should split into two groups— the first to climb Piggott Point, the other to make the assault on Lenana Point
The first group of five was able to make the ascent and return later in the day, but the second batch did not show up at the base the whole night. It was found by a special search-party the next day. After giving it the necessary directions for return to the base, the search-party decided to make the Lenana Point climb by itself. As luck would have it, mist and snow made the group lose its way while coming back. The boys had to spend four entire days in a small cave, and eventually returned to the base, fatigued and worn out.
OBJECTIVE ACHIEVED-
During the absence of the search-party, Meharban Singh went off on his own and scaled the 17,000-ft,-high Nelion-the highest peak reached by any member of the party. While descending from the long jutting peak, he slipped and fell and received a nasty injury on his hand. But, before returning, he tied his turban and scout badge on the summit of the peak.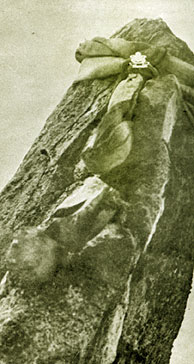 The Turban and Scout Badge of the conqueror can be seen on the 17000 ft. high Nelion Peak
Another accident occurred whose consequences could have been really serious. Satyapal Singh, the leader, decided to indulge in a bit of exploring on his own while the search-party was away. In doing so, he sustained a fall of about 20 feet and became unconscious. When he came to, he was unable to move and spent the night where he fell. It was not till late next morning that he was able to rejoin his colleagues.
Eventually, all the members of the party reached" Lenana Point, which is at a height of well over 16,000 feet.
Thus ended an adventure without precedent for the Asians of East Africa!
( Journalist Narain Singh was a very learned Sikh, living in Nairobi, who wrote for many news papers and periodicals. This article written by him was published in the Illustrated Weekly of India on November 29, 1959)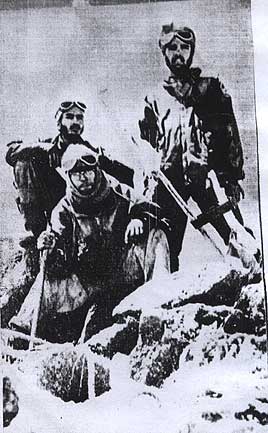 On Lenana Point -situated at a height of well over 16000 ft.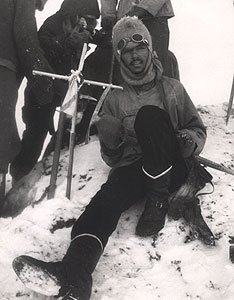 Mountaineer Meharban on the "Kaiser Wilhelm Spitz" Height Point on Mt. Kilimanjaro in 1958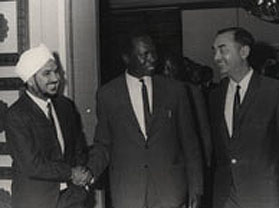 Meharban meeting the President of Kenya Mr. Moi and the Indian High Commissioner to kenya in 1968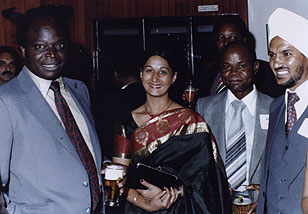 The Vice President of Kenya Mwai Kibaki and Ald I Lugonzo were invited to Vet. Lab Sports Club to open a Golf Tournament in 1997. Meharban (a life member of KANU) was the Golf Captain there who organised the tournament. His wife Baldev Kaur is seen in the middle.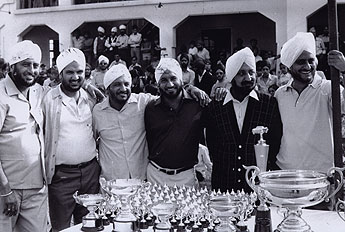 A car rally "Guru Nanak Rally"was held at the Sikh Union Club in honour of 'Puran Singh Jutlla of Naranjan Singh Bros and Channan Singh Ghattaura of General Workshop. Jack Simmonian won this rally and since then it has become a yearly event. The prizes were donated by Meharban Singh Jutlla and Charanjit Singh Ghattaura. In this picture taken in front of Sikh Union can be seen from left; Hardial Singh, Meharban Singh, Inderjit Singh, Mehnga Singh, Mohinder Singh Jandu and Avtar Singh Bassan
Another member of the Juttla family who is making her name as a very talented Silversmith, is the grand daughter of Ald. Mohan Singh and daughter of Meharban Singh. She is a very successful silversmith who has been exhibiting her work across the country and abroad. An article about her was printed in a local paper on March 2003.
WHY ASHI IS LEAVING HER CHILDREN BEHIND TO CHASE JEWEL OF A CHANCE IN OZ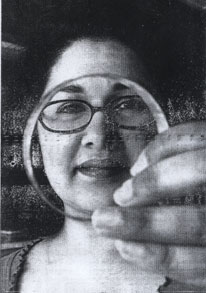 A TALENTED jeweller is about to leave her husband and young children and fly to the other side of the world - and they're delighted to see her go.
Silversmith Ashi Marwaha is to spend three months perfecting her craft at a studio in Sydney, Australia.
Mrs Marwaha (39), from Marton, near Gainsborough, has won a place on the Here and There scheme, which enables British and Australian jewellers to spend time in each other's countries.
She flies out on March 30 - five days after her 40th birthday. Her trip Down Under is the second time she has been away from her husband Gurdev (42), daughter Ravail (14) and son Prem (11) to further her studies.
In 1996 Mrs Marwaha gave up a career in -banking and left her young family behind in Lincolnshire to do a.degree in 3D design at Manchester Metropolitan University. Now she is about to say goodbye to them again but she said her family are delighted by her success.
Since the career change she has never looked back, exhibiting her work in galleries across the country, from London to Scotland.
"I never thought I would be accepted on to the scheme, and I wasn't sure about whether I .should accept the place," she said.
"But my children said, 'Mum you've got to do it, it's a great opportunity'.
"My family have been so supportive and I would not have been able to do any of this without them."
During her three-month stay at Sydney's Pyrmont Studio, she will be looking to broaden her range in terms of the designs on which she bases her jewellery.
"I want to look at the cultural aspects of both the immigrant and the aboriginal populations and see how it could influence my work."
Mrs Marwaha said her previous work had been influenced by her background.
"I was born and brought up in Africa, but I am Indian by origin and it is the Indian culture that has come through strongest in my work.
"My underlying inspiration comes from Indian and Islamic pattern and form, and the geometric and mathematical calculations used in their architecture."
Mrs Marwaha is on same scheme as Australian jeweller Mark Vaawerk, whose talent for turning 5p carrier bags into £50 necklaces was featured in the Lincolnshire Echo.
She has become good friends with Mr Vaawerk, who is on a residency at The Pearoom in Heckington near Sleaford.
Mr Vaawerk, who grew up in Sydney, said the city and the Pyrmont studio were great places to work.
"Ashi will definitely enjoy herself," he said. "Sydney is a beautiful city and the Pyrmont is right in the middle of it. She will be able to sample all the culture quite easily."
Pearoom administrator Carolines Jarvis, who is familiar with Mrs Marwaha's work, said thetrip was an excellent chance for her to develop as a jeweller.
"Ashi is a very passionate silversmith, whose work has many references to her cultural heritage," she said.
"This is a chance for her to look at new ways of working."
Article - Matthew Bayes - Lincolnshire Echo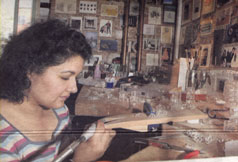 ASHI HAS DESIGNS ON NATIONAL FAME
Article taken from Lincolnshire Echo dated 20/09/2006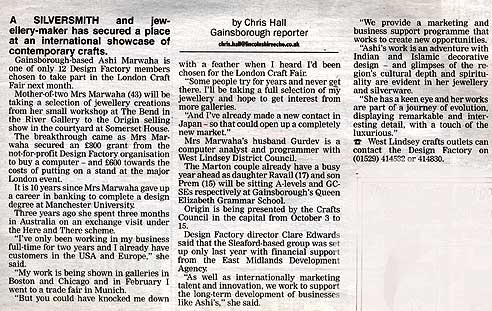 ---------------------------------------------------------------------
Knighthood for Kenya's leading Film Producer

Kenya's leading film maker, Mohinder Dhillon, was knighted by the Order of Saint Mary of Zion during a ceremony at the Royal Artillery Headquarters in Woolwich, U.K. on November 12th 2005. Prince Philip is the Order's Grand Master. The order constitutes a valid chivalric order of knighthood.
"The honours were conferred upon those who had made significant contribution to the society. Honorees included Mohinder Dhillon, whose newsreel photography was viewed to have brought vital issues in the African continent to the attention of the world community. The Award of Knight Commander also recognizes Mr. Dhillon's professional skills and applauds his efforts, sometimes obtained with considerable risk to his personal safety."
Also honoured at the ceremony was His Royal Highness Prince Karl Wladimir of Yugoslavia, Grandmaster of the Order of Saint John, which supports humanitarian projects in Yugoslavia
Mohinder had the first indication by e-mail from Professor Frederick Trowman, the Grand Chancellor of the Imperial Order of Saint Mary of Zion on October 19th 2005 in which he invited Mohinder to accept admission into the Order. This is in recognition of Mohinder's humanitarian assistance to the people of Ethiopia. His films of Ethiopian famine finally moved the world into action resulting in one of the biggest famine relief operations in history. Relief planes from dozens of countries descended on little dirt air strips of Ethiopian countryside round the clock as if they were Heathrow or JFK airports. The very first pictures of the terrible Ethiopian famine which shocked the world was the combined effort of Mohinder Dhillon and Michael Buerk of BBC TV to gain entry into tightly controlled military ruled Ethiopia in 1984 opening the door for rest of the media and rest of the world. The combination of Mohinder's sensitive images and Buerks well written words somberly delivered raised the alarm of compassion. Buerk/Dhillon TV team jointly produced a series of appeals and a shocking news item that resulted in a miracle response from the viewers and donation rained from the skies very soon amounting to Sterling Pounds 10 million.
Mohinder has a lot to say about the way the children of Ethiopia suffered through no fault of theirs. Over the years Mohinder affectionately known as Mo has made a lot of sponsorship appeals working with Hollywood stars on behalf of children all over the world, drawing attention to the desperate plight of children of Africa and the rest of the world, including the Far East.
Mo admits that he suffers emotionally himself by being continuously exposed to the dire poverty and never ending sufferance where children are dying like flies with parents crying their eyes out. Mo sometimes did not feel eating himself out of guilt conscience and during the night recalling day's images of children with death in their eyes haunted him. Being devoted to the humanitarian cause, he carried on shooting continuously knowing his films would make a difference in improving the plight of innocent children, putting aside his own personal feelings.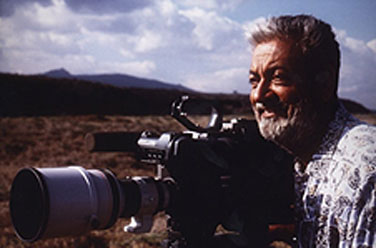 Mohinder Dhillon
Mo is nurturing his old and new injuries which occurred whilst pursuing his profession seriously and fearlessly. His son, Sam Dhillon has more or less fitted into the big shoes of his father and intends to carry on with humanitarian work with the same passion as his father. Mohinder is very proud of Sam's professional skills plus his personal character, full of compassion and a strong drive to excel. Father & son team run an upcoming company "Africapix Media Ltd", filming round the world
Mohinder was also invited to ITN (ITV) News to attend their 50th Anniversary Party in September at the Royal Opera House in London where he was an honoured guest having represented ITN mostly in East Africa and Middle East since 1964. He met some old friends he had not seen for over 35 years especially Britain's Top Rated TV journalist and Presenter of Channel 4 News, Jon Snow. In their heydays the Dhillon/Snow team would never hesitate to risk their neck under any circumstances, and were branded by colleagues as "The Death Wish Team" that would reach great heights, if they stayed alive!!
Mohinder comes from a very humble background, born in a small village in Punjab, India where he obtained junior school education and a bit more at the Duke of Gloucester School, previously Govt Indian High School, Nairobi. Mohinder arrived to Kenya in 1947 as a young boy to follow his father the late Mr. Tek Singh who worked for E.A. Railways and Harbours for 29 years. Mr. Tek Singh was one of the leading pioneers of the sport of hockey in Kenya and was a very active social worker and a highly respected human being. Mohinder's younger brother Joginder represented Kenya in the first Kenyan Olympic hockey team in Melbourne in 1956. He still plays veteran hockey and is a medical practitioner in U.K, and recognized Sports Doctor helping in events like Olympics and Commonwealth Games. He hopes to bring in a veteran hockey team to Kenya next year to celebrate the 50th Anniversary of the first Kenyan Olympic hockey team.
Read more about Mohinder Dhillon in 'Mo Stories'..Click here
---------------------------------------------------------
DIPLOMATIC APPOINTMENT
for another Ex-Kenyan - Bhupinder Singh Liddar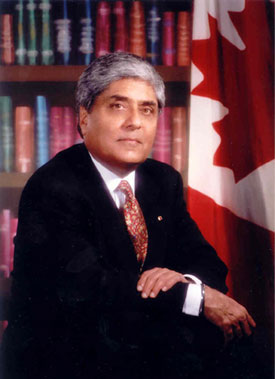 Minister of Foreign Affairs Pierre Pettigrew today announced the appointment of Bhupinder S. Liddar as Deputy Permanent Representative of Canada to the United Nations Environment Programme (UNEP) and to the United Nations Human Settlements Programme (UN-Habitat) in Nairobi, Kenya.

The Deputy Permanent Representative to UNEP represents Canada's views and policies to the Committee of Permanent Representatives, its sub-committees and to the management of the organization. The Deputy Permanent Representative provides strategic and tactical policy analysis and advice on the advancement of Canadian foreign policy and environmental objectives within the UNEP on such issues as conservation of biodiversity, restoring the ozone layer, and water and sanitation for development.

As Deputy Permanent Representative for UN-Habitat, Mr. Liddar will work to bring an international perspective to the Government of Canada's preparations for the World Urban Forum, which will be held in Vancouver next June on the 30th anniversary of the first Habitat conference in that city in 1976. The Deputy Permanent Representative to UN-Habitat also represents Canada's views and policies to the Committee of Permanent Representatives, its sub-committees and to the management of UN-Habitat.


Bhupinder Liddar's new job in Kenya brings him back to his roots and allows him to savour the fact that he has been appointed by not one, but two prime ministers.
In diplomatic terms, this type of positive outcome is known as a win-win situation.

A former journalist and a well-known personality on Parliament Hill, Bhupinder Liddar, was appointed this week to the High Commission in Kenya where he'll serve as a high level representative to two United Nations' programmes.

Mr. Liddar was thrilled by the announcement which ends a two-year ordeal between him, the department of Foreign Affairs and the Canadian Security Intelligence Service (CSIS).

Former prime minister Jean Chrétien appointed Mr. Liddar in 2003 as the consul-general to a new mission in Chandigarh, India. Mr. Liddar sold his diplomatic publication, gave up his TV show, was briefed by departmental officials and fêted by friends, but before he left Canada, the government of Prime Minister Paul Martin cancelled his appointment.

The intelligence agency, CSIS, had rejected Mr. Liddar's application for security clearance. Mr. Liddar challenged that finding by taking his complaint to the civilian oversight body of CSIS.

After a closed door investigation that involved paper evidence and months of oral testimony, the Security Intelligence Review Committee (SIRC) this summer rebuked the decision to deny Mr. Liddar the clearance, saying the CSIS investigation had been flawed. Based on this finding, Deputy Minister of Foreign Affairs Peter Harder granted Mr. Liddar a clearance and the department sat down with Mr. Liddar to negotiate the next steps.

This week, Foreign Affairs issued a press release to confirm Mr. Liddar as the deputy permanent representative of Canada to the UN Environment Programme (UNEP) and the Human Settlements Programme in Nairobi, Kenya's capital.

Mr. Liddar and his friend Meghie Brar will depart Ottawa in mid-December, and his new job begins after the Christmas holiday. Based on the foreign service pay scale, Mr. Liddar's salary of about $120,000 annually is the same rate as that of consul-general.

Mr. Liddar's reaction was one of relief and excitement. Given he was born and schooled in Kenya and speaks Swahili, Mr. Liddar says the deployment is a "homecoming." He also said the job gives him access to an international network of players that few people have the fortune to experience. And importantly, Mr. Liddar said he now has the endorsement of, not one, but two prime ministers.

"Two prime ministers have put faith in me. Prime Minister Chrétien appointed me and then subsequently Prime Minister Martin," he says. "I think the important thing, and this is for everybody in my view, is that as I have moved on and gone through the process and as a result I have a lot of respect for the institutions of Canada and the process. If you want to have a rule of law you must respect the process, and that process has spoken."

Bhupinder remembers his childhood

I remember it very fondly. My father was a medical doctor who had immigrated to Kenya in 1937; of course in those days it was under British colonial rule. [I was] born in Kenya, educated in high school. A big chunk of my soul is there, and Kenya has always been very dear to me. I'm now in the process of looking up some of my old school friends, and I have traced about half a dozen still in Kenya doing very well. I was last there four years ago on a visit for about 10 days. So I think what I can bring in that background could help in improving bilateral relations.

For details see www.liddar.ca


Congratulations and best of Luck from Sikh Heritage.

Unknown hero of the independence struggle

06/02/2006
Story by ELLY WAMARI /Inside Story taken with courtesy from

http://nationmedia.com/dailynation/nmgcontententry.asp?category_id=27&newsid=74028

On Saturday, May 20, 1950, about 750 railway workers of African decent refused to report for duty.
They had effectively joined a general strike by other sectors in Nairobi, Kisumu and Mombasa, which had been going on for four days as an affront on the colonial administration.

Among the issues that they wanted addressed were "freedom for all workers, and freedom of the East African territories". There had been growing discontent over mistreatment by British authorities.


Entry of railway workers into the strike was a big boost. It got the British rulers worried. Operations of the railway corporation, particularly the central workshops and the engineering department, were greatly affected, threatening to disrupt an essential service.

What surprised the colonial powers was the little-known young Sikh who led most of the railway workers to the general strike. Jarnail Singh Liddar was only 20 years old then, but he convinced his colleagues to join the mass action.

On May 19, Jarnail went to the corporation's central workshops and gave a key talk. He told the workers to join the strike that had started on May 16, a day after the arrest of two pioneer trade unionists and political activists, Makhan Singh and Fred Kubai.

The strike demanded release of the two, as well as of Chege Kibachia, another trade unionist.

Railway workers had generally stayed out of the strike. But young Jarnail, figuring that involvement of this large volume of workers would pinch the colonial administration where it hurt most, decided to woo them.

Angered by the arrest of his mentors, Jarnail had resigned his job with the Post Office on May 17 to play a prominent role in trade unionism. The absence of Makhan and Kubai begun to be felt. Confusion emerged after some people argued that the strike was unlawful.

Makhan and Kubai were arrested in the early hours of May 15 at their respective houses in Park Road and Pumwani. They were charged with being officials of an "unregistered trade union" – namely the East African Trade Unions Congress.

British authorities had noted that the workers' strikes that Makhan, Kubai and Bildad Kaggia had organised earlier in the month (May 1) to boycott Labour Day celebrations were more political than industrial. The leaders had to be tamed.

Little did the authorities know that a young Sikh would spring up from the background and command enough authority to sustain the insurgency.

Jarnail's first stop – two days after he resigned the Post Office job – was the railways central workshops. The youthful six-footer got the attention of workers there. He told them of the importance of joining the strike.

The effect of his speech was reckoned with the next day. The specific time of his talk is not documented, but it was in the morning. By lunch hour, he had moved to Shauri Moyo, the centre of trade union activities then, for his next talk.

The Shauri Moyo address rejuvenated an ebbing morale among the workers to sustain the strike. A day earlier (May 18), police had battered workers in an attempt to split them up and break the strike. On the third day, workers were beginning to tire. Jarnail did not want that to happen.

His talk dwelt on the need for people to be solid in their stand. He pointed out that he had urged railway workers to join the revolt.

With that, he lifted the spirits of the masses. Railway workers joined the strike the next day. Word spread quickly to other towns in Kenya and the roll over effect drove the colonial administration back to the drawing board.

Although newspaper reports downplayed the workers rebellion, the May 20 boost is recognised in Makhan's book (The history of Kenya's trade union movement to 1952) as one of the most elaborate insurgencies against the British administration.

What had been reported in newspapers as a Nairobi affair spiralled to other towns in Kenya – mostly Mombasa, Kisumu and Nakuru.

Unfortunately, Jarnail did not get a moment to relish his success. Events of May 20 and the five days that followed found him behind bars. He had become a threat to the colonial administration.

The political undertone of Jarnail's talks as he urged workers to continue calling for an end to widespread discrimination against non-British people worried the administration.

As soon as he was through with his fiery speech at Shauri Moyo on May 19, Jarnail was picked by police and charged with "inciting a strike in an essential service", meaning the railways.

He had been scheduled to give another speech at 4pm that day, but that was not to be. He was arrested as he walked out of Shauri Moyo. But he had made his point.

Jarnail was sentenced to six months of hard labour. Thereafter, he was kept on the periphery of political activism – which was mostly channelled through trade unionism.

It is no wonder that little is said about him during talks on madaraka and uhuru heroes. And not much is written about him, also. A large section of today's Sikh community learnt of Jarnail's exploits after he died in August 1997, when a temple leader told of his political life in the pre-independence era, during a memorial service.

The British had noted a charisma in Jarnail that would pose problems to the system. When Jarnail travelled back to India soon after his release to pursue marriage, the administration declared him a "prohibited immigrant". They vowed not to allow him back lest he caused more trouble.

When Jarnail attempted to return to Kenya on January 26, 1953, he was denied entry and informed that he was unwanted. His re-entry pass, as indicated in his then passport number A41108, was cancelled by immigration officers. He was sent back to Bombay, India, where, as indicated in his passport, he landed on January 29, 1953. That marked the end of his direct involvement in Kenya's pre-colonial activism.

The administration had been wary of his emerging ability to instigate mass action, and would not give him another opportunity. They locked him out of the country, yet his father, Dr Jodh Singh Liddar, and younger step-brother, Bhupinder Singh Liddar, were Kenyan residents.

Ten years later, in October 1963, Jarnail was able to return to Kenya on the invitation of Jomo Kenyatta. This followed the withdrawal of his travel restrictions after the country attained self-governance (madaraka) on June 1, that year.

Jarnail's childhood friend, Amarjit Singh Gataure, now 75, says Kenyatta had a soft spot for Jarnail. When the prohibitions were lifted, Jarnail was encouraged to return to Kenya. Amarjit remembers Jarnail as a youth who could put everything on the line to support a worthy cause.

Still, after he came back, Jarnail made a spirited campaign to get Kenyan citizenship ... and that frustrated him. He felt that his earlier efforts had not been appreciated.

On September 29, 1965, he wrote: "... Now, after lifting the ban, I have been allowed to return on an employment pass. This has not solved my basic difficulties and falls much short of my requirements and fundamental rights. Therefore, my humble prayer is that I, being a loyal citizen, my request should be given a sympathetic consideration and I should be granted citizenship of Kenya.

"It was for purely political activities which were then desirable and necessary in the interest of national struggle, that the colonial government threw me out of the country..." The letter was addressed to the Minister for Home Affairs.

But he got no assistance, prompting him to make another appeal in November 1968. That did not yield citizenship to him, either. He again stated his case on October 2, 1969, reminding the Government that it was yet to consider is application. He was finally awarded citizenship on November 14, 1969.

Jarnail is little known because his story has never been fully told. This is partly because he, too, following the frustrations he experienced on returning to an independent Kenya, opted for a low profile.

He kept his family out of the picture. Son Jagjit Singh Liddar, who now lives in the house his father bought in 1973, remembers him only as a tough man out there, but one with a soft spot at home. Says Jagjit: "He did not talk much about his experiences to us. Apparently, he did not want us to get too involved because of him."

Jagjit says his father first arrived in Kenya in 1937 as a minor. He was seven years old then and accompanied his father, Dr Jodh. He grew up in Nairobi and attended the Duke of Gloucester School, now Jamhuri High School.

His interest in socio-political activities became evident soon after he left school. Jarnail's younger step-brother, Bhupinder, talks of him as one who was often in trouble with the colonial authorities because of his anti-oppression stance. Jarnail did not last long as a police officer because of that, for example.

Says Bhupinder: "There was an age-gap between us, but I remember my father coming home several times and saying, 'Jarnail is in trouble, again'."

Their father was then a medical doctor assigned to the police and would use his influence to bail out Jarnail every time he brushed the authorities on the wrong side. The family lived near Kingsway Police Station, which is currently Central Police Station.

There were about five houses between Norfolk Hotel and the police station, recalls Bhupinder. "We lived in one of them, but Jarnail spent a lot of time away from the house. He was mostly with Makhan, learning the ropes of trade unionism and political activism. At other times he was in Shauri Moyo attending to union matters."

Makhan was an established activist against the colonial regime. By associating with him, Jarnail met and befriended Kubai and Kaggia. He was deeply involved in unionism, albeit in the background. "Makhan was his mentor," says Bhupinder.

The May 1950 strike involved about 100,000 workers. It ended on May 25 after the authorities unleashed the military and arrested about 300 workers, most of whom were detained. But the strike helped workers realise that they had the power to hasten the country's uhuru.

Mass action continued in later years. In 1952, the British administration came up with a Trade Unions Ordinance to muzzle workers. A State of Emergency was declared. Those agitating for independence were arrested and detained.
-----------------------------------------------------------------------------------
PUNJABI HERITAGE IN EAST AFRICA
The history of the South Asians in East Africa is not very old. It is only about 100 years since the first Indians landed on the shores of Kenya, namely Mombasa. The journeys in those days were accomplished in dhows which were the main source of transport and starting from Bombay the journeys could take as much as months to complete as the dhows depended on the state of the winds. It was after a lot of hardships that some of our ancestors reached Kenya to serve in the Uganda Railways which was being built from Mombasa to Kampala.
The Punjabis (Hindus, Muslims & Sikhs) were the main source of skilled and semi skilled labourers who worked on the railways. They suffered numerous hardships including the lions of Tsavo.
Do You or Your parents or Grandparents had any escapades, adventures, memorable incidents, interesting stories, their rise to fame or riches, old photographs or mementoes, souvenirs, brochures of Kenya, Uganda, Tanganyika - magazines printed by gurdwaras or federations, clubs, schools, students etc. Any documents or photos about East Africa – anything!
I am in the process of writing a book on the 'Punjabi Heritage in East Africa' and I need information as much as possible. Just get in touch with me and send me the information (which will be returned after use). Your name will be acknowledged in the book.
Your assistance would help in inserting your ancestors' names in the history of East Africa.
Kindly contact,
Harjinder Singh Kanwal,
20 Trewint Close,
Exhall,
Coventry CV7 9FG
U.K.
Phone: 024 7631 9483
E/mail: harjinder@kanwal99.freeserve.co.uk