Such were the golden days. This is how our Pye Radio looked like. Incidentally, talking about humble days, our sitting room cum bedroom adorned this beautiful radio together with a fridge and my bhabi's Pfaff sewing machine as revered showpieces. Try to beat this with the modern sitting room clutter of flat screens and hi-fi's. Aren't we really a bit OTT these days?
These photos were taken around noon today. I got my nephew, Rahul to come along with me and he used his camera to relive the Mobil petrol station and the motormart building pictures (above). I am attaching 4.
They were taken in a hurry, and some others were taken whilst I was driving.
Will send these other ones next week.
Nana showing equal skills in written work when he wrote out this receipt for me. "For Dezan" is meant to be read 'For Design'. He made a hash of my name too even though I spelt it for him.
Yes I remember this road very well from 1960-65 as I used to walk along this way regularly day dreaming for better things to come. I think there was a golf course to the left and then watch the trains going to Nakuru etc. The railway station was on the right.
Q to all: Just up on the hills on the left (not far from this pic) was the Delamere High Boys School just beyond the golf fields. What has happened to it as there is hardly any trace of its past even on Google Search. It was a gora's school and by 1965 I believe many Muhindi well to do families were sending their kids there - the aparthied era was thawing rapidly.
Many Thanks Bhargav
Tahir
------------------------------------------------------------------------------------------------------------
Bhargav - I notice that you are using the onoffree photo albums !
These were very practical and were around in 1963 or so... uptil about 1968.
Great Japanese products.

Please confirm that this photo was whilst you were walking TOWARDS town...
If yes, then this was very near the industrial area roundabout...
There is a small cemetery to the left, and as Tahir has said, the Railways Golf course on the left hand side...

Those WERE the days of very little traffic ! Will try and get a snap or two asap..will be totally different !

The school , Tahir - became known as UPPER HILL SECONDARY SCHOOL. and yes, you are right, the doors were opened to other colours...

You can see Nairobi traffic now on:::

http://home.co.ke/
-------------------------------------------------------------------------------------------------------------
Yes, you're right about the album. As you can see even now its quite in tact and has done a great job of protecting the photos through time.
Now comes the tricky question... I'm assuming that one's going towards city center but you're quite right in doubting that. It very well could be going back home from the city center on Sunday. But lets do some Sherlock Holmes on this: The shadow of the railing is on the right, on the foot path. That might give you clue of the direction. Assuming airport is south and foto is taken in morning then surely its going back home... My memory fades here. Look out for any other clues - there's no city sky line either...
Will post more as they come..
Enjoy the week end!
Bhargav
--------------------------------------------------------------------------------------------------------------
Here is my recollection:
I think the Fiat is heading towards the city while the bus is heading towards Mombasa. The industrial area roundabout is at the back of the photographer and the next low-key-look roundabout seen down the slope is with the Whitehouse Road (First Avenue) roundabout with Uhuru Highway. At the industrial area roundabouts were shops situated on the edge of the roundabout which we would have noticed in this pic if heading towards Nairobi South. Let me add one more observation. Look at the pic again and the sky line on the right. Is that vaguely the Basilica Church Spire (the third knob above the trees) in the distance?
The railway station is on the right and importantly, there is a proper pedestrian walking pavement only on the right edge of the road on which I used to walk which would take me from my long walks from the city to the industrial Area roundabout and home to the Railway Landhies.
Well Pushpendra, you have some site verification job on your hands!
The lovely two tone car in white/ blue? Is it an Opel Coupe or a Borgward Coupe? Possibly the latter. Would love to kill this riddle too! Any car enthusiast?
Regards
Tahir
Harjinder: I think it is an Opel -if my memory is serving me right !
---------------------------------------------------------------------------------------------------------------
We were heading towards the city. This means it must have been late afternoon. And if I check other pictures of the same date and print, we were going to Lavington Green area where our close family friends were and it was for that `sufuria luck' (pot luck) dinner surely..
I could figure out with a lens that the car (I think is a Vauxhall) number appears to be KCP 556.
Tahir, I cannot figure out the spire in the original so may be its a blemish. I too remember walking down from city to home on one occasion. The bus that used to ply that route was number 8 and I think 7 also, all the way to railway training instt.
I would like to attach yet another picture that might arouse close inspection and the `then n now' comparison. In this pic which surely my dad took, its us the three brothers. It was taken in July 1965 ( I wonder why we're not wearing sweaters). In the back ground is the famous supermarket and I think the Ambassador hotel on the left? I wonder what we would get if the photo was taken today!
Cheers!
Bhargav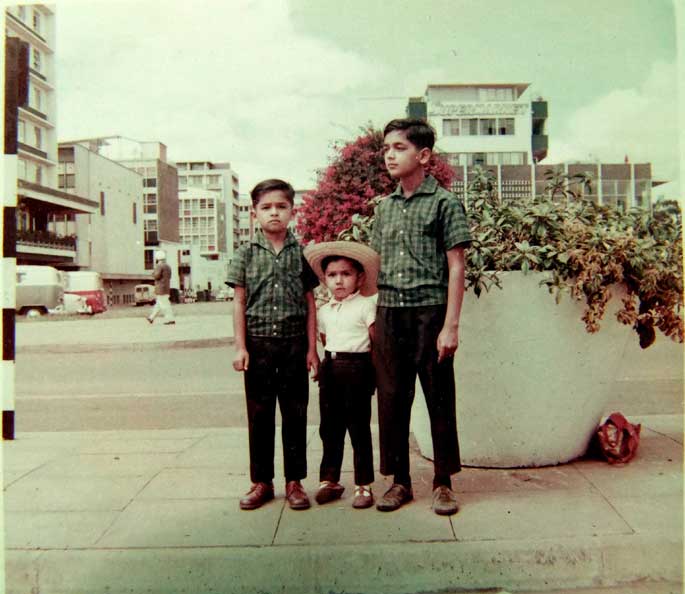 I love this picture !
Same shoes,Same shirts, same trousers a little high up, showing socks, and so that the trousers do not get worn out with the so-much-walking-in-the - dust that we used to do !
Reminds me of our younger days !
And I like the Hat !

I do not remember the Supermarket - was there another name ?
And I cannot figure out which road it is....

Could it be round the corner from the Kenya Cinema and Pagoda restaurant ?
Sort of across the road from the Hilton ?

Regards,
Pushpendra
----------------------------------------------------------------------------------------------------------------
Lovely kids aren't they? Bhargav have you still got a dense crop of hair? The red bag stacked at the flower pot is presumably for the camera and is precariously still there.
I agree with you Pushpendra about location.
I think you boys are standing on the opposide side of Ambassadeur Hotel as depicted on the attached birds eye view. The bus stand would be visible to the left had the picture been a little wider angled. For me the clue is the building floors have a blue-ish band at each floor. The Ambassadeur building has a different facade altogether and would not gel in.
Regards
Tahir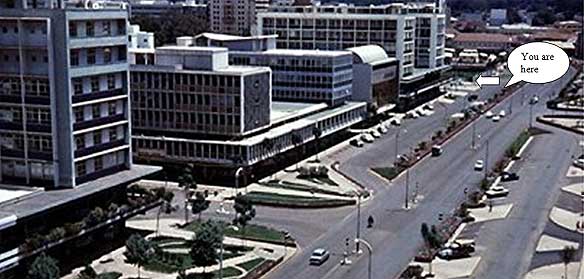 ---------------------------------------------------------------------------------------------------------------
Also, in my picture, the building with the blank flat wall and a van parked there - isn't that the back side (screen side) of Kenya cinema?
Bhargav
On Sat, Sep 17, 2011 at 8:02 PM, bhargav mistry <bhargavmistry@gmail.com> wrote:
Tahir, your picture gives us the location fairly well. Supermarket was behind Kenya cinema. With reference to proposed location in your picture, go a bit further where the big arrow directs and there was a big `square', mainly for parking I think. And thats where we're standing. And yes, the Hilton too is located in the direction of us facing the photo.
Tahir, I wish I had taken good care of my hair - time has absolutely eroded it and all we see now is the scalp.. And Pushp, the dressing sense too has all disappeared..
Cheers!
Bhargav
-----------------------------------------------------------------------------------------------------------------Dear Harjinder,
Attached is my final summary of our recent topic which was posing some mystifying questions. QED.
Regards
Tahir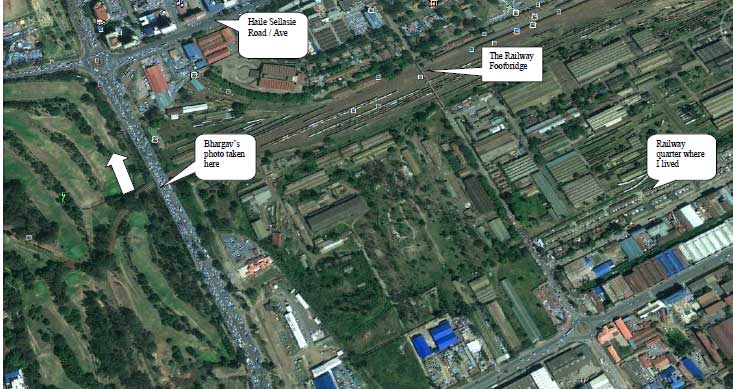 ----------------------------------------------------------------------------------------------------------------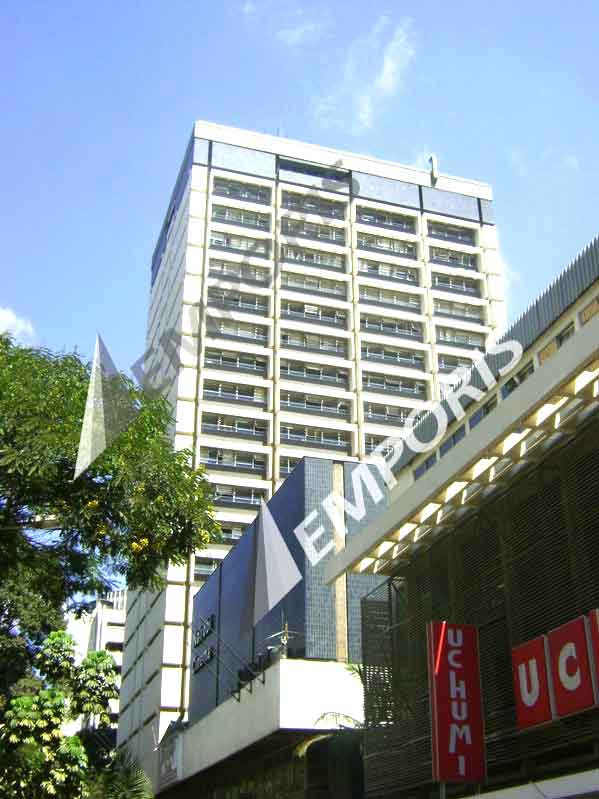 Dear All,
Attached is a photo of Uchumi House taken from the Aga Khan Walk in 2009 (not by me).
You will also see the Nairobi Cinema next to it separated by a narrow alley and adjoining to it north is an impressive looking skyscraper.
Looking at Uchumi House, it would appear the original supermarket building was retained but must have been extended to the east. Looking closely at the front facade of Uchumi House, it is easy to see the old building has been camoflagued with a nasty looking louvre screen cage, and a perforated entrance canopy has been added. Now above it, if you see Bhargav's original photo, there are balcony overhangs (in grey). Either during extension they were demolished or they were retained and clad with new external wall and windows and finished with yet another cheap looking corrugated grey metal fascia. I am sure the overhangs were retained since the cage below has a gap and must have been aligned with the balcony edge above. All to be verified in January, I hope.
The inquisitive mind never stops thinking, does it?
Pushpendra, I hear this particular area (Kenya Cinema Plaza) is extremely notorious for crimes of all sorts and almost a no-go area for foreigners these days.
Regards
Tahir
Friends,
Yes, I think Tahir's quite right about the KC being notorious. Even during those days, it used to be a little bad. Wonder how it is these days.
To make things more interesting, ndugu dogo sent me a fairly large file this morning, showing the satellite picture of Nbo in 1967 and pointing specifically to the supermarket. As such it covers right from Embakasi airport to north most.. Its s 30 mb shot but not very clear, yet good enough for our curious minds. Let me know how I can share this with you as gmail allows upto 25 mb i think. Bro sent it to me using our family `drop box utility'..
Bhargav
=================================================================================
Some More Recollections: Kenya 1960-1965
Tahir Mirza
September 2011
It's not easy to generalize how Asian families ran their houses since there were some of us who were well to do and others like myself who belonged to the average house.
Weather wise, Nairobi felt much cooler in the 1960's and tap water was pure, sweet, cold and plentiful. We had the bog standard showers fitted in the bathrooms but since we did not have direct hot water supply, they were not very practical for most part of the year. Instead water was generally heated up on jikos in large customized tins. These were often the ex-kerosene cans which were converted by removing the fixed lid at the top and twisting the top edges outwards to give a grip for lifting and handling. We used an all purpose soap bar called Sunlight Soap for bathing and no shampoos.
As tradition would have it then, men used Brylcreem, while the health conscious mums would have their kids'hair doused in coconut oil for good measure and healthy growth.
Similarly, we had no washing machines then and water was heated on jikos and the good old blue soap bars were chopped up and mixed in the boiling water. Washing linen and clothes was hard physical work. Each wash consisting whites was then passed through a blue liquid bleach solution to bring out that brightness. Needless to
say, the bleach had no effect on those dreadful white nylon shirts which remained yellow wash after wash!
In the kitchens we did not have Fairy liquid or scouring pads for washing dishes. The dried husk of the coconut shell did the job of scouring aided with jiko ash and natural lime to get rid of the greasy stuff. It was simple but effective and hygienic.
In the early 1960's I remember the emergence of a good Japanese suiting material which I think was called Trevira or something similar (terilene?), a polyester blend with a superb range of colours mainly stocked by tailors for making trousers. It was very fashionable and an in thing then. Around the same time saw the appearance of
Shikibo crease-free shirts which were again a polyester blend that was easy to iron. These would gradually replace over time the established green-labelled "Robin Hood" shirts. The more fashionable guys would still be buying the upmarket American "Arrow" shirts.
Vegetables and fruit of all kinds were very cheap in Nairobi in the 1960's. For most households, there was no need to buy them from markets. Instead, Kikuyu "boga ladies" carrying huge loads on their backs with their little babies used to make their regular rounds as street vendors. A huge sack of potatoes would cost one shilling
while three large fungas of fresh dhaniya leaves cost "kingothray moja" (one 10 cent coin in Kikuyu). I must admit the Kikuyu women were physically very strong and hard working as they would be working on their farms ploughing and cultivating fruit and vegetables and also making trips to the city to sell the harvested products. The heavy sack loads would leave a deep and visible indent right across their shaven heads. I note this old tradition of selling vegetables still exists in Nairobi.
Small time street vending i.e. trading in exchange of old clothes with pieces of new kitchen glassware was a popular business. In this respect, I remember a very old Sikh gentleman plying the streets of Railway Quarters on his heavily loaded bicycle selling stuff like Bell Boy chewing gum, lollipops, toys, small kitchen items like spoons, ladles, those popular unbreakable glasses etc. I used to pity this very saintly looking person and wondered how easy a target he would be for muggers in particular when he rode through the notorious Majengo area without fear. He must have been in his early eighties.
I love recalling the old times in Kenya and would be very happy to share my experience on anything as trivial as what I have just mentioned above.
I remember everything. It looks very odd now but those were the days when some of the things were luxuries e.g. Arrow shirts, nylon shirts, shikibo shirts, Van heusen to name a few. Peer Mohammed in Nairobi on Government Road had the best selection of clothes in the city followed by Esquire Ltd. London Traders etc. (Harjinder)
----------------------------------------------------------------------------------------------------------------
Dear Tahir,
Thanks again for a lovely writeup of the golden age. I still use the coconut oil as it softens the hair and stops dandruff.
Yesterday a thought came to mind :
Do you guys remember how we got our milk from dairies in tiffin like gallon containers. I remember the names of 3 dairies
Oriental Dairy on Grogan road opposite the way coming from Shan Cinema towards Grogan Road through the small wooden bridge on the Nairobi River (Push will probably remember)
Then there was Mohan dairy on Canal (Varma Road) And Suleiman's Dairy. This Bohra owned dairy was on campos Ribeiero Ave.

After the Tetra paks were introduced which were available from nearly all shops - ending the monopoly of the dairy.

Any recollection?
harjinder
----------------------------------------------------------------------------------------------------------------Thanks for the compliment.
Since my brother was an assistant station master posted at Ulu Station (on the Nairobi-Mombasa line), he used to get the loose (unpacked) milk free of charge from the nearby dairy from Wilson's farm at Ulu. And quite rightly as you say, it used to be sent in a small tiffin like can on the daily passenger train arriving at Nairobi Station from Mombasa at about 8.00 am. (c/o the Train Guard). The empty can would then be returned on the same train departing at about 6.00 pm same day. Imagine the trouble taken by our servant Samay (a kikamba guy) just to save a sumuni or two every day.
Unfortunately, I do no recall the dairies that you mention here as I think the Railway landhies would be a bit out of the way and when we first arrived in NBO in 1960, the Tetra pack was around in any case much to our amazement - wow. In Tanga, (just before migrating to Nairobi) we used to have the milk vendors carrying the huge steel milk cans on their Raleigh bikes and the milk measure used to be a well worn steel 'mkebe' with a long handle to scoop up the milk.
Incidentally, the Wilson's were quite a noted English colonial family of Lieutenant Richard O'Brien Wilson (Royal Navy) fame who was later given peerage. Lady Wilson survived and lived in Kenya well after independence though.
I would like to follow up history in similar lines on D T Dobie, another high end English Colonialist and famous Nairobi car dealers dealing with Mercedes in late 1950's amongst other brands later.
Regards
Tahir
----------------------------------------------------------------------------------------------------------------
Tahir, is your brother around ? He must have a wealth of information on the railways.
I will see if I can locate this ULU - a postmark with this name on a stamp - is so very familiar - but do not wait for it too soon...it will take some digging !

There was also a small dairy on Ngara road - and we were allowed to watch the bottling process - with silver foil capping being done - wonderful to watch. And from time to time the owners gave us the rolls of waste silver foil to play with ! The milk used to come in big stainless steel containers - these are still being used to transport milk from farms to central processing units all over Kenya - and then would be tipped in to larger vats and processed, and then finally bottled ...

We used to have milkshake in small bottles - probably 200 ml, I think. And I remember that when someone from our family was getting married - the 2 or 3 nights of song ( sanjee ) preceding that had to have milkshake as a treat for the visitors - could be upto 300 people every evening - and each one left with a brown paperbag filled with patasa , sweets...us youngsters were recruited to fill in these bags as a run up to the wedding .
I think today it would be construed as child labour !

Tahir - a sumuni saved then was a lot of money !

Harjinder - there were two bridges across the river from Ngara into town - one was the larger, steadier one, but made of wooden planks. The other one was smaller, with stones and also wood in places.
There were times when these two were unpassable, as the river had swollen with lots of rain - and a couple of times the bridges had been washed away . We could see this from our bed room window.

Pushpendra
I remember both bridges - true they were unpassable during the rainy season and we had to go to our school via the Racecourse Road bridge going towards Ngara to City Primary School. This road split near the bridge - one went to Ngara and the other to Kariakor Market and Eastleigh. (Harjinder)
-----------------------------------------------------------------------------------------------------------------Dear Harjinder,
It was lovely to read Bob Rose's recollections in your Blogs. I would like to share my
own memory with Bob although I was a kid only.
As a teenager with hardly any pocket money, I used to somehow sneak through the gates to watch the motorcycle racing events held at the Sikh Union and once held at Sir Ali Muslim club. The winner was invariably Jack Simonian on his Suzuki (I think) in most of the events. At Sir Ali Muslim I distinctly remember an instance when a very young Mzungu rider catapulted almost vertically in the air at the start of a race. Was that you Bob Rose or Keith MacAdam or somebody else? Then at the pre-meeting briefing, one of the sikh team members had a verbal run in with the Mzungu race official.
I used to walk past Hughes Limited daily on my way to school at Nairobi South from the Railway Quarters (1960-65). I think Hughes were the main Ford Motor Dealers in Nairobi. A question has always intrigued me. In one of the EA Rally events, Peter Hughes and co-driver Jimmy Young once drove a Ford Anglia (Car No. 44). I thought Peter won that race in the Anglia but all I can see in the records is that he won the Rallyonly once in a Cortina. I am really surprised that I have a memory lapse in this instance.
Also worth asking Peter Hughes is: Did Hughes Company also sponsor the Lincoln
Mercury Comets which took part in 1964? I think out of 8 only one Comet driven by
Joginder Singh finished. It was a bit of a disaster. I would like to request Bob if he has
pictures of John Manusis and our ace lady driver Lucille Cardwell of 1950-60's
Many Thanks
Tahir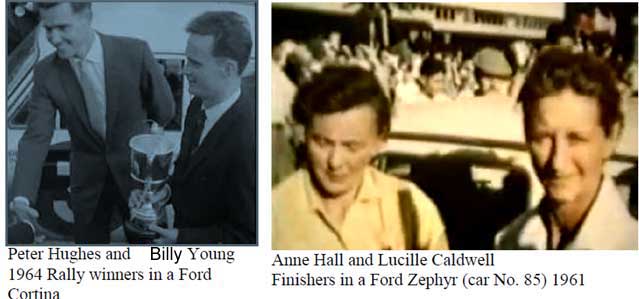 Tahir- for your information- Jack Simonian lives here in Coventry. We meet occasionally. (Harjinder)
================================================================================
CALL FROM KERICHO!!!!!!!!!
From: fred okoth <mcogallo2@gmail.com>
Date: Tue, Sep 20, 2011 at 7:37 PM
Subject: Support In Documenting Highland Primary School- Kericho,Kenya

Hello! Mr Singh,
My heartfelt appreciation for a commendable job you've done in putting down historical information on; The Sikh Heritage in East Africa. Its proved to be an invaluable information resource in documenting preliminary Indian Education in Kenya and East Africa at large.
Writing and Publishing are noble calls whose values are intrinsic more so when it relates to preservation of a peoples history and cultural heritage.
To a greater extent, the modern contemporary society is slowly loosing its taste of appreciating its history. Gifted writers and publishers must be custodians of this beautiful aspect of human life - taking over from the older generation whose populace is becoming extinct; to record the oral history and support it with pieces of existing tangible historical data, preserve and inculcate it into the next generation of the 21st century.
It is with this in mind that I extend a kind request for your support ( with information, pictures and contacts for reference) in putting down the history of Highland primary school.
Established in early 1932 as an Indian school, the Highland primary school community is set to mark and celebrate its 80th anniversary early next year. The information requested herein will be archived in the schools website, and part used in developing a school magazine set to be launched at the eve of the celebration.
Feel free to make enquiries, this will help bring together former pupils, teachers and alumni together in solidarity for the wellbeing of the institution as it works towards achieving The 2015 strategic plan.
For more information visit the school website: www.highlandprimaryschool.net
Much ground is already being covered to meet this noble course; thanks to Support from GNNSJ UK, former Teachers; Mr. G.S. Patel, Mr.Kundi, Mr.Babu Devekand Shah pupils in Canada, Europe and other parts of the world. and many more set to be reached soon.
Attached is a questionnaire, kindly circulate it to as many people as you can reach; and submit inform of a write ups and collection of old photos.
Your assistance will be highly appreciated.
Kindly contact,
Fredrick O.Okoth,
MWAKAY G. AGENCIES.
P.o.Box 2081- 20200,
Mio avenue
Belgut House 2nd floor
Kericho - Kenya.
Phone: +254 725421377/+254735760690
E/mail: mwakayagencies@yahoo.com/mcogallo2@gmail.com
HIGHLAND PRIMARY SCHOOL DOCUMENTING HISTORY 1932 - 2011
QUESTIONAIRE
INTRODUCTION
This questionnaire is to be administered for the purpose of collecting information /data to be used in the development of Highland primary school Historical documentary. Please answer the questions as candidly as possible .The information you will provide will not be used for and other purposes. The entire respondent must be persons who are 18 years and above and must have at one time of their life been pupils of /teachers of /parents to pupils of /SMC of /stake holders of Highland primary school community. And must have at one time of their lifetime been residents of Kericho from early 1920's – 2011.
1. Indicate the physical location of Highland primary school at its inception, before its establishment in 1932.
2. List the names of persons who were instrumental in making Highland primary school dream into reality at the early stages.
3. Highlight the development phases of the dream institution before its establishment in 1932.
4. What were some of the key factors that facilitated the establishment of Highland primary school?
5. Why the name: HIGHLAND PRIMARY SCHOOL?
6. How was the acquisition of land and other resources necessary for the establishment and development of the school made possible?
7. List the names of persons who volunteered their human resource to make learning and formal education possible before the establishment of the school in 1932?
8. Highlight the role of the colonial government in the establishment of Highland primary school.
9. In your own opinion give a brief overview on how racial and class segregation influenced the education system?
10. How did the local community respond to the establishment of an Indian school in their midst?
11. List the names of (a) Primary schools
(b) Secondary Schools
(c) Colleges
that were existent at that time in Kericho Municipality.
12. What was the education system /examination syllabus that was undertaken by the institution s above?
13. Name some of the schools that were classified under the following categories regionally/nationally during this period;
1. D.E.B Schools:
2. Company schools:
3. Municipality schools:
4. European schools:
5. Asian schools:
14. What was the average population of teachers to pupils in the above named schools in the period 1932-1990?
15. When was the first administration block of Highland primary school constructed?
16. Name the stakeholders and construction firms responsible for the constructions of;
· Administration block YR BUILD………………Sponsor…….......... Official Launch………… Contractor...................
· Teachers Quarters YR BUILD………………Sponsor…….......... Official Launch………… Contractor...................
· Classrooms &toilets YR BUILD………………Sponsor…….......... Official Launch………… Contractor....................
· Library YR BUILD………………Sponsor…….......... Official Launch………… Contractor...................
· Workshop YR BUILD………………Sponsor…….......... Official Launch………… Contractor...................
17. Identify some of the pupils who made remarkable impact academically, social and co curriculum activities in Highland primary school and their current achievements.
18. What is the relationship between pupils discipline and academic performance?
20. Name your favorite teachers and their impact on your life as an H/Teacher/class teacher/pupil/ SMC member/PTA
21. List the names of some of the teachers who have served in Highland primary school from 1932 – 2011.
22. List the names of Head teachers who have served in Highland primary school from 1932 – 2011 indicating their periods of service.
23. Highlight some of the effects of Independence (1963) on primary education; Highland primary school being your reference point.
24. List some of the key development partners and stakeholders of Highland primary school and their contribution to the institution from 1932 – 2011.
25. Highlight the roles of GNNSJ in Highland primary school from its onset to the current refurbishing and development program under MDG (Millennium Development Goals) by 2015
26. Do you have in your possession photographs/pictorials of historical events, achievements and you moments in Highland primary school dating from 1932 – date?
27. Highland primary school has undergone a lot of transition from an Indian school – community school – municipality school to a public government school. How in your opinion have these changes affected the Highland primary school original vision and mission?
28. Kericho town is a cosmopolitan centre. To what extent has regional politics influenced academics and development of the institution?
29. To what extent has KNUT, the ministry of education and Highland primary school community contributed to the current dilapidated state of the institution?
30. What in your opinion are some of the challenges that lay ahead in fulfilling the highland primary school dream?
31. "The school STARTS WITH THE HEADMASTER AND ENDS WITH THE HEADMASTER" How true is this statement?
32. How relevant is the 8-4-4 system of education in view of the current changing needs and wants of developing economies like Kenya?
33. How critical is the relationship between the school administration, pupils, parents and the community at large to school academic performance and development?
34. In view of Highland primary school how effective is free primary school education?
35. Highland primary school is one of the oldest educational institutions within kericho town; ironically it cannot measure up structurally and academically to the standards of its former competitors like; Kericho primary, Eland primary school, Kericho Township and St. Patrick's primary. Explain
36. The prospects of Kericho being an industrial town are low in comparison to its prospects as the hub of educational institutions in future. Explain.
37. What would you recommend as the way forward if we are to make Highland primary school a model expatriate school of choice not only in Kenya, Africa and the world?
38. In your opinion do you consider integrity as an important virtue in running an educational institution such as highlands to soar to success?
39. What would be some of most viable income generating activities a school such as highland can engage its self in order to self reliant?
40. What are the future prospects of land consolidation for Highland primary school structural development?
41. Does political involvement devalue Highland primary school development?
42. How would you rate your relationship with Highland primary school as a former pupil/former teacher/ SMC member/Head teacher/ a stakeholder and development partner?
Reply: Dear Fred,
Thanks for your e/mail.
I really appreciate your efforts to get the history of Highland School.
I shall do whatever I can to help you.
I shall add this letter of yours to East African blog under my Heritage section (nostalgic East Africa) and I am sure we shall be getting some replies.
If in the meantime you could send me a photo of the school which I can add to your letter - will be a big help.

Lots regards
harjinder
Dear Harjinder,
Thank you very much for your e/mail.
That's a great idea you've got rolling and i'm sure we'll get positive results.
Attached are photos of some sections of the institution; soon pictures of recent infrustructural development within the school will be posted on the web for public viewing.
I loookforward to mutual coorporation and assistance in any areas of intrest you'll extend to the school.
Once more, accept my heartfelt gratitude.
Regards.
Fred.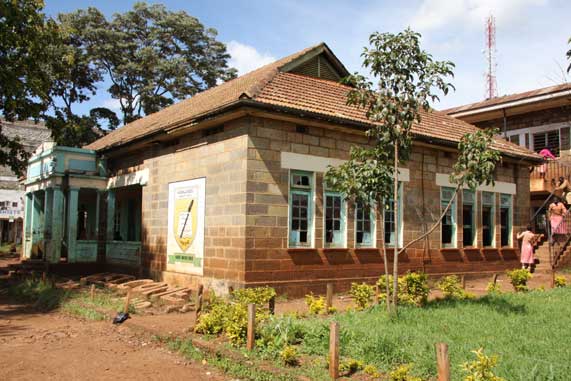 Administration Block - Highland Primary School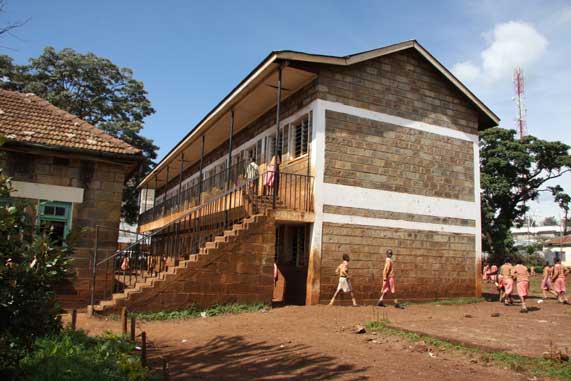 New Building Block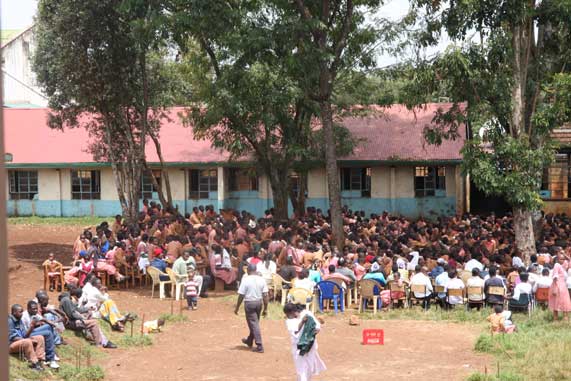 Students enjoying the sun outside the school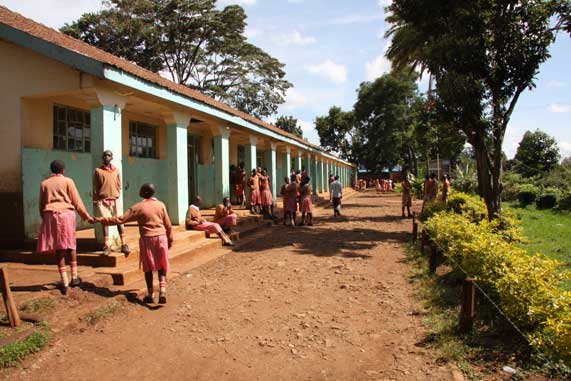 Class rooms
===============================================================================
Another interesting article from Tahir in his most inimitable style
My Secondary School Days: Nairobi 1960-65
Tahir Mirza
Written October 2011.
After finishing my KPE in December 1961, I moved to a newly built Secondary School in Nairobi South in 1962 and to my utter disappointment, I was dumped in Form Ic – a class meant for the less academically able boys. This was a big surprise since I had passed my Standard 7 exams with good marks in Grade 1 (G1).
Our new Secondary School Form Teacher was a Mr P D Patel (Senior) who had a few months left before he retired. He was a sadist type of an old fag, always negative and uninspiring. He would sit in his chair, put his feet up on the table and would dish out a long lecture in his inimitable English about our doomed prospects. "Chapes (chaps), you are wasting your fathers' money, you have no future, isn't it?" Listening to this constant rhetoric, I started despising school. Surely I wasn't that bad. I was to stay in the 'c' stream until I finished my Form IV in December 1965 but did well in my GCE 'O' Levels.
Eventually I followed up my education with even greater success at university in UK. There is a moral to this story: Our class could not have been that bad since some of my mates in Form IVc have had very distinguished careers.
Walking to school alone was often a scary experience in Nairobi South area. I used to be confronted and beaten up by little "totos" dressed in khaki clothes asking for money. This would be called mugging today.
End of term holidays were spent with my elder brother who was posted as a relief railway station master with
EAR&H away from Nairobi. I distinctly remember his posting at Ulu, a small station on the Nairobi-Mombasa line. The station was also a rail freight link to Wilson's Dairy Farm situated nearby. Ulu Station had a population of no more than 6 inhabitants, amongst whom was Ndeti the faithful office servant, in his early sixties, who would be doing menial jobs including general cleaning and his great passion in the maintenance of the lanterns. The lanterns were the old primus type that burnt with a brightly glowing round wick. The bright light also attracted lots
of flying insects (dudus) and therefore eating food sitting close to these lamps was not always the best setting for a romantic evening meal. There was no electricity at the small stations.
Next up on the railway line from Ulu was Kiu station, where our good friend Ramnik (you would expect him to be another Patel, wouldn't you?) had a small shop selling the absolute basic necessities of daily life to the small surrounding villages. We loved Ndeti's excitement to accompany us to Ramnik's shop every now and then "nite enda huko duka ya Bwana Lamuli " This is no exaggeration, you would wonder what is the connection between
Ramnik and Lamuli? But all those who were in Africa around that time would know their servants' laconic adaptation of the Master's names in their own dialect. Actually Ndeti now reminds me of a character not too dissimilar in a western cowboy movie set in rustic surroundings, sitting in a lonely dusty veranda with an occasional sound of the wind howling constantly disturbing and moving a creaky signboard and a bee buzzing around the dozy Ndeti. Only to be disturbed by the arrival of a 59 Class Garratt steam locomotive engine with a long haul of bogies. Just fantastic nostalgia!
I would like to dedicate this piece to my elder brother Aslam Baig Mirza (1933 – 2006) who looked after us when he had to stop school at the age of 19 after the sudden death of our father at a young age. My brother served as a station master at Konza, Kajiado, Ulu, Magadi, Maguga, Limuru, Uplands, Matathia, Sagana, Karatina and many more small stations with EAR&H with Nairobi railway quarters in the landhies being our home base. He was a stickler of old traditions and loved his country of origin.
PS: At the north boundary of Ulu station, we had also witnessed the existence a grave from the early days of Uganda Railway Line construction. Legend has it that a relative (possibly a brother) of the famous 'pir' of Mackinnon Road fame was buried at Ulu. (to be verified by historians). Also refer to Harjinder Kanwal's Sikh-Heritage in East Africa website (Part One) for an article entitled "Why Trains Slow Down at Mackinnon Road".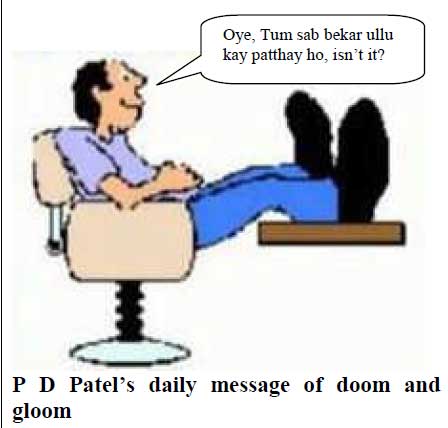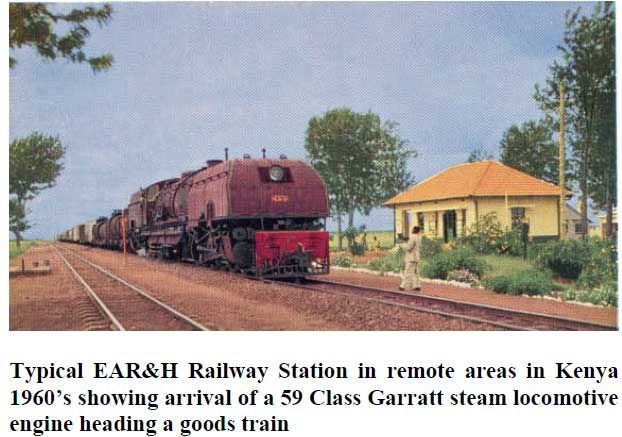 ================================================================================
My responses in bold italics, black below... Regards, Pushpendra
On Sun, Sep 25, 2011 at 10:19 AM, tahir mirza wrote:
Thank you gentlemen for the compliments.
I was never a writer nor pretend to be one right now. It really is something to do with my passion for Kenya . On the other hand if you ask me write something about my religion, I would be struggling to even express it in a single line because it is of no interest to me. But in real life, I am quite an introvert and a boring person. I wished I could talk like Navjot Singh Sidhu ! Extremely spontaneous and on the ball.
You have a great ability to impart your thoughts in a very very vivid style - that makes a writer !
I am thankful to God for my ability to recall memories of the era as if the things happened almost yesterday and also have a fondness to note human behaviour and reaction and try to immitate it myself at a later time. (My wife does not like it though). The Kenya phenomenon is particularly interesting as from 1960-65, I was only 11 to 16 years of age. The ability to be meticulous in detail still remains as I have a strong hand in what my wife wears and the kind of uncluttered but neat décor and finishes we have at home. Fantastic recall !
The totos were a pest and always gave a good beating to even the strongest of our own Muhindi guys. Sure enough, these guys must have grown up to be the criminals we see on the streets nowadays.
Pushpendra's comments on teachers psyche is probably correct. I would agree it might have been a catalyst and probably brought the best out of us. Because to every action, there is a reaction and kids like me would have reacted "teri ***** ki, mein be kuch kar kay dikhawoon ga"
As regards Bhargav's comments, KPE was different in my days as would be confirmed by Harjinder. G1, G2 and G3 were the pass grades. And even 'O' levels were same grade classification. We did not have KJSE after Form II in Sec school. But I can imagine its usefulness as some guys were really struggling academically and some spending time sneaking out to matinee film shows. Smoking and drinking was also not uncommon amongst the dropouts.In 1969, it had changed to CPE - Certificate of Primary Education... and KJSE was still retained for a few more years, I think...
The streaming at our school was a bit unfair and discriminatory. In the 'a' stream we had the genuine bright guys mainly Sikhs, Hindus and Gujratis. I did not see any Muslim bright guy in 'a' stream at Highway. The 'b' stream had all Gujratis and almost all from Grogan Road . The 'c' stream were the genuine strugglers plus a few unlucky ones with equal proportions from all communities. In our Form IVc we had Mehar Singh Manku who went to Makrere and to UK, did his PhD etc and became a full fledge professor at Hull University before becoming a chief scientist with a major pharmaceutical company.The theory was that the ones with lesser abilities should be grouped together, and be given extra help to come up to higher standards. But in practice it seems that the cleverer ones got the better teachers and more help... It is the case even now !
Pushpendra was at Jamuhuri School and he must have come across another P D Patel the Science teacher (see attached pic, nicked from Harjinder's site). He was a refined guy and taught Science at Highway first and left in 1963 to join D.O.G.Yes, that is one of my photos - these teachers were "of the old school" - well disciplined and were good imparters of knowledge...but some has a huge streak of a sadistic nature !
Did you guys note that all our teachers observed a very decent dressing code of wearing suits and ties? And not seen in shirts only.
On to something slightly different. I note the Turkoman Carpet Emporium still exists in Nairobi. The old owner was an uncle of Salma Agha. The sons are stil there. Daughter is distantly related to my wife. They used to be on Muindi Mbingu Street ( Kingsway corner, opposite the police station ) now they have moved to Westlands, next to Uchumi
Thanks forbearing with me.
Tahir
================================================================================
Presenting some photos of the olden days sent by Bhargav Mistry straight from Udaipur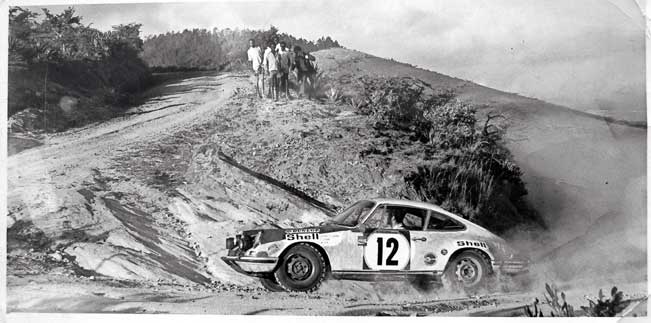 The EA safari 1969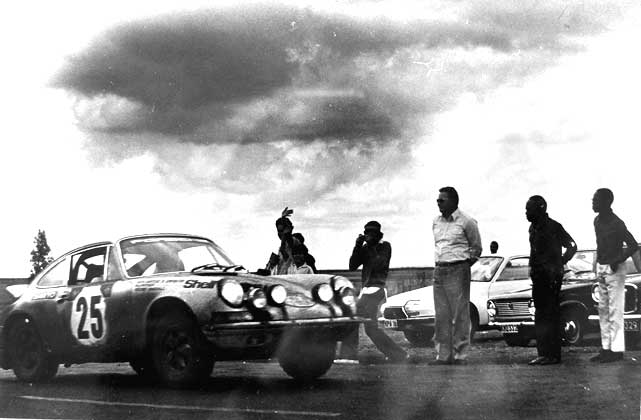 EASafari on the Mombasa highway... April 1970 I think..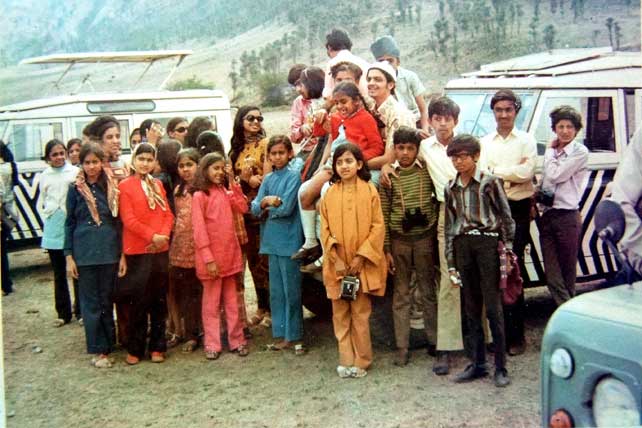 The pic with bus is 1967 when we from NSPS and some from Visha Oshwal school went to Ngorongoro and other such places. The girl partly hidden and in dark glasses and the boy with cap are from visha oshwal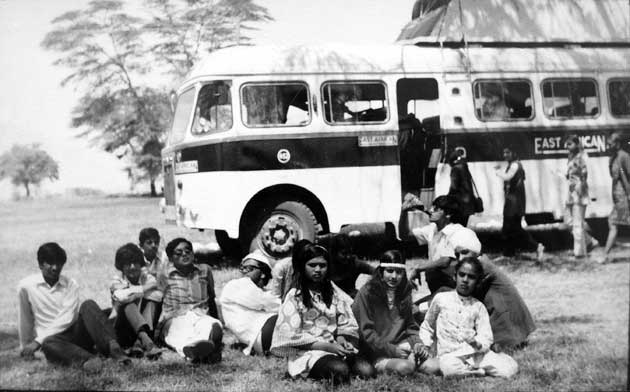 of the same ngorongoro trip and the bus and me there ( the guy right of the one in a cap - me wearing dark glasses, generally trying to focus on the girls in front row ;)
Believe me, in this trip there was a lot of competition trying to woo those girls. The girl with head band was I clearly remember, a `Khoji' girl and all those idiotic looking hulks of boys trying to impress her.....I'm sure she'd be a mother of plenty by now!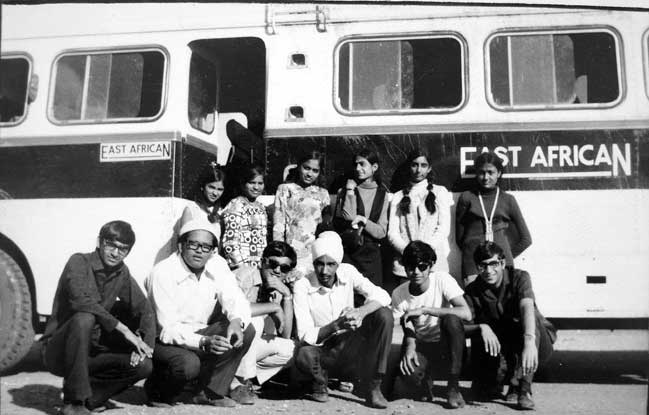 Same ngorongoro trip and the bus
===============================================================================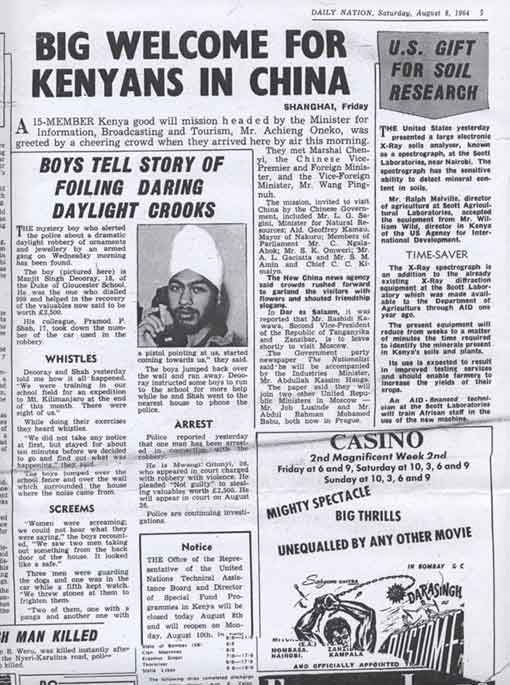 An interesting newpaper Nation of 1964 with Dara Singh Movie (sent by Pushpendra Shah)
Some recent photographs of the Nairobi city sent by Pushpendra Shah Oct 2011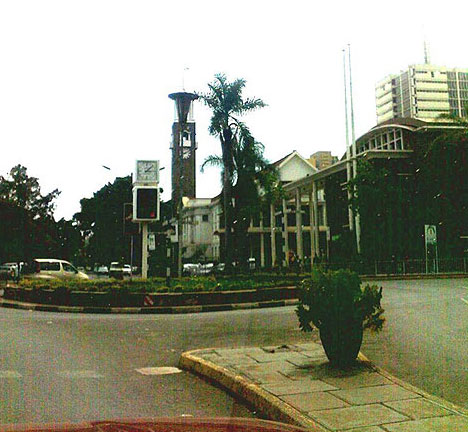 The City Hall, Nairobi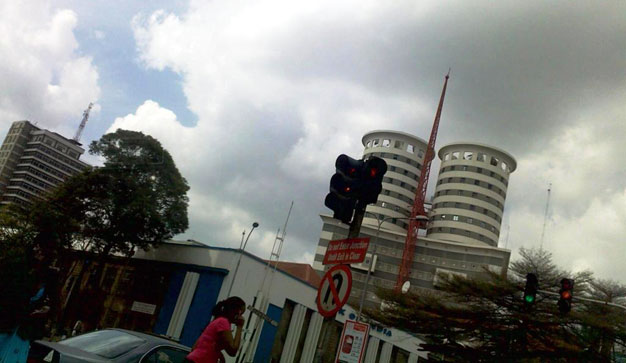 The Twin Towers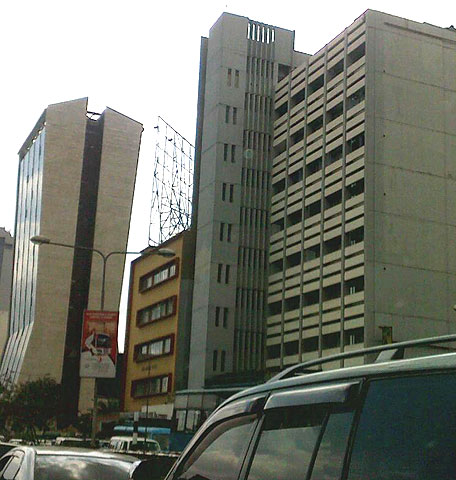 The yellow building the ESA bookshop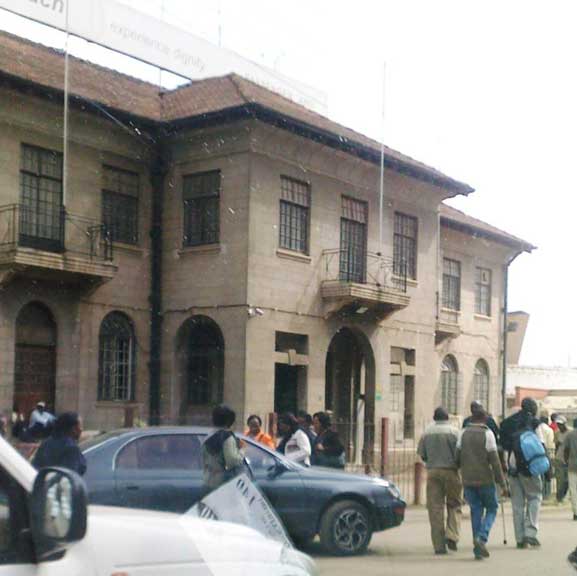 Railway HQ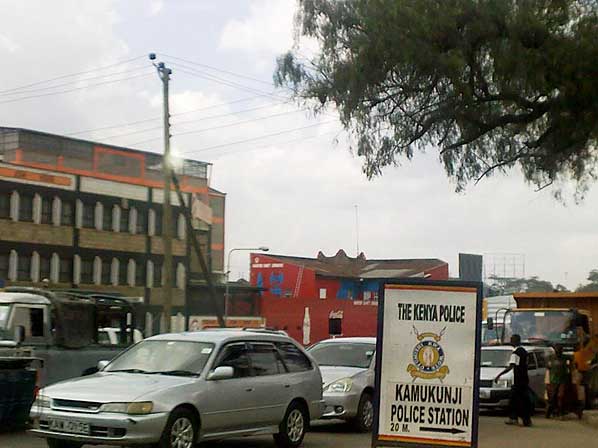 Kamukunji Police Station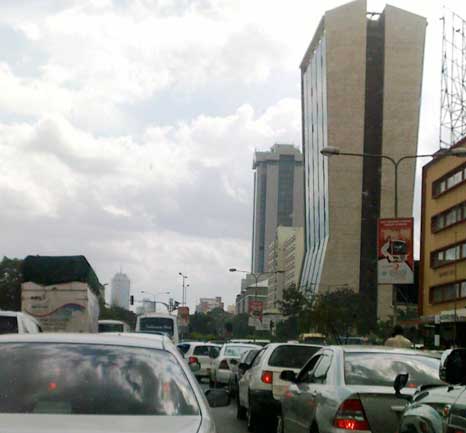 Co-Op House near American Embassy which was bombed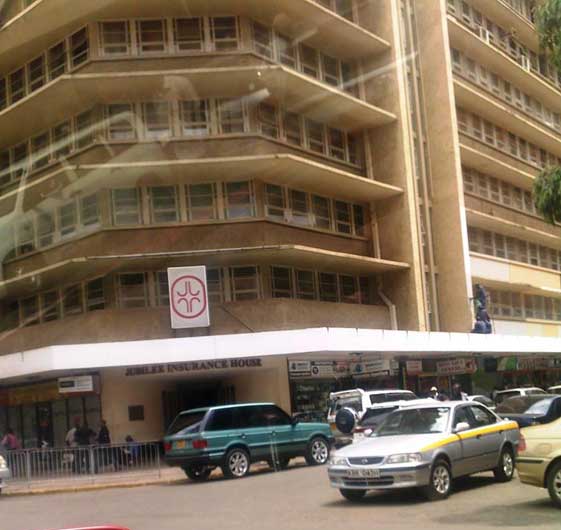 Jubilee Insurance House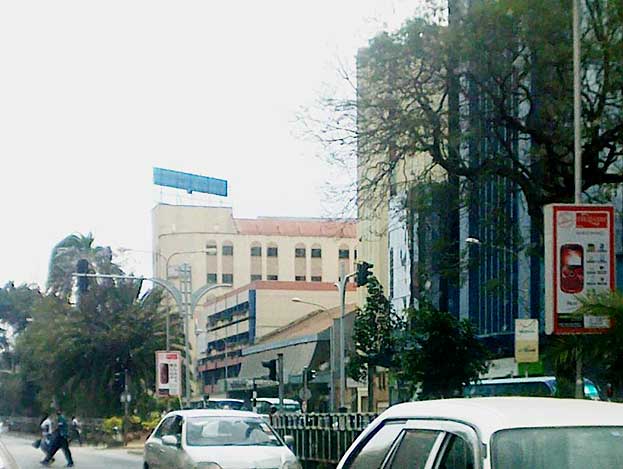 Kenyatta Avenue formerly Delamere ave.
Macmillan Library & Bank of India
================================================================================
ANY INFORMATION OR PHOTOS NEEDED ON PIONEER WORKERS IN EAST AFRICAN POWER & LIGHTING CO. LTD (Please get in touch with me [Harjinder])
Paji Sat Siri Akal,
I have an enquiry from one of my family members that if possible we could get photographs of old pioneer power and lighting workers. Paji, my grandfather was working for the power and lighting in the early 30's onwards. Please see what you can do for this matter. Meanwhile, as you know every year I am the convener of the Guru Nanak Rally Souvenir Brochure again I need cricket team photos which the club does not have from 1967 onwards. I presume Paji V.S. Lamba may have something to give. Ask him.
Thanks and Regards,
PALI SEHMI
Hon: TRUSTEE SIKH UNION CLUB NAIROBI 0ct 2011
I shall see what I can do (harjinder)
=================================================================================
THE FOLLOWING IS AN EXCERPT FROM A NARRATION BY AN ENGLISHMAN IN THE COLONIAL TIMES WHO TELLS HIS EXPERIENCES DURING HIS ARMY DAYS IN NAIROBI (sent by Tahir Mirza)
NAIROBI
Soon the Reconnaissance unit was downsized again.
This time I was posted back to Nairobi to rejoin the Command Signals Headquarters. Our main job was to maintain the radios used for military signals between East Africa and the UK. I explored the bars and restaurants of the capital and was offered a job playing the piano in a fairly upmarket restaurant, the "Taverne Royale". I had to get permission from the army, and this was given subject to the army always having priority for my time. I became very popular with the other NCOs because I would swap orderly NCO duty with them if they were down to do it on a Sunday, that being the quietest night at the Taverne Royal.
For healthy young soldiers, Nairobi was a wonderful place for eating-out. At the Vienna Café they served an inch-thick steak that drooped over the edges of the plate, no chips were needed, just a few onions. The New Stanley Hotel did a seven-course lunch for six shillings and an eight-course dinner for seven shillings. One of the courses was a selfserve buffet counter the whole length of the restaurant, and this defeated everybody I
knew - no one ever got to the dessert!
Once two chaps came up to me on a Sunday night and said, "do you want to come down town for a curry?"
"I can't," I replied, "I'm orderly corporal."
"That's all right, Jonesy will stand in for you till we get back. He doesn't like curry"
"But I don't like curry either."
"Have you tried Indian curry?"
"No."
"You'll like that, I promise."
And so began a lifetime's love of Oriental cooking!
By the way, the orderly corporal spent the night in the Squadron Sergeant-major's office to field any phone calls, (of which there never were any). I was sitting at the desk writing to my fiancée one night when a huge spider dropped off the ceiling and straight down the inside of my shirt. I broke all records for undressing. I daresay the spider was nearly as scared as me! Occasionally I was sent on short trips to places where radio repairs were urgently needed. Once I flew down to Dar-es-Salaam (Arabic for Peacehaven!) to fix the
radios of the 1st Kings African Rifles at Cilito Barracks (well known subsequently as the site of the outbreak of the Tanganyikan revolution).
At one point during the flight Mount Kenya (17000ft) was visible on the port side and Mount Kilimanjaro (19000ft) on the starboard. These mountains are over 300 miles apart so you get some idea of the breathtaking scale of the view. While I was in Dar-es-Salaam I met another Signals NCO, Corporal Raoul Guinard, a Jerseyman. Another time I was sent to Nakuru to repair their wireless equipment. This was at an altitude of 7000 feet with a very cool climate. While I was there I experienced a thunderstorm so intense that I
saw sparks flying from filing cabinets in an office. The local Brits, including tea planters, all attended a film show at the army camp; Judy Garland in Sunset Boulevard. While there I met Ron ………, the signals clerk. He told me he was a librarian from Croydon.
(Some months after my demob I was driving through Croydon and happened to notice the public library, so I parked the car (in those days you could even park in London!) and went inside, and sure enough there was Ron, stamping the books.)
Shortly afterwards Tony McCoy, who I had met at Nyali beach, was posted to our unit. A new officers' mess building was opened and the British NCOs moved into the old officers' mess. I found myself sharing a room with Tony McCoy. At about the same time Raoul Guinard, who I met in Dar-es-Salaam, was also posted to our unit, and we became good pals. Raoul wanted to buy a Hillman Minx car but was short of cash, so I lent him
the £35 he needed, which he repaid at £5/month. Unless he was on duty he always gave me a lift to the Taverne Royale each night, and I found an African taxi driver with an ancient Ford Prefect who charged me 5 shillings a week to take me back to camp at midnight every night.
The Taverne was owned by Fred Forno, born in England of Italian descent, who visited his grandparents in Italy in the late thirties. While he was there, the Italian government called him up for national service, considering him to have Italian nationality. He was still in the Italian army when Italy entered WW2, so he had to fight against Britain, the place of his birth. The British captured him in Somaliland and after the war he chose to
be released in Africa.
Fred reckoned he was a marked man because a gang of Mau Mau terrorists came into his restaurant one night armed with pangas, so Fred pulled a revolver from under the counter and shot one of them dead; the others fled. I hope he was OK after Independence.
At the Taverne Royale I used to play solo piano for an hour from 6 to 7pm then I was given a free meal. After this I joined the "5 Caballeros" to play dance music until
midnight.
About once a week I would miss the early session and the free meal and visit the Garden Hotel, an Indian-owned establishment, for a curry. After demob I introduced my family and friends to Indian food and most of us are still enjoying it
http://www.royal-signals.org.uk/of_interest/National%20Service3.php
=================================================================================
Oct 06 2011, 10:33 AM

Subject:

Memories
Dear John,
So nice of you to write.
I have no objection for you to use any material from my site. In fact it will make more people aware of the site and relate their nostalgic experiences and photos to me.
Thanking you with lots of regards & affection,
harjinder
p.s. Please keep in touch as I shall be coming to nairobi sometimes early next year for a special project and would like to meet you personally.
Dear Harjinder,
Thank you very much for your prompt reply. I am delighted by your response. I will keep in touch and keep you posted on the development of my column.
Lots of regard.
John (Oct 07 2011,)
================================================================================
Dear Harjinder Singh,
I found a superb photo of the Ripon Falls Hotel Jinja on your website and I would like to use this in an article I am writing for the Open University UK. I lived in Jinja in the late 50's and stayed at Ripon Falls when I arrived there from Kabale. I also knew Indar Singh Gill very well when he was the owner of 'Sikh Saw Mills', who features in an interview on your site. That is quite a story in itself. Hoping I can use the photo because in the forecourt is an Opel Rekord almost identical with me own car (Except that mine was one colour not two tone like the one in your photo.) With thanks and best wishes, Stewart West.2/11/11
Indar Singh Gill the Jinja millionaire
Whilst trying to locate the source of a photograph of The Ripon Falls Hotel I came across a fascinating website called sikh_heritage.co.uk that gathers pictures and anecdotes about the Sikh pioneers in East Africa, many of whom went there in the 1890's to build the East African Railway. I was delighted to find an account of an interview with Indar Singh Gill, recorded when he was about 90 years old and still attending his office daily. He had made a career with the railways eventually branching out into business on his own account and became one of the Jinja Millionaires –( the others were Mehta and the Madhvani brothers.)
Now I knew Indar Singh fairly well in 1959, firstly because his son, who had been educated in England at Wellington College, played rugby for Nile RFC where I was also a player and secondly because I had spent some time in his offices at 'Sikh Saw Mills Jinja Ltd' investigating theft by one of his accounts staff. He used to complain bitterly to me about his son who had become 'westernised' and abandoned his turban, had his hair cut and stopped carrying the traditional personal weapons. That is how well I knew him. It therefore came as a surprise to me one day when I was doing duty as Prosecutor in the Jinja Magistrates Court to be handed a file by the East African Income Tax office charging Indar Singh with non payment of tax to the tune of 800,000 EA shillings. (About 40,000 pounds sterling – a mouth- watering sum. My salary as an Assistant Superintendant of Police was less than 1000pounds per annum.) Being accustomed to criminal proceedings and having never prosecuted an income tax default I was very worried about how to go about the whole thing. However I need not have worried because as soon as Indar Singh stepped into the box in front of the humorless magistrate John Hopkinson and had the charge read to him, he admitted liability. Hopkinson looked over the top of his spectacles and ordered Indar Singh to pay the 80,000/ he owed plus a penalty of a further 80,000/- making 160,000 in total. Indar Singh reached for his cheque book and started to write. 'We don't accept cheques in this court Mr Singh' said the magistrate so Indar Singh called his clerk from the well of the court, handed the check to him and told him to go across the road to the Standard Bank and to hurry back with the money or a certified draft.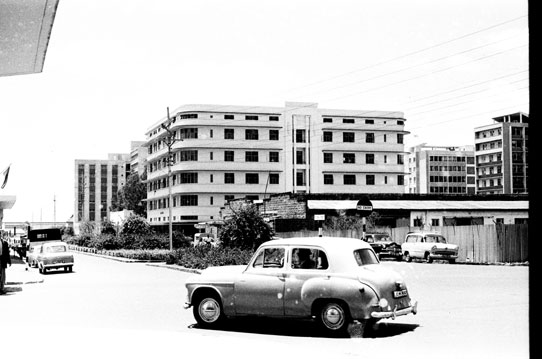 Gill House- a landmark in its time.
After the matter had been settled and since it was the last case of the day I left the court but outside I bumped into Indar Singh. He immediately insisted that I go with him to his large house, 'Lakeview', for a sundowner. After settling down with our drinks old Indar Singh looking quite mournful, and started muttering away, saying, 'Mr West, there is no justice in this World'. Oh I replied 'What are you on about Indar Singh, you've just had one and a half million shillings worth of justice, surely you aren't complaining '. 'Oh Mr West,' he responded, 'I am owning Gill House in Nairobi and it is rented from me by the East African Income Tax so why are they doing this to me? There is no justice in this World.' I began to see his point. But then he suddenly brightened up. 'You know Mr West three years ago they failed to renew their lease and they continued to stay in the building. I think I am having to write to them and tell them that their rent has just been increased by 1,600000 shillings. There is no justice! In this world.
Stewart West, Kajang, Malaysia. November 2011
The above story was on the lips of every one how Mr. Gill paid his tax. A great gesture by this great man. (harjinder)
The following is a letter from Germany about Mr. Inder Singh Gill (Kanwal)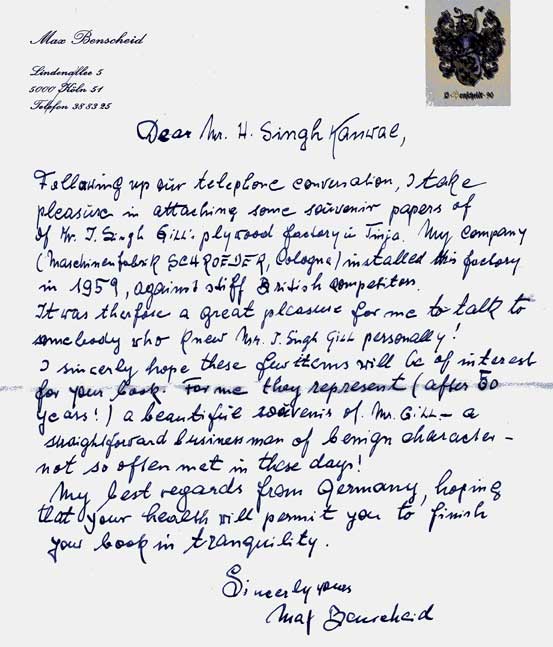 Mr. Inder Singh Gill with his German business partners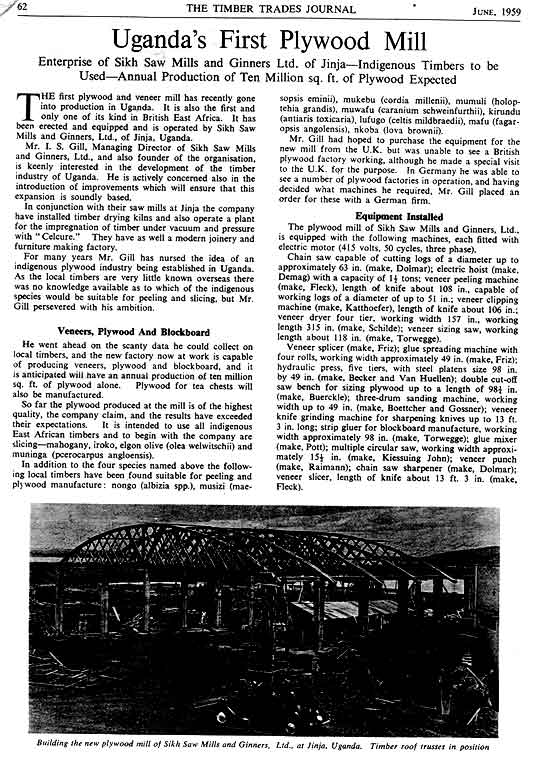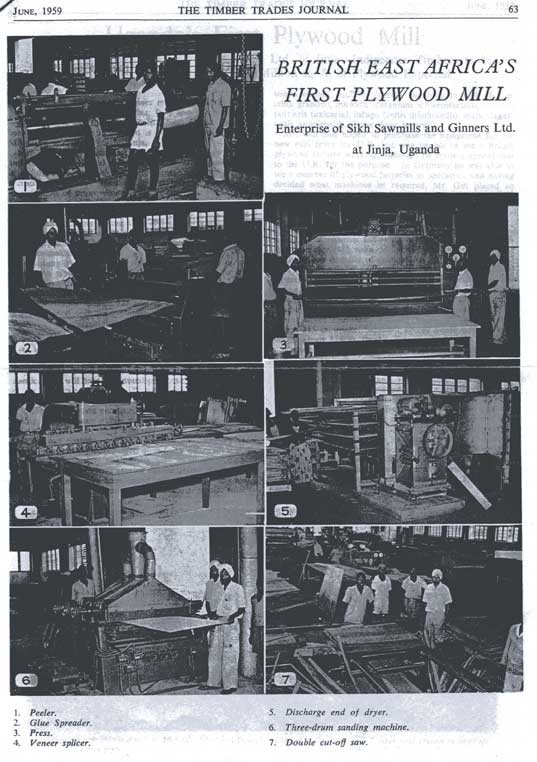 The following letter received in January 2013 about S.Inder Singh Gill is another feather in his cap or rather turban (Thanks to Ron Bullock -harjinder)
I only recently discovered your wonderful site containing so many memories for all communities. I was struck by Stewart West's blog about Indar Singh Gill's income tax case.
My story came from a member of the Income Tax Dept. Shortly after its building, they rented the second floor of Gill House, I think at that time the largest office complex in Nairobi. Someone later wondered how this former railway employee had assembled the resources to build the place and so Indar Singh came under investigation. So there is an answer to his query of Mr. West, "Why are they doing this to me?" The story continued slightly differently from Mr. West's version however, but is at least colourful – perhaps Indar Singh was something of a "character" and inspired colourful reminiscences?
In any event, this story relates that when the judge passed sentence, Indar Singh asked him "On which bank would you like the cheque Sir?"!
I never heard about their non-renewal of lease, but it makes a delicious closure to the incident.
Incidentally, I have been intrigued by a photograph hanging in the office of my branch of the Bank of Nova Scotia. It shows a scene relating to the delivery of furniture for a new branch in Ontario, most particularly a new safe, loaded, I think (I have to double check) on an old horse-drawn cart. The date is 1911, and prominent among the individuals in the photograph is a Sikh. I had not realised that there might have been a Sikh community here in Ontario that early.
Best wishes
Ron Bullock
===============================================================================
Ghazal Maestro Jagjit Singh
The sudden death of India's greatest Ghazal singer who revolutionised the concept of Ghazal to reach the ordinary people, has left a chasm in the world of music, which will be never filled.
Harjinder with Jagjit in his Mumbai Studio
I had the privilege of knowing him personally and I was in Mumbai a couple of months after his son Vivek's death. He was in a recording studio rehearsing. We held each other's hands and I paid my condolences to him. His reaction was of a great man that whatever occurs it happens with the will of God – but life moves on and here we are making another album – 'Someone Somewhere'!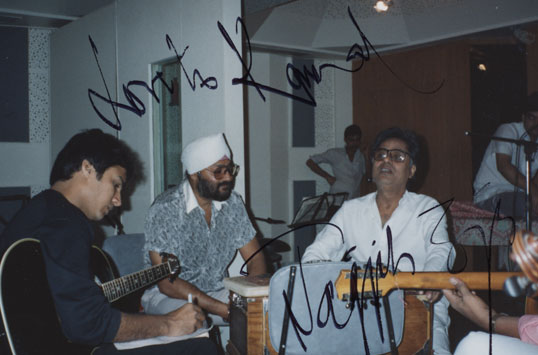 My heart goes out to Chitra Ji who first lost her son, then her only daughter and then her beloved husband Jagjit. May God give her strength to bear this heart rending burden. (harjinder kanwal –November 2011)
==============
Dear Harjinder,
Thanks for putting a tribute of Jagjitji on your website. Splendid person he was and gifted.
This simple ghazal of his says it all and that adaptibilty of his Urdu talafuz and tehzeeb is so endearing.
http://www.youtube.com/watch?v=eEu47-QgVME
You cannot get anything purer than this and in the second verse (Sher) he is expressing his immortal existence.
With kind regards
Tahir Nov 16 2011, 01:28 PM
======================================================================
TRIBUTE TO JAGJIT SINGH AT THE 'HAVELI'-SLOUGH U.K.
Contributed by Karam Bharij on 22/12/2011
Dear Friends
In annals of Asian history in Kenya, Voice of Kenya radio station remains etched in our memories as one of major Hindustani broadcasting stations in the Indian Diaspora. In its prime, station icons, namely Musa Ayub, Pritam Singh Chaggar, Chaman Lal Chaman, Bikram Singh Bhamra and Tarlok Soni ruled the air waves.
Whilst the Indian Ghazal music fans all over the world mourn the sad demise of Ghazal maestro Jagjit Singh, little is known that Voice of Kenya broadcasting station gave him his first break on the air. On his subsequent visits to Kenya- Pritam Singh chaggar was his compeer at performances.
Following his break on Kenya air waves, Avijit Ghosh, writing in Times of India states, "It wasn't just India. The husband-wife pair conquered the Diaspora much before the NRIs discovered feel-good Bollywood. Jagjit would add a dash of peppy Punjabi folk and send the Southall audience in a tizzy. Just listen to the audience response to the Punjabi song, 'Saun da mahina yaaro.. (lyric: Chaman Lal Chaman) in the album, "Live in Concert at Wembley."
Chaman Lal Chaman forged closer links with Jagjit including composing lyrics for one of his ghazal -- " Saun da mahina yaaro ". Broadcasters left Kenya for pastures afresh and rekindled their careers in broadcasting in UK. They provided media exposure to Jagjit Singh on UK radio stations.
Thus it has come to pass, these broadcasters organised a tribute to Jagjit Singh in Slough. Evening was devoted to renditions of his ghazals by various artists including young talent. In true style of Jagjit Singh, ghazals transported the audience to the hey days of Jagjit Singh's riveting performances. He had a rare quality to tune into everyone's thoughts, pleasurable smooth trained voice and laughter at snippets of his lively jokes.
This photography collage by Karam Bharij records performing artists, Voice of Kenya Anchors who joined in to pay a fitting tribute to the great maestro.
Photo
https://picasaweb.google.com/111552141471457456791/VOK_TributeToJagitSingh?authkey
=Gv1sRgCNTzkPrm46Td7AE
Photo- Audio Video Collage
http://www.youtube.com/watch?v=h_CzVtw38fQ&feature
================================================================================
Obituary
Cynthia will be sadly missed. I have borrowed a bulk of the stuff from her books, which were exceptional East African Material. May God give her peace (Harjinder Kanwal)
Cynthia Salvadori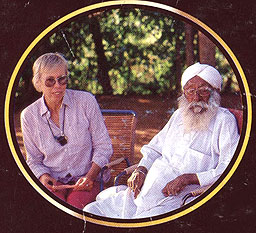 The news of Cynthia Salvadori's sudden death in Lamu on Monday 27th June 2011, at the age of 76? , will come as a sad shock to her many friends.
She will be remembered chiefly for her books about the Asian Communities and the Asian pioneers in Kenya. She chose to draw attention to these communities at a time when their history had been largely ignored and their contribution to Kenyan society was underrated. Her book 'Through Open Doors' published 1983 opened the eyes of many to the intricacies of the various religions and differing peoples of the Asian peoples of Kenya. The meticulous research and remarkable assembly of facts made this book an essential reference book on the subject, which would be hard to improve on. She went on to collect the histories of the Asian pioneers in a number of books 'We Came in Dhows', 'Two Indian Travellers' and 'Stories of the Punjabi Muslim Pioneers in Kenya'. Her hall-mark was always exact research with plenty of references, indexes and illustrations. She was a perfectionist in her work and demanded a lot from the publishers and editors, with whom she worked.
Besides her interest in the Asian communities she also had a deep commitment to the nomadic peoples of the NFD, who lived on the borders with Ethiopia in an area that is amongst the poorest and least developed in Kenya. She spent time in Marsabit and Moyale and was never happier than when riding her mule and collecting anthropological notes amongst the Borana people. She later wrote a book about the Borana and also helped compile a dictionary of their language. She wrote an extraordinary number of books on a wide variety of subjects. She loved to write, contributing to magazines, fascinating articles on subjects as diverse as sea urchins, the mysterious graves at Ishakani, or Borana circumcision rites. But as she often told me, she did not write for money, she only wrote on subjects that interested her and because she wanted to. Her father Max Salvadori, also a prolific author and a former professor at Smith College, Massachussets, had told her that important maxim for success as a writer, at a young age. Cynthia had a great admiration for her father, but also inherited an artistic talent from her British mother.
Cynthia had a deep love for Kenya and came from an Anglo-Italian-Kenyan heritage. She was conceived in Kenya but born in the Uk and was always particularly proud of her mother's ancestor Jack Haggard a former British Consul in Lamu. He was the brother of the famous writer Rider Haggard. Her father, who had been imprisoned by Mussolini for his anti-fascist views, came to Kenya as an exile from Italy in 1932. When the Second World War broke out in 1939, he returned to Europe to fight, while Cynthia and her mother went to the United States where they eventually settled. But as soon as she could, immediately after finishing university, she returned to her African roots.
Cynthia was a nomad who never liked to settle long anywhere. She loved to travel and needed the continuous stimulus of a wide variety of people, cultures and religions. She wore her erudition lightly, but was immensely knowledgeable and well read on any number of subjects. Amongst her passions could be listed cats and horses, crossword puzzles and detective novels. She cared little about what she wore or luxuries of any kind, and always travelled light – never going anywhere without her notebook, camera and more recently her trusty computer.
Cynthia possessed extraordinary determination and strength of character, at the end of her life she refused to have an operation on her arthritic hip, but suffered it with great stoicism, never complaining. She also had the gift of friendship and sympathetic conversation and was most generous to all those she befriended. She was a person of great value, her multi-facetted talents will be difficult to replace or forget, her like ever to meet again. Cynthia will indeed be sadly missed.
================================================================================
OBITUARY
JAMSHER SINGH PANESAR
It is with regret that we inform our Nairobi friends that a well known personality of Nairobi, Jamsher Singh Panesar widely known as 'Jera' died on 28th December 2011 after being admitted to St Bartholomew's (Barts) hospital in London, for acute heart attack.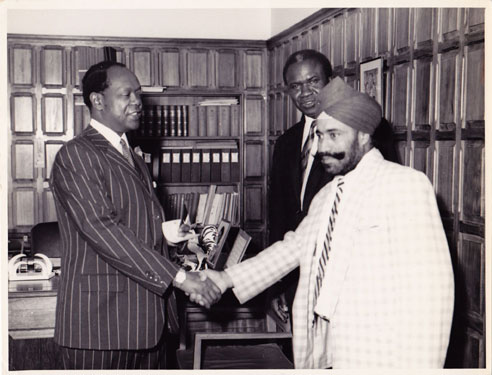 Hon. Charles Njonjo congratulating Jera on his achievements at Caltex
Nairobi friends will fondly remember Jera as a great guy who was a centre of attraction in any party with his exceptional quips and jokes.
He was born in Ngara, Nairobi on 16th January 1935 and after his studying in the Indian Government School, joined Caltex Ltd., where he served the company diligently for over 35 years.
He retired on an officer's grade with a lot of commendable mementoes from his immediate superiors, the bosses of Caltex.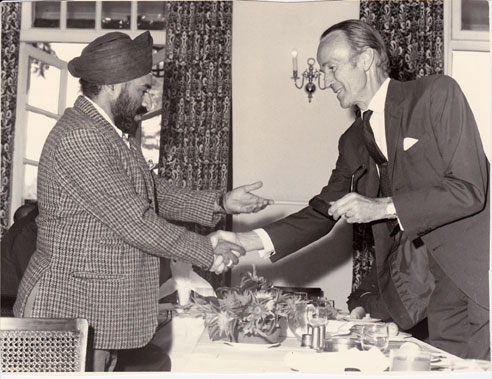 Jera receiving a memento on completion of 20 years service at Caltex
He was a staunch member of the Sikh Union club and served the club in the capacity of general secretary. Being a keen sportsman he was involved in all the sports activities of the club. He was greatly missed by the Sikh Union members when he left Kenya to join his 3 sons in Ilford, England in 1990.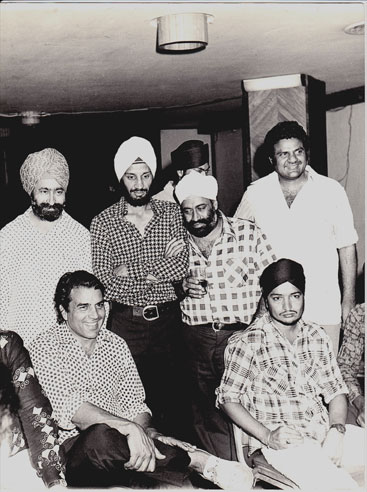 Jera accompanied the Sikh Union team for a tour of Bombay and parts of India where the team was entertained by the actor Dharmendra and his brother Ajit (right)
His sad demise left a gap in the Panesar family which will be difficult to fill. (harjinder)
=================================================================================
This was probably the last year that traders in this street celebrated in the traditional way - bunting across the treet - unique to Biashara Street (Previously INDIAN BAZAAR- see th Khoja Mosque in the background) in Nairobi.
It was the 20th anniversary of Kenya's independence.

The City Council of Nairobi wanted to levy a license fee of Kshs 100,000 per shop
for the bunting and the under-canopy lights. ( then about US # 3500 per shop ).

Overnight, the business people removed the lights and the bunting - never to be seen to date...

Pushpendra Shah (Nov 11, 2011)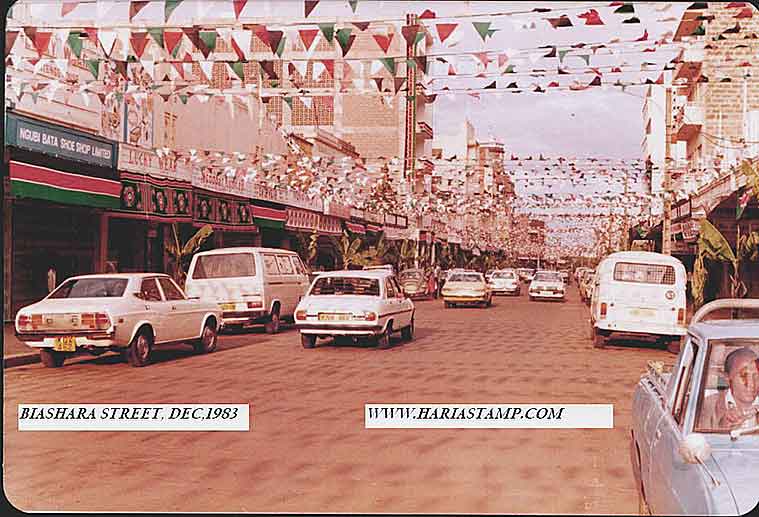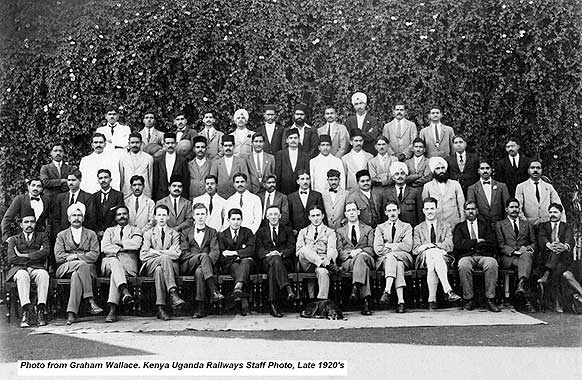 Any recognitions? (sent by Pushpendra Shah)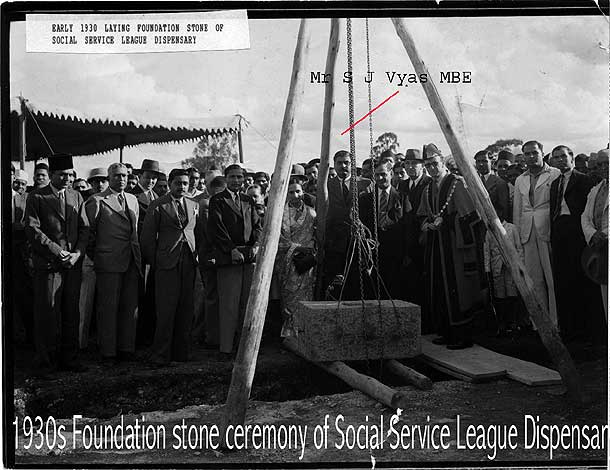 Mr Shambhushanker Vyas besides Dinshaw Baheramji, the founder member of Social Service League in early 30s when foundation stone of the dispensary was laid. In the photo Mayor of Nairobi is also seen. (sent by Dinker Vyas)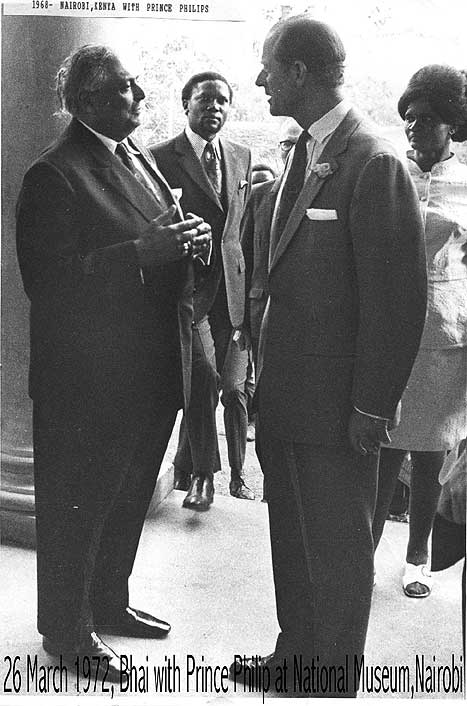 Mr.S.Vyas also known 'Bhai' (also known as Pandit Ji, while working for Shell Ltd)with Prince Philip at the National Museum, Nairobi 1972 (sent by Dinker Vyas)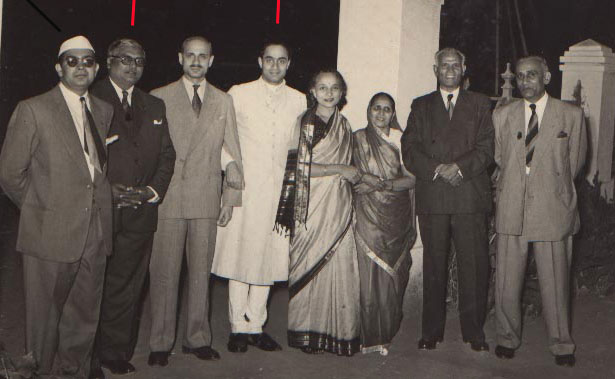 With Apa Pant, the first High Commisioner of India in Kenya, T.A. Bhatt, left and B.J. Vyas (bhai) (sent by Dinker Vyas)
================================================================================
African Tribe in India.
Now this may truly surprise you!...
The reporter is Tom Mboya....no not the MP Tom Mboya's son ....but a son by his wife Pamela and his brother Alphonse...after his death– all in the family as they say !!....ahem!..

Interesting find.......
http://youtu.be/pJFiut0s-ys
Sent by Natwar Joshi (Nov 2011)
=================================================================================
ON A MUCH LIGHTER NOTE:------------
Once the regional commander of Dar-es-Salaam went into the streets of
Dar-es-Salaam and saw a few shops all in Indian names.
1) Popat-lal and sons
2) Naagraj
3) Gulamhussein & sons Ltd.
The commander got furious and gave the people 48 hours and told them,
all the names should be changed to Kiswahili.
A few days later this is what he found in his mail.
'Following your order, the names of the shops have been translated to
kiswahili, please read to find what the new names are...'
1) Kasuku nyekhundu na watoto wake.
2) Nyoka wa mfalme
3) Gulamhussein na watoto wake wa kutosha.
Haya Basi Achija
This is Kenya… Rafiki yangu…. Listen to the commentary… carefully-------
http://www.youtube.com/watch?v=FQ0AELesETU
===================================================
ASIANS WORLDWIDE, HAVE EVERYTHING TO BE PROUD OF,
WORLD CLASS SELF MADE CHAMPIONS LIKE SUDHIR RUPARELIA.

NEW VISION NEWSPAPER – UGANDA – 06.01.12
The Deepest Pockets
Publish Date: Jan 06, 2012

By Michael Kanaabi and Ssebidde Kiryowa (sent by Elyas Sardharwala)

According to internet sources, the per capita income in Uganda in 2009 was approximately $453 (sh1.1m) annually. An estimated 30% of the 33 million Ugandans live on less than $1 (sh2,450) per day. Under those circumstances, wealth that would not merit mention in wealthier communities attracts a lot of attention in Ugandan circles.

That means the people we scream about in our society pages half the time do not even warrant mention anywhere else in the world. But that is not to say we do not have a few 'world class' rich people in Uganda.

Compiled here is a list of individuals in Uganda whose accumulated assets (anything tangible or intangible that can be converted into or controlled to produce cash) are known to be markedly above the rest of the individuals in the country. The list is not exhaustive and net worth (the total assets minus total outside liabilities of an individual) values are hard to determine.

The list, compiled largely with the help of Internet and sources in the know, is loosely based on seven classes of wealthy individuals: The New Money Class (these acquired their wealth within the last 15 years), The Young Entrepreneurs (less than 50 years old), The Executive Class (CEOs and managing directors of government departments and private firms), The Expatriates (non-Ugandans though some may have dual citizenship), the Pastors, The Old Money Class (individuals who inherited their wealth that has run in their families for generations) and The Super Rich.
The super rich
These are guys whose wealth is internationally-recognised

Sudhir Ruparelia
He is reportedly the biggest landlord in Kampala after the central and Buganda kingdom governments. His worth is estimated to be between $550m and $800m (sh1 to sh2 trillion). Ruparelia was once a supermarket attendant and cab driver in London. Most pundits say he made a killing from his 'Get Rich Quick' lottery that had millions of Ugandans scratching for money in the mid-1990s.

Ruparelia's major assets include Crane Bank, Speke Hotel, Kabira Country Club, Munyonyo Country Resort and many more in Dubai and the UK. With his wealth, the Energy ministry could construct two 600 MW dams like Karuma (allocated sh800 billion). Karuma alone will save Uganda and its neighbors from load shedding.

Amiral Karmali aka Mukwano
His wealth is estimated to have hit the $700m (sh1.5 trillion) mark. His products from soap, cooking oil, plastics, tea leaves, toilet paper are household names. With new factories recently set up, including a big one in Tanzania and huge real estate properties increasing by the day around Kampala, the retired Karmali and his family are definitely wealthy by any standards in the world. Their wealth is bigger than Ministry of Education budget that covers UPE, USE and public universities at sh1.3 trillion.

The Madhvani family
Named among the 1,000 wealthiest families in the UK, the Madhvanis as a family holding are estimated to be worth over $500m (sh1.25 trillion), with key assets being their Kakira Sugar estate, soap and tea manufacturing company plus an insurance company. The Madhvani group also has vast interests in tourism, with CNN recently voting their breathtaking Chobe Lodge gym fifth best in the world. With their wealth, Uganda can fund the entire road sector for a year.

The Mehtas
With their backbone in Uganda being their vast Lugazi Sugar estate, the Mehtas are also into industry and manufacture of cables and steel, among other products. This family also has other businesses in the US, India and Canada, with their estimated net worth being above the $400m mark.

Gordon Wavamuno
He owns the local franchise of the Mercedes Benz brand. He also owns one of the first private TV stations in the country — WBS TV. He is estimated to be worth over $100m.

Mukesh Shukla
He was in the news recently after acquiring the Katatumba Suites and turning it into Shumuk House, a name he uses for his Shumuk Group of Companies albeit controversially. The shrewd money lender owns many warehouses and bonds on top of importing cars, dealing in forex, aluminium and steel and hotels. Our estimates put his net worth at $100m.

Sikander Lalani
We all know the Roofings Steel Group that recently opened another steel plant in Namanve with total investment in both plants above $100m. Lalani, a Briton of Asian origin, has an estimated net worth of over $100m.

Charles Mbire
With interests in financial management, railways, ports, telecommunications, power, banking and real estate, this elusive tycoon who likes to keep a low profile, is worth over $200m. He is still the only Ugandan shareholder in MTN's Ugandan and Rwandan business to date. He is dubbed the 'king of energy in Uganda', having stakes and interests in Eskom Uganda, Aggreko and Jacobsen, among other energy firms. He also has interests in oil in Kazakhstan as well as investments in South Africa and Tanzania among other places.

Patrick Bitature
Bitature has extended his airtime distribution franchise from East and Central Africa to Nigeria. He has also moved into aviation, real estate, media, energy, forex trading, insurance, pay TV and electronics. He also owns commercial and residential properties. He is worth about $100m (about sh220b) almost twice the paltry sh133b given to the National Agricultural Advisory Services for the improvement and boosting of agricultural services, which is the key livelihood of over 80% of Uganda's population.

Abid Alam and the Alam family
These are another of the entrenched industrialist families in Uganda and Kenya with massive interests in steel and related products under the stewardship of group chairman Abid Alam. The group is now into tourism as well. They also recently started a sugar plantation and factory in Mayuge district. Our estimates put them just around the $100m mark.

Karim Hirji
While his fortune is said to be declining, the man, who started out as a garments trader in downtown Kampala in the 1970s, is still one of the top hoteliers in the country. He owns the Imperial hotels, Imperial Insurance, Imperial Forex on top of other businesses and properties through his Dembe Group. We put him around the $100m mark.
Also on this list: Aya brothers ($100m), BMK, Basajjabalaba, Isabirye Mugoya, Kibuka Musoke and Muhammed Alibhai
================================================================================= NOSTALGIC MEMORIES FROM TAHIR
Dear Harjinder,
Hope all is well and the cold weather will disappear next week down your way.
This morning I was looking at a black and white footage of an American pop group named the Crystals singing "Da Do Ran Ran" which I first saw in 1963 at the newly opened Cameo Cinema in Nairobi as a prelude to a Hollywood Film and I just wondered gosh that's nearly fifty years ago. It seems like yesterday. And then I remember the day I arrived at Heathrow Airport on 6 February 1966 feeling scared that I might be deported at Heathrow because my passport entry said "to join mother" which was not really the case because my mother was not there then but she joined me in 1975. I had really arrived as an immigrant and the more suitable reason was really as a student. But to this day it is not clear to me why the UK High Commission in Nairobi made such a mistake. But I leave that to God because He really wanted it that way - perhaps.
Well, it is 46 years to this month (February 2012) since my arrival in UK and I haven't regretted a single moment. I must thank my adopted country UK for what it has given to me and my loyalties to the country will remain as long as I live since I have enjoyed my freedom, not being bothered by anyone what I am up to, my religion or what my income is etc. It has been nice to have lived in such peaceful existence. When one's plane is descending to land at Heathrow, looking down on the neatly laid out fields, roads and amazing array of lit up streets at night time, gives you a strong assurance that you are coming back to a very civilized country. Upon baggage collection, one notices within the hustle bustle there is no pushing or shoving and it is all orderly. Same at immigration and therefore what a lovely welcome one feels at arrival. Outside, my wife and son wait serenely and within no time we are in the car and heading towards sweet home. It truly is my home. Similarly, we travel by car to visit our daughter in Bradford and what a nice and enjoyable journey it is. We love the sceneries en route and those stops at the services for snacks and a bit of back stretching. It really makes up for the long journey.
I am not sure what holds good in future but I am glad that I am old now and would hate to see UK going down the same way as Kenya or our own Asian countries which still have long way to go with improvements in infrastructure, human refinements, human rights, courtesy etc. But my biggest anxiety is bigotry and discrimination on ground of religion which is spreading like a forest fire. Here at work (UAE) we have a lot of Muhindis now taking over some posts which were held by goras before but I regret to say the work ethics are terrible amongst them. There is a Hindu colleague from Mumbai who refuses to eat on the same table as me. It really is shocking. A gora has never done this to me in UK during my working life there and yet we all Muhindis complain about racism. We live in hypocrisy. It breaks my heart.
I just thought of sharing my views with you since I feel both of us understand and live our lives in the same way, always appreciating how privileged we are and giving credit where it is due.
Enjoy your weekend and best regards and respect to bhabiji
Tahir Mirza
UAE (12 february 2012)
=================================================================================
The following article has been sent by Mr. Nasir Butt, who wanted to share his view with us all 'Wananchi' (thanks-harjinder)
Remembering Kenya 1948-50
Nasir Butt
March 2012
I was born in Nairobi in 1928 in a family of five children. My father, Sher Mohammed Butt, worked in a transport company based in Nairobi in the 1920's. My early recollection of life is that of hardship and extreme austerity but thanks to my parents and my elder brothers, we pulled through life and managed reasonably well but surely it wasn't a bed of roses.
I mastered sign writing at an early age and made it my profession working for Shell and later with EAA. At the same time I turned into a useful handy man and did side business in car repairs, paint re-spray and bodywork jobs for that extra income to feed my own family.
The good Samaritan Trip to Namanga that turned into a disaster:
I recall an event circa 1949 when a friend of mine Bashir (son of Ibrahim Darzi) brought his very old car, a huge American Hudson for paint and repairs. As we lived in a bhai-bhai culture, the discretion not to misuse other people's cars during temporary custody was hardly an issue and nobody cared. During the repair of this car, another friend Shafi came and asked me for an urgent favour. His grandfather, who owned a small shop in Namanga, was seriously ill and needed medicines otherwise he would die. I simply could not refuse his plea and together with my other pals we left Nairobi same evening to Namanga in this old Hudson without the knowledge of the owner! Namanga was a busy little village on the border with Tanganyika where Shafi's nanaji ran a small shop selling blankets, kerosene oil and other basic stuff for the local Masai inhabitants. After delivering the medicine, my good deed was to turn into a nightmare on the return journey the same night. Shafi took over the driving and half way through the journey, while we were all tired and heavy-eyed, he rolled over the Hudson. We escaped serious injuries but Shafi suffered a broken arm and we had to abandon the car and rush to Nairobi, where my friend was admitted at Dr Haq's clinic near Juja Road for urgent treatment. My bad luck did not stop there. The next day when we went to tow the car back to Nairobi, there wasn't much left of it as the Masais had mercilessly cannibalized the vehicle and made away with anything that could be found useful including the car seats. My friendship with Bashir, quite obviously, turned sour after the incident as he demanded 2000 shillings for his wrecked car through a court order – an unreasonably high price demanded for the old heap. Not only that, Dr. Haq would not release Shafi from the hospital until we had paid the bill of 1000 shillings for his in-patient treatment since he was hospitalized for a few days. It took me well over two years to pay off my debts in installments which sounds amusing now but it made me cry then and it was an unwelcome hardship at a time when I was struggling hard financially.
Namanga on the border with Tanganyika 'Namanga New Restaurant' was run by a Memon Muslim. I still remember the unwelcoming filthy toilets. Shell petrol pumps can also be seen in the picture.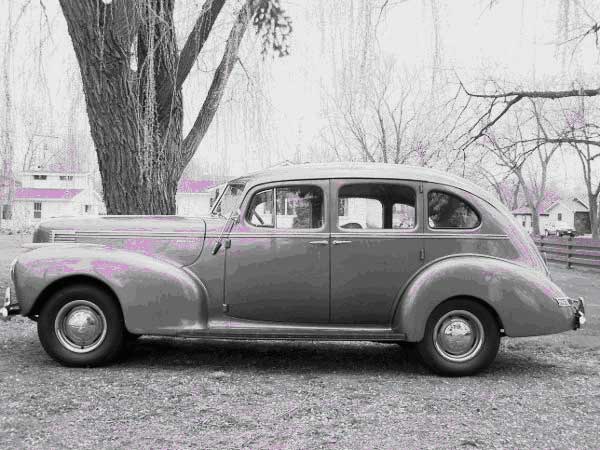 A 1940's Hudson model – similar to the one that got wrecked during an SOS trip.
Mlango Mkubwa Background History:
Sheikh Fazal Elahi was a well to do businessman who lived and owned a large piece of land in Juja Road behind Dr. Haq's clinic in Nairobi. If my memory serves me right, it was around 1948-50 when his son Sheikh Rashid got married in a grand manner. Mlango Mkubwa was erected by Sheikh Fazal Elahi as part of a nawab style wedding attraction to reflect their affluence and status. It was a very large timber framed arch gate clad with galvanized corrugated sheets. For the wedding function, it was lit with colourful lights and decorations. One of the artists who provided live entertainment was Babu Churha who danced (dressed as woman) to a hit song "gori mose Ganga ke paar milna" from Indian movie "Basant" (1942).
Mlango Mkubwa was to become and remain a famous reference landmark in Nairobi for many years although it wasn't much of an appealing structure to look at. I believe it was eventually demolished in the 1970's in a dilapidated rusty condition. (The BUS STOP was named after this Mlango Mkubwa and I still think the name remains a memento to this old relic-harjinder)
The Muhindi Family in Taveta:
My father's cousin Ahmed Hussain Butt worked and lived in Taveta. He worked as a machinery maintenance engineer on a sisal estate owned by a Mzungu (European) farmer. He had three sons Javed, Jamshed and Pervez and they lived in a beautiful colonial house which had a thatched roof with large and beautifully kept gardens. Rail passengers travelling through Taveta (from Nairobi to Moshi, Dar es Salam, Tanga) may remember the three young boys frequently seen at Taveta Railway station making friends and wishing well to passengers.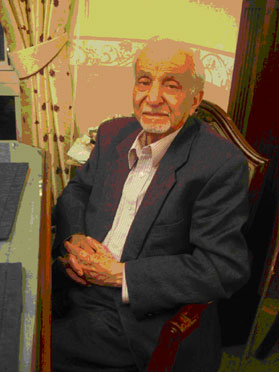 Nasir Butt Sahib a second generation Kenyan Asian now lives in Chatham, Kent (UK). He loves cooking as a hobby and delights his children, grand children and great grand children with his exquisite culinary skills.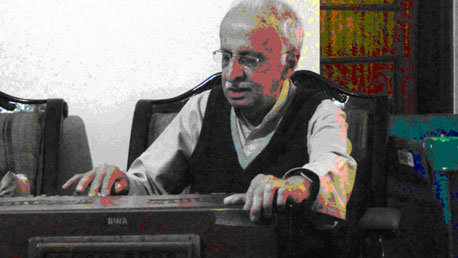 Ustad Bashir Butt Sahib (above), his brother is still living in Nairobi and enjoys mentoring music students. (Bashir Butt is an excellent classical & Ghazal singer who has mesmerised the Kenya music Connoisseurs for quite a few years: And I pray he keeps going on enthralling the music lovers for generations to come-harjinder)
=================================================================================
The Following article written in 1971 has reached us, which depicts the plight of the Asians at that time in East Africa. For security reasons we are not revealing the author. (harjinder)
The Lost Indians of Kenya
Early in 1969, Gordhandass Shah, a resident of Kenya for thirty-five years and holder of a British passport, was told by the government that under its new Immigration Act he was no longer able to continue working in Kenya, and that he should leave the country within three months. Being a British citizen, he contacted the British Embassy to make arrangements for moving to England. He discovered at the Embassy, however, that because he was not a white British citizen, there were severe restrictions on his right to enter Britain, and that in fact it would not be possible for him to go there in the foreseeable future.
When the three months the Kenya government had allowed Mr. Shah were up, he was arrested and tried in Criminal Court for being in Kenya illegally. His argument that the country of his citizenship, the only country he was eligible to go to, would not admit him was found unacceptable, and he was jailed, later to be deported to England.
By all counts, Gordhandass Shah is one of the luckier of the more than 200,000 East African Indians who hold British passports. Police escort for the journey to England notwithstanding, he was able at least to find a home and earn his livelihood. For the other thousands it is a much more painful story: they are unable to earn a living in Kenya, and they are not being deported to England, where they legally belong.
The Indian's troubles started in the early 1960s. In the preceding seventy years, more than a quarter-million of them had been encouraged by Britain to settle in the East African colonies. Most of these Indians were traders, artisans, or lower professionals, occupying the middle position between black and white in the colonial hierarchy. They lived in their own large communities, segregated from both the Africans and the English. They were the essential instrument of British rule over the indigenous population, and had greater contact with the Africans than did the British. As such, they received more privilege than was granted the Africans, but by the same token they earned a lot more of the black resentment than the colonists did.
When Kenya received independence in 1963, the Indians were offered the choice of obtaining either British or Kenyan citizenship. Because the painful, post-independence experience of the Congo was still fresh then, and because many Indians felt that the growing demand for position and power from the newly educated African middle class would lead inevitably to their exclusion from the job market, only about 10 percent of the Indian population applied for Kenyan citizenship. The rest chose what later turned out to be "devalued" British passports.
The current crisis began in 1968, when Kenya passed the first of its many laws that largely bar Indians with British passports from holding gainful employment. Almost simultaneously, the Labour government in Britain, expecting an influx of its colored citizens from the East African countries, limited to 1,500 the number of Indian families with British passports who could enter England annually.
As a consequence, there are now thousands of Indians in Kenya, unable to work there and denied the right to their legal homeland. As Nasir Butt (see above), a father of seven who lost his job as an auto mechanic in 1968, said: "If we were victims of a natural disaster or running away from a communist country, we would have aid and interest. But now no one is interested, no one cares. We are not even considered refugees."
Most of these "refugees" are skilled in some craft or another, but now they can be seen walking the streets of Nairobi, Mombasa, and other cities; some have taken to begging, others live on charity, and many have moved in with those relatives and friends who can still make a living.
The more enterprising ones have tried by various means to publicize their cause. Small groups sometimes manage to sneak onto planes bound for England, where, of course, they are denied admission and put back on the plane to Kenya. But Kenya refuses to readmit them, because once an Indian leaves Kenya he cannot return except with a special visa. So these Indians begin a long trek, shuttled—without charge—from one world airport to another, until finally someone admits them—temporarily.
Because of the great distances these homeless groups travel, they have come to be called "migronauts," and it is not unusual to meet these migronauts in the transit lounges of various world airports. I met one such group in Entebbe, Uganda, late last year—five teen-age boys who had only just begun their odyssey, having flown to Bombay, Entebbe, London, and back to Entebbe: "Only 15,000 miles so far," said Virendra Desai, at nineteen the oldest of them. "We are human shuttlecocks in a long game. I wish someone would make a mistake."
Those Indians still left in East Africa are gradually beginning to feel a rising hostility among the African masses. Fortunately there have been no incidents of overt violence so far, but unwanted and unclaimed, the Indians rather easily become the targets of witch hunts. Those Indians still trading are frequently singled out as the exploiters of the native population; the Indian community earlier this year was widely blamed—without presentation of any evidence—for a leakage of the national high-school examination in Uganda and Kenya; and last month Tanzania announced the nationalization of all property valued at over $15,000—but the New York Times correspondent there has reported that only property belonging to Indians has been expropriated.
The Indian community in East Africa is subdued and uncomfortable, and sometimes even fearful. The constant topic of conversation among the community is how best one can wrangle one of the 1,500 vouchers issued for entry into Britain each year, and large hordes will eagerly gather at the homes of those fortunate enough to win one of these vouchers to learn how the lucky ones presented their cases to the British Embassy. Every once in a while there are rumors in the community that Britain has decided to finally let all of its Indian citizens come "home," while those more maliciously inclined circulate false news of massacres of Indians at the hands of Africans.
Two such rumors recently turned out to be true. A little over a year ago, an Indian family of four was ritually hacked to death in Nairobi. And last month the British government announced that it had doubled to 3,000 the number of Indian families who could enter Britain from East Africa each year. At that rate, it will take about twelve years for the unwanted and unemployed British East African Indians to make it "home."

New York City
==================================================================================
Early Childhood Recollections: Tanga, Tanganyika 1950's
Tahir Mirza
2012
Written for E A Nostalgia
Attached are pictures of the Bombo Hospital in Tanga, Tanganyika then, a town where I was born but not in this hospital. I was born at home, though, which was normal practice those days.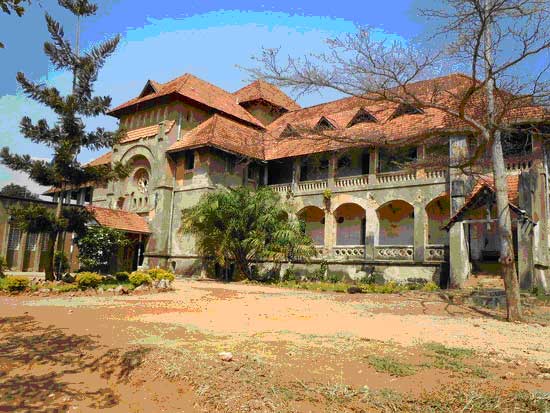 Bombo Hospital, Tanga in a sad neglected state todayBombo Hospital Pictures: Courtesy Travelpod.com
Bombo hospital was built by the Germans circa 1890 or early 1900 and right now appears abandoned and in a bad state of neglect. Then, it was a magnificent and an imposing white building situated on the sparkling Tanga beach. It looked massive then to our tiny eyes.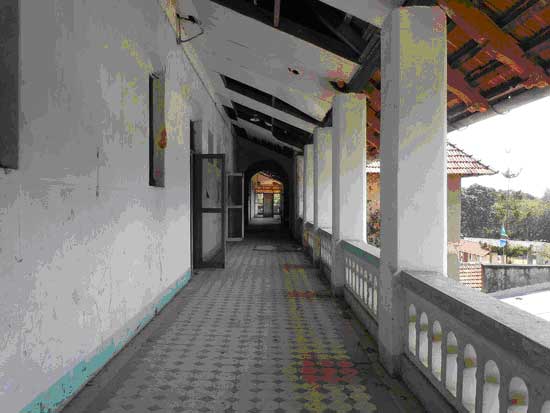 The now eerily desolate corridors which led to the first floor wards
This is the place where my father passed away in April 1952. He had an appendicitis operation from which he could not survive due to complications of his diabetic condition. He was only 46. I do not recall any of that as I was only 3 then. My older brother who was 17 then took over the responsibilities of the family.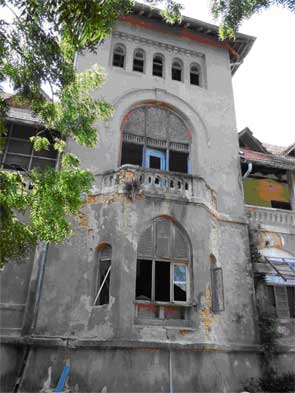 Bombo Hospital - rear view
Two years later, I ended up in the same hospital with a badly broken fore-arm which was in a V-shape. I recall the incident as I was just running back from school extremely excited having got some new books. As was usual with me, impatient, I was in a hurry to show them to my mum. I had just joined Standard 1 at age 5 at Karimjee Primary School and it must have been January 1954. An accident was waiting to happen, as I ran and crossed the road (not far from Hanid's Timber Workshops), my left arm got caught in the spokes of a moving milk vendor's bicycle carrying a huge milk can. The cyclist was a young African and he couldn't believe what had happened so suddenly. He was totally shocked and helpless. Anyway, I was rescued by a passing by motorist of a mixed Arab origin in a royal blue Ford Prefect who took me to our house in Ngamiani. To my horror, my mum wasn't at home. Then with my tiny mind's imagination and that extra adrenalin that God infuses when under crisis, I guided the kind but shocked driver to take me to my Uncle's house which was very far away at the Railway quarters on the other side of Tanga town. Luckily mummy was there with my auntie but as soon as she saw my pitiable condition, she went into a panic and started screaming. Eventually we reached Bombo hospital where I received one of the crudest and most painful forms of treatment to re-set my broken bones under chloroform. Not something pleasant to recall really as I still carry a scar left by the plaster cast.
Our run of bad fortunes didn't finish there. My sister, older to me by two years, ended up at this hospital in 1956 too again with an appendicitis problem. I distinctly remember that incidence. We used to get a lift from outside our school at lunch time from Baji (sister) Kubra studying at the nearby secondary school. She drove a 1940's black Austin car, a situation which was quite unique and advanced for an Asian girl to drive in those times. Baji Kubra came to our rescue and drove us first to Dr Krishna's clinic in Ngamiani and then to Bombo hospital where she was admitted for an emergency operation to remove her appendicitis. In those days we had European surgeons only but medicine was not too advanced in the former German occupied colony.
The above incidents left a very disturbing memory in my life as a child. It also had a profound mental drawback on my self esteem and confidence in the early years of my childhood. Ironically around the same period, I saw the Indian film 'Mother India', the tragic events depicted in the movie did not look out of context at all to our own circumstances.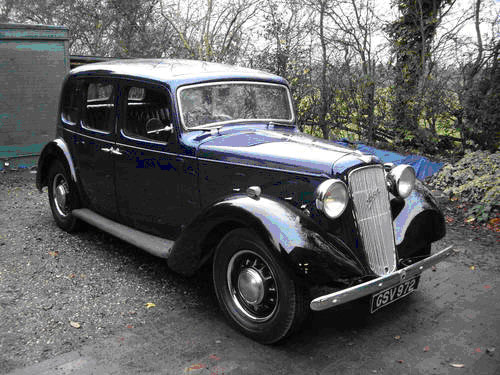 Similar Austin model driven by Baji Kubra. Tanga mid-1950's.
But these trials and tribulations are part of one's life and the growing up process. No regrets but scary to recall the past and one's vulnerability.
In 1959 I joined Karimjee Secondary school in Usagara, Tanga but after a few months, my brother who was working with EAR&H was transferred to Nairobi as an assistant station master and we all moved to Kenya with him. In Kenya, the education was of a much superior level and I had to repeat a year because of the difference in academic standards between the two countries.
(As usual, these are the first hand accounts of Tahir Mirza, who turns the clock back and brings back those nostalgic memories which haunt us throughout our East African lives, which we fondly remember- harjinder)
==============================================================================
Apr 16 2012,
I'm not sure who exactly is responsible but I do want to thank whoever is posting the lovely "Nostalgic Mombasa" photos and other Kenya towns nostalgia information. I grew up in Kenya and left as a young married woman in 1966. Have only been back once but still have friends and family there. Part of my heart will always remain on the Kenya coast!
The photos and article are a reminder that is not only people of English origin like myself who loved Kenya and are nostalgic for "the good old days". Of course, many people of Indian origin feel just the same way. Mombasa was a colourful place in which to grow up and I am just as nostalgic for the mosques and temples as I am for the churches. I also remember the many prominent Indian businessmen who gave us all so much. My father, as Treasurer of Mombasa City Council for many years in the late 50s and early 60s, had a good working relationship and sound friendship with many of those distinguished men.
I would like to put right something in the article about the train. While it's broadly true to say that Africans travelled third class, Indians second and Europeans first, many Europeans did in fact travel 2nd class; certainly young people of my generation did because we couldn't afford first class! And of course the schoolchildren like myself travelled second class to and from boarding school in Nairobi. My grandmother travelled third class a couple of times, from Konza to Mombasa and back. She said you really saw life and got into some interesting conversations that way! But then she was one of those eccentric old Englishwomen who were not uncommon in Kenya in those days!
Again, to whoever is responsible for this website and the pics and articles, a hearty "thank you". Living here downunder in Australia as I do, it's lovely to go back to Kenya sometimes, if only on the internet!
Sincerely,
Jill Lake
Dear Jill,

Thanks for your e/mail and your comments are noted and added to Nostalgic East African blog facebook.
http://www.sikh-heritage.co.uk/heritage/sikhhert%20EAfrica/East%20african%20Facebook-blog.html
About the trains- it was a general idea that the Europeans travelled in first , the asians in second and the africans in third - but it was not a rule . We being asians mostly travelled in 3rd class to go to Mombasa on our holidays. As you said we also could not afford the second class fares.

Anyway thank you so much for writing. And please keep writing and be in touch. Many photos are going to be added in the near future as I was in Kenya a couple of weeks ago and have brough over 700 snaps.

Lots regards
harjinder
===============================================================================Another Another anecdote sent by Tahir Mirza 15 th March 2012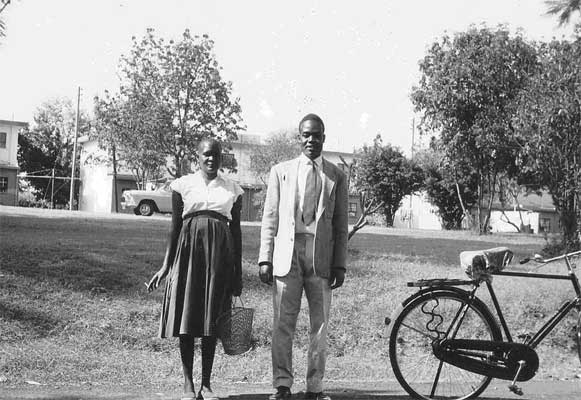 Sahib, Biwi aur Cycle.
A non-event photo of a Gora Servant and his wife in 1960, but enough to provoke some thoughts. Picture taken somewhere in Gora flats area situated in Karen, Ngong etc, I really don't know.
The Bicycle: I like the wavy rear seat (kathi) support which is a bit of an innovative design to act as a springy suspension. But I am not sure the brittle steel tubes would be strong enough to take up a lot of impacts. I love that pump nicely tucked in there. The wheel shaft would sometimes be decorated with a colourful ring made in fibrous material. The real enthusiast would have wing mirrors attached on the handle. This cycle lacks the dynamo which was hard work to run due to friction required with the real wheel. The lady's bike didn't have that horizontal bar in front of the seat –s o structurally the frame was less durable. But I also do remember little kids as small as ten years old learning to ride this size of bike, would be fitting themselves sideways and one would just see just their head bobbing above that horizontal bar. Do you remember that?
The woman: Apparently, the shaved head was fashionable amongst Kikuyu women and considered to bring out the beauty in them? Well, that would have taken care of old age baldness and grey hair, the cure of which burns a hole in the pocket these days.
All black and white photos are courtesy from Martin Dixon collection:
http://www.flickr.com/photos/24550621@N06/6195689263/in/photostream/
Hello, Tahir, Hello Bhargav, Hello Harjinder.

I have just seen this photo, this monday morning, and the emails.
Whilst both of you were getting bored on your sunday, these two may have been to church in their sunday - best, and are probably returning home, or wanting to get something for their supper ( empty basket ).
The hair - or lack of - was probably a hygiene thing - as it is easier to maintain cleanliness when there is little hair. It was correct for that time.
The cigarette - many women used to smoke - but I think after they had had their children. I have seen the mama mbogas - in their 50's and 60's smoking. They used a very acrid tobacco, it seems...
My sunday was busy - lunch at the Oshwal Centre, then a road trip down memory lane with a friend of mine who is now settled in USA. He used to live on Ngara road, and finally a pizza "party" for someone's birthday in the evening. Schools have restarted after a two week break, so it is back to early starts, which I actually enjoy.
I now have a DSLR camera - a Canon T3i - bought in the US by my friend, and brought over by him - will send you a photo of Nairobi skyline a little later on, once I have downloaded. I will probably need to take a 3 year degree course to learn how to operate this camera !

Regards,
Pushpendra
=============================
Interesting observations..
I'd say the cycle is MAMBA, a popular brand then. The car at the back is most likely a vauxhall.
And did you notice the cigarette in the woman's hand?
Appears as its taken in the afternoon, say around 3pm (shadows and assumption that she wont smoke in the morning :) Facing South.. Photo probably taken by the gora to whom our man is the estate manager of say his coffee farm? But then how might you explain the empty basket she's carrying. Did she bring in something for the gora and now going back? Or is she going out shopping with him on the cycle.... lets keep guessing..
My thoughts are also out of complete boredom on a lazy sunday afternoon - at least Tahirbhai, your photo has brought some excitement to the otherwise dull day :)
Bhargav
===================================================================================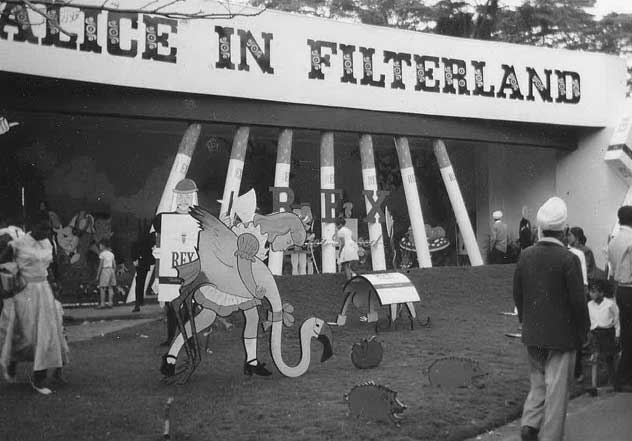 Thursday, 29 March, 2012, 7:38
Dear All,
Although never ever a smoker myself, I remember the Rex Filter tip cigarette (see attached pic) was considered a top brand in the sixties. Heroes used to copy Dev Anand and other famous actors perfecting that wobbled pattern of exhaled smoke and commanding attention as if they were Dawood Ibrahims of their time.
I suspect, smoking was a trend depicting pseudo high profile and society. Wives and girl friends felt proud of their man's masculinity. As late as the 90's, even desi airlines allowed smoking during flight.
Similarly, mimicking old Indian movie hairstyles with those kiss curls hanging on the foreheads was another popular trend and many a Hasmukh and Krishna (from as far afield as Grogan Road) "studying ?" in our fashionable but "na-laik" Form IVc would have people like me envy them in fancy. Actually i tried the kiss curls but failed as my hair was stubborn. Then when the trend and my outlook changed, I started copying Elvis but even that was not quite right on my head. Eventually, the Beatles came and at last I could copy something near enough.
Talking about old Indian b/w (B & C grade) movies, I remember seeing some in beat-up cinemas in Tanga and Mombasa in my early days. There was one cinema in Mombasa with only four walls and no roof. One hero that immediately comes to mind is K. N. Singh and his heroics with throwing the knife at Dilip Kumar in Azad (or was it Halaku?) was breathtaking. This thing comes through like a missile, misses the hero by a hairs breadth, but gets spiked on the wall (which incidentally is wooden and not cement) close to his nose and jams the wall with some vibration and a twang sound. Boy, so impressed were we, that we ruined quite a few kitchen knives in trying to copy our heroes. Good thing is that I never asked my sister to pretend she was Dilip Kumar!
Well, the attached pic depicts a rather corny attempt to promote the "filter" characteristic of Rex. Nasty piece of ad at the Nairobi Royal Show.
Best Regards, tahir
==================================================================================
A few more recollections from the past:
1. Harjinder, I note from your website photo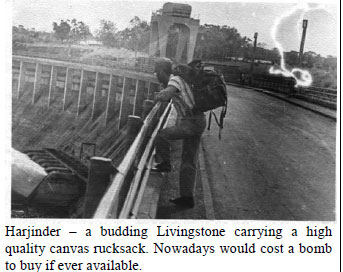 that you did a hiking trip around EA in1962. That must have been quite adventurous and quite an experience since my own circumstances at that age in Kenya would have made it impossible on grounds of family constraints, financial and safety reasons. The family constraint would be that there are better things to do in life than being a "loafer" or a
nomad!! (In our household a typical Punjabi saying was "Aennu tay loor loor phiran di adat wey" How strange, but I am glad that some families like yours were very open minded even in those days.
I guess you must have got married not long after you completed this trip. Here is Harjinder's reply:
"I left school in 1959 and joined Barclays Bank situated on Govt. Road,Nairobi. Shortly I was transferred to Stewart Street Branch (near Push's present place – the once well known Indian Bazaar).
In 1962 my friend Varinder Lamba who is an excellent sportsman and who captained the Sikh Union Cricket team later on, was a colleague also working in the same bank. We went hitchhiking throughout East Africa, which was a craze at the time. We started from Nairobi on road and reached Nakuru, our first station. This section was a very fast one and we made it in nearly two and a half hours. By fast I mean there used to be a lot of traffic on this stretch of Nairobi-Nakuru Road and mostly Asians were the only people who would give us lifts. The whites and others completely ignored us. As it was they were not used to people asking for lifts and we were thought of as scroungers.
Anyway from Nakuru we reached Kampala and then Entebbe from where we had to take a small ship to cross the Lake Victoria to reach Mwanza in Tanzania.
This ship, I think was S. S. Usoga (belonging to EAR&H), completely crammed with Africans but at our age who cared! We also mingled happily with them and reached Bukakata (Uganda), one of the towns on Lake Victoria. There was some loading done there under the supervision of a Sikh Station Master who managed to get us better accommodation through his influence with the Captain of the ship. There was not much difference between these accommodations (same smell and same beddings-only near a window).
We reached Mwanza and met a friend there. I remember we had fish curry at his house. From there we travelled to Tabora by road.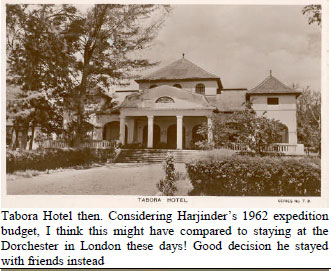 Tabora was a semi-HQ of EAR&H and many Sikh rail drivers from Nairobi were posted there with a couple of our friends who happily extended us VIP treatment at their houses.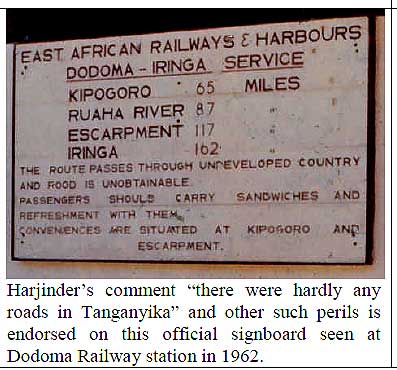 At that time there were hardly any roads in Tanganyika and we had to travel by train to Shinyanga, where the renowned Diamond mines exist, and then to Dodoma and Dar es Salam accompanied by some very friendly desi rail drivers from Tabora. If I can recall his name was Ram lal and he shared his chicken curry with us.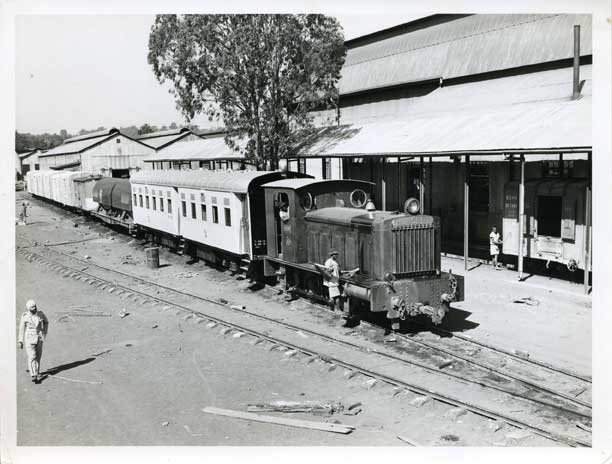 Loco shed Tabora with a Sikh driver on left
He also let us inside the engine so we could see how he was driving, along with his African fireman, who was busy shovelling coal into the fire in front. I had the opportunity to blow the train whistle which every kid dreamt at the time (though I was not a kid but that streak was still lingering in my memory).
We stayed in Dar-es-Salam for a couple of days.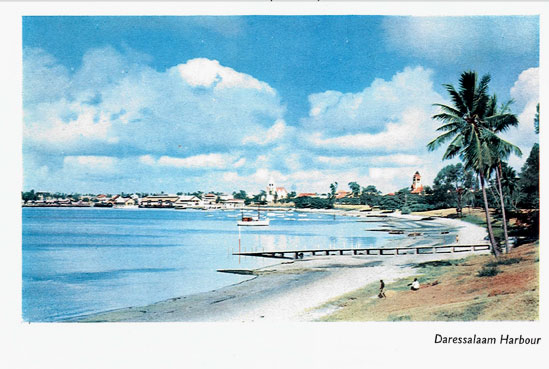 It was a very thriving city and a very clean one (compared to 1985 when I revisited Dar). We again caught a ship to Mombasa, this time on board the internationally known 'SS State of Bombay' which was the only means of transport for the Asian families to go to their motherland Bombay and Karachi from East Africa.
This whole hitch hiking expedition took nearly 2 weeks and towards the end was getting monotonous as we were getting homesick. So we just spent a day in Mombasa and then returned to Nairobi on the last leg of our momentous journey - until I got married in 1963 and then another journey started.
But in between the marital journey, the 'bhoot' (craze) of hitch-hiking was still haunting us and many small hikes were always made during Easter or other holidays to the annoyance of my other half.
Hope you enjoyed this.
Regards
Harjinder "
PS. The hitchhiking craze was later to change to Marathon walks in Nairobi in my days. I remember doing one in my normal Bata shoes and after I had finished half, I simply gave up with blisters so painful that I dumped my interest aside for a few years. - Tahir
2. It must have been around April 1965 when I went to witness a Muslim "jaloos"procession which traditionally used to start near Mlango Mkubwa, Nairobi and headed towards the city centre. I was there as a roadside spectator and not as a participant. (Not my cup of tea really and these traditions are not acceptable in our own community in any case). I was later to discover that on that day, I had bumped into my future wife-to-be purely by accident because she too was there as a spectator with her dad and other sisters. Ironically, it wasn't love at first sight at all. She was a child aged 9 only and I was 16 and well into being a Beatlemania teenager. (Not hard for you guys to calculate the age difference, is it? See below about counting tips). But such is life, full of lovely coincidences.
Later on in life, I was to bump into her again by accident in UK which led to tying the knot not long after, but that is a non-Kenya event and for some reasons does not have the same spice of Nairobi style romance. (I wish it was. Those secret chat-ups and teasing in front of school gates and side alleys and in buses). It was a result of a chance call at her house while en route to a visit to Kent with a family member. I was doing my M.Sc. degree at Imperial College London at that time finalizing my research dissertation entitled "On the elasto-plastic torsional buckling of large diameter vessels" – so analytical it was, with high level differential equations, that anyone I talked to about it would just say "What…?" with a puzzled glum face and walk past by me as if I lived in a different planet! (Note: This was the era when our community in UK were engrossed in working long hours in factories, in airways catering, transport etc with one objective in life only – earn MONEY).
But the nice thing is that my wife came from a less academically driven background and preferred a simple life. Even to this day if she is adding 5+4, she would do it using her fingers. Such was the disparity and diversity but it never mattered and sure enough as a stark contrast, I cannot sing like her either. How's that for a trade off?
By the way, watch out, I was never into courting or sneaky dating at all. As clean as a whistle, I was with my Buddy Holly looks, see photo.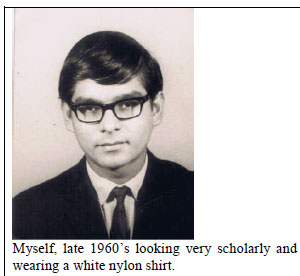 3. Having said that, you could say I was bit of a "gora" worshipper in Kenya. I loved looking at those gora school boys and girls smartly dressed in their immaculate uniforms and roaming around the posh areas of Nairobi in Woolworths, 20th Century and having coffee at the New Stanley Hotel Thorn Tree café with their parents. I even made a point to attend school cricket away matches with Duke of York, Prince of Wales and Delamere High School just to watch them and get that kick. I think I was born with a perception that they were a super race. Things have changed slightly though now and I hate it when they get all the attention at hotels during our stays in India and Pakistan these days. Our people's attitude is that of being slaves still and chamchagiri. Why should I feel bad when I was the same myself half a century ago?
4. I am currently reading a book about Kenya Pioneers (early 1900's) and am disappointed to note that as an Asian community we had a terrible reputation of bad housekeeping of areas in which we settled and within no time turned them into squalor. The Nairobi Indian Bazaar area was an example which had to be burnt down (1920's) due to the spread of plague. Hence the reason why there was
a severe restriction and control of Indian immigrants arriving in British EA. I think there is some truth in the matter.
In 1966 I knew no better and when I did arrive in UK for the first time, every place there looked in pristine condition. My first visit to the Woolworths in Hounslow High Street left me awe struck. All the sweets, my favourite Cadbury's chocolates, Mars bars and other items were on open unattended display and for some reason, nobody was stealing them!
5. In 1964, I led a small team to climb Mt. Longonot with my school and neighbourhood friends. The best part of this trip was the painstaking preparations and in particular taking the right amount and type of food with us. Not blessed with a lot of pocket money, we opted for Eliot bread loaves and a few tins of Heinz baked beans and spaghetti. Now, in those days who in the Muhindi community would have known about eating Heinz baked beans? Well it was no other than the leader of the band himself. I was a serious Readers Digest fan and an avid reader. That's where the idea came from looking at those mouth-watering colourful Heinz ads. Again that desire to emulate gora lifestyle for a change. Prior to this none of us had eaten tinned food. We were all brought up on desi achaar, fresh bhajia and paratha picnic packs. To cut the story short, when we set up our base camp, lit the fire and heated the Heinz beans and spaghetti, the first bite was enough to show the 'yuk' reaction all round. Each one of us would not confess to what the hell were we eating – it was an alien food so bland in taste. In fact there was more of the flavour of the tin than the food.
Embarrassingly, the food was dumped without anyone openly admitting that it was a bad choice. For the rest of the trip we had to survive on our limited stock of bread and butter. Moral: (a) Gidheri would have been just fine instead, (b) don't follow ads blindly and (c) for God's sake try not to get gorafied or get your ideas from western cowboy movies: Do you remember John Wayne eating baked beans straight from a can hung above a fire, felt so delicious to watch! Almost fifty years on, that Heinz baked beans tin which is so popularly eaten by my kids (beans, chips and fried egg) takes me back and reminds me of my Mt. Longonot expedition! I haven't got used to eating it even now – it still is too bland and tinny.
6. I think I will keep on adding more recollections and keep this article "live". Until then, bye-bye. Comments and additional anecdotes of heart throbs are welcome from all you guys. Tahir
====================================================================================
THIS ONE REMINDS ME OF MY ROAD TRIP TO MOMBASA( ON DIRT ROADS) IN A FORD PREFECT 1/4TH THE SIZE OF THE ELEPHANT WHICH WAS STANDING ACROSS THE ROAD FOR 4 HOURS AT NIGHT EATING FROM ONE END & RELIEVING ITSELF FROM THE OTHER END. REFUSED TO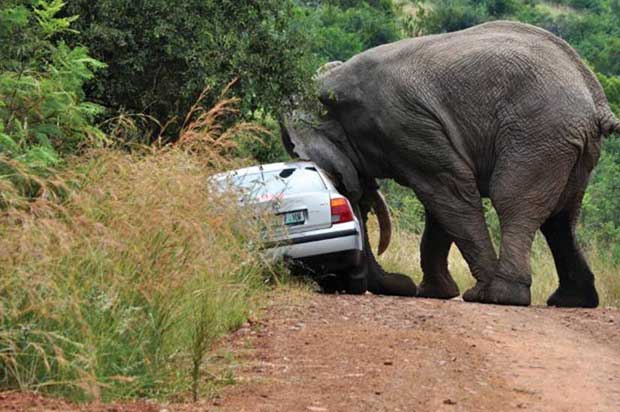 MOVE & GIVE WAY UNTILL A TRAIN ON A NEARBY RAILWAY LINE BLEW ITS HOOTER .THEN IT TURNED AROUND & WALKED PAST OUR CAR GRAZING THE FRONT END WHERE IT LEFT A DENT & THE CAR WAS PUSHED INTO THE BUSHES TOO IN THE PROCESS.
Warmest Regards,
B.S.Chase
20/04/2012
===================================================================================
Another interesting episode from the pen of Tahir
Harnaam Singh and the lovely ducks
A Recollection from the old 1960's Kenya Days
By Tahir Mirza
June 2012
The other day Uncle Muhamad Yusuf visited us and it was good to see him well, still very alert, upright, smart and enjoying life in his nineties. Uncle sahib was born on 14 January 1919 in Kenya and remembers Kenya as well as anyone that I know.
In our chat, I mentioned to Uncle Yusuf that I lived in Nairobi at the Landhies quarters on Sandiford Road which sandwiched the huge Railway Yard with Nairobi Mainline Station. Straightaway, Uncle Yusuf had a story to tell us about the gora Chief Mechanical Manager who ran the Railway workshops in the 1960's. It goes like this:
The English Manager lived in a posh sprawling house situated in Ngong Hills and at one time it needed some repairs to its main entrance door. With plenty of skilled people working for him in the workshops, he sent one Harnaam Singh to have a look at the problem with the instruction not to return until the door was fully repaired. The very skilful Harnaam Singh did not let his boss down and promptly did an excellent job. The Memsahiba was so impressed that she treated Harnaam Singh with a sumptuous meal at her stately home that afternoon. As if this was not enough, she took Harnaam Singh round her beautiful gardens to show him the huge variety of flowers and shrubs. At seeing the splendid water ponds, Harnaam Singh was awestruck with the lovely setting of the waterfalls and the ducks. Itching to compliment the Memsahiba of her collection of ducks, he hesitated a bit since his level of English so far was limited to "hello", "yes, yes", "very good" etc. He was really stuck as to what ducks would be in English. He only knew them as 'battakh' in Punjabi. Known for not being shy, Harnaam Singh could not resist in splashing out the compliment to Memsahiba "Madam, you have nice battakhs". Madam Sahiba went all blush and red in the face. "How dare you say such a thing about my buttocks?" Seeing her red face and imagining it to be a further sign of acceptance of his compliment, Harnaam Singh continued "Yes, yes, you very lovely battakhs".
Not surprisingly, Harnaam Singh was summoned to the Chief Engineer the next morning for seemingly being indecent, naughty and upsetting the Madam, especially after doing such a fantastic job on her door. I suspect it could not have taken a lot of explanation in clearing up the air and restoring Harnaam's innocence and dignity.
I am not sure about the credibility of this story but it sounds good enough. Harjinder, is this another tale from the familiar old book again?
It sure is!!!! (harjinder) And here is a photograph of some carpenters in a workshop in Nairobi during the sixties:-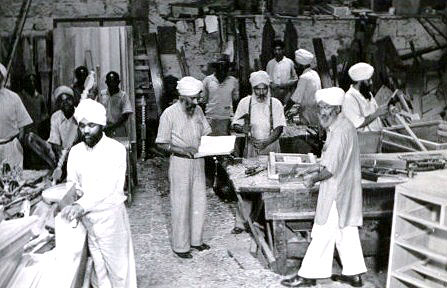 This photo has been sent by Rajni Shah. After a bit of enquiry it turns out to be the workshop of Bishan Singh & Son (Kotia) in Nairobi. The sikh looking towards the camera in pyjamas is S. Ram Singh Panesar (Mahilpuri)
====================================================================================
THE TEAM OF NOSTALGIC EAST AFRICA CONGRATULATE S. FAUJA SINGH AND SRI AMITABH BACHCHAN ON THIS HISTORIC OCCASION OF TORCH BEARING AT THE 2012 OLYMPICS IN LONDON.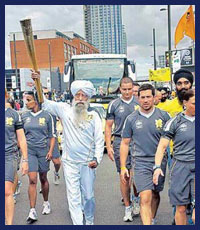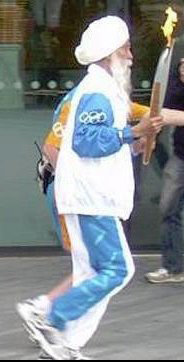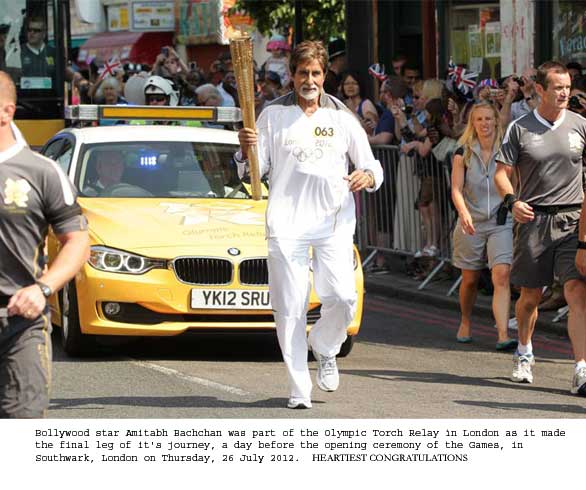 =====================================================================================
REUNION OF KONGONI PRIMARY SCHOOL EX-STUDENTS & TEACHERS 2012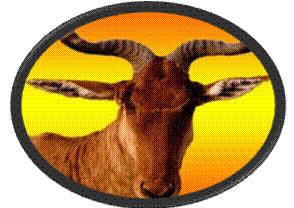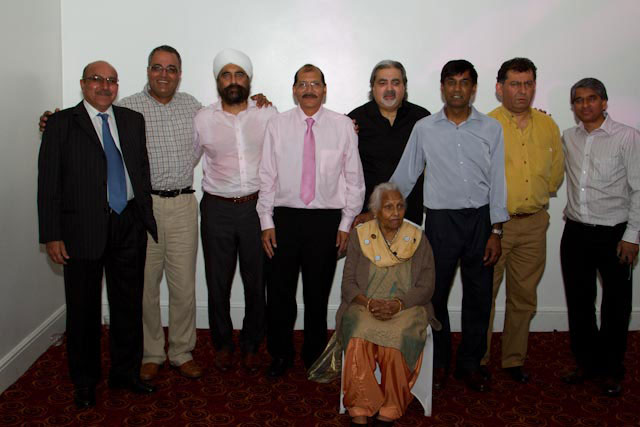 Centre teacher Mrs sood, 1962 our very first teacher, from the left, Aswin Mandalia, Raju Gajjar Gurnam Singh Bhogal, Balvir Bhalla, Rajan Bhalla, Nandkishor, Aslam Adam, Dilip Parmar. (sent by Nandkishor & Balvir Bhalla)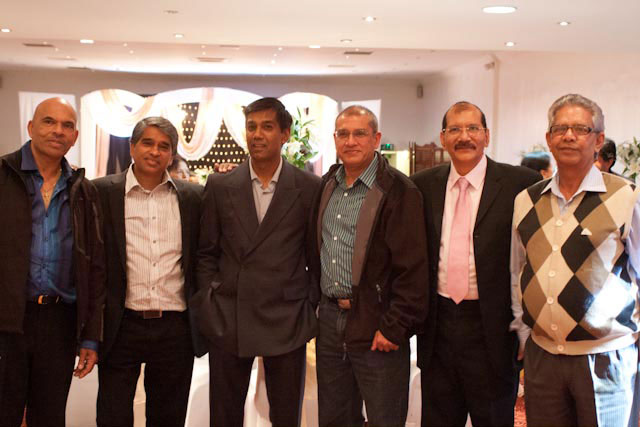 From the left, Freddy, Dilip Parmar, Nandkishor, Rasig (kisuma boy), Bali bhalla (sent by Nandkishor & Balvir Bhalla)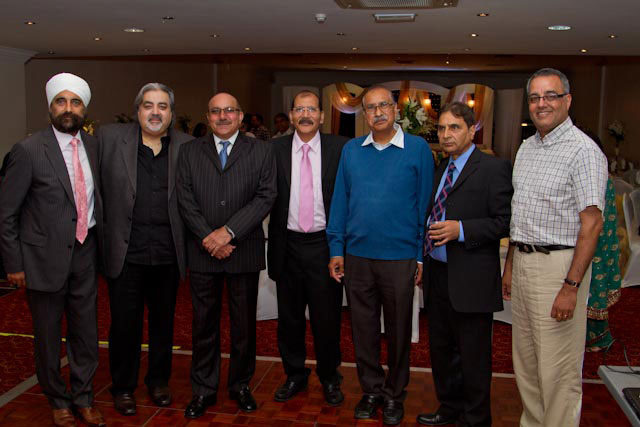 From left, Gurnam Singh, Rajan Bhalla, Aswin Mandali, Balvir Bhalla, Manmohan Bhalla(brother), Jaswant(brother in Law), Raju Gajjar,(sent by Nandkishor & Balvir Bhalla)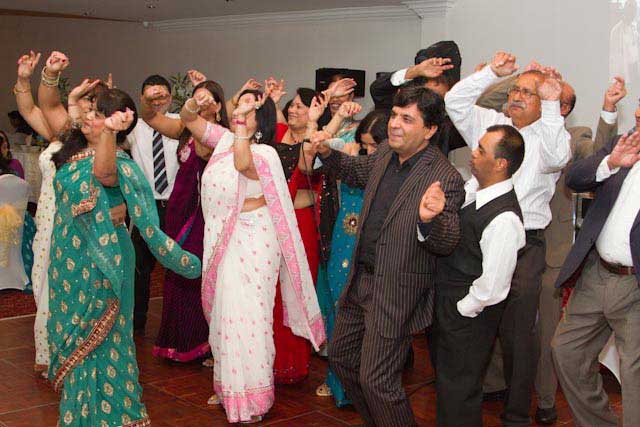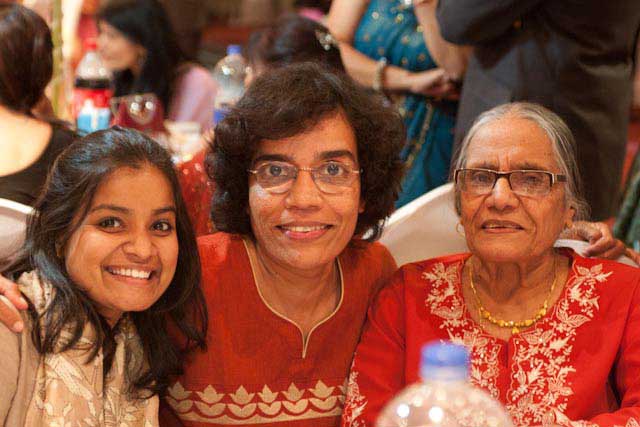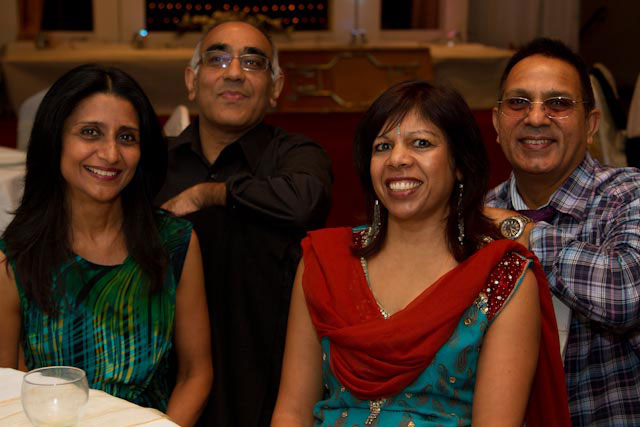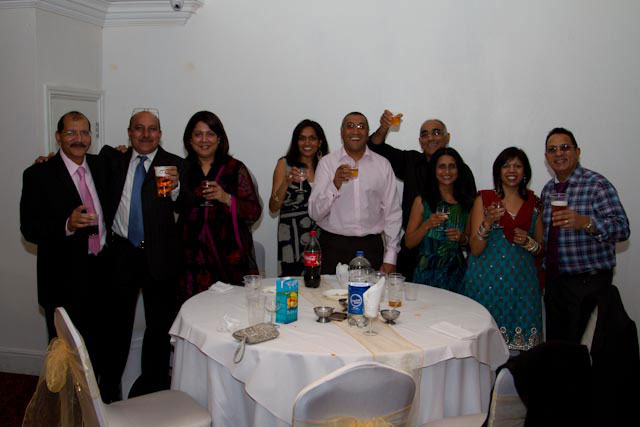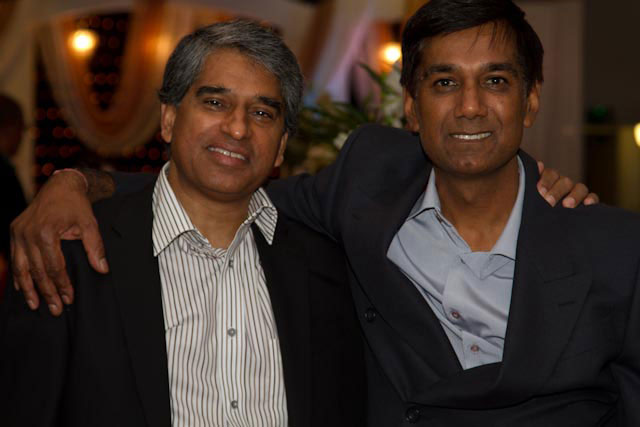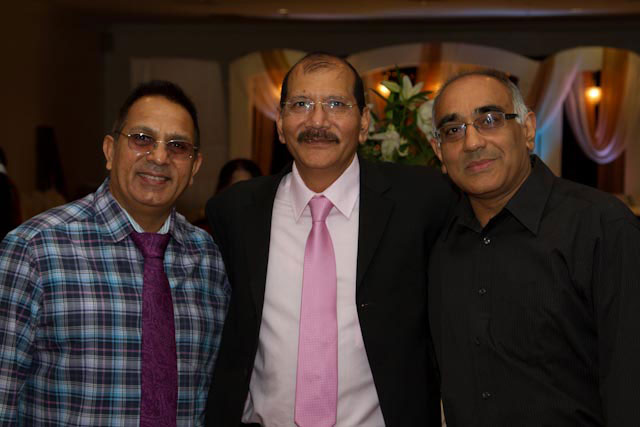 =========================================================================
Idi Amin went nuts because we were not black - guess God came to him in his dreams a few generations too late!, UK did not want British Passport holder because we were not white and India did not want us because we had British Passports.
MIDDAY
September 04, 2012
London
Uganda's loss, Britain's gain
Indians from Uganda under Idi Amin's rule mark 40 years of their expulsion, and say thank you to Britain for taking them in
August 4, 1972, was a quiet day for British diplomatic correspondents attending their daily briefing at the Foreign Office in London. There wasn't much to report. It was late afternoon and some of the journalists had left the building but a few stragglers were summoned back by diplomats in the news department to be told that the Foreign Office had received a telegram from the British High Commissioner in Kampala. Those were the days when missions abroad communicated with the Foreign Office in London through coded "telegrams".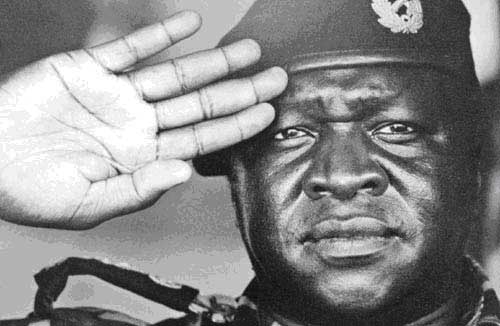 Oppressor: Idi Amin gave Asians in Uganda just 90 days to flee
Idi's edict
Idi Amin, the Ugandan president who had seized power in January 1971 by ousting Milton Obote in an army coup, had made a speech in which he had given Asians 90 days to leave the country. The idea seemed so bizarre that the British were not sure how seriously to treat Amin's threat. Over the subsequent months, it became all too apparent that Amin, who had been regarded as a welcome change after Obote, was deadly serious.
Why Amin made the decision that he did is still not clear to this day. Some said his was a populist move. Others speculated it was revenge for thwarted lust -- he had apparently been rebuffed after expressing a desire to add an Indian woman from a well-known family to his collection of wives. At any rate, Amin said God had appeared in a dream and told him to order the expulsion. "We are determined to make the ordinary Ugandan master of his own destiny, and above all to see that he enjoys the wealth of his country," he declared. "Our deliberate policy is to transfer the economic control of Uganda into the hands of Ugandans for the first time in our country's history."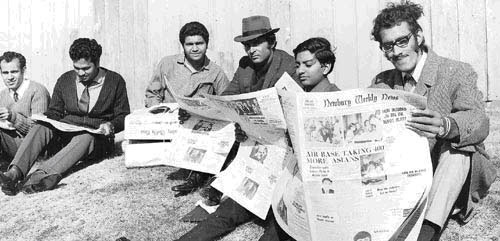 A new world: Ugandan Asians read the local newspaper in their new country
Figures are uncertain but there were perhaps 90,000 Asians, mostly of Indian origin, in the country. They represented the legacy of the British Empire, having been taken there at the turn of the 20th century by the British either to build the East African Railway (quite a few were eaten by lions) or work the sugar, tea and coffee plantations that were being established. It was now an exodus which no one had expected. Uganda was home to the Indians born in Uganda, a singularly lush and fertile country. They saw it as a kind of "paradise". Now, they were being ordered to leave everything behind in the country they had loved.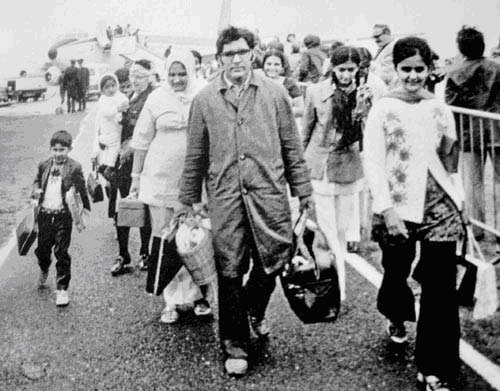 A new start: Asians arrive from the blazing heat of Uganda to a brutally cold British winter 40 years ago
In remembrance
Forty years on, the "Ugandan Asians", as they were called, are marking the anniversary of their expulsion. Nowhere have they been more successful than in Britain, which gave shelter to some 30,000 refugees. They arrived by charter flights which took them from the Ugandan sun to the cold and damp of Stanstead Airport in Essex where they were welcomed with ham sandwiches -- no one had realised that the refugees included Gujaratis who were vegetarian.
In 2022, when another decade has lapsed, there will be an even more significant anniversary when half a century will have passed since the exodus from Uganda. But Praful Patel, then a 33-year-old businessman in London appointed as a member of the Uganda Resettlement Board, does not want to wait that long. "I am 73 now," he pointed out. "Some of those who left Uganda 40 years ago have passed away and in another 10 years many more will pass away," said Praful, who now lives in Mumbai. Praful will be coming to the UK shortly for functions in London and in Leicester which accepted the bulk of the 30,000 refugees who came to Britain.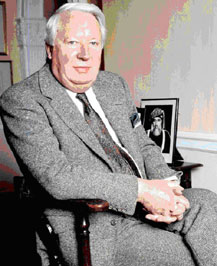 Braveheart: Sir Edward Heath
"We want to say 'thank you 'to the government for accepting us," said Praful, who was himself born in the Ugandan city of Jinja but emigrated to Britain long before the expulsions. "We want to celebrate," he said. "Ugandan Asians have not only done well in business but in all the professions."
This is true. Uganda's loss has been Britain's gain. Leicester's economy was in the doldrums in the early 1970s. The streets with boarded up shops had the air of decay. The Ugandan Asians, by introducing the then radical concept that shops did not have to shut at 5.30 pm, helped in transforming the economic landscape of Britain. Today, supermarkets are trying to put Asian cornershops out of business by staying open late, in some cases, all night.
Landmark decision
After Amin's announcement, no country seemed prepared to take the Asians. India did not want them because it felt those with British passports were the UK's responsibility. Britain was not keen to have them either on the grounds that the Asians were not "kith and kin" of the British people which was another way of saying they were not white.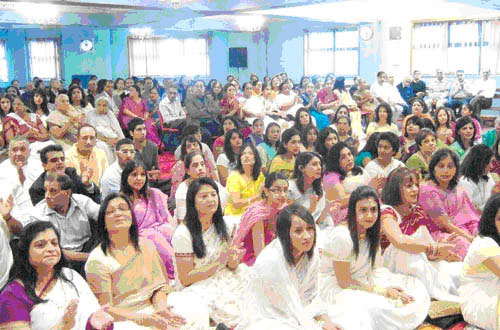 'We are British': For the youth, Uganda is just another foreign country
The right wing of British politics, led by Enoch Powell, opposed any move to accept the Asians who were encouraged to go to India or any other country so long as it was not Britain. Leicester in the East Midlands was designated a "red" area which the refugees were urged to avoid. "If you go there," an English community worker told an obstinate refugee, "we cannot help you." The local authority in Leicester took out advertisements in Uganda urging the refugees not to come to Leicester where there were no jobs or housing for them. Even elements in the Church of England joined the anti-Asian lobby.
However, the Asians had a friend in Ted Heath, the Conservative Prime Minister, who ruled that Britain had a moral and legal responsibility to take in Ugandan Asians with British passports. London's dockers and butchers marched in support of Enoch Powell but Heath won the day and the flights starting arriving at Stanstead with refugees ill-prepared for a British winter.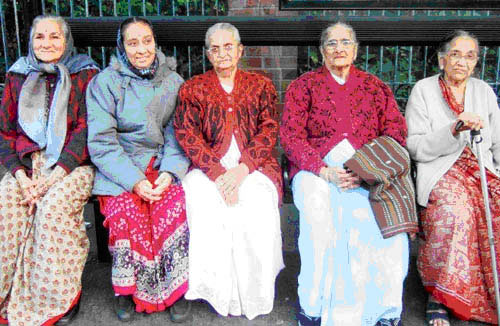 Witness to tragedy: Indians who fled Uganda still recall the dark days
It was not a glorious chapter in India's history. The Delhi government huffed and puffed and warned Amin there would be dire consequences if he went ahead with his expulsions. But India was shown to be weak and feeble and could do nothing to halt the exodus. It is estimated that India took 4,500 Ugandan Asians. Canada was persuaded to accept 6,000, while smaller numbers went to Australia, Austria, Sweden, West Germany, Mauritius, Malawi, New Zealand, Pakistan and neighbouring Kenya.
It was drizzling when the first flight landed on September 18, 1972. Someone had brought along his two parrots. Kanji Karsam, then a 35-year old building worker who was accompanied by his wife, spoke of the terror of negotiating nine checkpoints mounted by Amin's soldiers on the Kampala-Entebbe highway. His experience was typical, "We were dragged out of the car and stripped of my valuables and the little money I had. I am penniless and I have no plan." Then most of them were taken to a Royal Air Force camp 25 miles away at Stradishall in Suffolk. Over the subsequent week, so many arrived that beds had to be shared.
In debt
In 1997, on the 25th anniversary of the expulsions, Sir Edward Heath explained why he had decided to let in the Asians. "It was not a difficult decision because it was absolutely the right one," he said. "The rest of the world could see that we were still a great, human country. It is a great credit to them (the Asians) that they fitted in so well."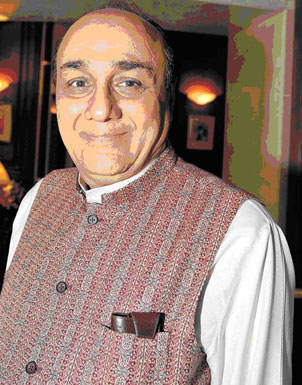 Grateful: Praful Patel
Ugandan Asians have always acknowledged their debt to Heath. Quite a few vote Tory to this day. "His was a bold decision," remarked Manubhai Madhvani, then the most senior Asian businessman in East Africa. "He put his foot down." He went on, "We came here 25 years ago full of anxiety to an unknown land. The British people extended a welcoming hand enabling us to make this country our home. Very few people tend to say thank you. We intend to be different." He also had a suggestion about the future, "We should be raising money for British charities, not sending money back to charities in India. We are British and we should not repeat the mistakes of Africa." There has long been a criticism that Indians kept themselves aloof from Africans because they considered themselves to be culturally superior.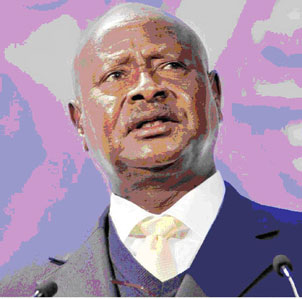 Welcoming: Yoweri Museveni
Three years ago, when 18 of Leicester's 54 councillors were Asian, the city was "twinned" with Rajkot in Gujarat. Leicester has sent trade delegations to India. The Leicester Mercury, the local paper which had once campaigned to keep out the Asians, now depends on Indian businesses for advertising support. A statue of Gandhi has been erected by Indians though the local whites would have preferred Gary Lineker, the former footballer.
Keith Vaz is a Catholic of Goan origin who was born in Aden but he has been the Labour MP for Leicester East since 1987. He has succeeded in attracting several Indian film stars, from Amitabh Bachchan to Dalip Tahil, Sanjay Dutt and Shilpa Shetty to his patch and brought a touch of glamour to what was once a drab city.
Leicester today has the biggest Diwali celebrations outside of India. Along the 1,000 metres in Belgrave Road, the heart of the Indian settlement, some 6,500 electric lamps are erected every Diwali and left switched on till the New Year. Leicester is today said to be a city where the ethnic minorities make up more than 50 per cent of the population. Not all the developments are positive, though. The Asian population is starting to divide along religious and caste lines. But on the plus side, thanks to Asian business acumen, Leicester is weathering the recession better than many other cities. Heath died in 2005; Madhvani passed away in May last year, aged 81. His family have returned to Uganda and revived their flourishing sugar business in Kakira.
Return journey
Praful Patel, who returned to Uganda for Manubhai's ashes ceremony, reckons, "Three hundred Asian families have set up their businesses again in Uganda but this is mostly in Kampala. The rural areas have been ignored." Praful visited his hometown of Jinja and the school he had attended. Seeing the dilapidated state of his birth places, "I was in tears," he confessed.
Asians were invited to return by Yoweri Museveni, the army officer who has been Uganda's president since 1986. He was involved in the war that deposed Amin in 1979 and the rebellion that ended Milton Obote's second term in 1985. On a visit to London in 1997, Museveni even went to the Swaminarayan Mandir in Neasden, north London. Some of the older Asians wept at being invited back. Museveni's trip marked a sort of healing process. "While you were living comfortably in Shepherd's Bush, I was fighting in the real bush," quipped Museveni. Countless Ugandans died during Amin's brutal years but he was never brought to justice. He fled to Saudi Arabia and lived in exile in Jeddah where he died on April 16, 2003.

Back in 1972 Manzoor Moghal was in his late twenties when he fled in the middle of the night. He then worked in finance and became one of the most respected personalities in the city through his work in race relations. "Leicester has benefited from the injection of Ugandan Asians," he said. "They have created a lot of wealth, thousands of jobs. The younger generation of Asians have gone into the professions law, medicine, accountancy, industry. There may be nostalgia (for Uganda) among those who came in their twenties, but among those born here there is absolutely none."

In the last 40 years, a new British-born generation has grown up. While the older generation may retain nostalgic recollections of "the good old days" in Uganda, the young consider themselves to be 'British' and part of multicultural Britain. To them, Uganda is a foreign country. There also exists in the collective consciousness the trauma of fleeing Uganda where many felt their lives were at risk. On the airport road, Amin's thuggish soldiers stole jewellery and cash with impunity. One Asian who burnt his cash so that soldiers could not have what he could not take from the country was unceremoniously shot.

Meeting Idi
As a young man, Moghal would often visit Amin and came under his spell. "He was a remarkable man, affable, who laughed and joked a lot,' Moghal commented. "But he wasn't a buffoon. He who could have someone killed instantly if he felt threatened." In 1986, puzzled by the 'Jekyll and Hyde' nature in Amin's personality, Moghal went to Jeddah, and found himself being entertained for by the old, affable Amin. "I have no love for Amin, I suffered a lot under him but he was remarkable," commented Moghal. "As I left at 1 am, he said, 'tell the Asians to go back'. He was not apologising for having expelled the Asians. He knew Uganda's economy had crumbled under his regime." But both men knew the innocence and the old Africa had gone forever.
(Sent by Natu Joshi)
----------------------------------------------------------------------------------------------------------------
Remembering Kenya Days 1960 -1965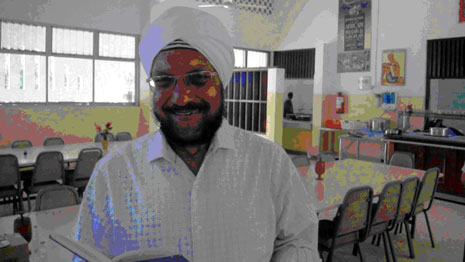 Photo taken in September 2012 at Makindu Sikh Temple, Kenya
Avtar Singh Bansal
Head Teacher English Department: 1964 - 1976
Highway Secondary School, Nairobi, Kenya
My Tribute to a Great and Inspiring School Teacher of years gone by
It was Sunday 30 Sept 2012, my wife and I had checked out of Kilaguni Safari Lodge, Tsavo West and we were being driven back to Nairobi. We had asked our driver Islam to stop by at the Makindu Sikh Temple but for some strange reason he kept on refusing us. Earlier, he had a similar excuse for not stopping at McKinnon Road. But this time, we insisted hard and he did agree after all. As it happened, something special was in store.
Makindu Temple was buzzing with activity that particular Sunday morning with scores of people gathered around the premises and looking happy. The whole atmosphere was serene and peaceful with the temple looking impeccably clean, bright and inviting. I introduced myself unceremoniously to a Sikh gentleman who looked a little older than me. He had arrived from Nanyuki (or was it Nyeri?) for taking part in the spiritual gathering. At first he thought I was a bit intrusive and inquisitive but we settled down well for a cup of tea. After a brief chat, he promised to introduce me to another gentleman who he described as being an expert in Shakespeare and an old-timer Kenya teacher. In came the stranger who quickly made himself known as Avtar Singh Bansal, saying he was an ex-teacher at Highway Secondary School. Astonishingly, I recognized Master Ji straightway and I could not control myself of my good fortune and sheer delight. The last time I saw him was circa December 1965 (47 years ago), when I had just completed my GCE 'O' level exams at Highway School. I was sixteen then and was gearing up to migrate to UK. I had done reasonably well in my Form IV exams at Highway.
Highway Secondary School was a new school inaugurated in February 1962. I was amongst the first batch to be taken in the new Form I after passing my KPE Standard 7 exams at the nearby Nairobi South Primary School. As usual, the new school was facing problems in establishing itself with the right staff and form masters. We had good teachers in History, Geography and Physics. However, it was easy to figure out the school was struggling to keep up a good standard in Maths, English, Urdu, Arts, Biology and Chemistry. We had a host of teachers for English which included Mr Harcourt, Mr. Parker, Mrs Spendlove, Mrs Mangat and a couple of more gora teachers from the noted English Schools - Duke of York and Prince of Wales. But it seemed none of them taught us with much conviction. And likewise, students like myself often sought the easy option of not being stretched too much. Filling in blanks of similes such as "He runs as fast as Kanti" was the order of our best effort. And we would get zero mark for it for which we felt no remorse. It seemed, we were being taught by makeshift teachers.
I believe it was in 1964, when we heard a new English teacher had joined us. Of course Mr Bansal had arrived with that (Anglicised) gora accent, air of academia, politeness and sophistication around him. We never knew any of our teachers by their first names. It was simply Mr Bansal our English teacher. He had a bushy beard and as facts have emerged now and if my arithmetic is right, he would have been in his middle to late twenties then. But he looked matured for that age. To us, all teachers were supposed to look bulky with big waistlines somehow. Master Ji wore an immaculate black blazer which adorned his Leicester University badge on the front pocket. He carried a typical British brown leather satchel which always looked bulky and full to the brim with the flap that was never closed. Later in my own University days I was to follow the same style by buying a similar bag after I had spent a princely figure of £5 in a shop near Charing Cross Station, London in 1968.
In 1965 Mr Bansal took us for the final year in English Language and Literature in Form IVc. I was a struggler in English but managed to scrape through and get just about pass marks in both subjects at 'O' level. Mr Bansal had the onerous task of making us understand "Macbeth", Thomas Hardy's "Far from the Madding Crowd" and Robert Browning's "Poetry and Prose". He would read out each and every sentence of text and explain the meanings in simple English. In Far from the Madding Crowd, we found Batsheba Everdene's ditching of Gabriel Oake in favour of Sergeant Troy quite riveting reading considering in those days the almost unobtainable Lady Chatterley's Lover novel was the limit of crossing the border of lust.
Also, in 1965, the school participated in the inter-school drama competition and I recall Mr Bansal was the key supervisor along with Mrs Betts, our arts teacher, in training the actors which consisted of a boys-only cast. The names Sushil Soni and the art prodigy Deepak were amongst the pupils who acted. It was an inspirational piece of drama which won high accolades but was let down because the boys playing the female part did not look natural enough. I am sure the fifth and sixth former girls must have rejected taking part in the play because of a kissing scene involved. But that was way back in the 1960's and who would blame them.
Later on in my career in UK, I excelled in Maths and Science (Physics) and did well in further education by qualifying as a structural engineer. However to be very frank, I never mastered English as well as I should have after getting a good start at Highway. As a result I could never fulfil my own ambition of teaching structural analysis at University level. I abandoned doing a PhD at Imperial College because of inadequate financial support for the 3-4 year program and mainly due to my lack of confidence in verbal skills. In hindsight it would have hardly mattered since considering the odds, I still managed to do well in my career.
I am thankful to having had the opportunity of being taught by school masters like Mr Bansal and another colleague of his Mr Bhalla (our Form IVc class master and brilliant Maths teacher) who played an unassuming role in carving out our futures and careers. Many thanks to you all. Had it not been for the modern approach of English that Mr Bansal brought along with him from his stint at Leicester, I might still be closing out this article by picking out from my grandfather's great repertoire of phrases "I beg to remain, Your Obedient Pupil".
Tahir Mirza
Chatham, Kent, UK
12 October 2012
=================================================================================
Friends
Attached are some pictures that not only bring memories but tears to my eyes of my first school in Tanga which I attended in January 1954. Yes tears, simply because of the present dilapidated condition of what was a lovely school called Karimjee Primary. I met the current headmaster who did not hesitate to request me to donate TZS 5.0m (£2,000) to have the school's two toilets renovated. I said I will try my best.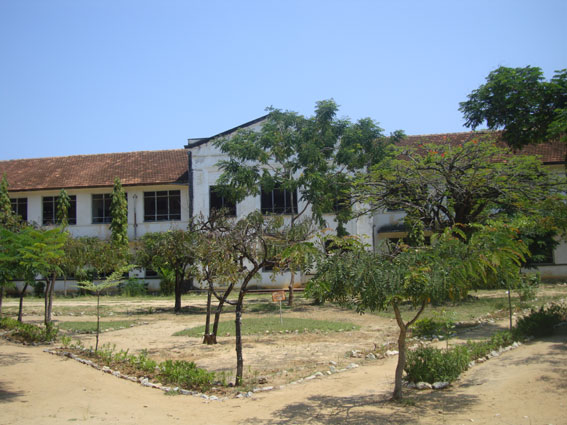 9241
This is the school where I broke my arm while rushing home in excitement after receiving my new books a few days after starting school. I ended up at Bombo Hospital (I will send pics later) where my V-shaped arm was mended by some Brit surgeon who could only be described as a butcher.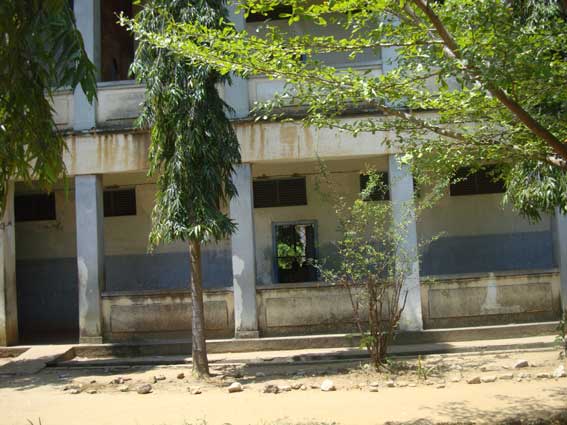 9242
Our headmaster was Mr Perry and there is a tragic story about the deputy headmaster Mr Ranger. As legend would have it, Mr Ranger was married to a German lady who saved his life during WWII (amazingly the war had ended only 9 years before I joined this school). Mr Ranger was an adventurous person who once took some senior boys to a picnic at the nearby Pangani Falls. A terrible accident happened when one of the boys fell in the river and while saving this boy, Mr Ranger tragically lost his life. The boy was saved.
In Std 1, I was taught by a Sikh teacher Mrs??, whose husband had left her and slipped away to England and got married to a gori. This was early 1950's mind you. I vividly recall the extremely simple looking petite madam wearing beautiful bright coloured saris and smelling nicely of Hazeline Snow White cream (do you remember that?). In Std 2 & 3 our teachers were sardarji's - Master Karam Singh and Karnail Singh (we called him Tunda Master - one of his hands was chopped off completely).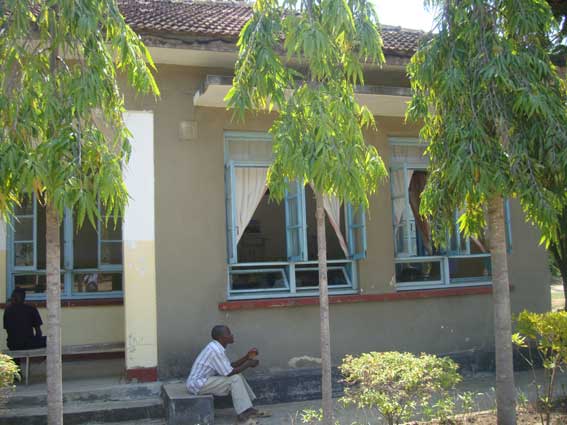 9245
Corporal punishment was rife then and we were beaten like donkeys on petty things. Once Master Karam Singh gave me a hard slap on the face and my tooth got chipped and broke as a result of the severity. I complained to my widowed mum about the harshness of the punishment. In return, my mother instantly smashed another slap on the opposite cheek and angrily cautioned me never to bring home a complaint against any teacher in future. That was to remain engrained on my mind forever and sadly it was to have an affect on my confidence and self esteem almost permanently. Guys this is the difference between us guys and the western schools. They teach their pupils to be bold and almost call their teachers by first name. Ofcourse there are downsides to this kind of liberism too.
Pic 9241 shows the School Main Building
Pic 9242 shows Std 1
Pic 9245 shows Headmaster's office
I thought of sharing my thoughts with you.
Regards ...Tahir Mirza
===============================================================================
Life of Bali Mauladad
Iqbal Mauladad was known to all as Bali. He was such a jolly, warm-hearted man that people used to say his heart was as big as Bali himself.
Born in Nairobi, Kenya in August 1926, Bali is the son of the late Mr. Mauladad who was a well-known building contractor.
You can't mistake Bali Mauladad; once seen never forgotten. Any man 6′ 1″ in his socks, and weighing 2501b. deserves the soubriquet, Hefty". He has black hair, almost black eyes, and a near R.A.F. type moustache.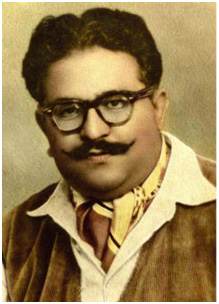 Bali started hunting as a sportsman when he was 17 years old. He became a Professional Hunter when he was 26 years old.
He was entitled as the 'white hunter' and his clients included famous Hollywood names. His most important clients includes; The Majesties "The King and Queen of Nepal".
Bali hunted with the famous Simba Mbili, Abdul Hamid Khan, who earned this name by killing two lions with one bullet at Mtito Ndei.
He had two main hobbies: Motor Racing for which he was very well known and Animal Photography
Visit this site for more of Bali http://balimauladad.com/
================================================================================
Another interesting topic to ponder upon by Tahir Mirza
A Compulsive urge "kutembelea nchi yetu"..click
=====================================================
We present a brief profile of another Wanainchi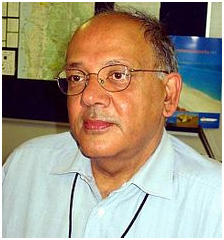 Chandrashekhar "Shekhar" Mehta (20 June 1945–12 April 2006) was a Ugandan-born Kenyan rally driver. He won the Safari Rally a record five times (1973, 1979–82), including four consecutively,and in 1981 finished fifth in the World Rally Championship.A Kenyan of Asian descent, he was born in 1945 to a family of plantation owners in Uganda, and began rallying behind the wheel of a BMW aged 21.In 1972 he and his family fled Idi Amin's regime to Kenya,the year before he clinched his first Safari Rally title.
He was born in a rich business family, to Khimji Mehta and was grandson of Nanji Kalidas Mehta, scion of Mehta Group.He married his sometime co-driver Yvonne Pratt in 1978 after a ten year courtship, and they had one son, Vijay, in 1991.
Through the most successful period of his career he drove Datsun cars. He won the inaugural African Rally Championship in 1981, and the Cyprus Rally in 1976.He was on the podium at the 1981 Rally Codasur, twice at the Acropolis Rally and three times at the Rallye Côte d'Ivoire. His career came to an end in 1987 after a nearly fatal crash at Rallye des Pharaons, Egypt while driving for Peugeot.
After his driving days were over he held various administrative positions at the FIA. He became president of the FIA Rally commission in 1997, and was re-appointed as interim President of the World Rally Championship commission shortly before his death. He died in London on April 12, 2006 from liver problems, hepatitis, and illness relating to complications from an old injury.
=====================================================================================
Ugandan Asians

Moved By Lord Popat ...Click here to read
=====================================================================
Here is a wishing well note written to a dear friend living in Kenya by a renowned ex-Kenyan writer Ramzanali Parvana.
Our prayers are not only confined to you and your entire household but for each and every single human being in Kenya regardless of his or her ethnicity, tribe affiliations, colour, creed, gender, political stripes or anything else.
The looming Kenyan elections and the legitimate fears surrounding it is currently a subject of discussion in our community within Toronto... particularly amongst those who have strong connections to Kenya either in the past or present.
The unrealistic and common thread that repeatedly comes up these days in these discussions is that this time round, the 'international' community will not sit back idle because by quietly sitting on the fence and watching the horrors of 2007 unfold many times over, will translate into serious economic repercussions because their own investments will be at stake!! What a load of BS! Why is a US dollar more important and precious than ANY HUMAN LIFE? Why is the western investment the key to ensuring a safer election? In other words in the absence of such an investment in Kenya, the big 'industrial' and former colonialists would look away just as they did in Rwanda where millions of BLACKS were literally butchered while the 'outsiders' decided if any action was required to be taken or then to just allow the violence to die a natural death!
Power corrupts and the uncontrolled greed to gain absolute power stops at nothing.... not even at one's own kith and kin! The history of Moghul empire is replete with horrific tales where human beings who were perceived with motives contrary to the rule were built into the palace walls alive! To add marvel and disgust in the same breath, these rulers were MUSLIMS!
It may be unhealthy to be a pessimist on such issues.... but 'once beaten, forever shy' is also a sensible adage. Even if the 'holocaust' is a figment of Jewish imagination, there is absolutely no denial that there was ethnic cleansing that did take place... and the only major dispute is the actual number of victims who were dispatched to eternity prematurely!
After Hitler, there have been dozens of other such senseless massacres initiated and encouraged by other individuals who wielded political power.... Shah of Iran, Saddam, USA Foreign policy under ALL presidents in the recent history, Al-Haj Sheikh Idi Amin, the heartless rulers of Bahrain and Kuwait, the impotent leaders of the Pakistan and dozens of former political leaders on the continent of Africa!
So when is this carnage going to end? Or will it have to escalate before divine intervention is required?
I do not consider myself an authority in any matter whatsoever, but this I have been told repeatedly and therefore come to believe that mankind will stoop so low.... lower than the instincts of the most vicious of wild animals - that the existing crimes against humanity and violation of human rights, the uncontrolled exploitation, humiliation and subjugation will look like a boy-scouts' picnic in a park on a sunny Saturday afternoon!
Taking a quick 'three-sixty' look around me, I see that we are worse off than we were a few years ago when we see at the atrocities prevailing in the world today.
And so while we should be positive and hopeful, we cannot afford to sweep the reality that is staring us in the eyes..... under the carpet and therefore appropriate and sensible measures and plans of action have to be at hand so as to avoid regretting at leisure!
May God hold you all in the palm of His hand and protect you all at all times. Amen.
Toronto
February 2013
====================================================================================
Harjinder
Thanks for the rare article on East Africa railways. My father spent 50 years of his life as railway supervisor in Kakira and Lugazi in Uganda

Regards
Praful Thakrar March 29 th 2013
FW: SIKH HERITAGE (+Kalasinghas) E. Africa

Very Interesting ! This is an amazing email giving lots of information on historical events about arrival of Indians to E. Africa in the 19th century. U will not see this kind of information. Pls take your time to read it, pass it to your E.African friends, especially Sikh friends and in particular to your children if they are interested to know how and when their forefathers came to Africa and what hardships & difficulties they faced in those times.
Hi,
I 'm mailing this piece of Sikh history to you in the hope that you lived in the railway quarters at Unga Limited in Nairobi.
There are a few pictures which bring me back to my youth while residing at these railway quarters. My mother was a Health visitor in charge of the clinic in the subdivision, entitling her to living in these quarters. Our quarters was so close to the railway station,that i could even hear the engine HOOT from my home,particularly when the passenger train left Nairobi at 6.30 PM promptly. I would then run to this railway bridge Picture in the followin artical) and wait until the train would pass underneath me. I would take in a big gulp of that engine smoke which smelt of sulpher,then make my way home. I would then stop at the Gurdwara and if I saw any of my friends there would enter,cover my head with the head gear supplied and wait for some Prashad to be dealt in my estended hands. I would then walk home a minute away. But in front of that Gurdwara, they had these Gumna trees lined in the inside and I was the only one who had the courage to climb these enormous trees and drop those berries to those at ground level.
There is also a picture of young Sikhs embarking from those Dhows which arrived in Mombasa. I wish I could distinguish them because one of them was my Grand Father(probably aged 18) ..sometime around 1895.My Grandfather eventually made his way to Soroti in Uganda.....
Please write to me with similar stories
Many thanks
Roy
Please pass on - particularly to our Sikh friends - and to all others who are from our heritage and background - ex-East Africans This is quite a comprehensive 'treatise' There are some interesting facts and dates that may be pertinent to each of our respective communities - i.e. our own ancestors' arrival & movements into the hinterland. It was a unique time where Hindus Muslims Sikhs and all the other, albeit smaller but communities of equal importance & of interesting and varied religious sects, they/we were one big family - respectful and very supportive of each other. http://www.sikh-heritage.co.uk/heritage/sikhhert%20EAfrica/sikhsEAfrica.htm
---------------------------------------------------------------------------------------------------------------
From: Richard Singer [mailto:rtsinger@talktalk.net]
Sent: 23 March 2013 15:46
To: 'harjinder@kanwal99freeserve.co.uk'
Subject: Nostalgic East Africa

Dear Harjinder
I have discovered with great interest your website re nostalgic East Africa. My name is Richard Singer, my year of birth being 1945.
I lived in Kenya with my parents, my father being in engineering with the East African Railways & Harbours. My mother worked for the Kenya Police. The years we were there from 1952 to 1959.
We lived in the 'wood and iron houses' as we called them, very close to parliament buildings, on the outskirts of Nairobi. We then moved out to Southill Estate overlooking a small airport and Nairobi dam.
I went to Nairobi primary school. I had an elder sister, 2 younger brothers, one being born prematurely on SS Mantola in 1953.
My mother and father were members of the Nairobi Railway Club. You will see I have enclosed 3 photographs of the club blazer worn by my mother. (Now in my possession).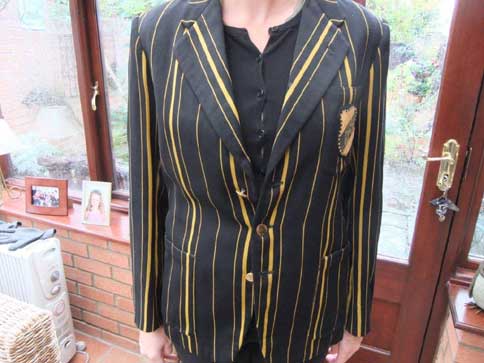 The photos show the logo of the club and the supplier's name, Alibhai & Co, on the inside pocket.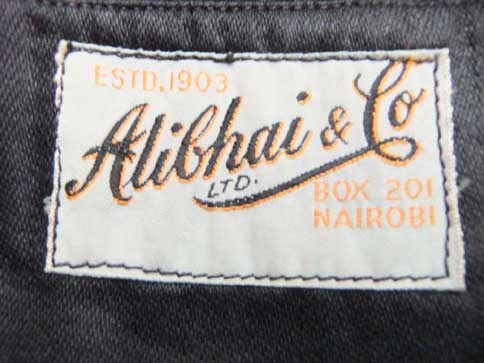 I have looked through almost all of the photographs on your website with great interest, and did not see a lot of reference to Nairobi Railway Club, so I thought you may be interested in these.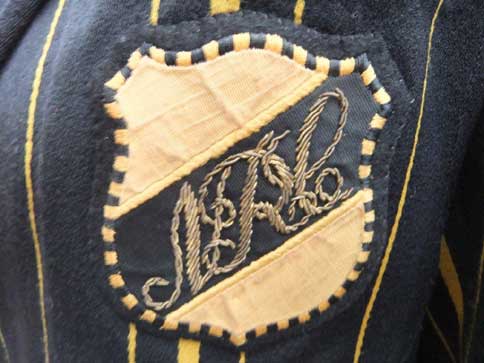 From spending time in East Africa, mainly Nairobi, Dar-es-salaam and Mombasa, I have many other photographs which could prove to be of interest to the website.
Be nice to hear your comments.
Regards.
Richard Singer
---------------------------------------------------------------------------------------------------------------
Hi Harjinder,
I hope you are fit and well and that all goes well with your magnificent site. I know it has been a while since I have been in touch, please forgive me, but I have discovered that being an Author is more than full time employement and is a labour of love. I have kept checking on your site and have been delighted to see its contents grow with more and more wonderful nostalgic photographs.
I want to thank you and your contributors that so kindly gave their time in searching for JP for me, as you know they found him and he has been in contact with me ever since.
I have now reached page 264 in the draft of my book where I attend Kenton College as a border and am receiving a great deal of help from the old school.
I have attached for you pages 245 and 246 that contain my first reference to JP.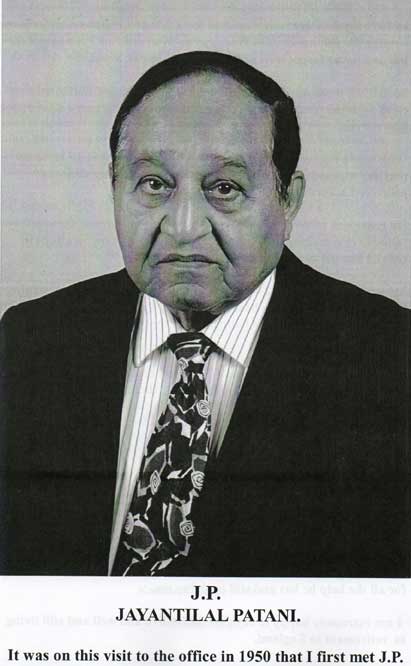 His brilliant testamonial to my father will be printed later in the book. I would be very happy if you would circulate these pages to the kind people who searched for, and found him, on my behalf. You are more than welcome to put it on your site with a little bit of an explanation from you if you wish. I know that JP would be proud and have no objection.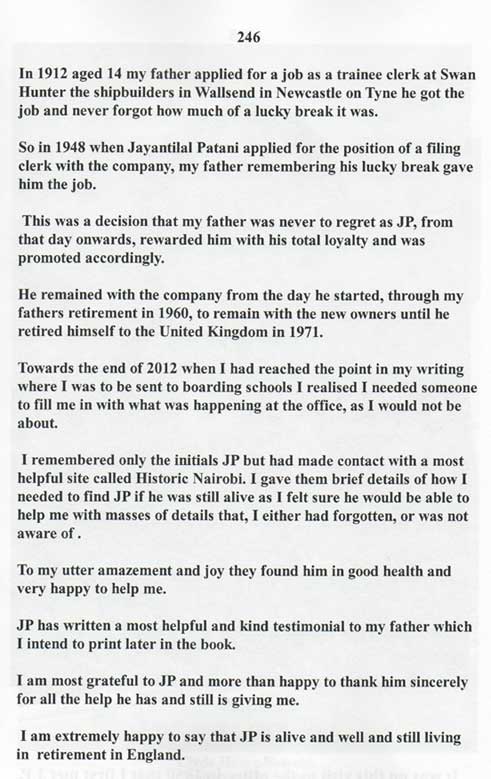 With the kindest of regards,

Robin
18th march 2013
----------------------------------------------------------------------------------------------------------------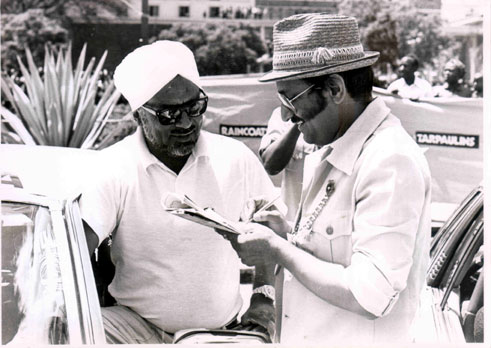 Leader of Safari Rally Reporting Team, Kul Bhushan, interviews Kenya's Flying Sikh, Joginder Singh, at the start of the Safari Rally, a world rally championship event, in Nairobi.

Kenya's Motor Rallying Legend, Joginder Singh, Passes Away

Kul Bhushan

21 Oct 2013.

Kenya's motor rallying legend, Joginder Singh, the first Kenya Indian driver ever to win an international rally, and also the first man to win the Safari Rally three times, died peacefully yesterday of heart failure in London, aged 81.

Famous as the 'Simba' or the lion of Kenya, Joginder Singh Bachu won the world's toughest motor rally, The Safari, in 1974 and 1976 competing against the best of rally drivers from across the world when this event was part of the World Rally Championship. A much-loved hero of all Kenyans, he died poignantly on 20 October, when Kenya celebrated Mashujaa (Heroes) Day. Fondly known as 'The Flying Sikh', Joginder Singh was also a consultant for the Himalayan Rally and took part in this event as well.

Joginder first entered the Safari Rally with his brother Jaswant Singh as the co-driver in 1965 in a second hand Volvo which was earlier driven by Tom Trana in 1963 and 1964 and had already clocked 42,000 kms. The two brothers drew number one position for the start, considered to be unlucky, but they remained number one position throughout the event and finished it at number one position, making history.

Joginder was outstanding as one of 'the unsinkable seven' finishers of the 1968 event in which 74 crews started and only seven finished. The victors were also hailed as "The Magnificent Seven" after the Hollywood cowboy film released around this time. From then onwards, they got plenty of sponsorships and Joginder went on to win the world rally event in 1974 and 1976.

Joginder Singh's record of 19 finishes in 22 attempts is an unprecedented feat for the Safari Rally in which finishing the event was once considered as a greater achievement than winning other world rally events. He was honoured as a special guest at the start of the 50th Safari Rally in 2002, and was appointed a patron of the Safari Classic in 2007. About 10 years ago, he developed problems with his heart and underwent by-pass surgery.

A veteran Safari Rally journalist, Shamlal Puri, wrote from London, "Joginder Singh has left behind a legacy that has charmed across continents and his powerful persona and escapades as a daredevil rally driver will probably never find an equal in another century, for none came even remotely close for decades after he hung his driving gloves."


Joginder Singh achieved the legendary status of a national hero in an African country and remains unmatched as a rally driver who outclassed the best of the world during the Seventies, according to this correspondent who covered the Safari Rally in Nairobi for 26 years from 1964 to 1990.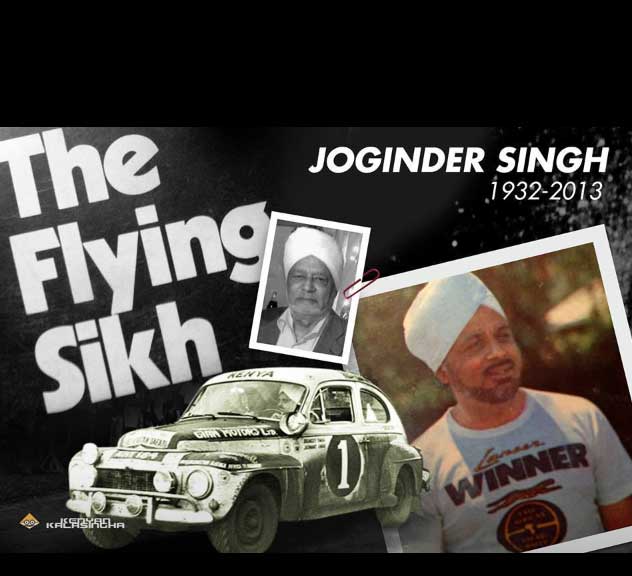 The team of Sikh Heritage and Nostalgic East Africa pay their deep condolence and respect to this true son of Kenya.
8th East African Safari Rally
15th-18th April 1960
Featuring some of the famous Local EA Rally Drivers well before it went International
Class A - up to 750cc
No finishers
Class B - up to 1000cc
1 68P.J.C.Hughes/R.Bensted-Smith Ford Anglia 4000 pts
2 72 J.M.Uren/M.P.Armstrong Ford Anglia 4250
3 59F.Brown/F.H.Collis Ford Anglia 5426
Class C - up to 1300cc
1 66Joginder Singh/Jaswant Singh Volkswagen 3126 (9th O/A)
2 41E.Earnshaw/N.Fjastad SimcaMontlhery 7050
3 38J.Vadgama/J.M.Ramji Peugeot 203 8350
Class D- up to 2000cc
1 77E.M.Temple-Boreham/Mrs Temple-Boreham Citroen ID19 950 (2nd O/A)
2 15S.A.Gastellier/M.Laeremans Citroen ID19 1526
3 82N.J.Thomas/W.D.Lead Mercedes 190 1550
Class E - over 2000cc
1 21W.A.Fritschy/J.L.Ellis Mercedes 219 600
2 58 Vic R.Preston/John F.Harrison Ford Zephyr 1150 (3rd O/A)
3 71T.C.Harrison/P.R.Davies Ford Zephyr 1800
? 47 D.G.Scott/L.Baillon Ford Zephyr 4100
Class G - Production and GT, any capacity
No finishers
Overall Winner
1 21W.A.Fritschy/J.L.Ellis Mercedes 219 Champion Spark Plug Challenge Cup
Other Entrants
Tommy Wisdom Ford
P.Riley Morris Mini Minor
J.Cotton Morris Mini Minor
Peter Jopp Sunbeam Rapier
Paddy Hopkirk/Lord Mandeville Sunbeam Rapier
R E.Harrison/D.Markham damaged radiator
84 starters, 25 finishers
One of the earliest official records showing Joginder Singh's participation at age 27.
Car No. 66 VW Beetle – driven by Champion "Simba"Joginder Singh and Brother Jaswant Singh – 8th East Africa Rally April 1960 (Info sent by Tahir Mirza)
----------------------------------------------------------------------------------------------------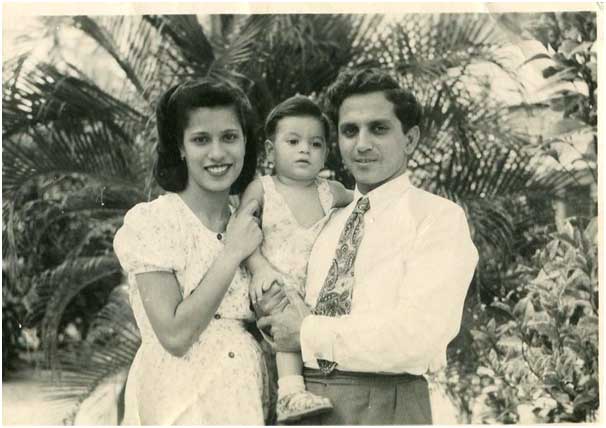 Photo of a handsome couple taken in mid 1950's.Jochem and Urita who lived near Mnazi Moja in Dar es Salam very close to Ismail Stores. Jochem's father was a Goan and mother a German. Jochem married Urita of Portuguese descent in Goa. Here they are with their cute son Freddie in Dar es Salam.
We are hoping Freddie will be old enough to recognise this lovingly archived photo of his parents and himself and contact us. (Courtesy the Butt Family, Dar es Salam) sent by Tahir Mirza.
================================================================================
OBITUARY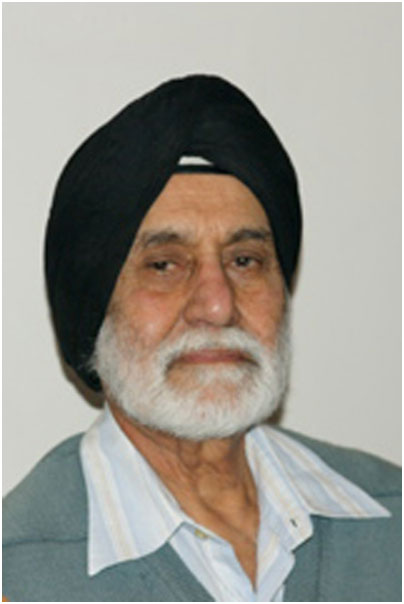 Hardev Singh Kular
It is with great sadness that Sikhs in Hockey report the death of Olympian Hardev Singh Kular, younger brother of veteran player and hockey chief Hardial Singh (Hardy)who died in Nairobi on Tuesday 31 December 2013. He was aged 83.
Hardev, an inside forward, played for Kenya at Melbourne 1956 and Rome 1960 Olympic Games, was the Team Coach at Munich 1972 and the Team Manager at Seoul 1988 Olympic Games.

Born in Nakuru, Kenya, he played for Kenya Police in the 1950s and captained the Police team that won the MR D'Souza Gold Cup, the premier Club tournament in East Africa, in 1955 and 1960. He captained the Kenya team that won the East African Championship in 1959. He later joined Sikh Union Nairobi in mid-sixties.

Following a successful playing career, he turned to coaching and umpiring and then hockey administration. He was awarded his FIH international umpires badge in 1970 and was Kenya's coach at the first World Cup in Barcelona in 1971 where Kenya finished fourth.

Hardev was the Hon. General Secretary of Kenya Hockey Union (KHU) from 1973 to 1987 and Chairman of KHU from 1998 to 2004.

He was a member of International Hockey Federation Youth Committee from 1983 to 1987 and was awarded the International Hockey Federation Diploma of Merit in 1995.

He was Chairman of National Association of Kenya Olympians from 2000 to 2007.

Hardev's younger brother, Jagjit, also an Olympian, who is currently in Nairobi, informs me that the funeral will probably be this Thursday (2.1.2014) in Nairobi.

Hardev is survived by his wife Harbhajan and three children, Harvinder, Hardeep and Harpreet. ( reported by Dil Bahra)
Sincere condolences from 'Nostalgic EA team'
------------------------------------------------------------------------------------------------------------------------


PRESS RELEASE, 11 November 2013 – FOR IMMEDIATE ATTENTION
ARRIVAL OF BRITISH UGANDAN ASIANS CELEBRATED
AT STANSTED AIRPORT
Just over 41 years ago, Stansted Airport saw the arrival of a small group of Ugandan Asians expelled by Idi Amin, the first of some 28,500 to be welcomed to Britain. At a celebration hosted by Stansted Airport on Friday 8 November, a permanent plaque in memory of the challenges and achievements of the diaspora was unveiled by Her Majesty's Lord Lieutenant of Essex, Lord Petre, on behalf of Her Majesty the Queen, marking the end of a year of commemoration.
Well over 130 people, including a number of the original immigrants who cam from across the UK, gathered together to mark not only the unveiling of the plaque but also to share their memories and experiences. Unfortunately, we could not have accommodated more people because the airport was functional and the space was limited to 100 people, though over 130 attended. It should also be noted that this one year celebration was an initiative by British Uganda Asians in the UK. Many British politicians could not attend because of heavy Parliamentary schedule in both Houses.
Lord Petre spoke of the gratitude he was aware those present felt to the British Government for assisting their immigration at such a dire time, but also said he felt this should not overshadow the gratitude due from Britain to the Ugandan Asians, who had brought their knowledge, innovation, and enthusiasm for work, and had contributed so much to the country since their arrival. Lord Petre stressed that the government's obligation to take the refugees was fulfilled.
Mr. Praful Patel, Chair of the India Overseas Trust that has organised the year-long activities, welcomed Lord Petre's tribute and added: 'This occasion is a major event for the British Asian community and for Indo-British relations. Since their arrival in Britain, the thousands of people forced to leave Uganda, with no more than £50 and one suitcase of belongings, have made lifelong friendships with those who welcomed them to their towns and homes in a dark hour.'
The Trust also received a special message from the Prime Minister David Cameron, who said: 'The British Uganda Asian community has made an enormous contribution to our society and offers us a wealth of examples of hard work and charity, yielding real success and lasting achievement. This plaque and this celebration are a fitting culmination of a year of commemoration of the momentous events of 1972.'
Marcella M'Rabety, Stansted Airport's Corporate Social Responsibility Manager, said: "Stansted Airport is very pleased to support the India Overseas Trust as it marks the 40th anniversary of the expulsion of Asians from Uganda. We're also pleased be the home of the commemorative plaque that remembers this special anniversary."
Jenny Kartupelis MBE, who has been Director of the commemorative programme, concluded the ceremony by thanking everyone who had made it possible and paying tribute to the vision and determination of Mr Patel and the Committee in planning the historic year that had recognised the achievements of so many people.
The year has been marked by a number of high-profile events, including debates in the Houses of Commons and Lords; thanksgiving services in different faith traditions; and other celebratory and legacy initiatives. Over the course of the year, these have been joined by Government and Shadow Ministers, and prominent people from the worlds of business, the arts and sciences.
ends
Further information and press enquiries: Sheena Bhattessa, Its PR, 07956 385 325, sheena@itsaprcompany.com
Photographs available from: Bhupendra Jethwa, 07958 550634, bjethwa@btconnect.com
PHOTOS WITH PRESS RELEASE....CLICK HERE
The above sent by Kul Bhushan.
------------------------------------------------------------------------------------------------------------------------
Some nostalgic photos ent by Kul Bhushan from New Delhi.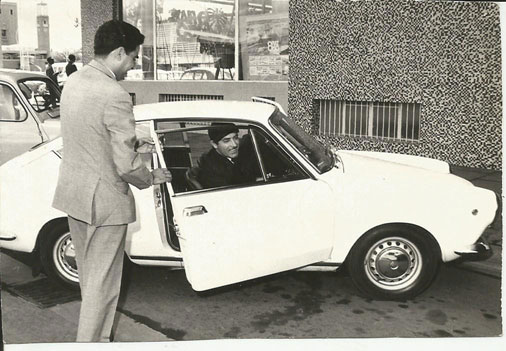 Indian actor late Raj Kumar at the showroom of Fiat Kenya Ltd Nairobi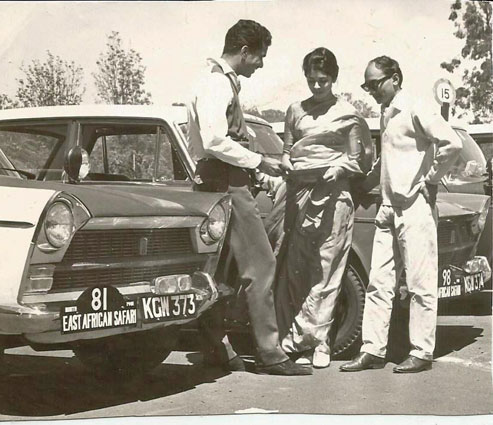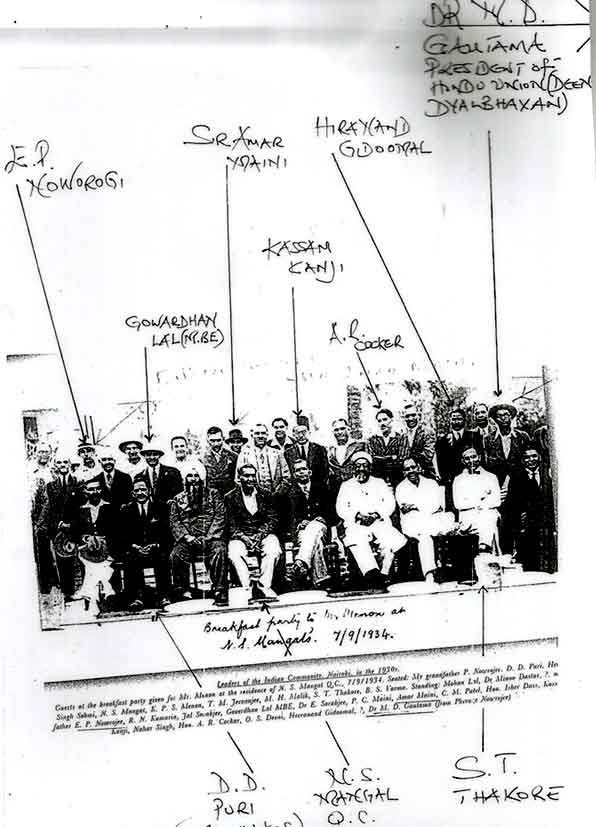 Veteran Kenyans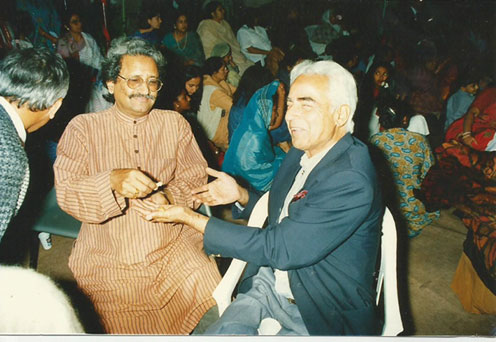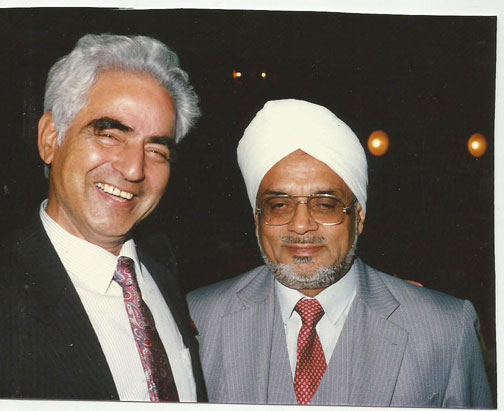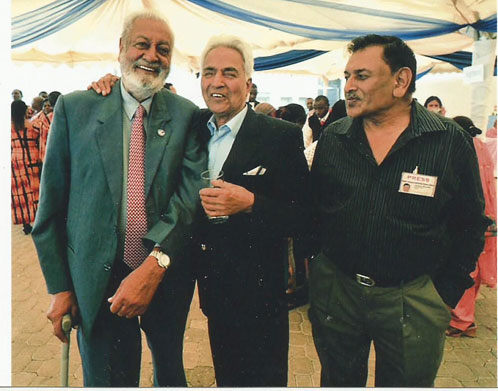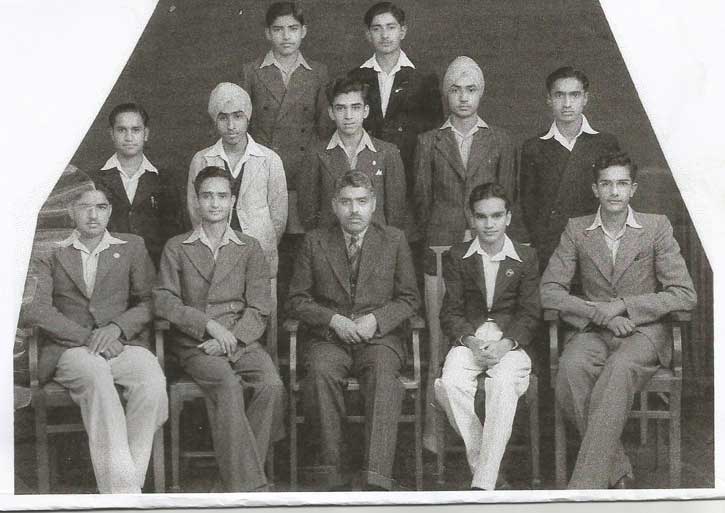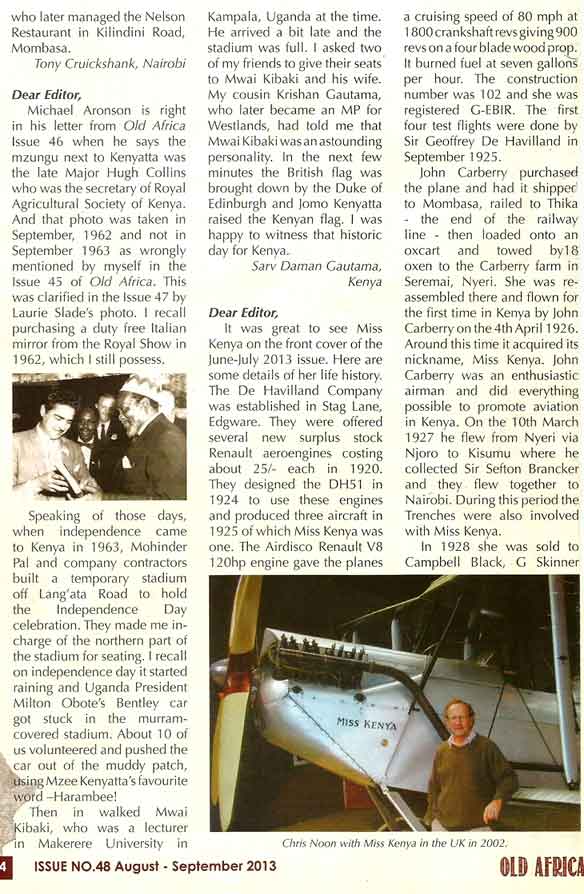 Kenya Indians Hail Kenya's 50 Independence Anniversary



By Kul Bhushan, 12 December 2013.

It's been a tempestuous half a century for Kenya Indians as the nation celebrates her 50 anniversary of independence on 12 December. Kenya's political developments have directly affected the Indians called Asians. They have always worried about their future in Kenya, worked hard as they prospered.

Indians, called Muhindis or Hindis, have been trading with Kenyan coastal towns since Biblical times. The British government recruited hundreds of Indians to build the Kenya Uganda Railway in late 19th century. Once the railway was running just before the century ended, many Gujaratis started 'dukas' or shops and came to be known as 'dukawallas'. The Punjabis worked as craftsmen called 'fundis' and laboured hard. Everyone prospered and helped to build most urban towns.

During the Mau Mau freedom violent struggle in the 1950s, the British rulers declared an Emergency. Asians had a tough time being loyal to the British rulers and quietly helping the African freedom fighters. In 1960, when the Emergency ended, Asians, who had been fighting for freedom and one-man-one vote in the Legislative Council, became more vocal for human rights.

"What is our future in a free Kenya?" was the question on everyone's lips as Kenya celebrated independence in 1963 with Jomo Kenyatta as its first president and father of the nation. A Goan lawyer, Dr. Fitz De Souza became the Deputy Speaker of the first Parliament and another lawyer Chanan Singh was soon appointed a judge.

In 1964, a two-year period was announced for all non-citizens to become Kenyan citizens. To conserve Kenyan currency being sent abroad by Indians and others, the Exchange Control Act was passed in 1965. A year later, Kenyatta warned Non Africans to become citizens or leave the country. More panic for Asians.

In 1967, all Non-Citizens must have a work permit. Since the Indians mostly held British passports, Britain was worried about their huge influx and decided to pass a bill by February 1968. This triggered the Asian Exodus of thousands from Kenya who wanted to beat the deadline. The Exodus made world news as Indians who came to Nairobi airport to bid goodbye to their relatives, scrambled on the next flight to Britain. This gave Britain the corner shop owner from Kenya who changed its retail trade. About 1,400 came to India as well. IN their hundreds, Asians left Kenya to settle in the UK, USA, Canada, and Australia.

The next challenge came in 1969. Quit Notices were issued to Asian shopkeepers in Kenya to promote the locals. This Africanisation of trade went on until 1977 as many Asians started small factories. In 1972, Idi Amin surfaced in Uganda and ordered all Asians to leave. This had a ripple effect in Kenya as some Kenya African openly supported Amin. Again, hundreds left.

President Kenyatta died in 1978 and his Vice President Daniel arap Moi took his reins. Asians continued to flourish in business and the professions. In the next general elections in 1979, an Asian lawyer, Krishan Gautama won a parliamentary seat. When all tribal organisations were banned in 1980, hundreds of Asian only clubs were renamed.

Kenya enjoys cordial relations with India highlighted with the visit of India's President Sanjiva Reddy and Prime Minister Indira Gandhi within a few months of each other in 1981. In aborted coup by the Air Force, hundreds of Asian shops were looted and again some left the country.

Justice C. Madan was appointed as the Chief Justice in 1985 who had the courage to rule against President Moi in a case. Global terror came to Kenya in 1998 when the American embassy was bombed in Nairobi, killing hundreds. In 2002, Moi's 24-year rule ended as Mwai Kibaki became the president. The next elections five years later triggered tribal violence in which hundreds died. Asians were scared but unharmed.

Recent attacks by Somail terrorists have injured Asians that culminated in the Westgate mall attack which claimed some Asian lives and huge losses to all Asian shops in this mall.

The Asians population dwindled from around 350,000 in the Sixties to around half by the Seventies. Today, it is estimated at less than 100,000. Despite these dramatic political events, Kenya has remained stable in the 50 years of independence and has developed in all sectors. The Asians have contributed in their full measure to this growth. During these 50 independence celebrations, the Muhindis happily shout, 'Kenya Juu!' or Kenya tops and they mean it.

Ends
Kul Bhushan worked as a newspaper editor in Kenya for over 22 years. kb@kulbhushan.net
================================================================================